My apple cinnamon bread has everything you're looking for: it's moist, vegan and sweetened with brown sugar and maple syrup. If you're an apple fanatic like me, this recipe will be in your top five after the first bite!
Do you want a sweet treat for breakfast that's both delicious and healthy? Keep reading and I'll tell you all about this vegan apple cinnamon bread!
Bake my vegan apple cinnamon bread if you:
Are looking for a nut/peanut-free and vegan sweet treat;
Have an apple you need to use before it goes bad (the perfect excuse);
Need to finish that jar of applesauce in your fridge (the perfect excuse 2);
Want to bake a quick sweet bread for your breakfast.
How do I make apple bread?
It's a piece of cake! Or better saying, a piece of bread - sorry, couldn't resist that one!
For this recipe, beside the ingredients, you'll need two medium bowls, a spoon and a loaf pan. Easy, right? No electric mixer or any fancy kitchen gadgets today.
You can either peel or not peel your apple for this recipe. I prefer it peeled, but I've already baked this bread with both versions, and they both came out amazingly delicious.
This recipe is how life should always be: easy and delicious. Chopping your apple is the most time-consuming part here: after peeling and slicing it, you just need to remember to follow the order of the ingredients when mixing.
There's something about cinnamon and apple together that makes everything cozy and welcoming, right? That said, you can guess the smell of this bread while baking is insane. The taste of it freshly baked is one of the best things I've ever tasted - and I'm not exaggerating here. This bread melts in your mouth. The aroma consumes you, and all you want after the first bite is more of its perfection.
Can I skip the apple cubes?
You can omit the chopped apple from the recipe if you don't like pieces of fruit in your sweet bread, but I would give it a try first: the fruit gets really soft after the bread is baked. Also, the apple is one of the things that makes this apple bread extra moist. Plus, the texture with it is fantastic!
How do I make my own applesauce?
Yeah, this recipe calls for applesauce: you can buy it at the supermarket, or you can make it on your own. So don't worry if where you live is super hard to find applesauce: I know if you'll live in another country, some ingredients are impossible to find, I've been there!
Applesauce is really easy to make. You can find a great applesauce recipe at House of Nash: it's an Instant Pot recipe ready in 15 minutes, and you can even choose to make it without the addition of sugar. If you don't have an Instant Pot, try this one from Spend with Pennies! Claudia Canu also has an amazing recipe for applesauce for anyone who doesn't own a crockpot: in this one, you don't need to peel your apples and it's made with no sugar at all. I tried all 3 and they're all great!
I can't find maple syrup! Can I substitute it for another ingredient?
Although I love the unique flavor maple syrup gives to this recipe, it's like I've said above: sometimes you might not find maple syrup where you live, or if you do, it's so expensive you want to cry just by thinking of buying it - been there.
You can substitute it for agave syrup and the recipe will be as good as its maple version. Or you can replace it with honey - just keep in mind that honey is not a vegan ingredient.
How do I store this apple bread? Do I need to refrigerate it?
I keep mine in a cake keeper, but you can store it in any closed container for it to keep its moisture.
When it's winter, I don't worry about storing it in my fridge. But if you're baking it in summer, or if where you live is insanely hot even when it should be cold, I would recommend storing this bread in your fridge after the first day.
You can also freeze slices of this apple cinnamon bread and always have a quick snack seconds away. To freeze it, store the bread already sliced in an air-tight container. It lasts for 2 to 3 months. To unfreeze it, 20 to 30 seconds per slice in the microwave will do.
Now it's time for you to surrender yourself to this vegan bread perfection!
If you're looking for more vegan recipes, try this red onion chutney with the most amazing sandwich roll you'r ever eat. Have some overripe bananas sitting on your counter? My banana chocolate bread is vegan and as moist as my apple one!
Yield: 1 loaf
Apple Cinnamon Bread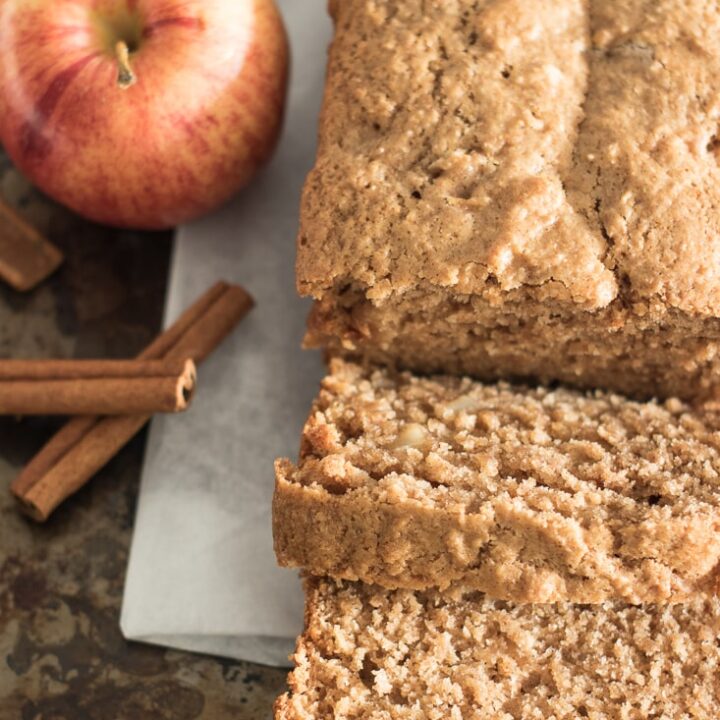 My apple cinnamon bread has everything you're looking for: it's moist, vegan and made with no addition of white sugar. If you're into apples, this recipe will probably be in your top five after the first bite!
Additional Time
50 minutes
Ingredients
1 apple, peeled and chopped
½ cup packed brown sugar + 2 tablespoon
1 ⅓ teaspoon cinnamon
1 cup all-purpose flour
¾ cup whole wheat flour
1 tablespoon baking powder
⅓ teaspoon salt
½ cup canola oil
¼ cup maple syrup
1 cup unsweetened applesauce
Instructions
Preheat your oven to 325°F. Prepare a medium-sized loaf pan, greasing with canola oil/cooking spray, or line it with parchment paper. The last one makes it easier to remove your bread from the loaf pan.
In a medium bowl, mix the chopped apple, 2 tablespoons of brown sugar and ⅓ teaspoon of cinnamon, tossing to coat.
In another medium bowl, mix ½ cup of brown sugar, the remaining cinnamon, all purpose and whole wheat flour, baking powder and salt.
Add the applesauce, canola oil and maple syrup and mix only until barely combined.
Add the coated apple cubes and mix only until there are no more dry spots left. Careful not to over mix.
Pour the batter into the prepared loaf pan and bake it at 325°F for 45 to 50 minutes, or until the top and edges are golden brown, and a toothpick inserted in the center comes out with only a few crumbs.
Let it rest in the loaf pan for 15 minutes. Try to wait for it to cool completely before serving.
Nutrition Information:
Yield:
12
Serving Size:
1
Amount Per Serving:
Calories:

185
Total Fat:

9g
Saturated Fat:

1g
Trans Fat:

0g
Unsaturated Fat:

8g
Cholesterol:

0mg
Sodium:

188mg
Carbohydrates:

24g
Fiber:

2g
Sugar:

9g
Protein:

2g