These blackberry scones are made with white chocolate and a combination of sour and heavy cream that creates a soft scone, with just the right amount of sugar.
Covered with a delicious citrus glaze, they are easy to make even if you're a scone beginner!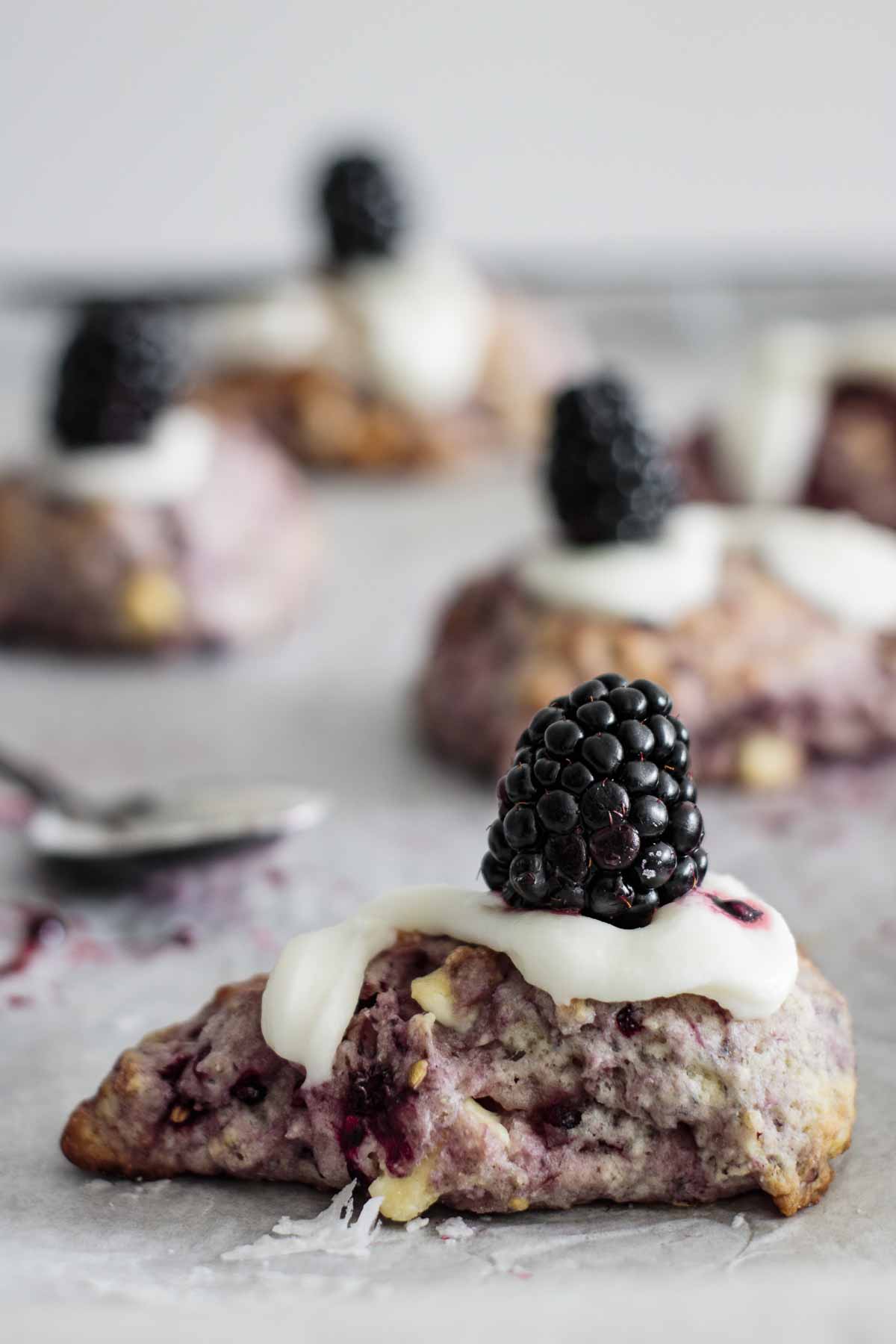 Why bake these scones:
You're looking for a soft, buttery scone;
This is a recipe where you can easily substitute flavors;
You're looking for a scone recipe you can get right on your first try;
American Scones versus British Scones
British scones are usually baked plain. They have less butter, just a tiny bit of sugar and are made to be eaten with something like butter or jam.
American scones are made to be eaten alone: they have add-ins like berries or chocolate chips, and are usually topped with delicious sugar icings and even melted chocolate.
Both are amazing in their own way! But here you're getting a full-package American scone.
The blackberry scones you're about to make have the right amount of sugar and don't need to be served with anything but tea, coffee or a glass of milk.
Ingredients and Substitutions
Let's make sure you have everything you need for these scones!
All-purpose flour. Use all-purpose for this recipe to work. Do not substitute for bread flour, or whole wheat flour.
Sugar. Both granulated sugar or caster sugar are fine. Don't use brown sugar for this recipe.
Salt. Use fine sea salt. Don't skip it: salt is important to enhance the flavors of these scones!
Baking powder. It's the responsible for the rise that will make the scones fluffy and light. Make sure yours is not expired and still active. Baking powder loses its power 6 months after opened.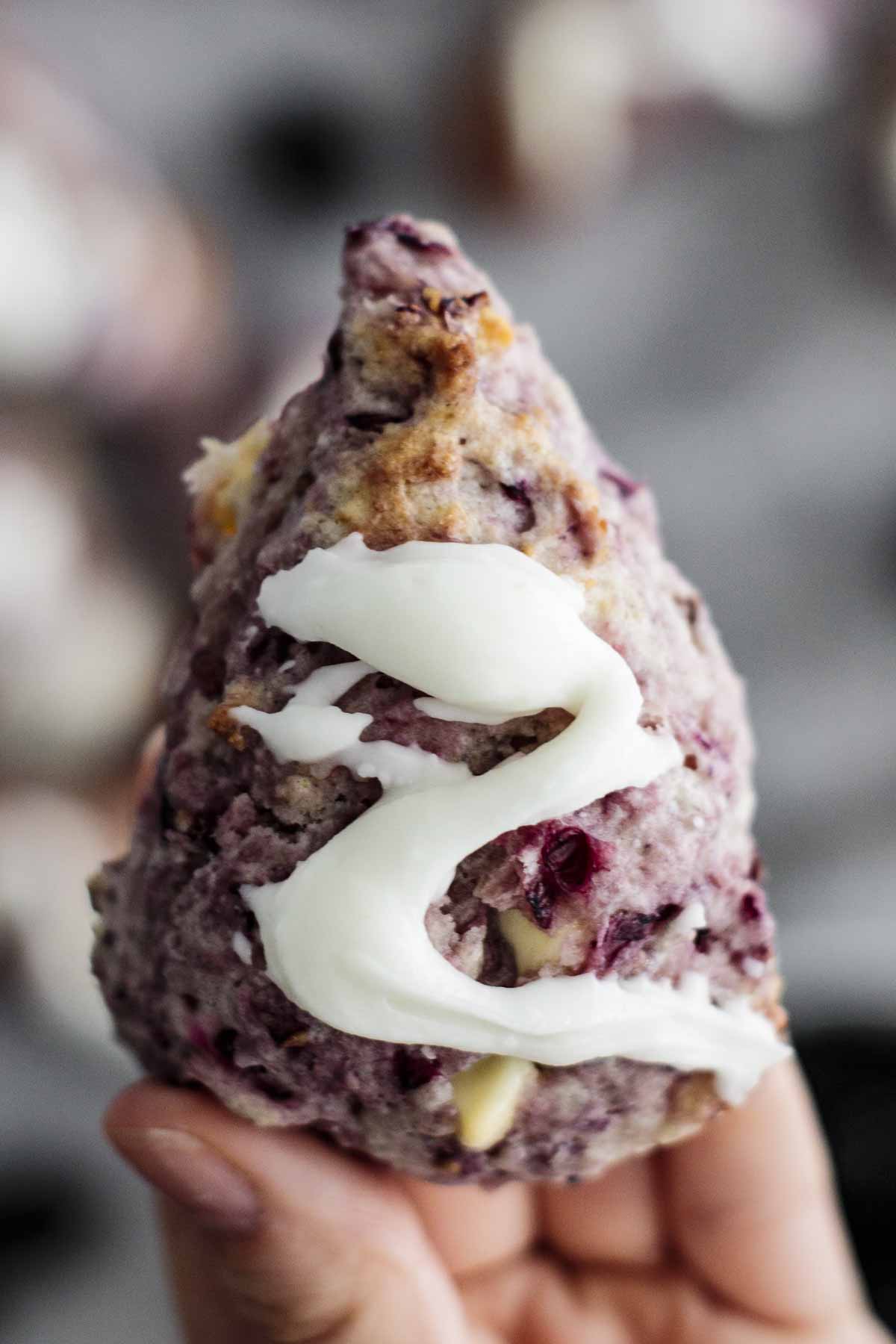 Butter. Use unsalted, frozen butter. This ingredients, as all wet ingredients, need to be SUPER cold.
Egg. Use organic, cage-free eggs if possible.
Heavy and sour cream. Sour cream can be substituted for Greek yogurt. Whipping cream (33% fat) can be used instead of heavy cream (35 to 36% fat). Don't substitute for half-and-half: it doesn't have enough fat.
White chocolate. You can use chunks of your favorite white chocolate, or white chocolate chips.
Blackberries. Use frozen blackberries if possible. You can use fresh blackberries, but they release more liquid when incorporated. That can make things difficult if you don't have much experience with scones.
Can I make these scones with other berries than blackberries?
Yes, you can! I already used blueberries, raspberries and strawberries for this recipe.

If you're making these scones with strawberries, I would substitute white chocolate for a dark one, and cover with melted dark chocolate instead of lime glaze.

Also, if using strawberries, remove the stem and dice them before adding to the dough.
How to make them
Scones are delicious but tricky little things to get done, right?
Well, kind of. They're not hard, but they CAN go wrong if you don't follow all the instructions and tips.
But don't worry, I have a step by step video and instructions below to make things easier for you!
Two things you need to do before starting to mix the ingredients:
Cut your butter into small pieces and freeze it for 1 hour. You need it extra-cold for the perfect scone texture. You can cut it into small cubes, or use a box grater to grate it, just make sure you freeze it before using; and
Preheat the oven. You can't forget to preheat it for at least 15 minutes for these scones. Oven needs to be hot enough for the scones to bake properly!
Now, for the recipe:
1. Mix all dry ingredients before adding wet ingredients. That will assure you get them all evenly mixed. Doing so prevent you of over-kneading the dough.
2. Use a pastry cutter, fork or your hands to incorporate the butter. If using your hands, make sure you wash them well first. You don't want to overwork here: small lumps are ok and wanted.
3. Add egg. Mix it quickly with a fork before adding to the dough.
4. Add sour cream and heavy cream. You may not need all your sour cream and heavy cream mixture. Add it only until you get a dough that resemble cookie dough. I recommend adding ⅔ of it, mixing, and adding more only if the dough is still too crumbly.
5. Add white chocolate and blackberries. Use frozen blackberries: they will release less water. In the video, I used fresh blackberries, and you can see how much water they released when mixed into the dough.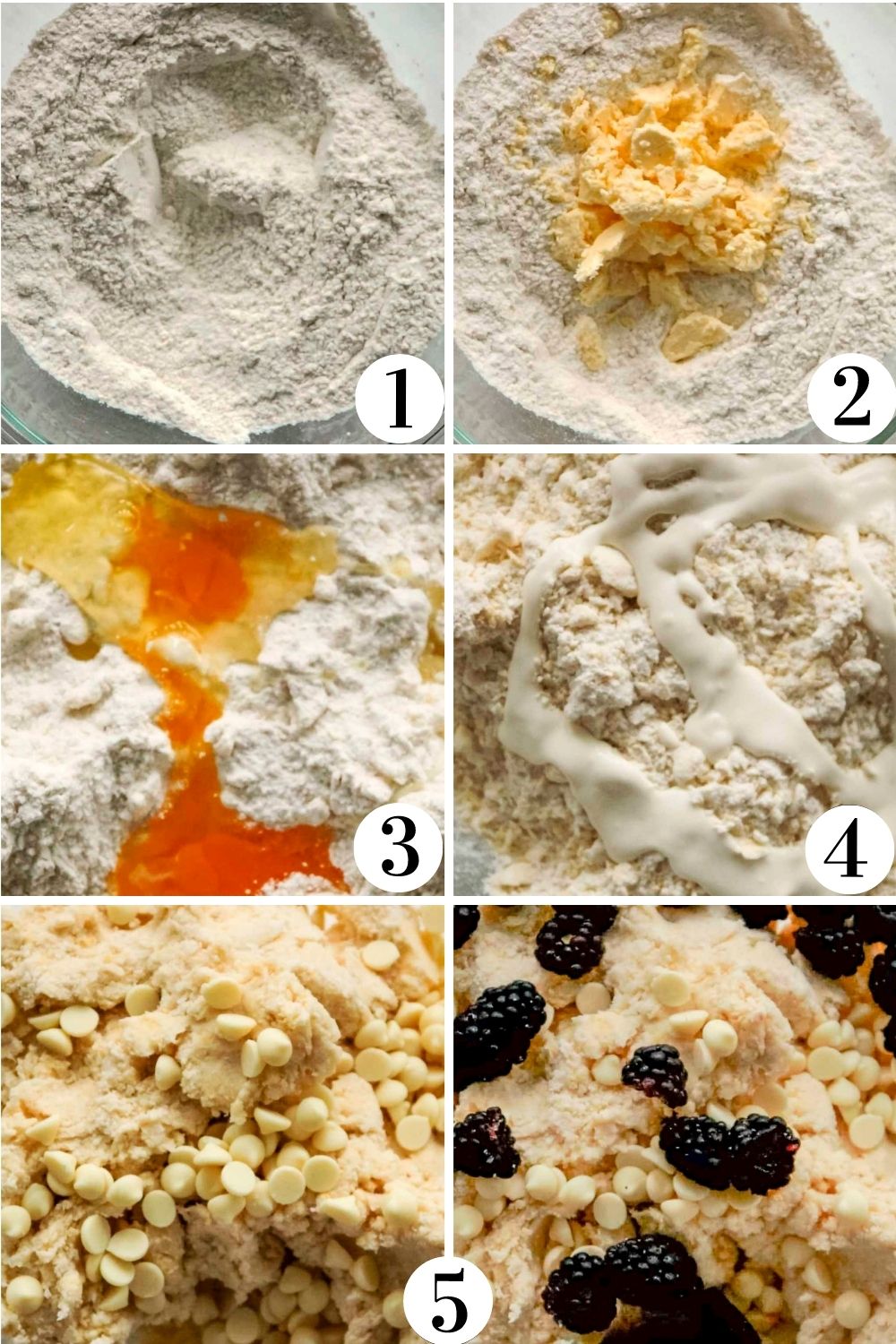 (The scones will be delicious and buttery even if using fresh berries - but it's easier to use frozen if you're a beginner.)
How to shape and cut scones
Now comes the tricky part: shaping blackberry scones.
Now, if you're thinking about adding more flour:
After adding the berries, ONLY IF the dough gets too sticky to shape, add more flour. But don't add too much: ¼ cup should be enough.
I don't like adding more flour, as doing so will make me knead the dough a bit. That means more gluten development, and that can make tougher, drier scones.
1. Flour your hands and the surface you'll use to shape the scones: it's so much easier to handle the dough this way.
2. Divide the dough in two if you're making mini scones. You can skip this part if you're aiming for bigger scones.
3. Shape each piece into a disc. Make it at least 1 inch tall. Flip the disc once, then cut it into 8 pieces.
4. Place shaped scones over a parchment-lined baking sheet. If you forgot to preheat the oven, if you handled too much the dough, or if you're baking in a hot summer day, I recommend freezing the scones for 20 minutes.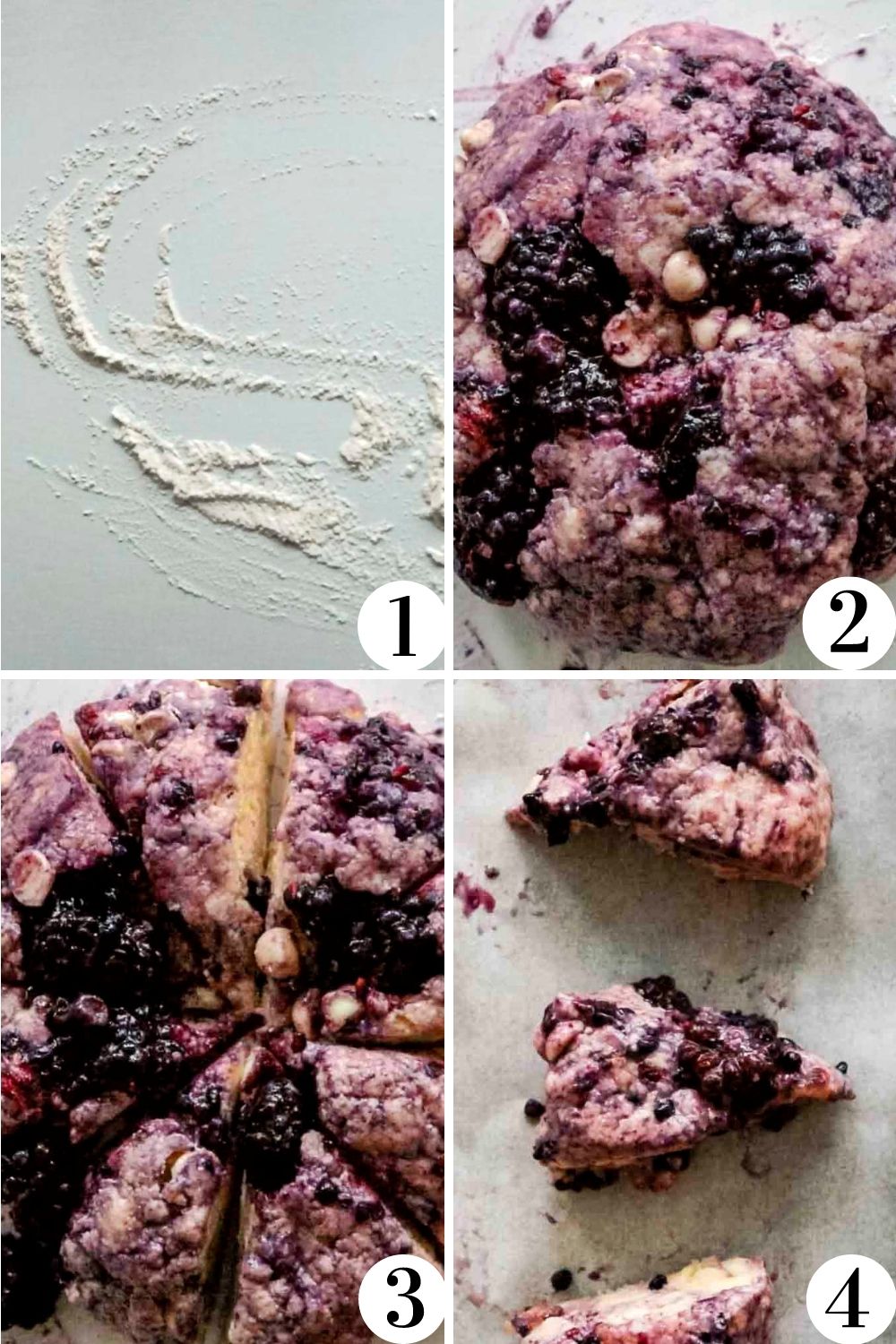 Tips for tender scones
Follow all these tips to get extra tender scones:
All the wet ingredients needs to be extra cold for this recipe;
Mix all the dry ingredients well before adding butter;
Careful to not overknead the dough. You only have to knead until everything is combined and no dry flour remains. Over-kneading makes a tough, crumbly scone;
Use frozen blackberries. Same is valid if you're using blueberries, raspberries or strawberries;
When cutting your scones, dip the cutter into flour. That little trick will make the dough don't stick to it;
Keep your scones as cold as possible until they reach the oven. If you shape them but the oven is not hot enough, place the scones inside your fridge while you wait for your oven to preheat properly;
Bake the scones using the middle shelf, ALWAYS. Do not bake more than 1 sheet at a time using different shelves;
Bake only until the scones reach a light brown color at the top. That happens between 12 and 15 minutes.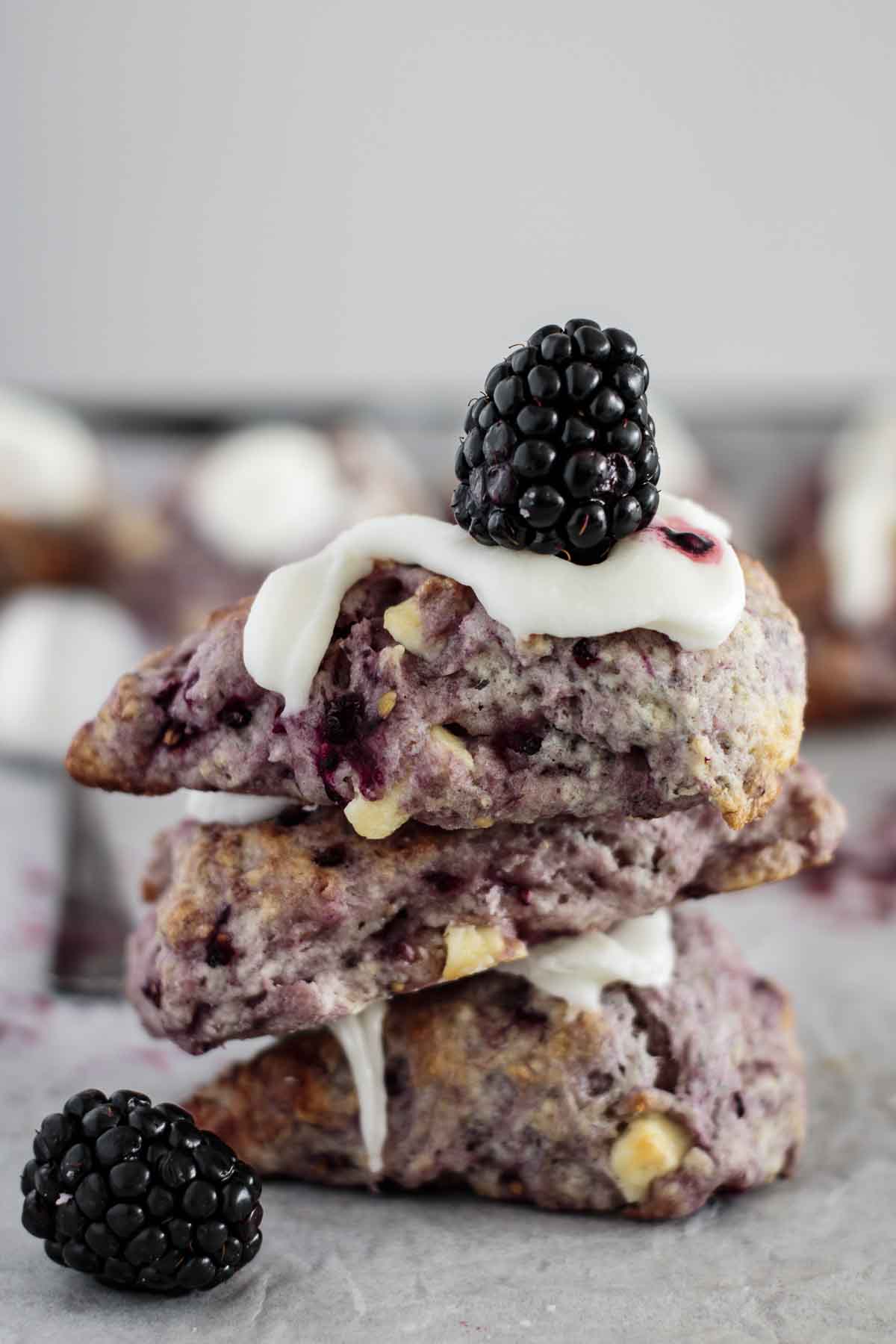 Storing your scones
Scones are always best when fresh from the oven. BUT this recipe was as good as fresh on the next day!
If you're lucky and there are scones left, store them inside an airtight container, away from sunlight. They're good for 3 to 5 days if stored correctly.
Thinking about freezing them? To freeze baked scones, wait for them to cool completely. Then, place them in a freezer bag or airtight container. They're good for up to 3 months.
To thaw after freezing, leave them for 1 hour on your counter or overnight inside your fridge, then use your oven or microwave to reheat. I prefer using the oven, and usually 6 minutes at 350°F are enough for me.
More Berry Recipes
Blackberry Jam
Strawberry Milk
Starbucks Strawberry Frappuccino
Blueberry Compote

Yield: 16
Blackberry Scones with Lime Glaze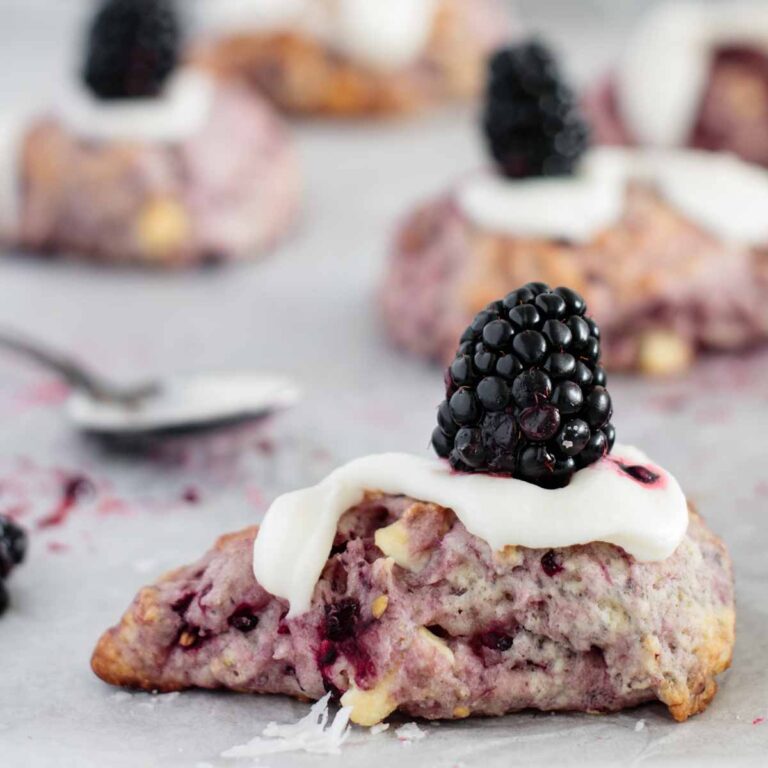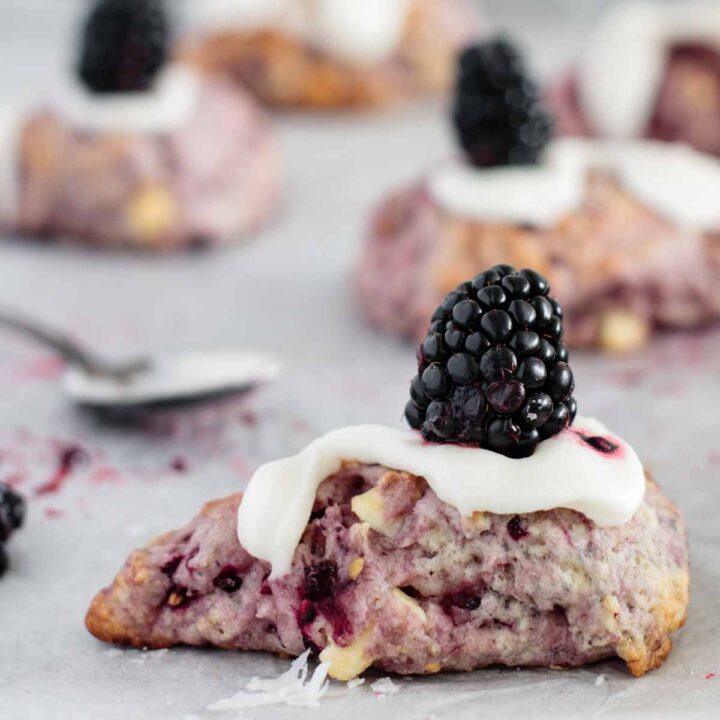 Topped with a perfectly tart lime glaze and filled with white chocolate perfection, my blackberry scones will make your breakfast sweeter.
Total Time
1 hour
25 minutes
Ingredients
Blackberry White Chocolate Scones
2 ½ cups all-purpose flour 
½ cup sugar 
¼ teaspoon salt 
1 tablespoon baking powder 
1 stick butter, cut and frozen 
1 egg 
¼ cup heavy cream 
¼ cup sour cream 
1 cup blackberries, frozen 
½ cup white chocolate, cut into cubes 
Lime Glaze
1 tablespoon salted butter
3 tablespoon lime juice
1 ½ cup confectioner sugar
1 tablespoon lime zest (optional)
Instructions
Cut the butter into small cubes and place into your freezer for 1 hour.
Adjust the oven rack to the center position and preheat your oven to 400°F. Line one baking sheet with parchment paper.
In a large bowl, combine the flour, sugar, salt and baking powder.
Add the butter and use a pastry cutter, fork or your hands to mix it with the dry ingredients.
Add the egg and mixture until combined.
In a small bowl, mix sour cream with heavy cream. Add half of it to your butter mixture. Mix until incorporated and add more if your dough is still too crumbly. It needs to be like cookie dough, but sightly stickier.
Add gently white chocolate cubes and frozen blackberries.
Place the dough into a floured surface and divide into 2 equal parts. Lightly knead each into a disc, at least 1 inch tall. Flip the disc once, then cut it into 8 pieces.
Place the scones on the prepared baking sheet, each spaced about 2 inches apart.
Bake for about 15 minutes on 400° F, or until golden brown on top.
Remove from the oven and let it cool for 20 minutes before pouring in the glaze.
For the glaze, melt the butter in the microwave (about 45 seconds).
Mix the melted butter with the lime juice (and zest if desired).
Add the confectioner sugar, mixing until homogeneous. If the glaze is too runny, add more sugar, one tablespoon at a time.
Pour over the scones as desired and let it set before serving.

Notes
You can substitute blackberries for strawberries, raspberries or blueberries.
Keep your scones as cold as possible until they reach the oven – if you cut them and the oven is not hot enough, place the scones into the fridge while you wait for it to preheat properly.
Always use frozen berries.
If your glaze is too runny, add a bit more sugar. To enhance the lime/lemon flavor, add a teaspoon of lime or lemon zest.
Nutrition Information
Yield
16
Serving Size
1
Amount Per Serving
Calories

254
Total Fat

11g
Saturated Fat

6g
Trans Fat

0g
Unsaturated Fat

3g
Cholesterol

36mg
Sodium

191mg
Carbohydrates

37g
Fiber

1g
Sugar

21g
Protein

3g