Triple coconut vegan granola with no refined sugar added: do I need to say more? Oh, with reasonable chunks - if you want it that way.
I'm all about granola these last couple of weeks: I think I've baked 3 or 4 different versions of it, and I have to hide the jars from my eyes to stop eating! Yeah, all I can think about is food, especially staying in all day.
This granola was born for the same reason I made tons and tons of coconut cookies: I have to get rid of 1kg of shredded coconut. Oh, did I mention that I have 1kg of shredded unsweetened coconut in my pantry?
Well, I have. No, I didn't buy it. A friend of mine ordered 300g of it, and she ended up getting 3kg by mistake, and gave me 1kg. Thanks Hanna, and thanks whichever grocery shop that made this sweet, unsweetened mistake and let you keep the whole amount, best of 2020 so far!
But let's talk about this granola. I want to list some points that will make you bake this today:
Big chunks and no eggs;
Coconut sugar syrup (it's water + coconut sugar, you can make it at home!);
No refined sugar;
Hemp seeds;
Zero animal ingredients.
Convinced? Good.
How to get those chunks
My coconut granola recipe uses the magic of coconut sugar plus patience and a bit of pressure to get these big beautiful chunks - no egg whites added. In fact, I don't add egg whites in any granola I make and I still get a lot of chunks. But how do I do it?
First, you need to add the right amount of coconut syrup, and you need to make sure it's really well spread through the dry ingredients. What I'm saying is that no dry ingredient should be free of it, ok? Ok. So follow the amount I use and mix it well with a spoon.
Second, as you pour it over your lined baking sheet, press it with a spatula. I though it wouldn't make a difference and baked one sheet doing it, one just spreading evenly the granola, and the results were: lots of chunks versus small non-existent chunks. So please do that, it makes a difference.
Third, you need to get the granola off the oven before it over-bakes. This requires a bit more practice and oven knowledge, unfortunately, but it can be done! My magical time is 27 minutes, but yours can be 25 minutes or half an hour - just never bake it for more than 30 minutes. If in doubt, take it out: you can fix it if it's under-baked, but if the magical time passes, chunks are gone.
How do I know my granola is perfectly baked? It will look light golden brown on the top, and your kitchen will have a delicious coconut smell.
Granola is out of the oven? Great! Now wait. Really, give it a few minutes to cool down.
One last tip: don't toss your granola while it's baking! I know, it's hard, you want to check if it's not burning, you want everything to bake evenly - LEAVE IT BE. Baking in medium heat (300° F), on the middle rack and never over 30 minutes will keep your granola safe from burning, don't worry.
How to make coconut sugar syrup
Trust me when I tell you this is super easy: get the coconut sugar, add some tap water and bring it to a boil on medium heat for 4 minutes. That's it.
The measure is always 2:1, so for 2 cups of coconut sugar, you will need to add 1 cup of water. It smells like caramel and it keeps in your fridge for a very long time (6 months) if you by chance make more than the amount needed for this recipe.
Ingredients Substitutions
Much as I would love for everyone to use every ingredient here, it's not always we have every single one of them available. What's on my pantry can be missing from yours and vice versa, so I'm always in for subs!
So, let me tell you what you can substitute in this recipe:
Coconut Oil: if you don't have any, substitute for vegetable oil, canola oil, almond oil, or sunflower oil. Olive oil may change the final taste.
Hemp seeds: if you have it, use it, seriously - it has so many benefits for you! But if you're short on it, you can replace hemp seeds with chia seeds, or even sunflower seeds. If you don't have any of these options, replace it with the same amount of old-fashioned oats.
Dried mango: You can omit it completely - but try not to. I added it because it transforms this simple coconut granola into a magical tropical coconut granola.
Unsweetened shredded coconut: you can use its sweetened version. Just be aware that you'll be (probably) adding sugar, and more sweet to your granola. You can also substitute for coconut chunks, or slices. Coconut in any version needs to be baked, different from the dried fruits that are always added at the end.
Oats: You can use only old-fashioned oats if you're short on quick oats. If you change to quick oats only, your granola may bake a bit faster and the texture will be different. I never tried with quick oats only, but I've seen around you should take it out of the oven 2 to 3 minutes earlier than when baking with old-fashioned oats.
Cashew: to me, this is what most goes well with this granola, but you can replace it with almonds if you're short on cashews. Also, you can use the salted version if it's what you have, just remember to omit the amount of salt asked on the recipe. I already used salted cashew and my granola didn't turn out super salty - it was just right.
What to have with coconut granola
So. Many. Options.
Really, I can eat this by itself, as I can top my yogurt bowl with it, or have it with pancakes, açaí (it's FANTASTIC with açaí!), some mango nice cream. Endless possibilities. Sometimes I even top my smoothies with it.
Ready to bake the most coconuty granola ever?
If you're into granola recipes like me, you'll probably love my spring granola! My onion chutney is also a great candidate for your top 5 recipes you need to have in a jar. And what to drink with all that? Stay healthy with my ginger detox or my orange turmeric smoothie.
I even got you covered if you're having problems falling asleep: try this bedtime smoothie and sleep through all night.
Yield: 2 jars
Vegan Coconut Granola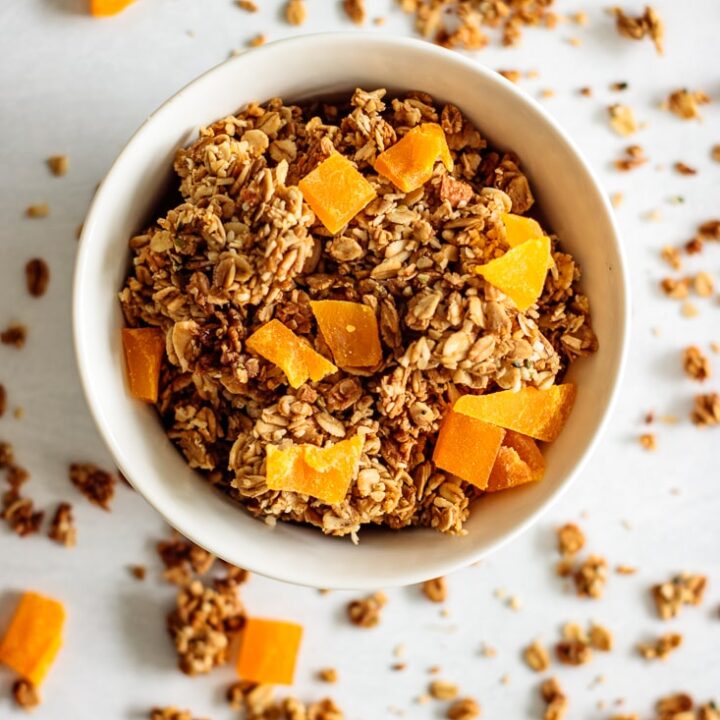 Triple coconut vegan granola with no refined sugar added: do I need to say more? Oh, with reasonable chunks - if you want it that way.
Ingredients
Coconut Syrup
2 cups coconut sugar
1 cup water
Coconut Granola
2 cups old-fashioned oats
1 cup quick oats
1 cup cashews
1 cup coconut, shredded and unsweetened
¼ cup hemp seeds
¾ coconut sugar syrup
¼ coconut oil
Instructions
For the coconut syrup: in a saucepan, mix the coconut sugar with the water and bring to a boil over medium heat, stirring continually, for 3 minutes. It will thicken a bit and smell like caramel, but it will still be quite liquid.
For the granola: Preheat the oven to 300° F and line a rectangular baking sheet with parchment paper or a silicone mat.
In a large bowl, add the oats, cashews, hemp seeds, salt and shredded coconut. Stir to combine.
Pour the coconut oil and coconut sugar syrup and mix well.
Spread the granola in an even layer on a lined baking sheet.
Bake for 25 to 30 minutes until the granola is lightly golden on top. Do not toss the granola while it's baking.
Let the granola cool before adding the dried mangos, and breaking it into chunks. Store in an airtight container, room temperature, for 2 weeks.
Nutrition Information
Yield
20
Serving Size
1
Amount Per Serving
Calories

200
Total Fat

6g
Saturated Fat

2g
Trans Fat

0g
Unsaturated Fat

4g
Cholesterol

0mg
Sodium

69mg
Carbohydrates

34g
Fiber

2g
Sugar

23g
Protein

3g