A gluten-free, sugar-free and delicious treat – is that possible? Keto coconut flour waffles are here to prove you that yes, you can have a healthy AND tasty breakfast in less than 10 minutes!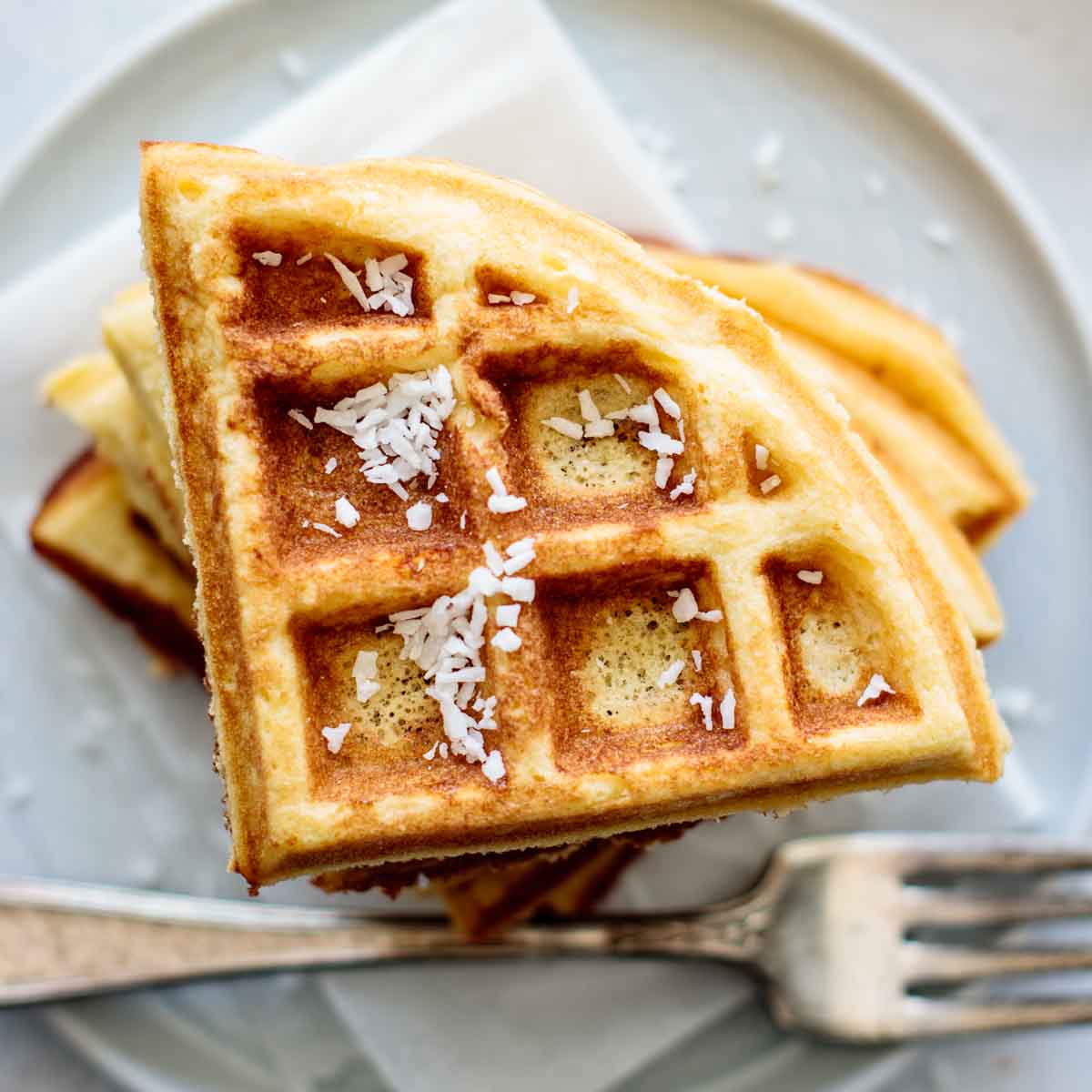 I like to experiment with different ingredients, and that's what makes me frustrated on an almost daily basis. But sometime my experiments work, and sometimes they work so well I need to share them with everyone. After all, food tastes better when shared and sugar-free food that still tastes like heaven needs to be praised.
So let me tell you about these waffles: they're made with coconut flour, but they don't really taste like coconut – unless you opt to add a bit of coconut extract. If you don't, the vanilla will be the prominent flavor on those waffles.
This recipe makes 3 keto waffles servings, which you might think is too little but trust me: coconut flour fills you up real good. I can't have more than 1 serving at breakfast! These coconut waffles always keep me satisfied until lunchtime.
Coconut flour on waffles
Can you use coconut flour for waffles? Yes, you can!
I have to say I was a bit afraid of the outcome first time I tried, as I always am when I cook with ingredients I still don't fully understand.
The texture was much better than expected – I prefer it to almond flour! And after I got the right amounts and understood this ingredient needs a few minutes rest after mixed, it got even better.
I have little experience with coconut flour, but one thing I can tell you: don't try to substitute it on this recipe.
Coconut flour is very different from any flour, and I don't have a substitute for this ingredient on my coconut waffles recipe.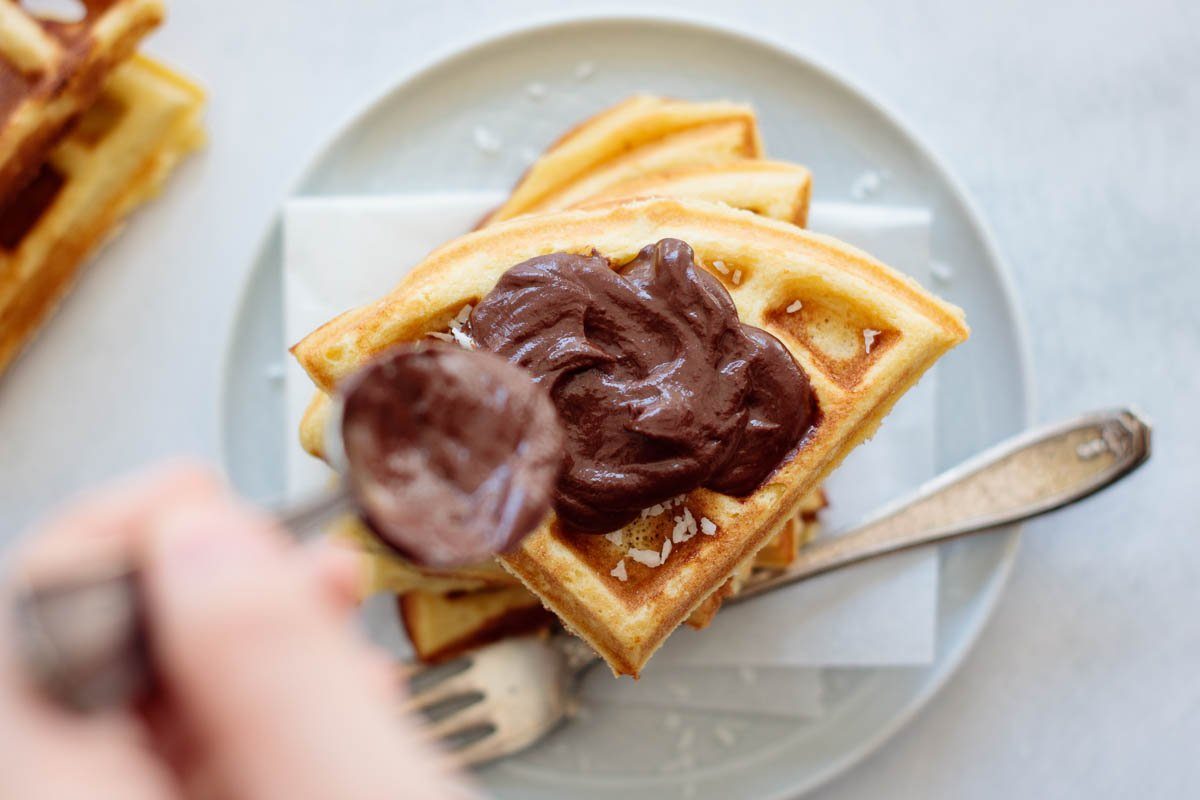 How to make coconut flour waffles
To make these sugars and grain free coconut flour waffles, you don't need much.
Before we start: if you don't have a waffle iron and is wondering if this recipe works for pancakes, it does! Just make sure to use a nonstick pan, and grease it with butter or cooking spray just as precaution.
Preheat your waffle iron. Also, always read and follow your waffle iron's instructions. Remember to grease the plates before adding the batter to keep the waffles from sticking, even if they're non stick.
Make the coconut flour batter. This is really simple, you just have to mix all ingredients, following the order given in the directions.
Let the batter rest for 5 minutes. You need that time to allow the coconut flour to absorb the liquids.
Cook your waffles. These coconut waffles are ready after 3-4 minutes (it depends of your waffle iron). Do not open it before it's ready or you'll end up with a mess. After 3 minutes, they'll be crispy and golden on top.
Place them into a cooling rack. Do not stack your waffles! If you want to keep them crispy, place them directly into your oven middle's shelf, with your oven preheated to 350° F.
Tips for the best waffles
Do not skip preheating your waffle iron!
If your batter is too crumbly, add 1 tablespoon more of heavy cream and stir;
Always grease your waffle iron, even if yours is non-stick. I use butter for that;
This batter should not be prepared in advance. It needs to be used right away! The more it sits, the more the coconut flour absorbs all the liquid;
Chocolate Ganache
You can skip the chocolate ganache, but I wouldn't. This recipe worked magically for my chocolate cravings, and the waffle was just perfect with it on top.
This chocolate ganache is super easy to make!
Melt the unsweetened chocolate using your microwave;
Mix heavy cream and sweetener;
Stir until well combined, and that's it!
This chocolate ganache is perfect for this coconut waffle: sugar free, gluten-free and absolutely delicious.
If you don't like it, or just don't have it available, these coconut waffles are also great with berries, more butter, and even by themselves.
Storing and freezing
These waffles are better stored inside your fridge in an airtight container. They keep from 3 to 4 days.
You can freeze these coconut waffles if you'd like. It's great to always have a healthy breakfast only minutes away, right?
Let them cool completely, and only then store them in a freezer safe bag. A tip for preventing them from sticking onto each other is to separate each one with layers of parchment paper.
Preheat them using a toaster or oven for a crispy result, or let them thaw for 10 minutes and reheat your coconut flour waffles using your microwave.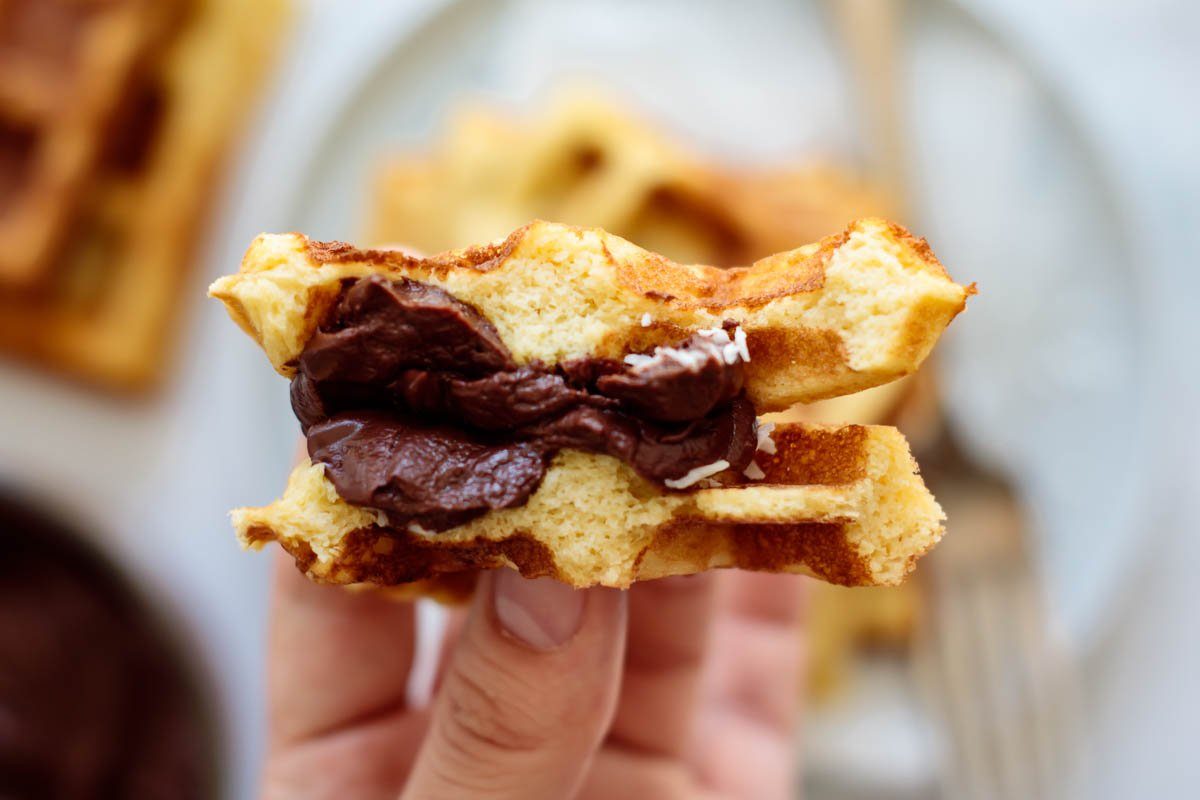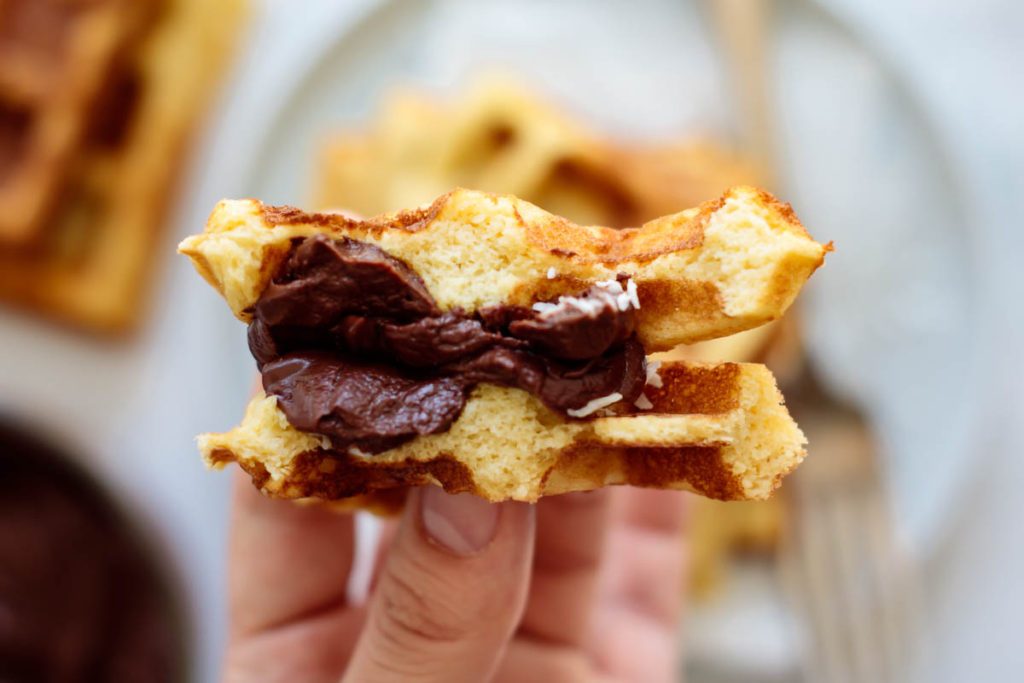 More Waffle and Pancakes Recipes
Fluffy Waffles
Pumpkin Pancake Cereal
Sourdough Fluffy Pancakes
FOLLOW ME on INSTAGRAM, PINTEREST, FACEBOOK, and YOUTUBE for more great recipe tips and ideas!
Yield: 3 servings
Keto Coconut Flour Waffles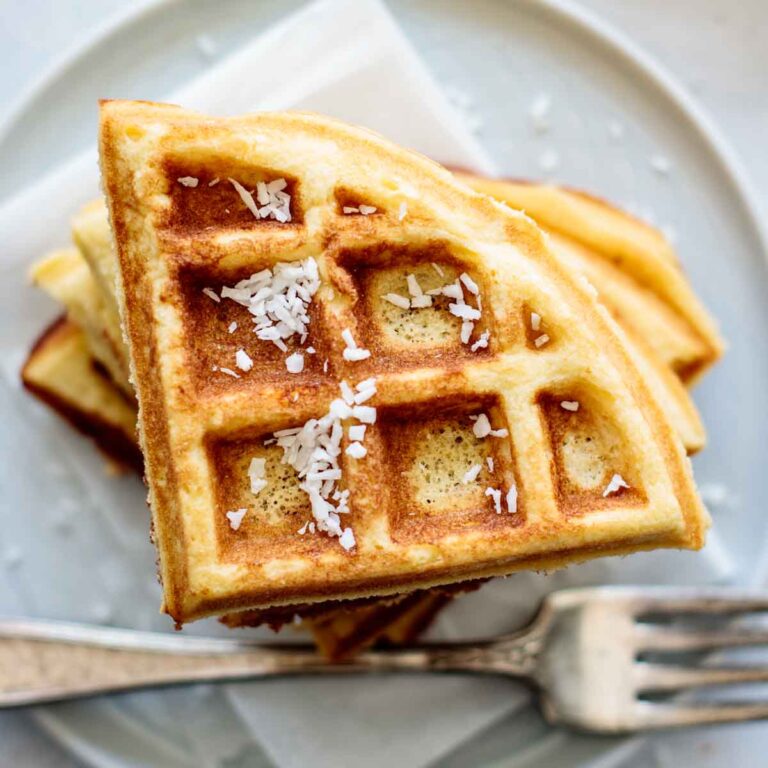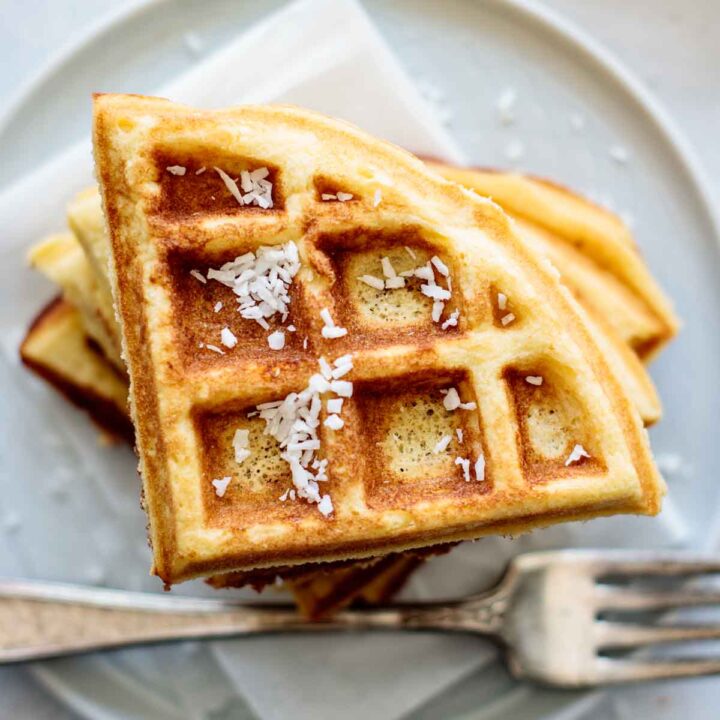 A gluten-free, sugar-free and delicious treat - is that possible? These Keto coconut flour waffles are here to prove you that yes, you can have a healthy AND tasty breakfast!
Additional Time
5 minutes
Ingredients
Coconut Flour Waffles
3 tablespoons butter, melted
4 organic eggs
1 tsp vanila extract (or coconut extract for a coconut flavor)
3 tbsp Swerve or eritritol
3 tbsp heavy cream
1/4 cup coconut flour
1/4 teaspoon salt
1 teaspoon baking powder
Chocolate Ganache
2 ounces unsweetened chocolate
3/4 cup heavy cream
1/3 cup Swerve sweetener
Instructions
Mix eggs, butter, vanilla (or coconut) extract, Swerve or eritritol and heavy cream, whisking for 2 minutes, until all ingredients are combined. You can use a blender for this step if you prefer.
Add the coconut flour, baking powder and salt and mix well, until all the ingredients are combined and there are no dry spots left. Let it rest for 5 minutes, so the coconut flour can absorb the liquids.
Preheat your waffle iron.
After it's hot, pour 1/3 of batter and cook for 3 to 4 minutes, or according to your waffle iron instructions. Do not open you waffle iron before you waffle is ready!
Chop the unsweetened chocolate and in a microwave-safe bowl, heat it for 30 seconds. Stir it, and heat for another 20 seconds if the chocolate still hasn't melted. Careful not to burn the chocolate.
Add the heavy cream and the sweetener on top of the melted chocolate and stir until all ingredients are combined, and the ganache is formed.
Serve your coconut waffles with chocolate ganache on top. Enjoy!

Notes
Don't substitute coconut flour for any other flour: the amounts are very different.
I tried whisking my egg whites for a more fluffy waffle, but haven't seen significantly differences between whipping it or just whisking the whole egg, so I choose to skip this step.
Nutrition Information:
Yield:
3
Serving Size:
1
Amount Per Serving:
Calories:

632
Total Fat:

57g
Saturated Fat:

34g
Trans Fat:

1g
Unsaturated Fat:

19g
Cholesterol:

363mg
Sodium:

555mg
Carbohydrates:

17g
Fiber:

4g
Sugar:

6g
Protein:

15g