Make tasty and fluffy waffles in minutes! With a good amount of butter and no buttermilk, these waffles will bright your mornings.
The perfect fluffy waffle recipe is a thing most of the waffle lovers spend a lot of time searching for. How to get the best flavor with easy to find ingredients? Can homemade waffles have a crispy outside? Why my waffles are mushy minutes after made? How do you make waffles fluffy from scratch?
Keep reading and get all your doubts about American waffles solved, along with my favorite recipe for fluffy waffles.
Milk or buttermilk?
There's only milk in my recipe, and my waffles do not lack of flavor.
I use milk only because is not everywhere you can find buttermilk and is not always I have it in my fridge. Buttermilk gives your waffle some flavor, but using it only makes a denser waffle unless you use baking soda. I think choosing milk will make your waffles way fluffier.
If you want the flavor buttermilk gives, you can replace ⅓ of the total amount of milk for buttermilk.
Are Waffles better with oil or butter?
Oil will make your waffles crispier on the outside. But butter will make them crispy as well, and it also leads to a tastier waffle.
My choice for this recipe? Butter, always.
Don't skip the sugar
This is a sweet waffle recipe, so I'm adding some sugar here. But here, sugar is not only for making your waffles sweeter. Sugar is what gives that beautiful golden-brown color to the waffles, and also helps a bit with crispiness.
But avoid adding too much! High amounts of sugar in the batter can cause your waffles to stick to the pan.
You need to whip your egg whites
For a fluffier waffle, you just cannot skip this step. Whip your egg whites to stiff peaks and add them gently to the batter. Careful to not overwhip, ok?
Preheat your waffle iron
You need to wait for your waffle iron to get hot before you pour the batter on it. A badly preheated waffle iron will give you soggy waffles and make you lose the first one - and we don't want that.
How hot, do you ask? I turn it on at least 6 minutes before I start making them. Time will differ between brands, so the trick is to wait until it's hot enough your batter crisps as soon as it hits the hot surface. Or you can test with a drop of water: it needs to sizzle and evaporate as soon as it hits the surface.
Do not open your waffle iron before your waffle is ready
Usually there's a light that goes on in your waffle iron when the waffle is ready. I know you can be anxious, wanting to see how's your waffle going, but try not opening before the right time. Opening the iron before your waffle is ready may cause it to break apart, and you'll end up with a huge mess.
Maybe you need to add a little fat to your iron
Although the batter has a lot of fat on it, your waffle iron may need this little push. Before a got a new one, my waffle iron was over 10 years old and man, even with a lot of fat in the recipe I needed some cooking spray to keep my waffles from sticking.
If you're having problems with waffles sticking and coming apart as soon as you open the waffle iron, try spraying some cooking oil or butter: it will prevent it, and make your waffles crispier on the outside.
How do you keep waffles crispy?
Can I confess one thing? I don't mind it all a soggy waffle. But my husband does, and sometimes I want to spoil that man. So I have some tips for you to have that crispy crust everybody keeps talking about.
First thing to have an extra crispy exterior (with a super fluffy interior), NEVER stack your waffles while they're warm (especially when they're HOT). As soon as they are out of the oven, place them on a cooling rack so they'll keep crispy.
But sometimes keeping them apart is not enough. So, my second tip is to keep the waffles in the oven. Preheat your oven to 200°F (turn it on just before starting this recipe, and make sure your oven rack is clean, ok?). As soon as your waffle is ready, place it directly on the oven rack. I keep my rack in the lower-middle or middle.
Final tip: cornstarch. The cornstarch added in this recipe protects the waffle from getting soggy. It's magical! Don't skip this ingredient.
How to store them
If there are leftover waffles, wait for them to cool completely before storing. Once cooled, place them into an airtight container or ziplock bag. Store at room temperature for 2 to 3 days, or freeze them (you can freeze waffles, you can't freeze its batter). They're good for 3 to 4 months if frozen.
To reheat, get as many as you need and place for 4 to 5 minutes into a preheated oven (350°F). Keep an eye on them, as they can burn easily and every oven is different.
Sometimes I reheat them using a toaster. They get an extra crispy exterior, but every other time they also get some parts a bit burnt.
Can I make the batter ahead of time? And can I freeze it?
No, you can't make this batter the night before. You can mix everything but the baking powder and the whipped egg whites and store it in your fridge, though. Next day (or when you're ready to bake), add the baking powder, mix well, and combine gently fresh whipped egg whites.
And for the second question, again the answer is also no. You can't freeze a fluffy waffle batter, as it will change the final texture when making your waffles.
Why are my waffles not fluffy?
Have you followed 100% the recipe? Have you made any ingredient substitution? Was you gentle when combining the whipped egg whites into the batter? And have you whipped your egg whites enough? When I don't get super fluffy waffles, usually I made one of these mistakes.
So, let's recap the essential:
Make the batter only minutes before you are making your waffles
Whip your egg whites;
Don't skip the sugar
Heat your waffle maker;
Wait for the right time before opening your waffle iron;
Don't stack your waffles;
Keep them in the oven for a crispier exterior.
Looking for more breakfast ideas? Chocolate chip scones are always a good idea! If you're looking for a sweet and savory bread, try this pumpkin brioche with a good slice of butter: pure perfection.
Yield: 6 disks
Fluffy Waffles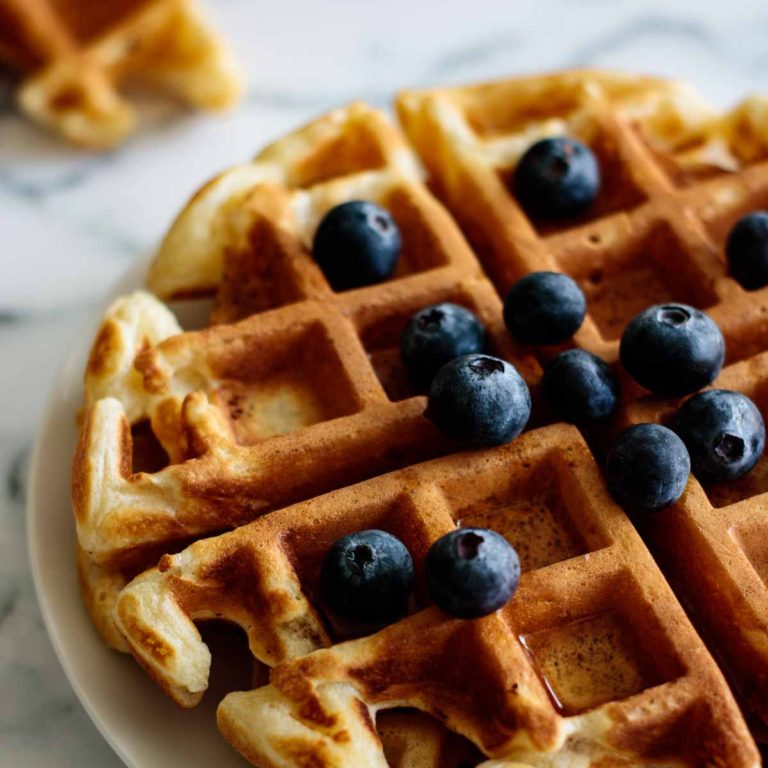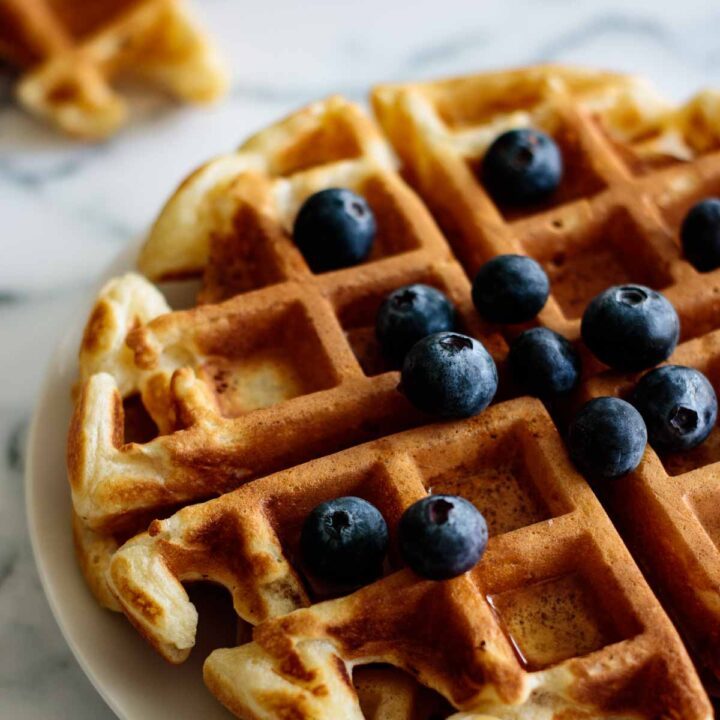 Make tasty and fluffy waffles in minutes! With a good amount of butter and no buttermilk, these waffles will bright your mornings.
Ingredients
1 egg, separated
3 tbsp butter, melted
1 ¼ cup milk
½ tsp vanilla extract
1 cup all-purpose flour
⅓ cup cornstarch
1 tbsp baking powder
2 tbsp sugar
⅓ tsp salt
Instructions
Preheat your waffle iron.
Preheat your oven to 200°F (This step is optional, but it helps to maintain your waffles crispy until every waffle is cooked).
Separate the egg yolk from the egg white. In a medium bowl whisk egg yolk, butter, milk and vanilla extract until well combined.
In a medium bowl, whip egg white to stiff peaks.
In a large bowl, stir together all-purpose flour, cornstarch, baking powder, sugar and salt until well mixed.
Add the liquid mixture, and whisk only until everything looks homogeneous. Careful to not overmix.
Gently fold the whipped egg white.
Pour batter into preheated waffle iron and cook until ready. It usually takes from 3 to 4 minutes, depending on how much golden brown you want your waffle.
If you're using your oven to keep them crispy, place your cooked waffles directly into the oven rack to keep their exterior crispy. If not, place them on a cooling rack to prevent them turning soggy.

Nutrition Information:
Yield:
6
Serving Size:
1
Amount Per Serving:
Calories:

210
Total Fat:

8g
Saturated Fat:

5g
Trans Fat:

0g
Unsaturated Fat:

3g
Cholesterol:

50mg
Sodium:

457mg
Carbohydrates:

30g
Fiber:

1g
Sugar:

4g
Protein:

5g