Butter biscuits, cream cheese and a jar full of blackberry jam: breakfast of champions. Blackberry jam is one of my favorites jams ever, and one of the easiest to make. Practically foolproof, you just need to follow this recipe and all the tips to get a great homemade jam with no pectin added and less sugar than its store-bought version.
Looking for a small batch blackberry jam recipe? Look no more: this one will give you a small batch of the most delicious jam. Although I don't give instructions to canning this recipe, feel free to do it if you know how to. I use nothing but blackberries, sugar and lemon here (this is a vegan recipe), so it's safe to can it.
If you never made jam in your life, this is a good recipe to start. Same applies if you don't know how to can your jar of jam. Follow it, read all my tips below, and I guarantee you'll have a delicious blackberry jam that will set.
Let's talk about blackberries
The fresher the fruit, the better the jam. That said, I would avoid using overripe blackberries for making this recipe.
You can use frozen berries: just let them thaw before starting your recipe.
The berries you're looking for are deep black and just ripe, so your jam will have an amazing blackberry taste. Discard any blackberry that's overripe, dried or spoiled, and remove any leaves or steams you may find.
Although most of the berries must be ripe, you can add a few underripe blackberries to this recipe. They will help your jam to gel faster, as underripe fruit have more pectin than ripe. Just don't make it only with underripe berries, or it will compromise the taste. You need the majority to be ripe for a good blackberry flavor.
Before cooking, crush your blackberries with a potato masher, or if you don't have it, use your food processor. You can use a fork as a last resort, but it may take you more time. Crush your berries, but DON'T PUREE them. If using a food processor, pulse twice or three times, or just until the blackberries are lightly crushed. Jams that have bits of fruit are way more delicious.
Sugar
Never made jam in your life? Stick with the amount of sugar this recipe calls for. Reducing the sugar may alter the results: your jam may not set on time, or you may need to cook for longer and accidentally overcook it.
I know sometimes we just want to reduce the sugar, and yes, there are plenty of recipes without sugar out there that are pretty good. But sugar has more than one role in this recipe. It's not only for making you jam sweeter: sugar makes the jam set properly, and it acts as a preservative as well. Shortening the sugar may cause a more runny jam, and you jam may not last as long as it should.
What sugar should you use for blackberry jam? If you're starting with jam, or if you still have trouble recognizing when your jam is set, stick with granulated or caster sugar. I've already tried this recipe with brown sugar, and although it was delicious, the version with plain white sugar makes the blackberry flavor pop more.
Lemon
Lemon or lime can be used interchangeably in this recipe.
Don't skip this ingredient! Although it's less than 2 tablespoons, an acid is more important than you think for you to get your jam right. It not only gives you a well-balanced jam, it also activates the pectin, helping your jam to firm up.
Cooking your jam without adding pectin
You can double my recipe, as it makes a pretty small batch, but don't make it bigger than 6 cups of jam or it may not set. This can happen because pectin is super easy to overcook, and once it happens, it loses all its thickening properties. Cooking smaller batches allows your jam to get an even heat distribution. A larger batch won't heat equally in your pan, and so it will take longer to cook.
It's better to use a large bottom pan: you want to minimize cooking time and optimize water evaporation, so the more berries in direct contact with the pan, the better. A flat-ended spatula or spoon is also helpful, as it's easier to scrap the bottom of your pan with it while the jam cooks.
Foam will form at the top of your jam - another reason for using a large-bottom pan and to not double the recipe. You can skim it as it forms, or you can leave it to dissipate while you jam cooks. Some people add ½ of a teaspoon of butter to dissipate the foam faster, but I just leave it be. Quick note about adding butter: I never tried. Although it probably works, for what I've seen, it can compromise the shelf life of your jam in case you opt to can it and leave outside your fridge.
While still hot, your jam will look like is not set. Resist the urge to keep cooking it if it passes the spoon test. I did it many times when younger and ruined countless batches. After cooled, the jam will be just perfect.
I don't can my jam, and I prefer leaving its jar in the fridge as I like it better cooled. Also, this is a very small batch. What I do is sterilize with boiling water the jar I'll use for storing my blackberry jam. After ready, I pour the jam into the jar, close the lid, wait for it to cool completely and then store it in my fridge. It lasts for up to 1 month in the refrigerator if not canned.
How do I know my jam is set
Thick enough to spread, soft enough to spoon: that's how your blackberry jam should be. That's the hardest part to achieve.
Lots of things can affect the time your batch might need to cook: the pan you use, how hot your stove gets, if you coated your berries or decided to skit this step. If you have little practice, you probably won't be able to know is set just by looking at it - and I don't really rely much in my eyes for jam, so I always do two tests: the spoon and the wrinkle test.
For the spoon test, you'll need a spoon and a good eye. I'll try to show you how your jam should look like when ready in the photos below.
First one is just after the skim died down: still very liquid and definitively not ready. After 3 more minutes cooking, it's significantly more gel-like - but still not ready. What you're looking for is what you see in the second photo: the jam runs down more together than in the first two photos.
For me, it usually happens between 20 and 25 minutes, when I follow my recipe without doubling it. If I go up to 30 minutes, my jam gets thicker than I like. So if you're using a heavy-bottom pan, large enough so all your jam is in contact with the pan surface, maybe that's the time your jam will set too.
When you think your jam is set - when it's not liquid anymore and it looks like it's coming off together in a glob from the spoon - you can make the wrinkle test. It's a way to be really sure you're getting the consistency you want.
Just before start cooking your jam, place a small plate in your freezer. When you think it is done, place a small spoon of blackberry jam on the plate and return it to your freezer for one minute. If after this time the jam wrinkles when you push it (with your finger, a toothpick, a spoon), it's set. If you can't see it wrinkles, tilt the plate. Does the jam runs down the place? If not, it's set.
Your jam might look runny and much more like a syrup while hot. Don't worry, the magic will happen once it chills out. It also may taste too sweet, but its sweetness will lessen once your jam is chilled.
My blackberry jam is too runny!
If your jam is too runny, you may have undercooked it. You can try recooking it, but I would use it like a syrup, and cook for some minutes more my next batch. Maybe your blackberries had too little pectin (where they overripe?), maybe you add less sugar than the recipe called for or skipped the lemon/lime juice (did you do it?).
If you're doing a very large batch (consider 6 cups of jam a very large batch), that may be the reason you jam is too runny.
My blackberry jam is too thick!
If your jam is too thick, you probably overcooked it to the point it may have scorched. If the taste is off, there's no much left to do: throw it away and start a new batch. But if your jam tastes good, you can try reheating it with some water or neutral juice (like apple juice), and see if it helps your jam to thin a bit. Or you can use it for baked goods, like muffins, cakes or berry jam bars.
Why can't I use overripe fruit to make jam?
Because they have less pectin than ripe or underripe fruit. If you're using overripe blackberries for making jam, you may not get enough pectin from the fruit and your jam may never properly set.
Why do I have to crush my berries?
Crushing your berries help to release pectin faster, which helps to reduce cooking time and gives you a better jam.
So, where can I use my blackberry jam?
Besides spreading through this marvelous Japanese Milk bread, or the ultimate pumpkin brioche along some peanut butter?
SO. MANY. OPTIONS.
Blackberry and peanut butter sandwich: I'm addicted to that. Then, think higher: use it on your baked goods. You can spread it in a piece of banana bread. Eating blackberry jam along with apple bread is as amazing as it sounds.
Yield: 1 small jar
Blackberry Jam without Pectin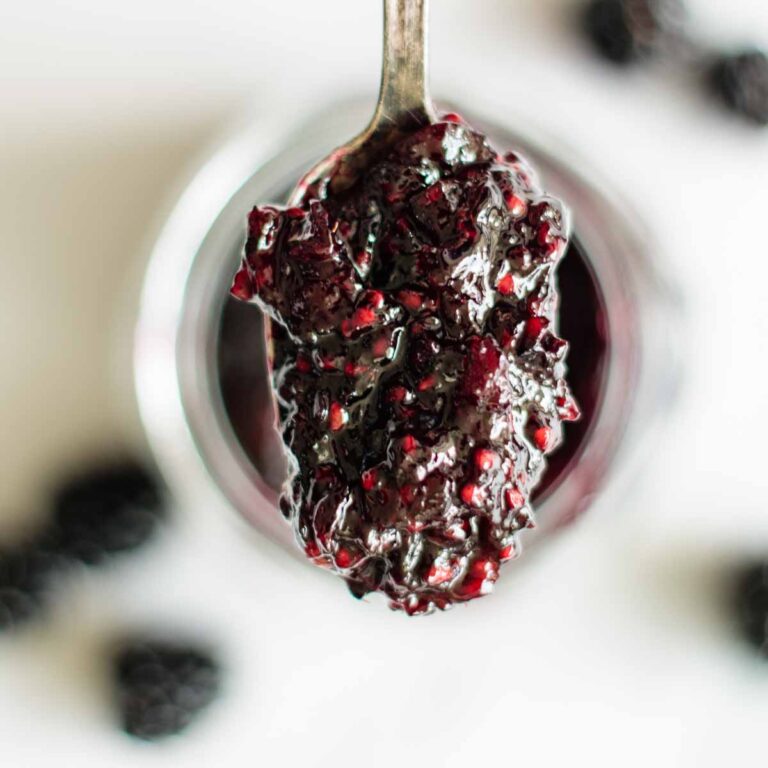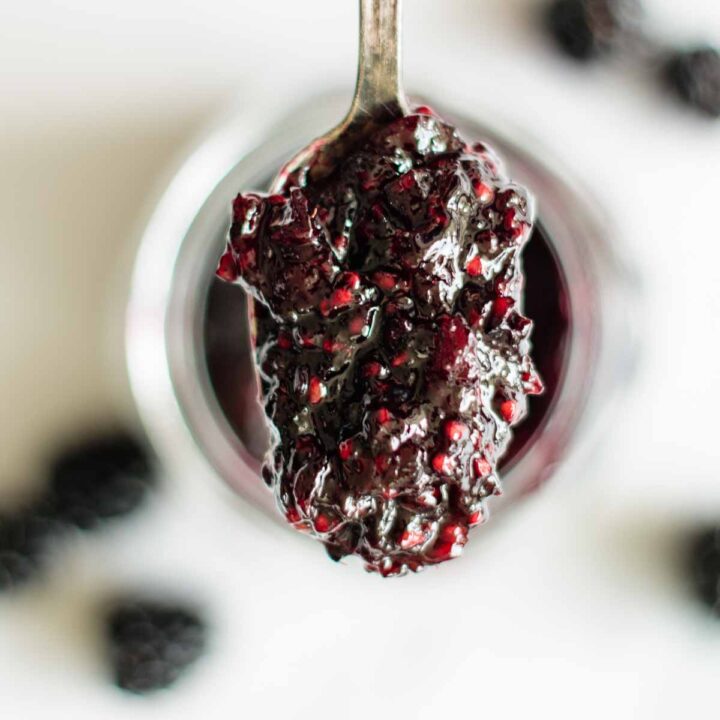 Practically foolproof, you just need to follow this recipe and all the tips to get a great homemade blackberry jam with no pectin added and less sugar than its store-bought version.
Ingredients
2 cups blackberry
⅔ cup granulated sugar
1 ½ tablespoon lemon or lime juice
Instructions
Sterilize the jar you'll be using for storing your jam with boiling water.
In a large bowl, place blackberries and sugar, macerating the two together until all berries are crushed.
Place a small plate in your freezer just before start cooking your jam.
Transfer the berries and sugar mixture to a heavy-bottom pan and add the lemon juice. On medium-low heat, stir for about one minute or so, until sugar is dissolved.
Cook in medium-low heat for about 15 minutes before testing for doneness for the first time.*
After 20 minutes, your jam should be close to set. Place a small amount of jam on the plate in your freezer, close the freezer and wait for 1 minute. If the jam placed in the plate wrinkles when you push it, or if the jam does not run down when you tilt the plate, it's set.
Transfer your blackberry jam to sterilized jar and close the lid. Wait for it to cool for some minutes before storing in your refrigerator.

Notes
*You can test for doneness with the spoon test. When set, jam runs down together from the spoon instead of forming liquid drops.
Nutrition Information:
Yield:
1
Serving Size:
1
Amount Per Serving:
Calories:

659
Total Fat:

2g
Saturated Fat:

0g
Trans Fat:

0g
Unsaturated Fat:

1g
Cholesterol:

0mg
Sodium:

6mg
Carbohydrates:

167g
Fiber:

16g
Sugar:

149g
Protein:

4g