Are you looking for a healthy breakfast recipe that tastes like dessert? Banana Bread Granola might be just what you need! Vegan, gluten-free and naturally sweetened, this vegan granola recipe will make your first meal delicious.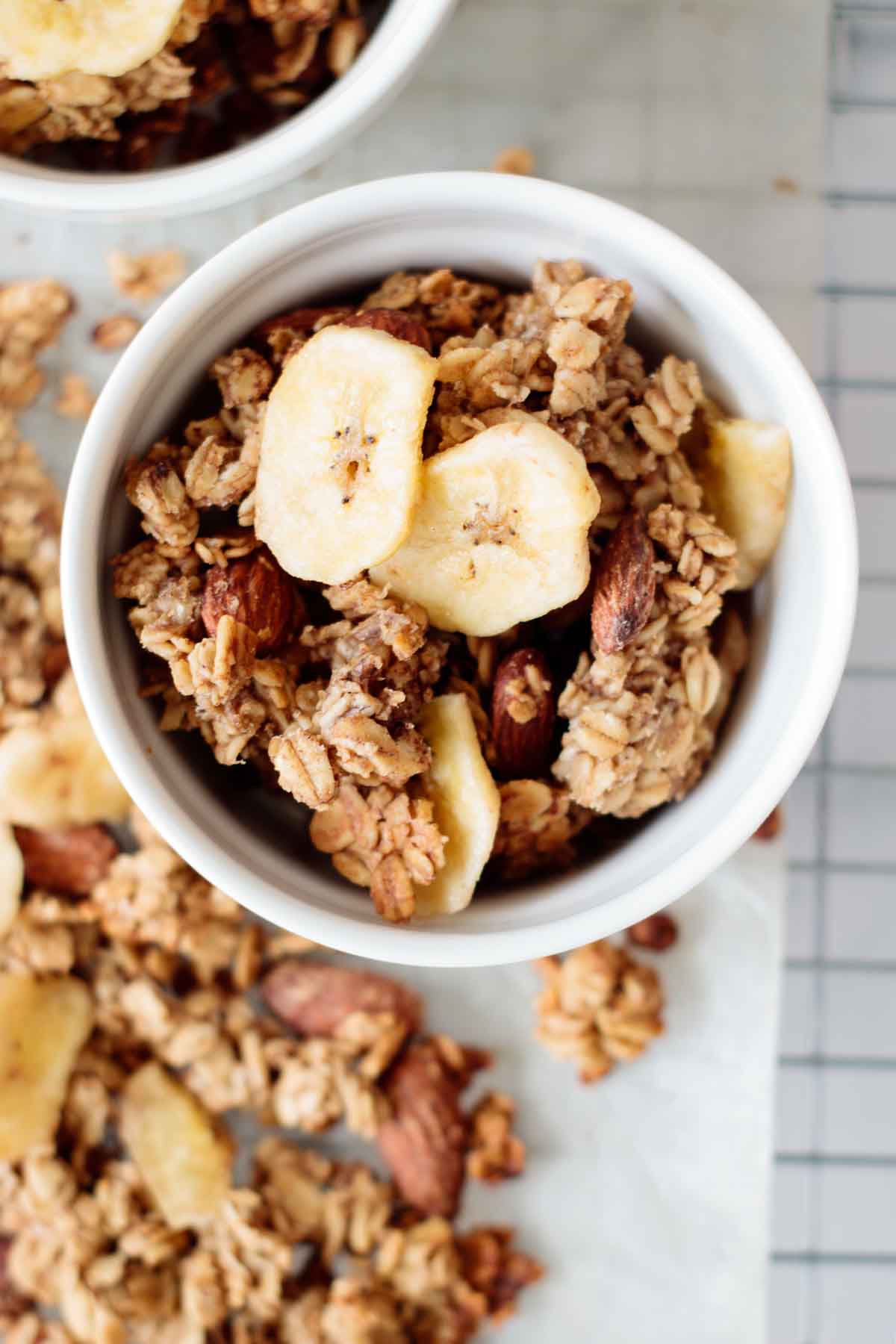 A healthy and refined sugar free granola recipe
If you love banana, and also agree that banana and cinnamon is one of the best flavor combos out there, you'll love this recipe!
All the peanut butter makes this granola a full meal, giving it just the right texture: can't describe it, you have to try it!
Maple syrup adds the right amount of sweetness, transforming this recipe into a dessert-like one. No refined white sugar here!
I always use healthier oils for my granola recipes. This one uses almond oil, but you can also use coconut oil if you don't have the first option.
You can use olive oil as well: the amount used is too little to leave any strong taste.
Why you need to make this
This Banana Granola is a healthy and fulfilling breakfast option;
Super, super, super easy to make;
It's refined sugar free, gluten free and has no animal ingredients on it;
If you love banana bread, you'll love this granola!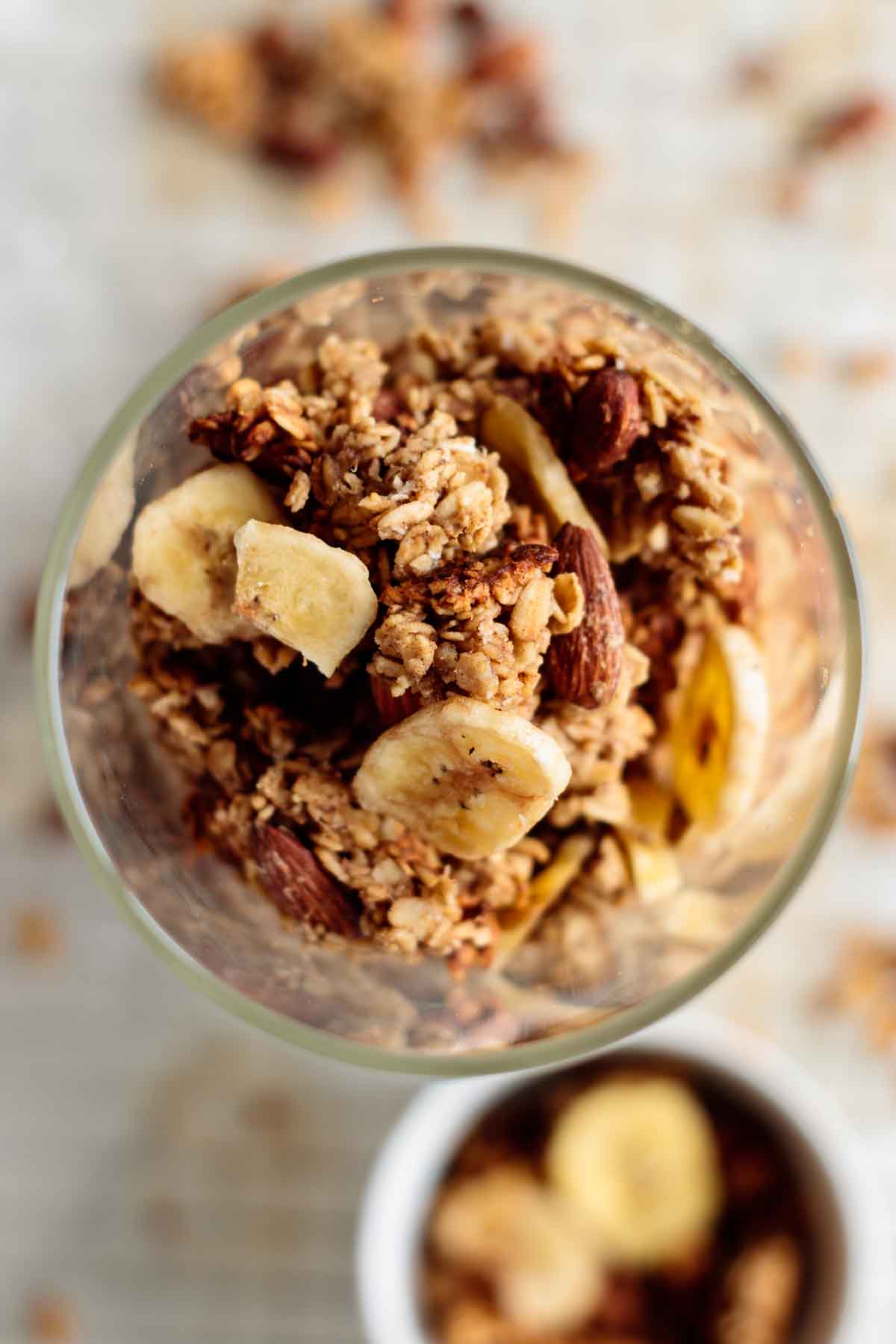 How to make it
Granola is easy to make, but for first-timers it can be a little tricky! Let's go through all the steps together so you can get the best ever banana granola.
Start by preheating your oven. You granola will bake better and evenly if you preheat the oven.
Get 2 bowls. In one, mix all dry ingredients, in the other, the wet ingredients. Combine both and stir until everything is well mixed.
Spread the granola on a lined baking sheet. Don't make the layer too thick or it will get less crunchy. Aim for an even layer.
Check your granola before the time is done. Every oven is different, so I recommend checking your granola after 25 minutes. If it's darkening to much around the edges, lower a bit the temperature or move it to an upper rack.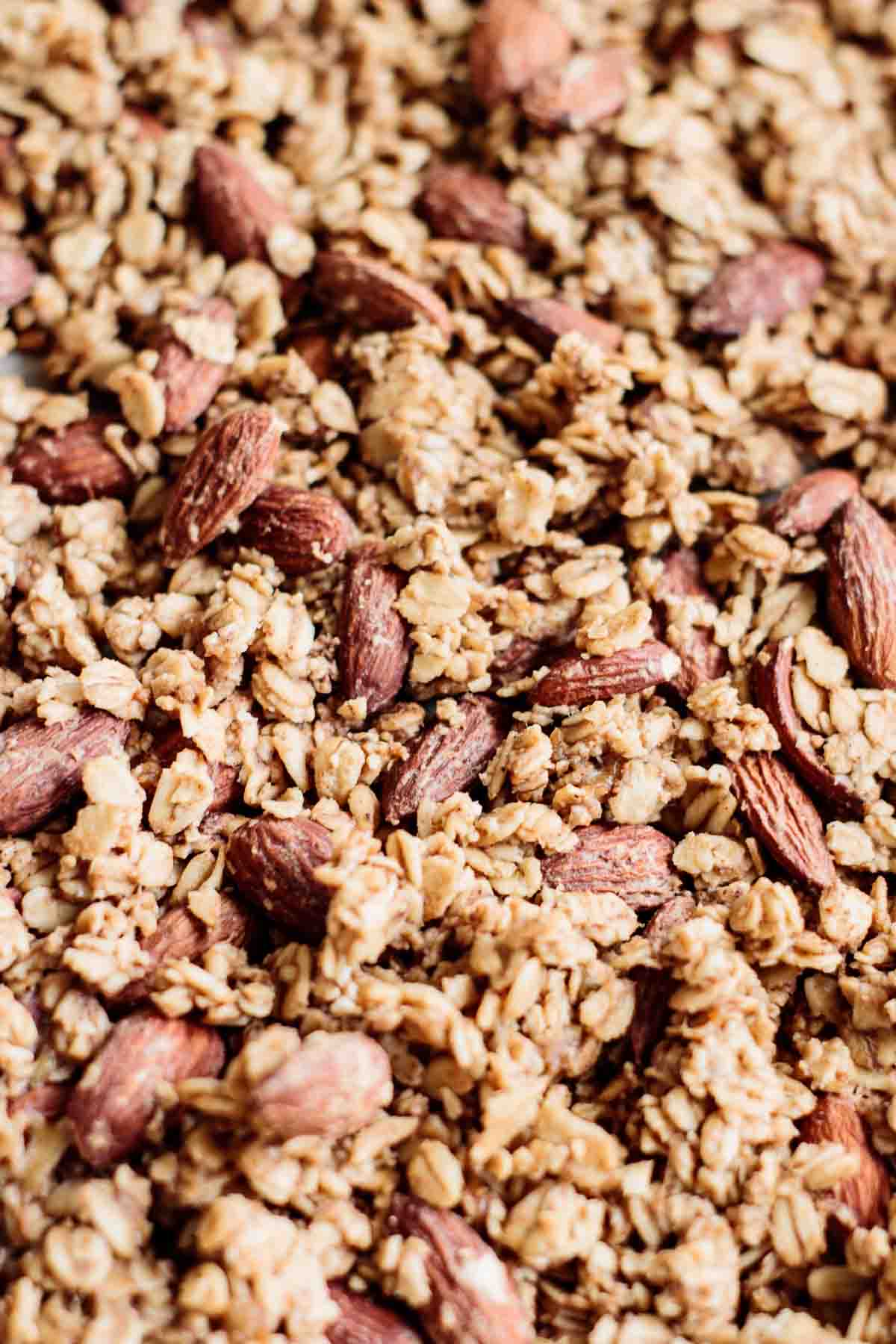 The oven I'm using right now runs hot, but still takes me full 30 minutes to bake this recipe. Less than 30 minutes and this granola won't get crunchy enough.
For your banana bread granola to be super crunchy, leave the tray in the oven for another 20 minutes after turning it off. Just make sure the door is half opened.
Also, don't skip the parchment paper. It makes it easier to clean the baking sheet after baking, and prevents the granola for getting too brown in the bottom.
Granola is good when golden on top.
Tips and Tricks
This is an easy recipe, really! But I think is always valid to share some tips that you may not know yet:
For a sweeter granola, use an extra ripe banana (the ones with dark spots are the best!). The riper it is, the sweeter your granola will be;
If you want big granola clusters, don't stir it while it's baking and let it cool completely before breaking into pieces;
If you wanna make sure your granola gets extra crunchy, spread it well in the baking sheet so it dries out more. A thicker layer will make a more mushy granola;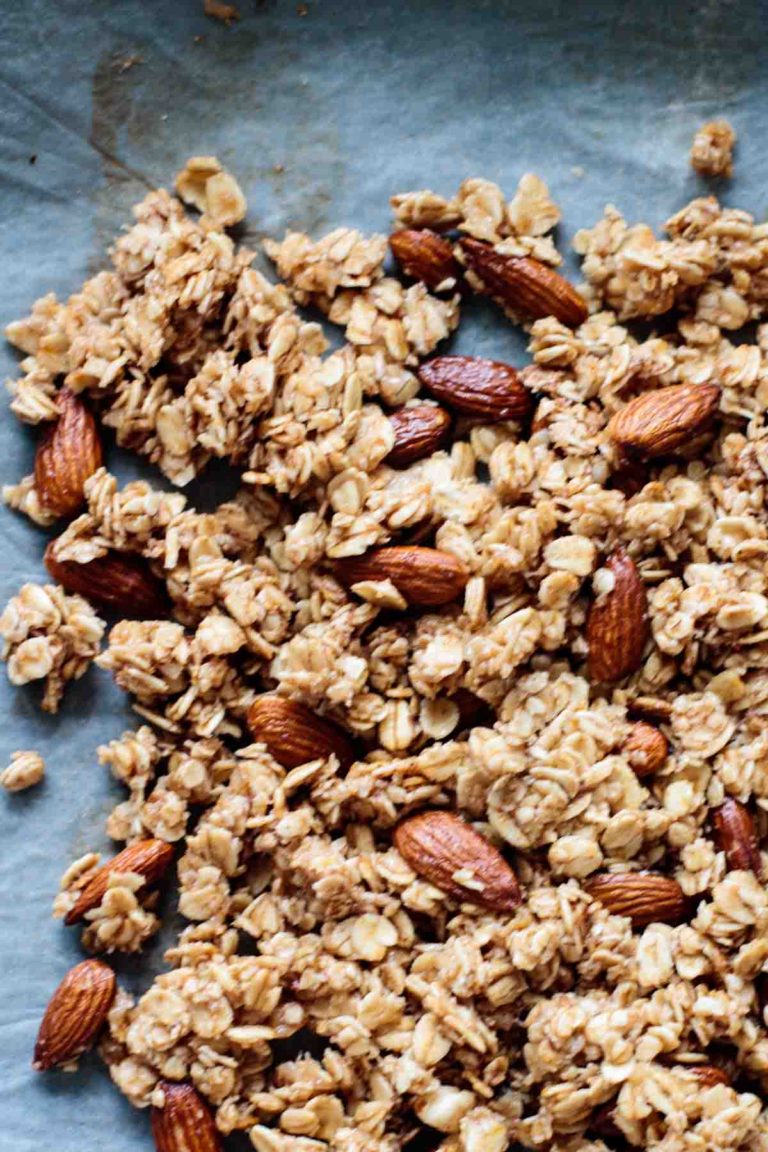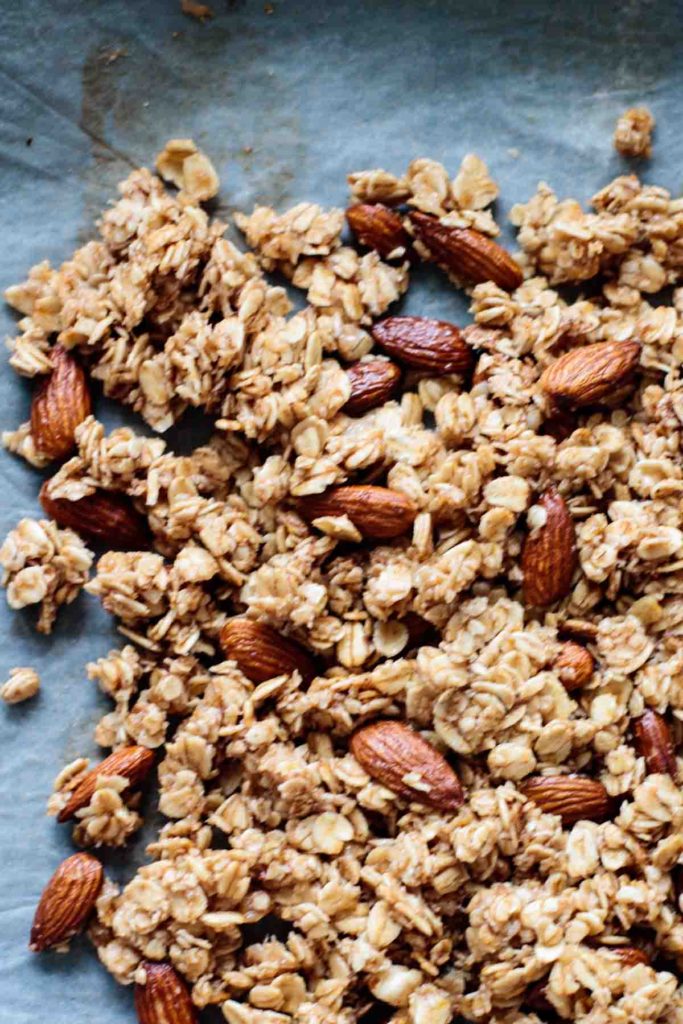 I don't recommend using quick oats ONLY for this recipe, as texture will change too much and you risk not getting a crunchy granola;
You can replace maple syrup for honey and get a similar outcome if you're not looking for a vegan granola, OR you can use my vegan honey for this recipe (but it contains refined white sugar);
Banana chips are optional, but they make this granola even more delicious! Crunch them a bit if they're too big, and only add them after baking, when storing the granola.
How to get big clusters
We always aim for that when making granola, right? Be sure to follow these tips to have all the big granola clusters you want!
You need to press down the granola when placing it on the baking sheet. Do it with a spoon or your fingers;
Leave the granola baking without tossing it! Don't worry, it won't burn if you're baking at the right temperature;
Be patient and let it cool completely before breaking your granola into clusters. If you do it while the granola is still warm, you'll risk losing your big granola clumps.
Storing and freezing
Store your granola in an airtight container, at room temperature. It will be good for 1 to 2 weeks. But it will be probably gone after day 5, if you're always snacking on it like me.
Maybe keep out of sight would be a good storing advice.
If you have any doubts about making my banana bread granola, you can always check the recipe's video!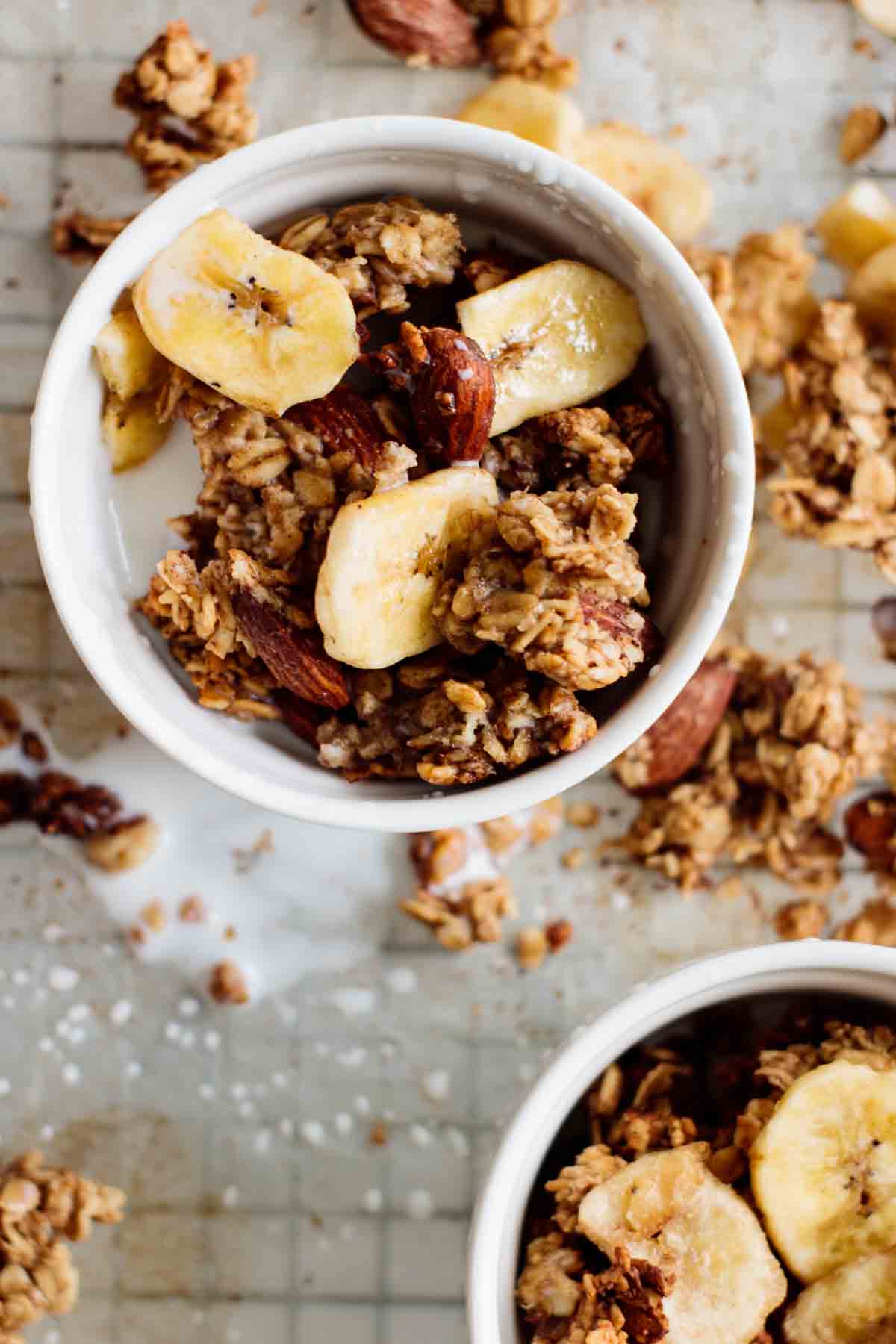 Oh, and don't forget: for this recipe to be totally gluten-free, check if your oats are gluten-free!
You can freeze this granola, too! For that, wait until the granola is completely cooled, then place it in a freezer safe bag and store in your freezer. It's good for about 3 months.
When you want to have it, just place it on a counter to thaw for a couple of hours, and you're good to go! I would not reheat this recipe in the microwave.
What to eat with it
This granola is great with milk, or for having with Greek yogurt. If using a vegan milk, choose one made of oat: it's the best to have with banana bread granola!
I also like to top my smoothies with it, or just eat it by itself.
This granola also makes a fantastic top for ice-cream and pancakes!
More Granola Recipes
Triple coconut granola: a must for every coconut lover
Spring granola: ginger paradise
Cereal Milk Granola: choose your favorite cereal and bake
Pumpkin Spice Granola: fall vibes only
📖 Recipe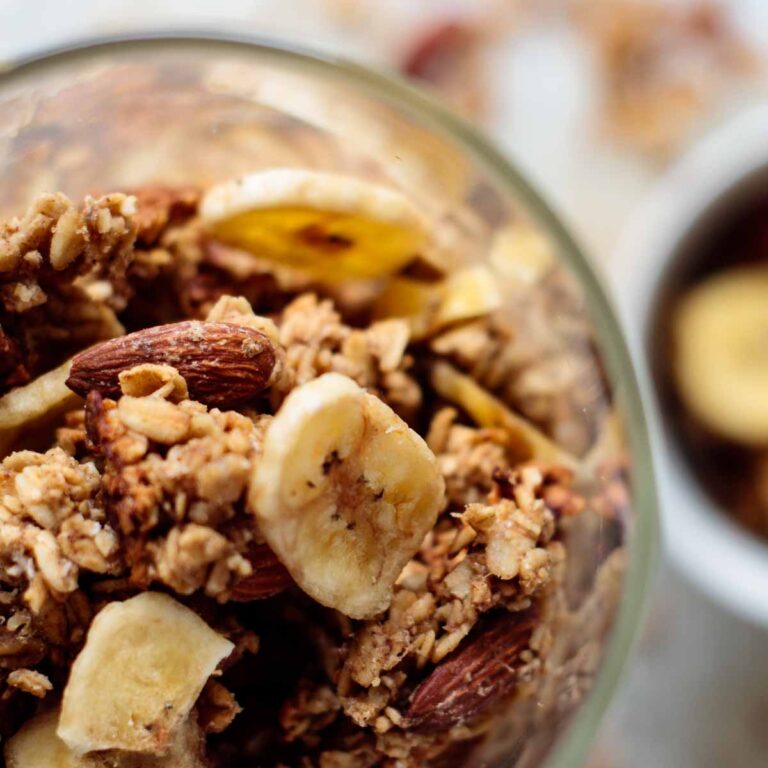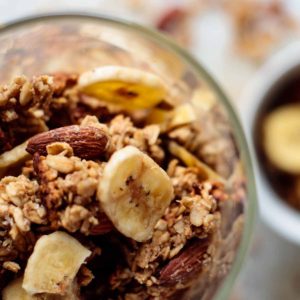 Banana Bread Granola
Are you looking for a healthy breakfast recipe that tastes like dessert? Banana bread granola might be just what you need! Vegan, gluten-free and naturally sweetened, this recipe will make your first meal delicious.
Ingredients
½

cup

very ripe mashed banana

usually 1 banana is enough

⅓

cup

peanut butter

¼

cup

almond oil

¼

cup

maple syrup

3

cups

rolled oats

1

cup

quick oats

1

cup

almonds

1 ½

teaspoon

cinnamon

¼

teaspoon

salt

1

cup

banana chips

lightly crushed
Instructions
Preheat the oven to 300°F. Line a rectangular baking sheet with parchment paper or use a silicone mat.

In a medium bowl, mash the banana. Add the peanut butter, almond oil and maple syrup and mix until combined.

In a large bowl, add the rolled and quick oats, almonds, salt and cinnamon, and stir to combine.

Add the banana mixture to the oat mixture and stir until everything is evenly combined.

Spread the granola in an even layer on a lined baking sheet. Don't make the layer too thick or it will get less crunchy.

Bake for 25 to 30 minutes, until the granola is lightly golden on top.
After ready, turn off your oven and leave granola inside for 20 minutes more (see notes).

Let the granola cool before adding the banana chips and breaking it into chunks. Store in an airtight container at room temperature.

Notes
For an extra crunchy granola, use rolled oats only (4 cups).
Don't use quick oats only or the texture will drastically change.
If you're worried about the granola burning (after tuning the oven off), leave your oven door half open and check it every 5 minutes.
It's important to use a ripe banana, or your granola won't be so sweet.
If you're looking for a crunchier granola, spread it in a thinner layer. The thinner, the crunchier it gets, as the chunks dry out more.
If you live in a warmer country or bake this in summer, I recommend storing inside your fridge or your granola may spoil faster.
Nutrition
Serving:
1
g
Calories:
184
kcal
Carbohydrates:
19
g
Protein:
5
g
Fat:
11
g
Saturated Fat:
2
g
Polyunsaturated Fat:
8
g
Sodium:
94
mg
Fiber:
3
g
Sugar:
5
g