Sourdough's acidity makes it harder for bacteria to grow, but even though this type of bread lasts longer, sometimes we end up with stale leftovers.
If you're an eager sourdough baker, I bet you've already asked yourself: what to do with stale sourdough bread? Here, I'll give you my favorite suggestions to avoid food wasting and use sourdough leftovers.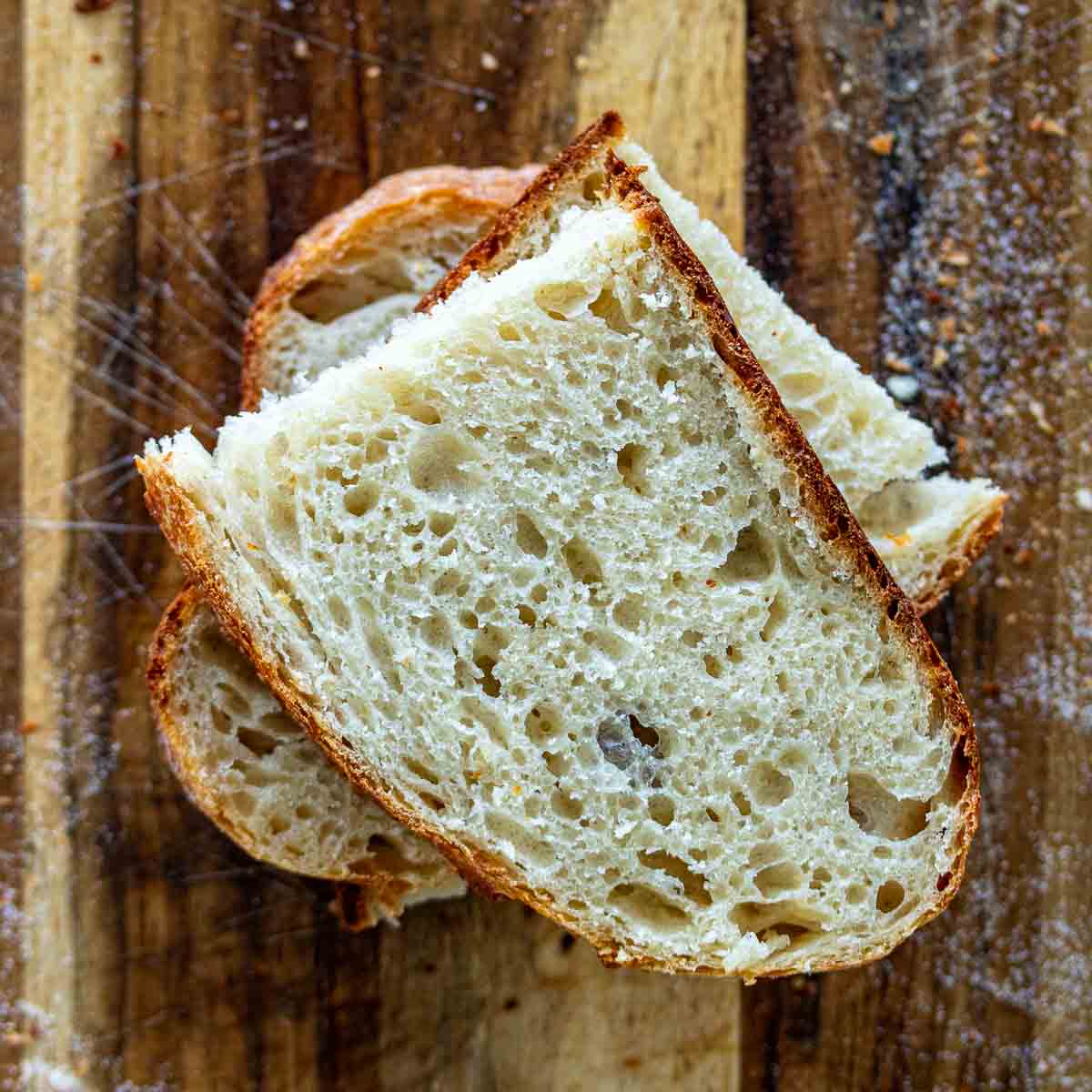 From the best croutons to an easy French toast, here you'll find savory and sweet suggestions, with my favorite sourdough bread to use for each one. Let's make the most of our sourdough adventures and get creative with these fantastic leftover bread ideas!
Jump to:
If you're having problems with growing a starter, I can teach you how to make and keep a bubbly sourdough.
Have a lot of sourdough discard? I have a collection of recipes for you to put that discard into use: sourdough tortillas and vegan applesauce pancakes are the reader's favorite recipes!
When should I throw out my stale sourdough?
If you find any mold in the sourdough bread you thought of using, don't: throw it out. It's not safe to consume any food with mold, not even if you cut off the molded part. Usually, when there's a part showing mold, the whole bread is already full of it.
Also, if the loaf smells "funny", or has any off-aroma, I would think twice before using it. Remember to store your sourdough bread correctly to keep it for longer, and prevent any mold/bacteria growth.
1. Refresh the loaf
Do you have a whole sourdough loaf, or half of it? If it was stored at room temperature and is less than a week old, you can revive it using the oven. This method works great for crusty loaves like an artisan sourdough bread.
How to refresh stale sourdough using the oven:
#1: Preheat the oven to 390ºF/200ºC.
#2: Spray water into the crust until wet. You can also place the crust of the loaf under running water if you don't have a spray bottle, just be careful not to get water into the crumb (if the bread is sliced).
#3: Place loaf into a lined baking sheet, and cover it with aluminum foil.
#4: Bake for 15 minutes.
If after 15 minutes the crust is still soggy, bake for 3 to 5 minutes more without the foil.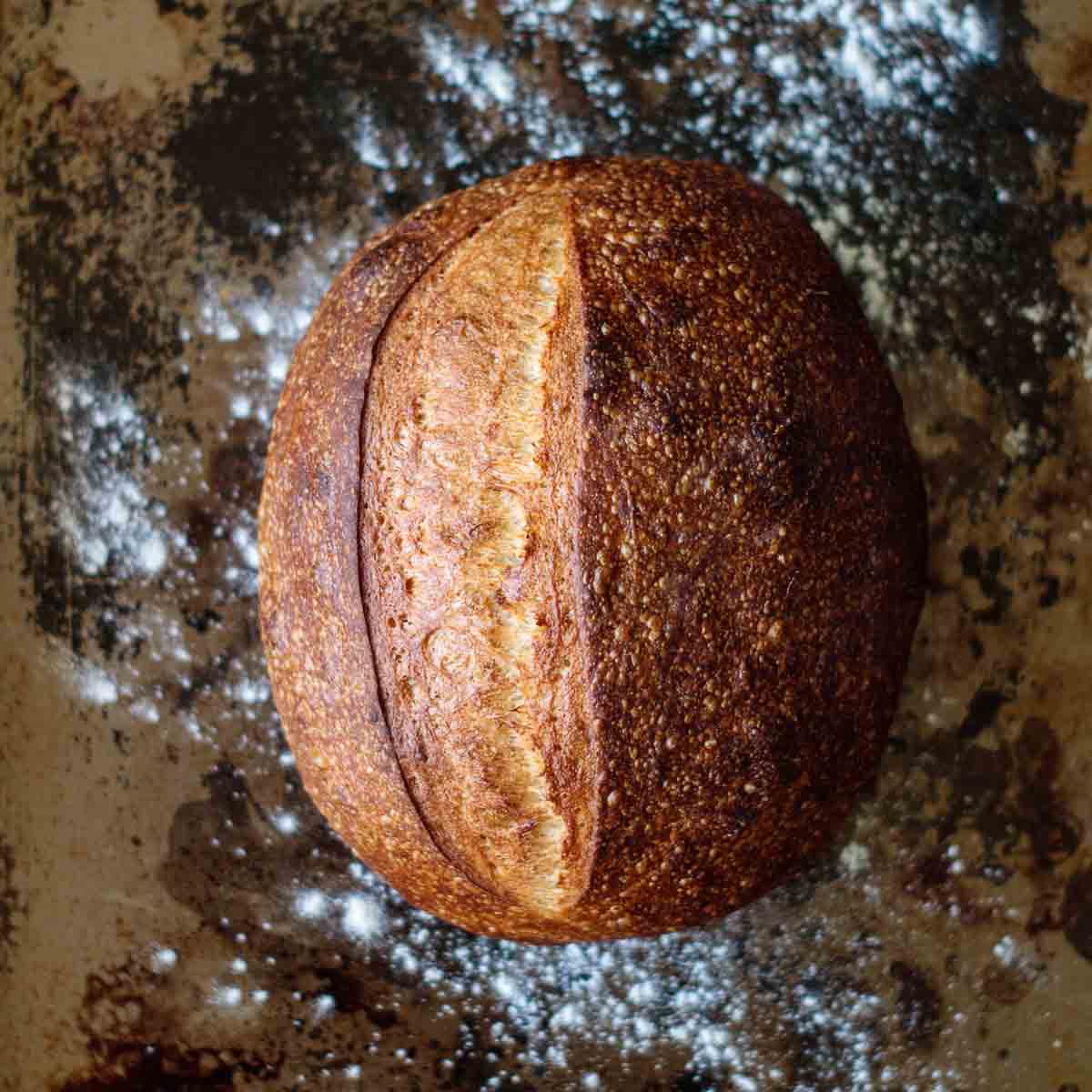 If the sourdough bread you're trying to revive has a soft crust, like a sandwich bread, I recommend spraying instead of wetting sourdough under running water. Also, for smaller breads like dinner rolls, bake for less time: 5 to 10 minutes is enough.
Refreshed bread will keep fresh for 1 to 2 days. You can do it only once, so if you don't finish the loaf after a couple of days, it's best to use it for one of the recipes below.
Best with: all sourdough bread types.
2. Make some crostini
Crostini is an appetizer made of small slices of toasted bread with a topping. Is usually made with baguettes, or loafs that can give you a smaller toast.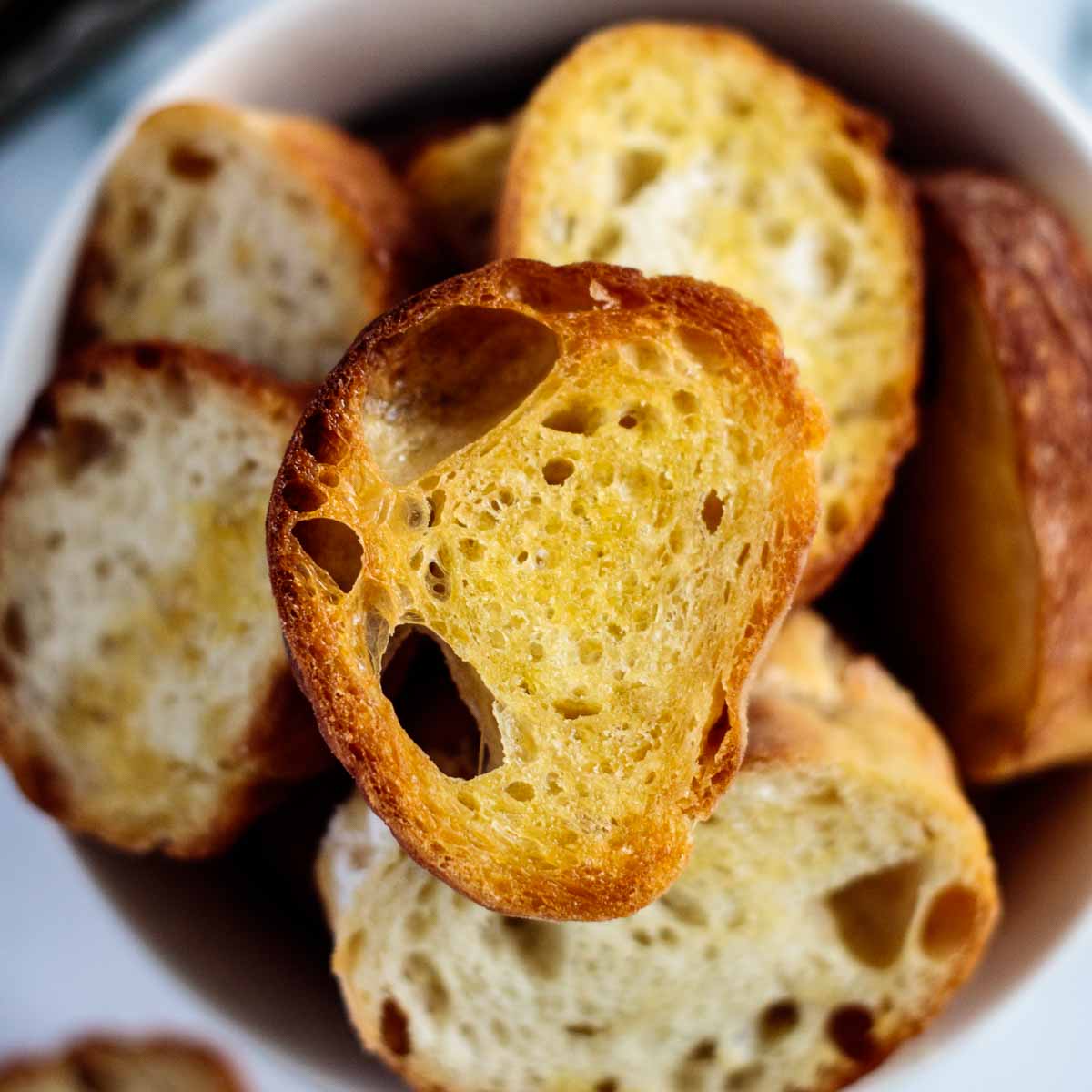 I have an easy crostini recipe for you, and sourdough baguette is my choice of bread for this! The tanginess of the sourdough adds an amazing depth of flavor, and making it at home it's much cheaper than buying it.
Best with: sourdough baguettes.
3. Fried sandwiches
Grilled cheese and croque monsieur are my absolute favorites to make with stale sourdough, but leftover sourdough is good for any fried sandwich. The bread slices will be revived with the butter, liquids and heat, and elevate these sandwiches.
My favorite bread for grilled cheese is sourdough sandwich bread. For croque monsieur and fried egg sandwiches, my choice is always a sourdough brioche.
Best with: sourdough brioche, sourdough sandwich bread.
4. Sourdough croutons
To me, croutons are essential for any hearty winter soup, and a great addiction to summer salads. They add extra texture, and if made with sourdough, an extra tanginess that elevates any dish.
I have a 20 minute sourdough croutons recipe that's easy and can be made with any leftover sourdough you have. One of my favorite loaves to make these is my artisan parmesan sourdough boule.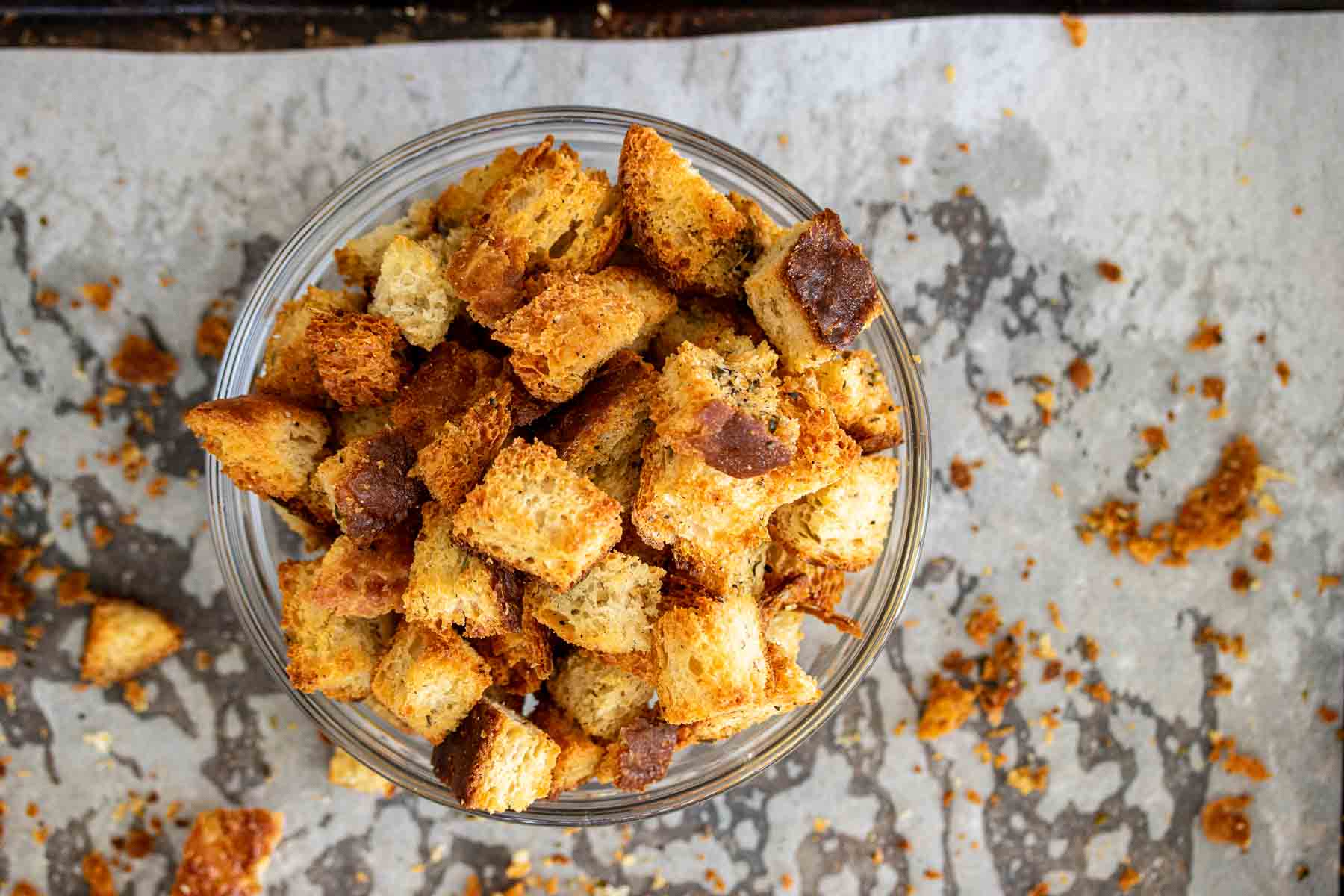 Best with: basic sourdough, parmesan sourdough boule.
5. Transform into breadcrumbs
Breadcrumbs can be used for many different recipes: they're great for meatballs and burgers, and give a delicious crunchiness when used to top baked pasta! You also can customize breadcrumbs, or make it from leftover crostini or croutons.
How to make breadcrumbs:
#1: Cut bread into 1 inch cubes.
#2: Place bread cubes on a lined baking sheet.
#3: Bake for 15 to 20 minutes, or until golden brown and dry. Careful not to burn.
#4: Add dried bread to the bowl of a food processor or blender, and pulse until it gets to the desired consistency.
If you're making from croutons or crostini, start at #4.
Best with: all sourdough bread types.
6. French toast for breakfast
That is my favorite sweet recipe for stale sourdough! Sourdough French Toast is a delicious breakfast option that combines the tangy goodness of sourdough bread with the sweet coating of the French toast.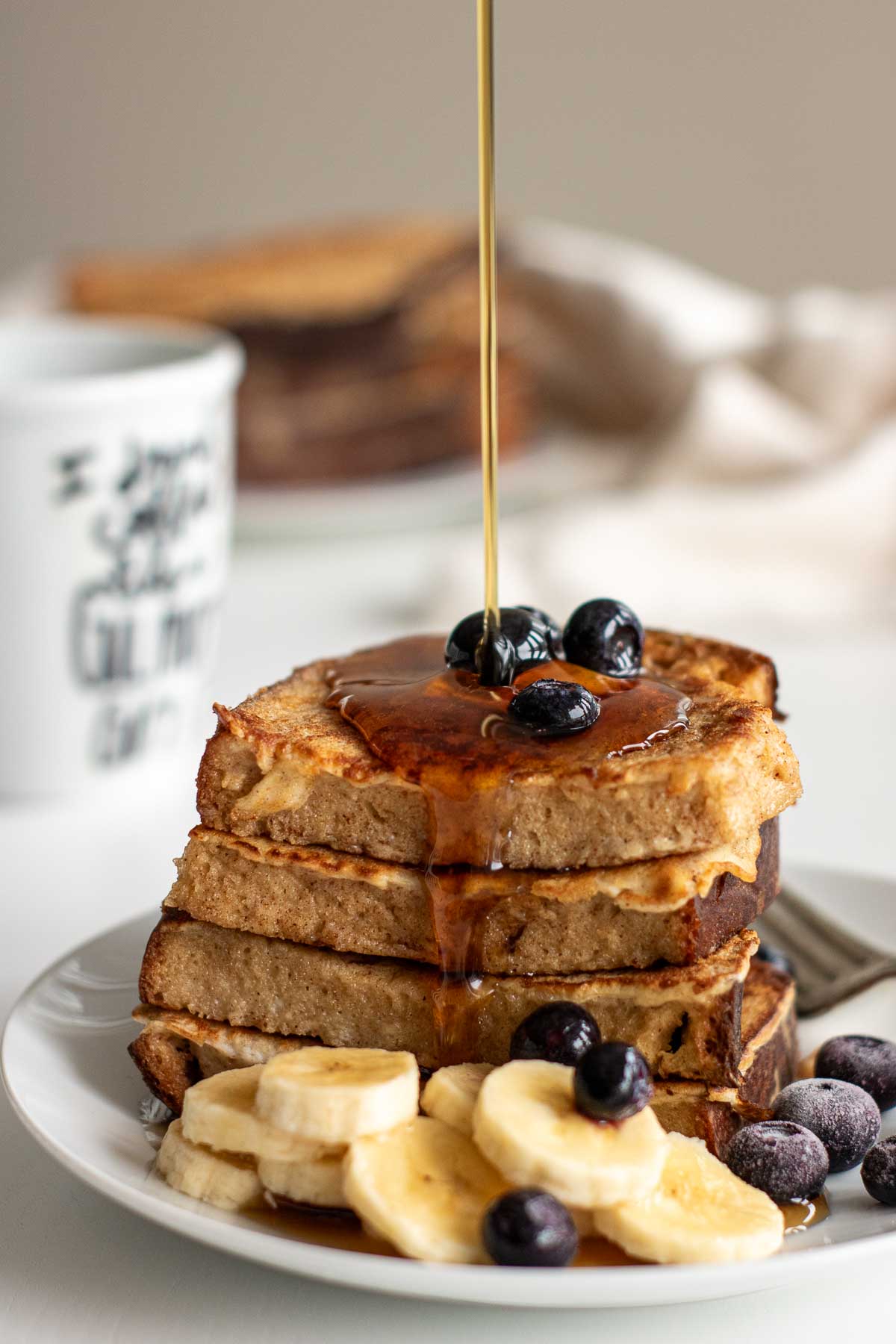 Using thick slices of leftover sourdough, they're soaked in a mixture of eggs, milk, vanilla, and cinnamon and cooked to golden perfection.
Best with: sourdough brioche.
7. Bread pudding
Sourdough Bread Pudding is a dessert that should be made with stale bread, and using sourdough for it makes it even more delicious! Baked until golden-brown, sourdough pudding has a pleasant aroma and soft texture.
I prefer using soft bread for this recipe, but any type of sourdough will make a delicious pudding.
Best with: sourdough sandwich bread, sourdough brioche.
8. Sourdough bruschetta
Crispy, aromatic and full of fresh flavors, making bruschetta is my favorite way to transform day-old sourdough bread into savory goodness!
Best with: sourdough parmesan bread, basic sourdough.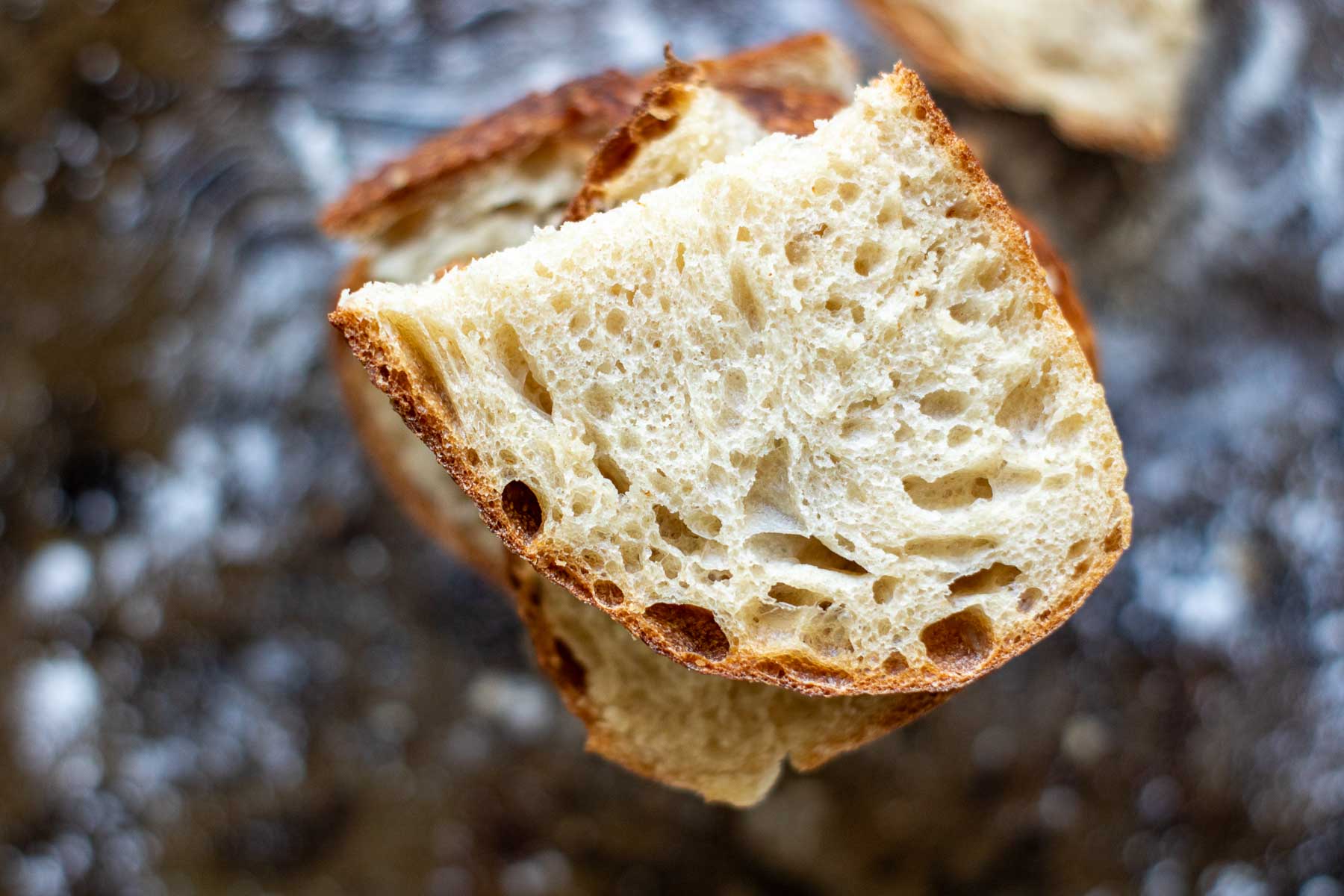 9. Stuffing
Sourdough stuffing is a delicious way to use up leftover sourdough bread during the holidays. Get your favorite stuffing recipe and try substituting the regular bread for sourdough!
Best with: sourdough sandwich bread, sourdough brioche.
10. Eggy bread
Eggy bread is the savory version of French toast. Delicious to have with bacon in the mornings, quick to make, and a great way to use sourdough leftovers.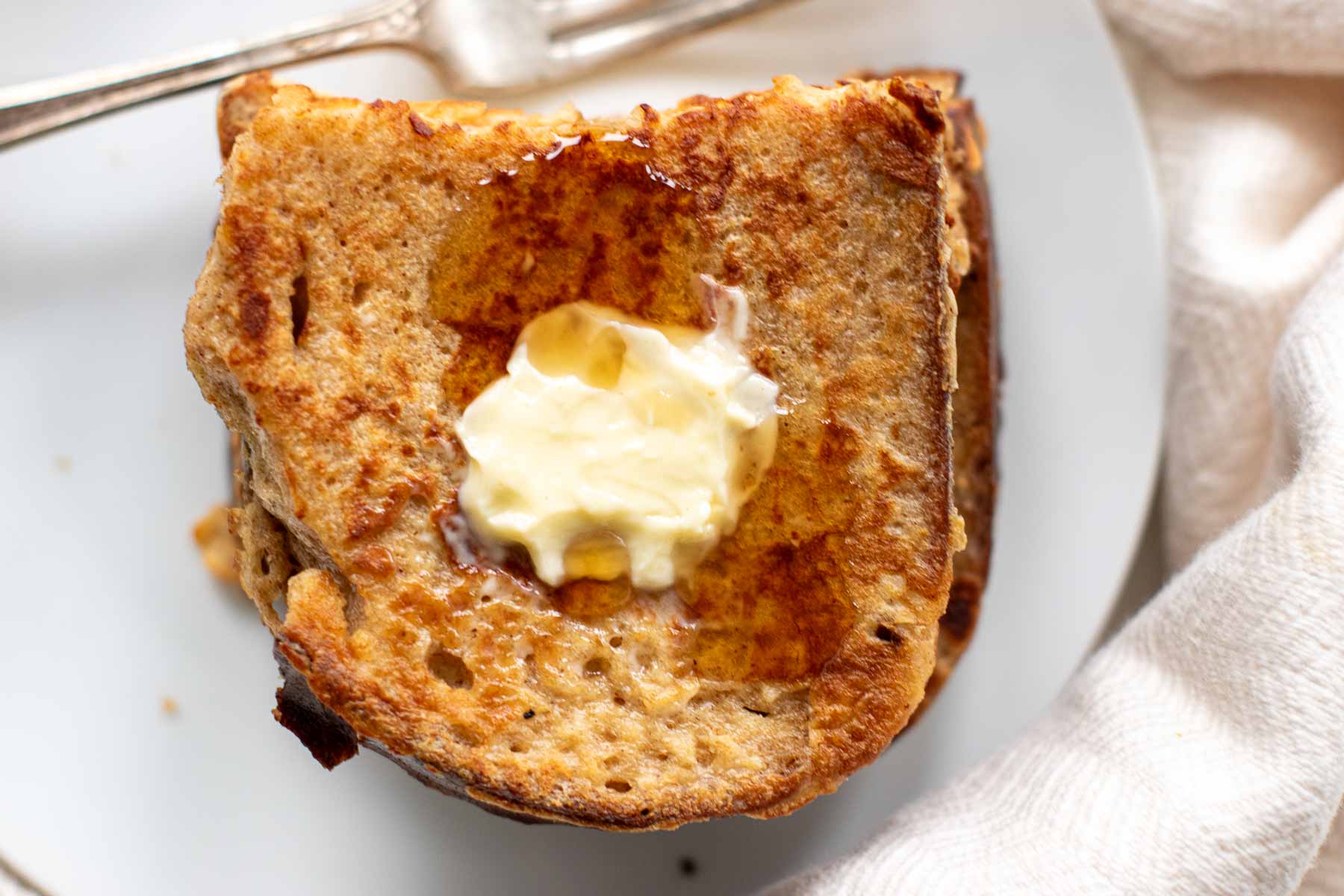 Best with: basic sourdough, sourdough sandwich bread, sourdough english muffins.
Questions you might have
How do you store leftover sourdough bread?
There are many ways to store sourdough bread, and they can differ between bread types. An artisan sourdough can be stored in a breadbox or wrapped into a towel, while a softer bread like sourdough dinner rolls can be stored in a plastic bag. 
Can I freeze sourdough bread for later use?
If you have more sourdough you'll be able to consume, freezing is an excellent way to keep it fresh! To refresh frozen bread, use the refreshing method described in this post.
Why is my sourdough bread so hard to slice?
Stale sourdough bread can be hard to slice. If you're having problems cutting a loaf, try using an electric knife suitable for crusty bread. You can also refresh the bread before cutting.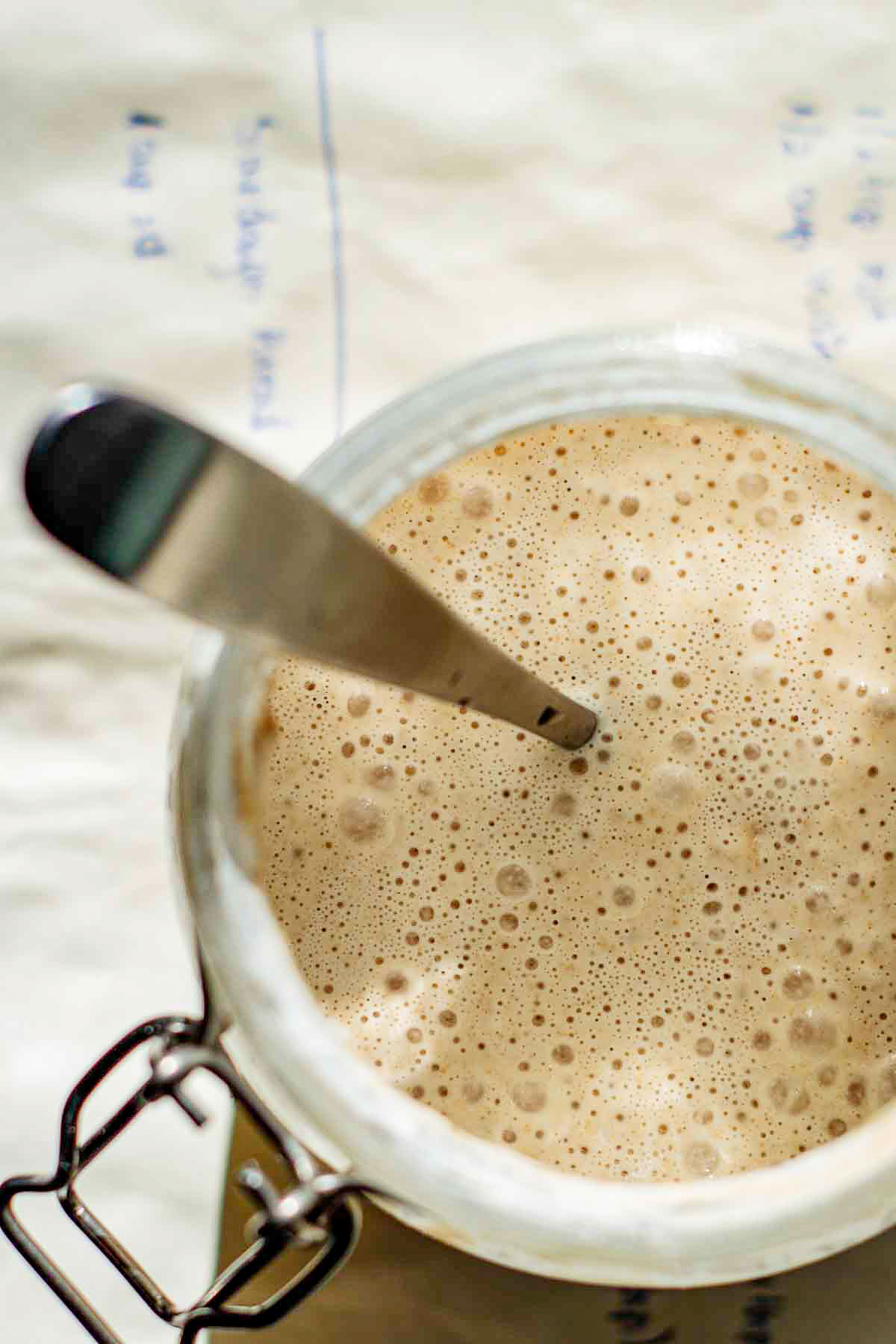 Leftover sourdough bread can be used for creating delicious and easy recipes. Whether your sourdough has become stale or you have extra loaves to use up, there are plenty of options to explore! From reviving the bread using the oven, to transforming it into flavorful breadcrumbs or indulging with a sourdough French toast, there are many possibilities.
Don't let those sourdough leftovers go to waste!
Do you have more ideas to add to this list? I would love to hear about them: remember to share in the comment section below!