Sourdough French Toast is the best recipe for you to use leftover sourdough! Make it for breakfast to start your morning in a delicious way, and never waste stale sourdough again.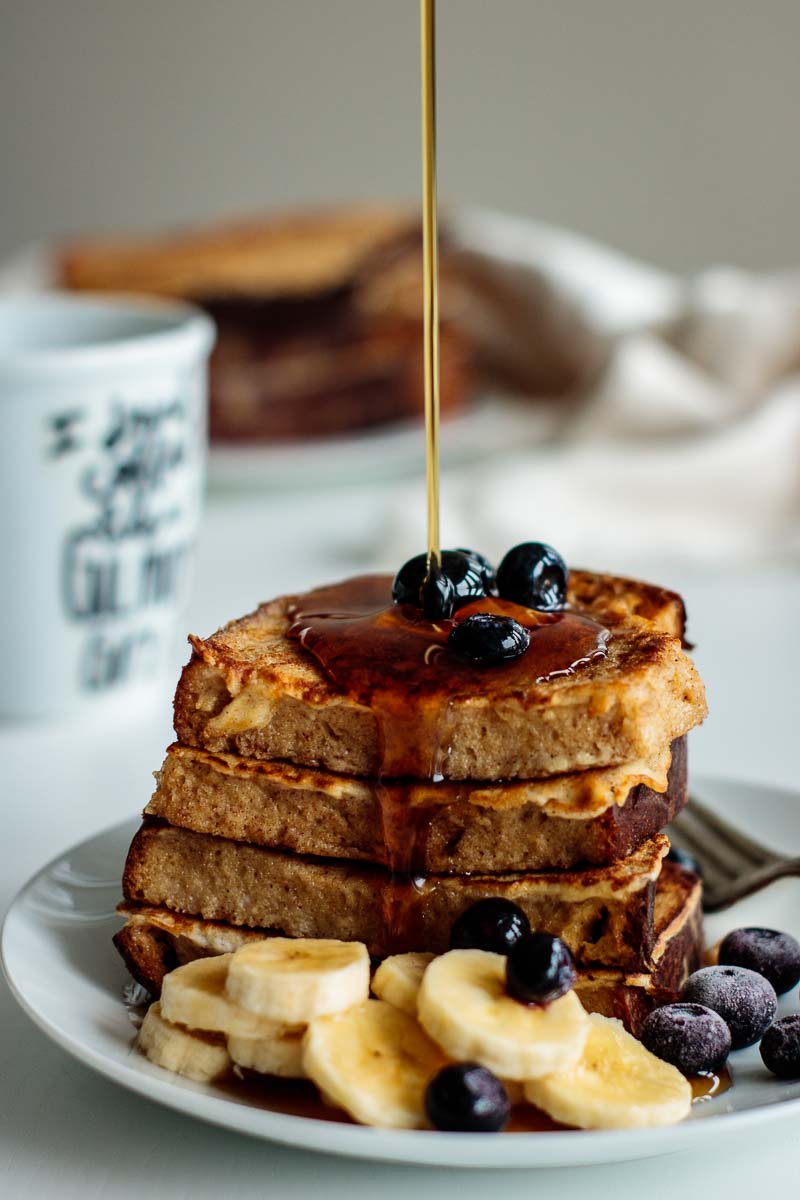 This sandwich bread made with sourdough is perfect for this French toast! Sourdough brioche is also amazing for this recipe.
Can you make french toast with sourdough bread?
You can, and you should!
Sourdough toast is already amazing, using sourdough bread to make the french version is pure perfection. The french toast you get using sourdough is fluffy, light and extra flavorful. To me, this is one of the best recipes for a sourdough breakfast.
So, if you're asking what to do with stale sourdough, the answer is: french toast!
Why this recipe works
Still don't know how to make sourdough? I have a free sourdough starter course for you!
And if you're having problems with your loaves, I can help you! Get here my no-fail sourdough bread recipe.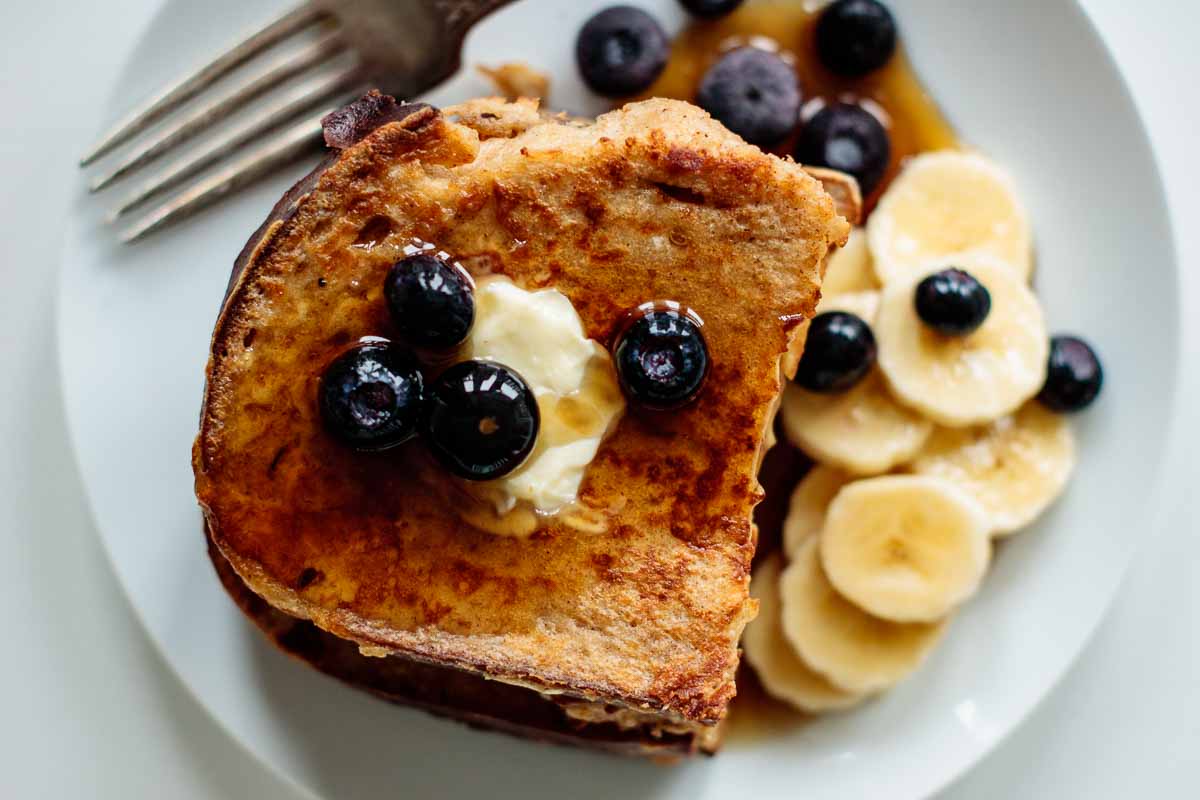 What ingredients you'll need for this recipe
Recipes with simple ingredients are the best ones, right? For this french toast, we'll need basic ingredients only.
Stale Sourdough. If you have a 3-4-day-old sourdough, you have the perfect bread for this. Be sure to check for any mold before using it if your bread is older than one week.
Eggs. If possible, choose organic eggs.
Milk and heavy cream. They are what make sourdough french toast have its amazing rich taste. Don't be scared here: use full-fat milk.
Spices. I mostly use cinnamon for this recipe, but with fall coming, I love adding pumpkin spice to my sourdough french toast.
Sugar. I like to add a tablespoon of sugar to my batter. If you're looking for a savory french toast, just omit this ingredient.
Salt. Always add salt, even to your sweet recipes. A pinch of it helps to bring more the flavors of the dish.
Butter. The best option to cook your French toast in! It adds even more flavor.
All-purpose flour. It's what makes this recipe fluffy. Don't skip it if you're looking for a fluffy french toast!
How to make it
Are you loving how easy this recipe is? You'll love it even more after finding out there are only 3 steps for this french toast to be ready!
Start by preparing the batter. In a medium bowl, whisk together the eggs, milk, heavy cream, all-purpose flour and spices.

Soak the bread in the batter. Leave the bread slices in the batter so it can soak up the egg mixture. Turn the slices over to soak the other side.

Cook the sourdough french toasts. Cook the slices with butter until each side is golden brown. Do this in batches to make it easier. To keep them warm, you can use a preheated oven on low temperature.
Tips for making the best sourdough french toast
You need to slice the bread right! not too thin, but not too thick. 1 inch thick is a good size.
Soak well the bread. Leave the slices soaking into the batter for at least 3 minutes on each side. You want your sourdough bread fluffy and fully soaked for this recipe.
Mix WELL the batter. Or you'll get pieces of egg white through your french toast.
Always use butter! It gives your french toast the marvelous golden brown color. You can choose salted or unsalted here.
If you're having problems with burning your butter, you can add ⅔ butter to ⅓ oil to prevent it from happening.
Preheat your skillet over medium-low heat before you start cooking your french toast.
Don't cook them over high heat, or you'll risk burning your toast without fully cooking them.
Avoiding a soggy sourdough french toast
If you don't like your french toast soggy, you need to use your patience. I know, sometimes we are in a hurry BUT you can't hurry french toast.
To get a french toast that's not soggy, you need to fully cook it. Cook your sourdough on medium-low, in a preheated iron skillet or frying pan, for at least 3 minutes each side.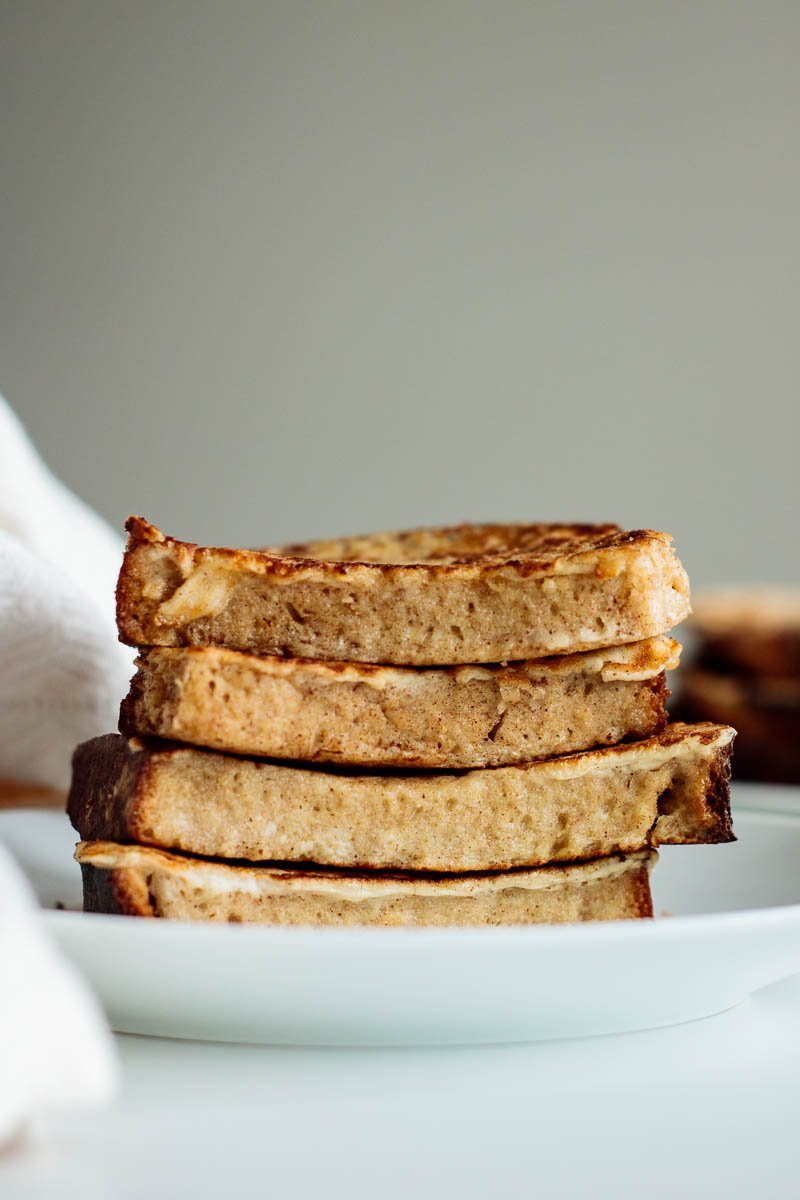 Ingredients substitutions
Sugar. You can use any sugar or sweetener of your choice here. You can also omit it if you're going for a savory french toast.
Heavy cream. You can make sourdough French toast without the heavy cream. Use more milk if you opt to leave it out.
Milk. If you're looking for a dairy-free option, substitute milk AND heavy cream for any plant-based milk. Oat milk and almond milk are my favorites! For a full dairy-free french toast, substitute butter for cooking oil/coconut oil, and make sure your sourdough is also dairy-free!
Storing and freezing
After cooled, store your sourdough french toast in an airtight container inside your fridge. They'll be good for 1 to 2 days.
One of the best things of this recipe is that you can freeze it, and it still tastes amazing when reheated!
Wait for your french toasts to cool completely, then place them in a freezer bag. Use parchment paper between each slice if you want so they won't stick together. I don't use it, they do stick a bit but are not hard to separate after. They're good for up to 3 months.
Reheat them using your oven, microwave, or toaster. If using the oven, bake for about 10 minutes on medium heat.
How to serve it
The BEST part. My favorite way to have sourdough french toast is with butter, berries and maple syrup! But the possibilities are endless!
Honey;
Nutella;
Vanilla custard;
Jam;
Baked apples;
Peanut butter;
And if you're thinking about a savory option:
Ham;
Cheese;
Scrambled eggs;
And so much more!
Prepared to make the ultimate sourdough french toast?
I guess you are.
More breakfast recipes with sourdough
Sourdough english muffins
Sourdough pancakes
Pumpkin pancake cereal
Sourdough crackers
📖 Recipe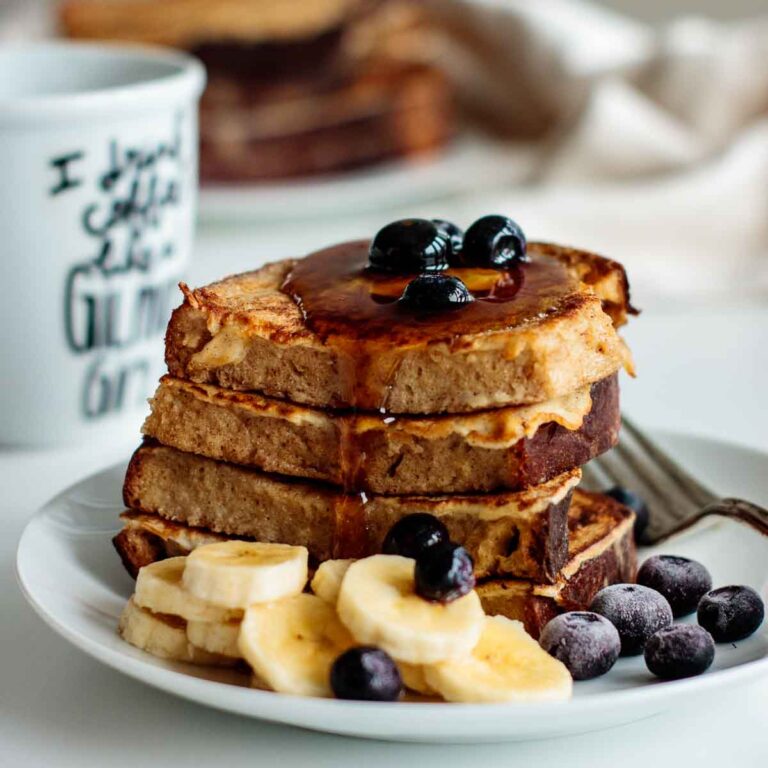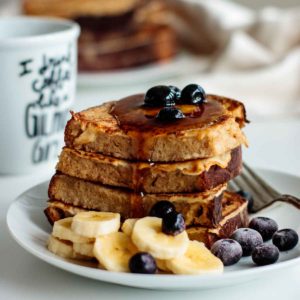 Sourdough French Toast
Sourdough French Toast is the best recipe for you to use leftover sourdough! Make it for breakfast to start your morning in a delicious way, and never waste stale sourdough again.
Ingredients
⅔

cup

milk

⅓

cup

heavy cream

3

eggs

1

tablespoon

sugar

½

teaspoon

cinnamon or pumpkin pie spice

pinch

salt

3

tablespoon

flour

about 6-8 sourdough bread slices

Butter for cooking
Instructions
In a medium bowl, mix milk, heavy cream, eggs, sugar, cinnamon (or pumpkin pie spice) and salt, and mix until well combined.

Watch the video here.

Add flour and mix until smooth. Alternative: you can use a blender to mix all ingredients.

Place the batter in a shallow baking dish. Soak the sourdough bread slices for 4 to 5 minutes. Turn slices over and soak for another 4 to 5 minutes more.

Heat a cast iron skillet or frying pan over medium heat. Once hot, melt about 1 teaspoon of butter and cook your french toast until golden brown, 3 to 4 minutes. Flip bread slices over and cook for 3 to 4 minutes more, until golden brown. Careful not to burn: if the bread is getting too dark, lower the heat.

Serve them warm, with the toppings of your choice.
Nutrition
Serving:
1
g
Calories:
275
kcal
Carbohydrates:
39
g
Protein:
11
g
Fat:
9
g
Saturated Fat:
4
g
Polyunsaturated Fat:
3
g
Cholesterol:
86
mg
Sodium:
453
mg
Fiber:
2
g
Sugar:
5
g