We put a lot of effort into our loaves when baking with wild yeast, and keeping it fresh for longer shouldn't be difficult. Here, I'll show you how to store sourdough bread in a proper way, so that you can avoid mold and dryness and enjoy a fresh and fabulous loaf for days.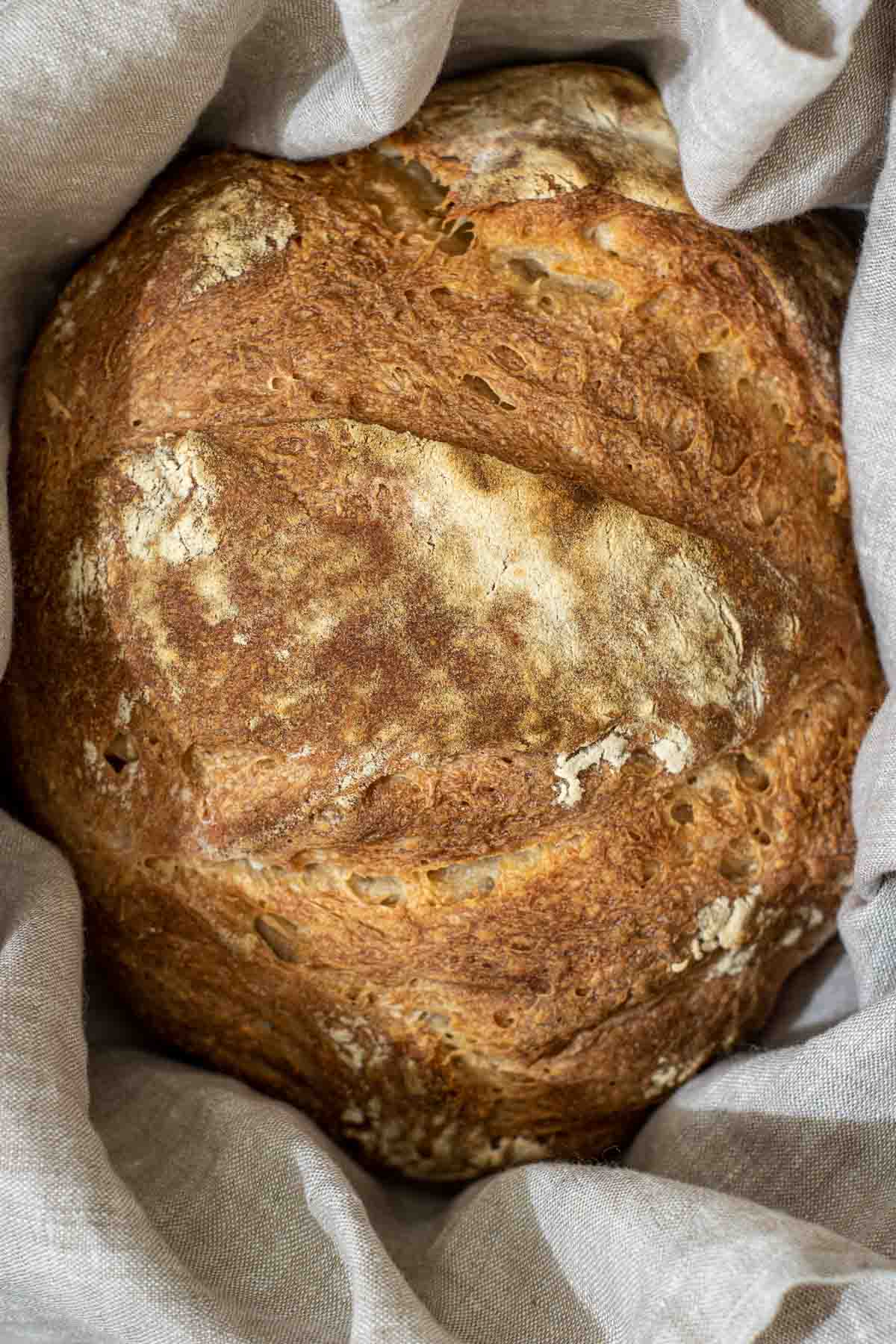 Jump to:
I'll also show you the ugliest bread I've ever baked. Ugly or not, it was delicious! Are you having trouble baking with sourdough? Let me help you with: I can teach you how to bake with wild yeast!
How long does a bread baked with sourdough last?
The first 24 hours of a homemade sourdough bread is when the loaf is at its best shape. But if you store it properly, it can stay fresh for up to 3 to 6 days.
Two things can make bread go bad:
The lack of airflow combined with heat and too much moisture will encourage mold growth. That can happen if you use a plastic bag to store the loaf, or storing sourdough bread in a warm place.
Incorrect storing will make the loaf tough and dry. That happens when the bread is left exposed to too much air, as leaving it uncovered on a wooden board.
Sourdough and mold
Some types of bread tend to dry out before developing any mold, others tend to grow mold quickly, especially if stored wrong. It's all about hydration and how enriched the dough is.
A sourdough bread that keeps a high hydration after baked, like rye or pumpernickel, can grow mold quicker than a plain sourdough made with wild yeast, flour, salt and water. Breads with high hydration will be denser and heavier than one with low hydration.
Enriched loaves like a sourdough brioche, dinner roll or challah, that contain eggs, butter and higher amounts of sugar can stay softer for longer than plain sourdough, but they might develop mold faster before going dry.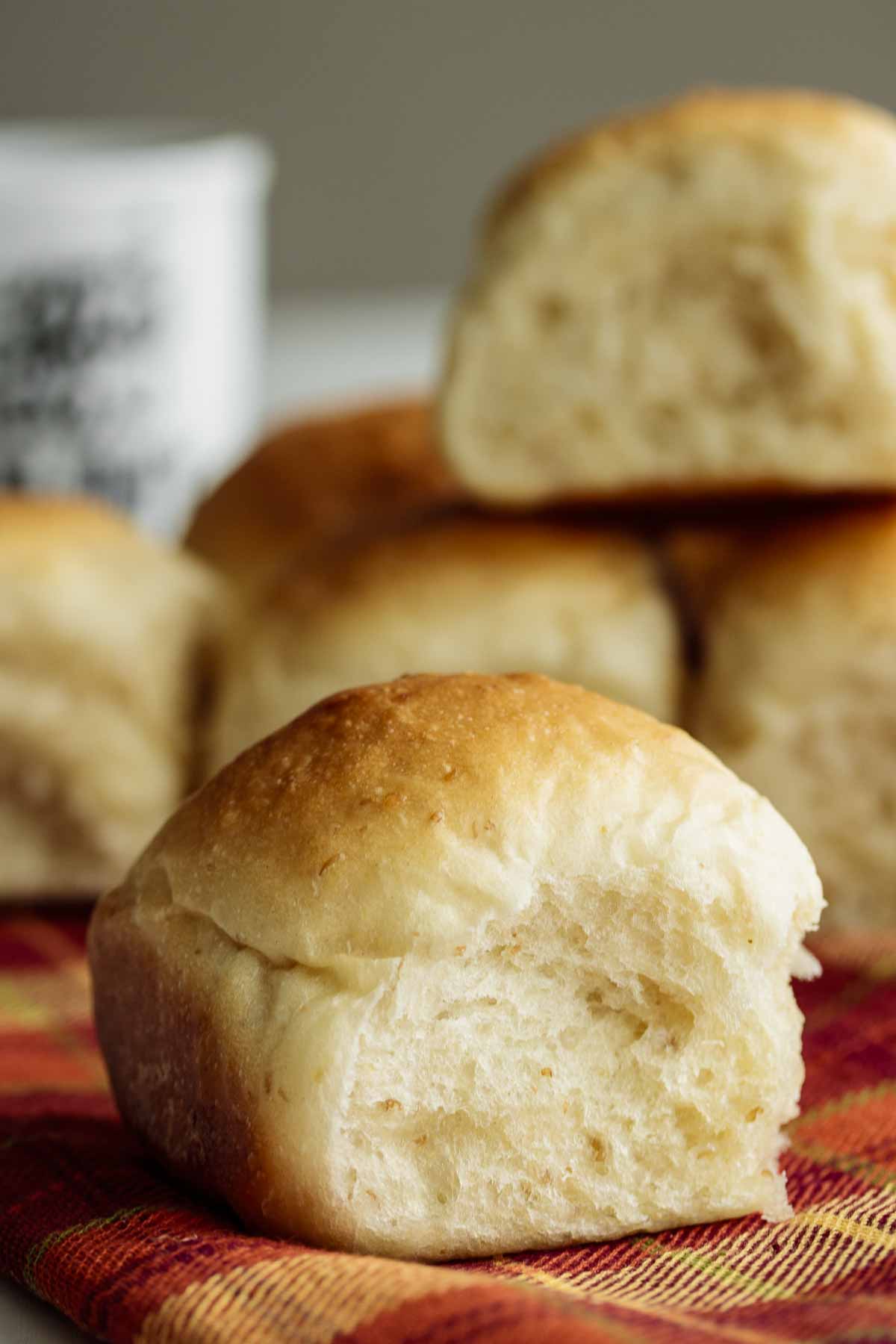 High hydration and enriched loaves tend to do better if not stored in an airtight container, as an airtight environment is ideal for mold development, especially during warm/hot weather.
Secrets for making a sourdough loaf last longer
Thanks to the good bacteria present in sourdough, the bread will stay free of mold for longer than one baked with commercial yeast. But there are a few things that can make it last longer:
If you make an enriched dough with butter, eggs, or milk, it'll stay softer for longer.
Bread made using the tangzhong method also stays fresh at room temperature for more time.
Make sure you bake your loaf for the right amount of time. If there are any undercooked parts, it'll go stale faster than perfectly baked bread.
Do not slice your loaf before it is completely cooled! Wait at least two hours to cut it: it will make the bread taste better, and it will help it to stay fresh for a longer time.
Slice your loaf only when you serve it.
When storing, always do it with the sliced side facing down to keep the moisture.
Or, try slicing the bread down the middle instead of at its ends, and then press both sides together when storing.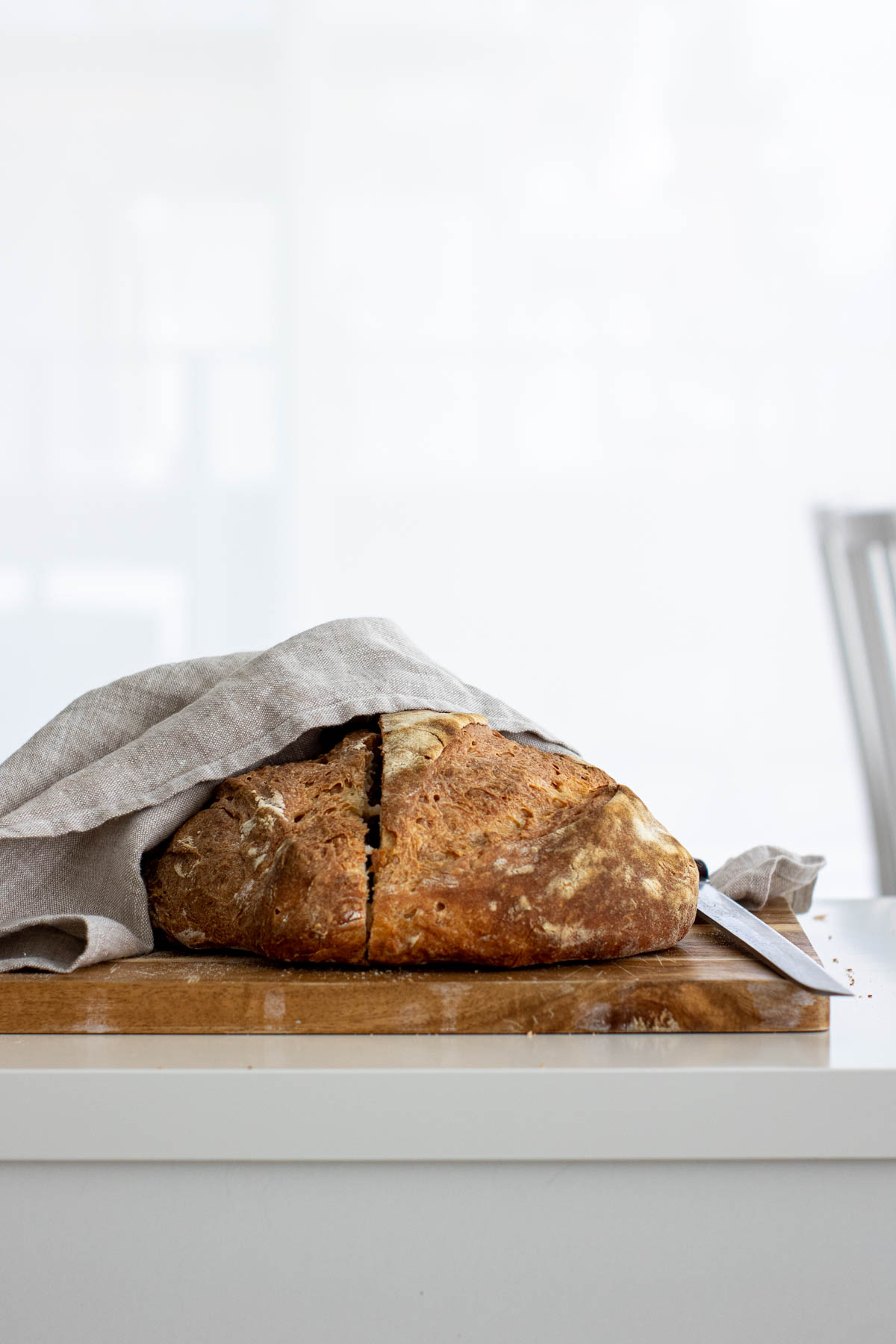 What's the best way to store a sourdough loaf?
There is more than one way to store sourdough, but to choose the best option, you should ask yourself some questions:
Do I want to maintain the crust?
Do I want it soft inside?
Is my sourdough enriched, or plain?
How's the weather where I live?
Is the loaf already cut?
The answers will affect how you choose to store your sourdough bread.
For all the following methods, remember:
Never store bread under direct sunlight, not even if in a bread box, or bread bag: it needs to be kept away from sunlight and heat.
After sliced, store the cut part side down when keeping at room temperature. If sliced in the middle, you can store it by pressing together the sliced parts.
Freeze it
Freezing is a great and easy option to keep your bread fresh. It keeps for way more than 6 days: if done correctly, bread can last for up to 2 months.
You can freeze entire loaves, or individual slices. When defrosting and reheating, it will get the original crust back, and maintain a soft interior.
But how to properly store sourdough bread in a freezer?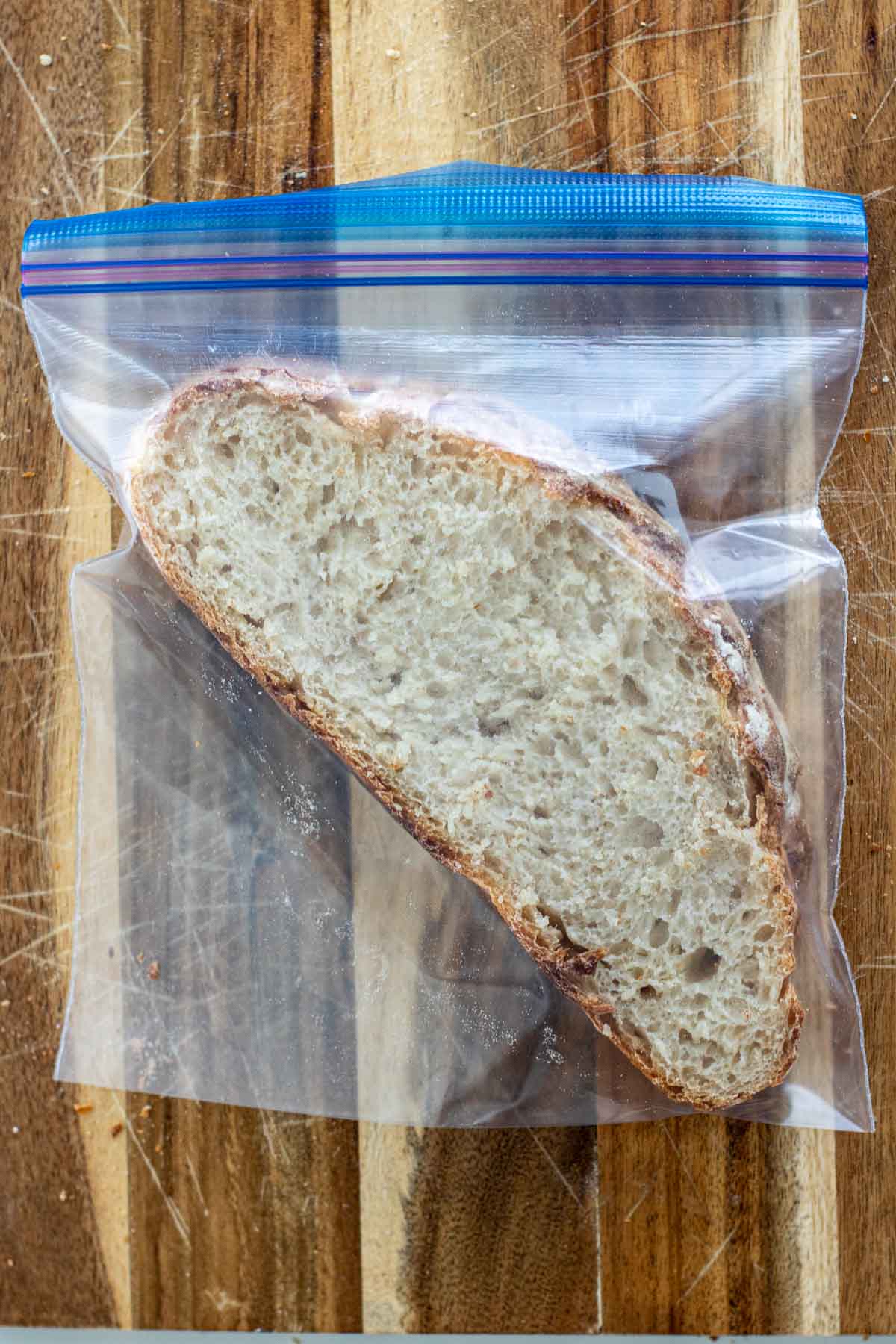 If the loaf is already cut, I prefer to freeze individual slices. Slice the remaining bread, store the slices into a freezer safe plastic bag, push all the air out and seal it. You can freeze in individual portions, or them all in a bigger plastic bag. To make it easier to get one when freezing slices together, place a sheet of parchment paper between them.
You can also freeze the whole loaf. Place it in a freezer safe plastic bag, push all the air out and seal it before storing in the freezer.
Use a bread box
A bread box is a large container, usually made of wood, ceramic or tin, that has an opening for placing your bread inside. When the lid is on, the box is sealed but not completely airtight.
The reason a bread box is effective is that the moisture from the bread increases the humidity inside the box. But there is enough air circulation to prevent it from becoming overly damp, so the crust will keep instead of going soft. The interior should keep soft when using it.
Always store your bread box in a cooler place in your kitchen or pantry, away from sunlight. Do not store it inside the fridge.
If the loaf is already sliced, store it with the cut side facing down, so it stays soft.
Don't overfill the bread box: if storing more than one bread, there's a risk of too much moisture developing, and that can cause the crust to go soft.
Store in a dutch oven
A dutch oven can work as an improvised bread box. To store your sourdough loaf in a dutch oven, make sure that both bread and dutch oven are at room temperature (if you used the dutch oven to bake the sourdough, let it cool before using).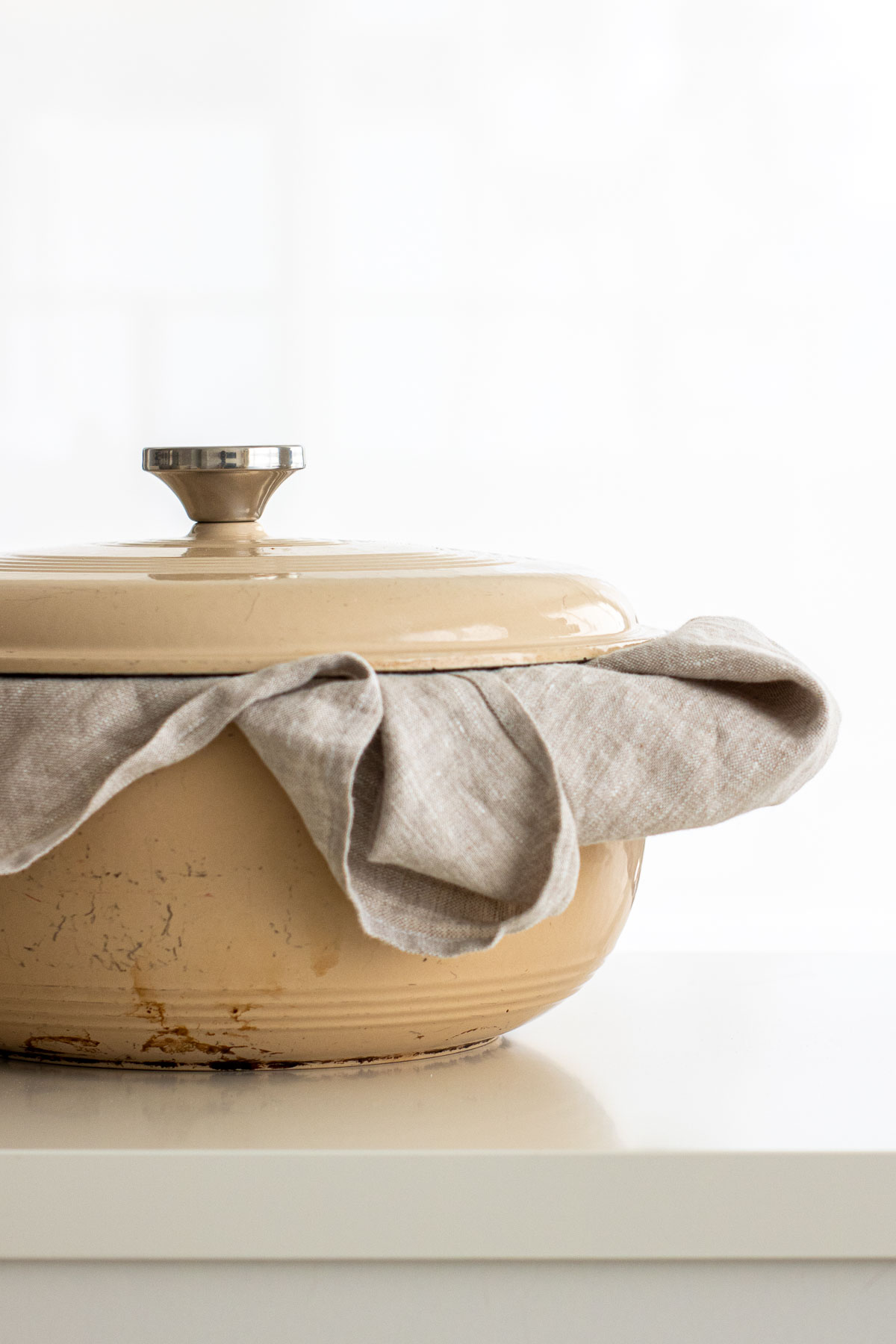 Place sourdough at the bottom of the dutch oven, and before covering it with the lid, place a clean folded linen between the lid and dutch oven, to make it have some air flow.
Keep in a paper bag
Plain paper bags also work very well to keep the bread from drying excessively. It keeps the loaf from drying out too quickly, but it's breathable so the bread won't develop mold.
If you're storing your sourdough in a paper bag, make sure to seal the end tightly so no air can escape. I use paper bags when knowing the bread will last between 1 to 2 days: the crust won't go soft, and the interior keeps moist. After day 2, bread usually starts to get too dry with this method.
Store in a bread bag
A bread bag is also a good option for storing sourdough bread. Usually made of cotton or linen, these bags are breathable and washable, and will keep a loaf good for up to 3 days under ideal conditions.
I find them practical as I can just hang them in a hook: that can save you a lot of space if you have a small kitchen! Between paper bags and this option, bread bags are also more efficient in keeping loaves from going dry.
Wrap with a clean towel
Wrapping it up in a clean towel after cooled is another way to store your sourdough loaf. You can wrap homemade bread in a clean towel and store it overnight in a counter to consume the next day.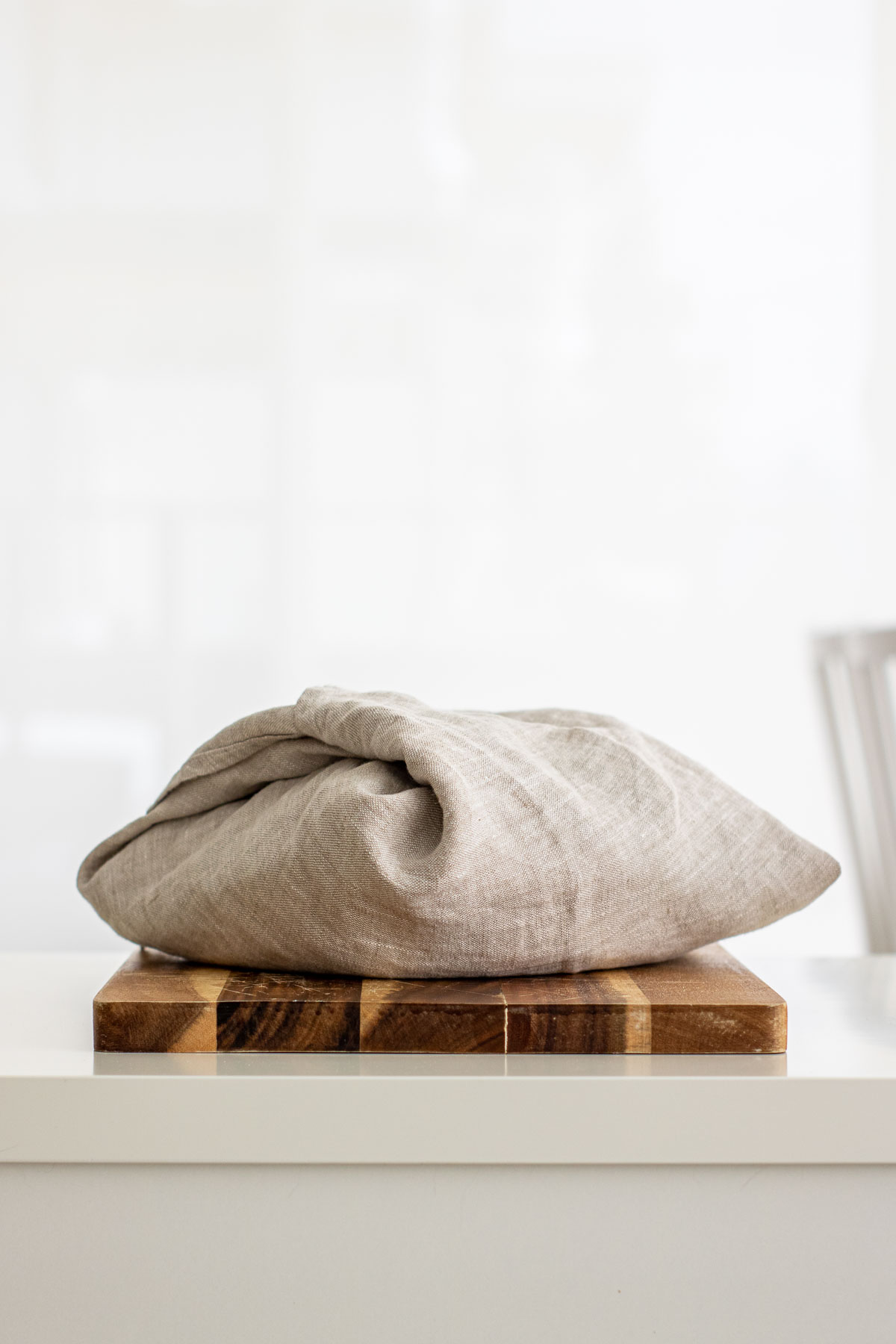 Always remember to store it in a cool place, away from sunlight. I don't use this method for more than one day, or after the first 24 hours of the baking.
Avoid: plastic bags
Putting a fresh baked bread in a plastic bag and sealing it shut might sound like a good idea, but usually, it is not.
Storing in a plastic bag can encourage mold growth, resulting in the bread going bad much faster. This material makes an airtight ambient, and will trap the moisture inside. Doing so, two things will happen:
The crumb will turn soft,
The moisture trapped inside will encourage mold to develop.
But there are sourdough loaves sold in plastic bags, right? If it is a traditional sourdough loaf, those plastic bags should have little holes that will allow the air to circulate and the moisture to evaporate. Plastic bags that are airtight are not suitable for boules or any sourdough bread which have a crisp crust.
If you decide to use it, breads that keep good if stored in a plastic bag are the ones without a crust, like soft sourdough dinner rolls, sandwich breads and sourdough english muffins. If using, try not to seal it completely: loosely twist the end to close.
I don't use it to store my loaves. However, you might benefit from it depending on the weather where you live.
If living in a super dry city, you might need to take some extra steps to keep your bread from drying out, especially if you've got a low hydration, crusty loaf on your hands. In that case, try putting your sourdough loaf inside a plastic bag and sealing it up tight. That way, you'll create a more airtight environment and help prevent your bread from getting too dry.
Avoid: storing sourdough bread in the fridge
Putting your bread in the fridge might seem like a good idea, but it's actually a no-go. It won't keep your bread fresh any longer and can actually make it go stale faster. The fridge sucks the moisture right out of the bread, leaving it dry and tough.
If you live in a city that's too hot and is worried about your bread going bad on the counter, opt to freeze it properly to make it last: freezing it will keep the moisture inside the loaf so when you reheat, it will be just like fresh.
The exception is if you live in a very high-humidity and warm region and don't want to freeze it right away. If so, you might benefit from storing the bread in the fridge, as it can grow mold quickly if left on the counter, especially if it's already sliced. Store it in a plastic bag, seal it and place it inside the refrigerator.
How to store sourdough bread after cutting?
After slicing your loaf, store it with the cut always facing down to keep the crumb soft and preventing the bread from drying out faster.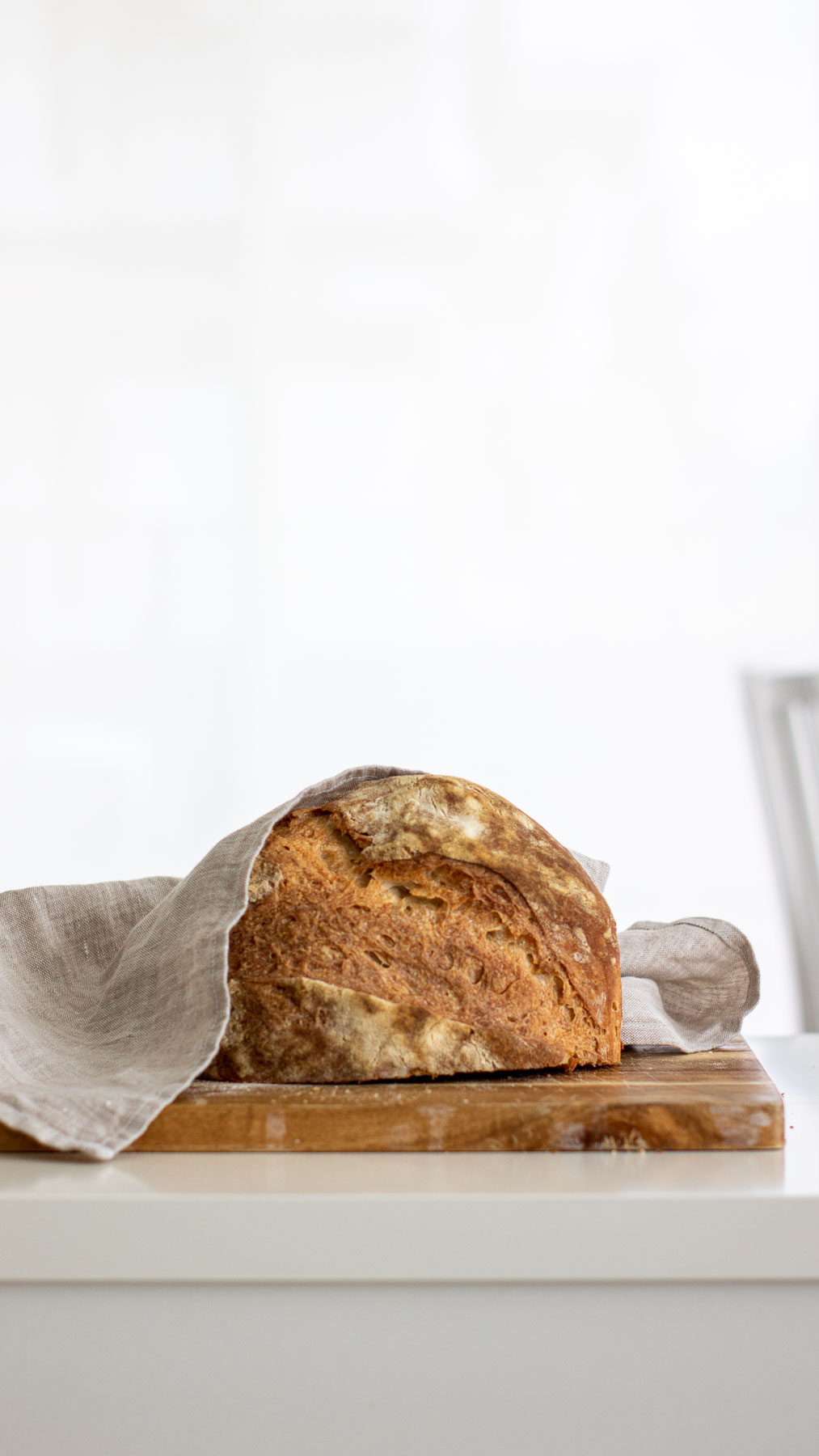 If you slice down the middle instead of at its ends, press both sides together when storing.
Where to store in the kitchen
Where you store your bread can be just as important as how you store it.
Bread needs to be kept in a cool and dry area of your kitchen. A countertop away from heat is a good place, as it is inside a cabinet., or a deep drawer.
Avoid storing on the top of the fridge as it can get warm because of the motor. Also, don't keep bread near the oven or stove for the same reason. Storing near the sink and dishwasher is also not a good idea, as it will be more exposed to moisture.
FAQ
Can I use beeswax wraps for storing sourdough bread?
Yes, you can. Use it as you would a clean towel: wrap around the bread after it has cooled. Beeswax wraps will create a second, breathable skin around the loaf. 
Can I leave sourdough bread out overnight?
You can leave out sourdough bread at room temperature (between 20–22 °C/68–72 °F) overnight. But I would recommend at least wrapping it with a clean towel, just to make sure it stays fresher for longer.
How to keep sourdough bread from molding?
Make sure to store it using a method that gives enough air flow. Storing in a plastic bag sealed shut at room temperature encourages mold growth. Prefer to store in a paper or bread bag, a bread box or a dutch oven if you have one.
How to keep sourdough bread crusty?
Storing sourdough bread on the counter using a paper bag, clean towel or bread bag are the best methods for maintaining the crust. Remember to always store cut side facing down (or together, if cutting bread in the middle) to keep the interior soft.
How do I store sourdough bread in humid weather?
If you live in a humid area, your bread can start growing mold pretty quickly. Make sure wherever you're storing it has enough airflow to keep it fresh and keep away from warm/hot spots. Don't store inside a plastic bag. If you're in a particularly hot and humid spot, your best bet is to freeze it.
How do I store sourdough bread in dry weather?
If you're living in a cold and dry area, you might notice your bread drying out quickly. It's a good idea to store it in a more airtight location to keep the humidity from escaping too fast. You might benefit from a plastic bag. However, using one might make the crumb soft.
What to do with stale sourdough?
If you see mold on your bread, don't take any chances: just toss it out. Eating moldy bread can make you seriously sick, and even if you try to cut out the moldy part, chances are the whole loaf is already contaminated. So, don't risk it.
If your loaf is free of mold, but gets too tough and dry before you finish it, there are a few things you can do with it: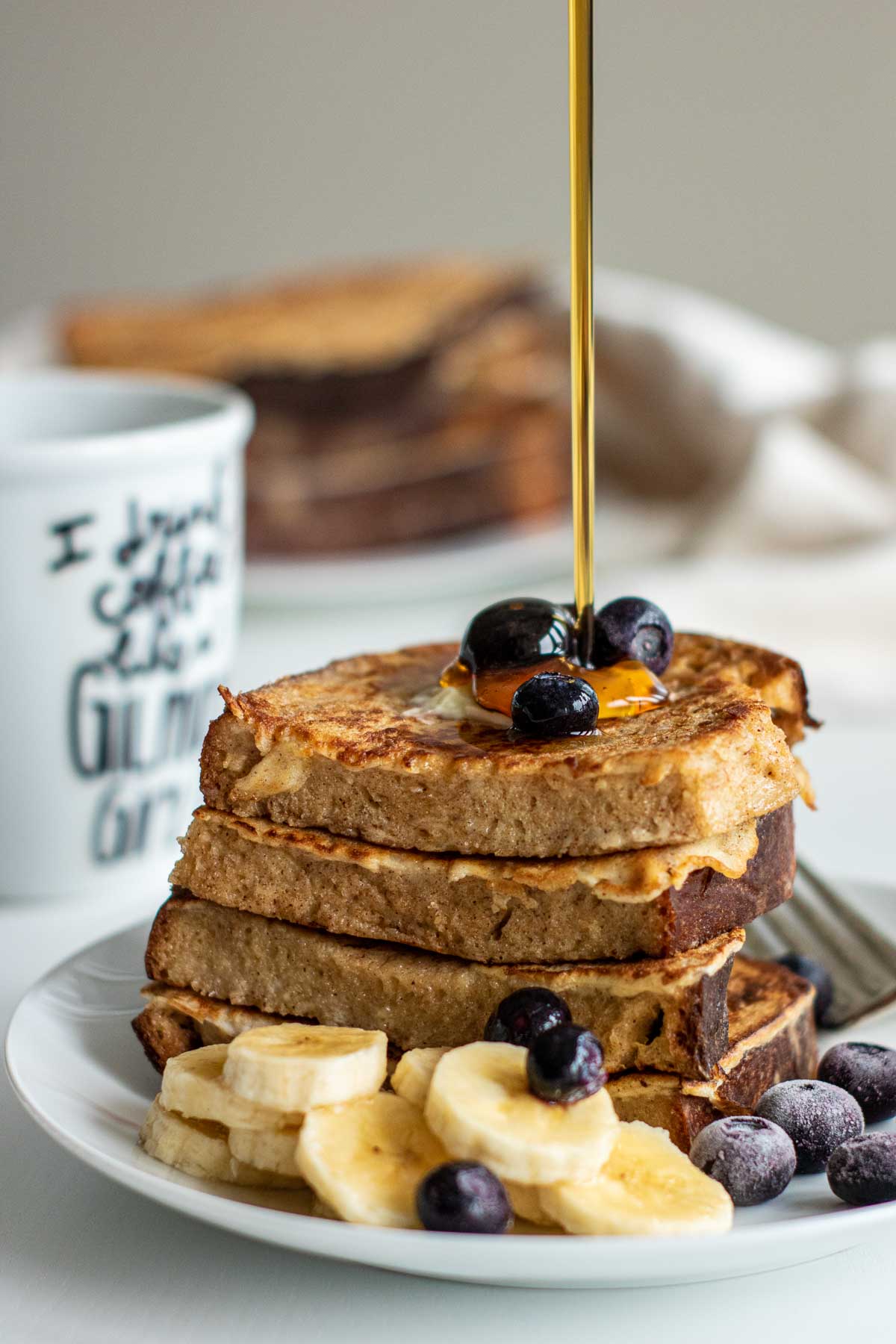 The bottom line
There is more than one way to store sourdough bread. To choose the best for you, you should consider the type of loaf, if you want to keep the crust, weather conditions, and how long do you want the bread to last.
If stored correctly and at the right temperature, a sourdough bread should last between 3 and 6 days, depending on its ingredients. In case your bread gets too dry and tough before you finish it and is free of mold, you can still use it for recipes that ask for stale bread.