This homemade French Baguette Recipe gives you a baguette very similar to the one you can get at your favorite bakery. With a deep-gold crusty exterior, the baguette you'll get has just the right amount of flavor and a soft, chewy interior.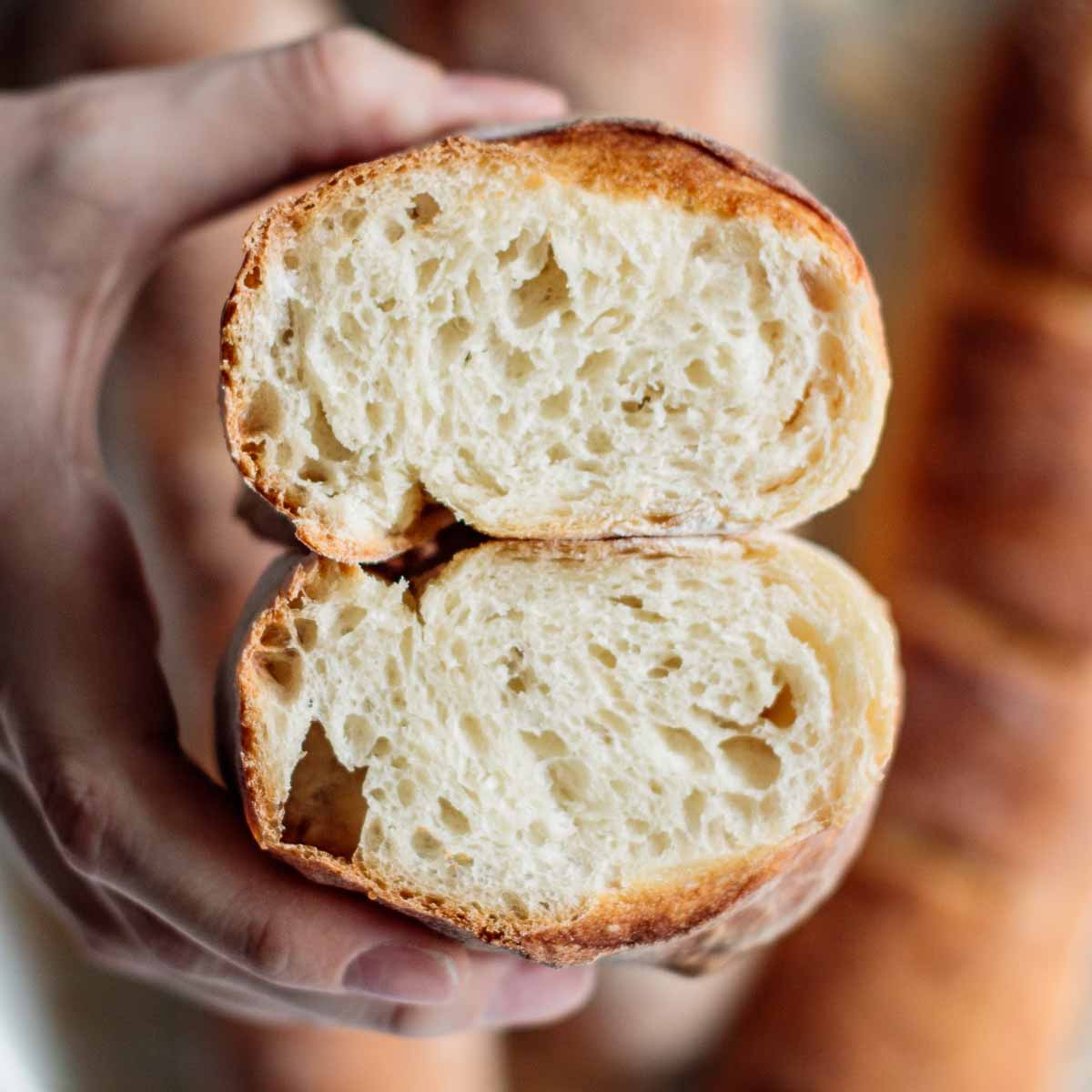 I love bread, and I love baking bread and understanding how can I make a recipe better. This baguette took me a few tries to make. Every try was wort it when I finally got the result I wanted.
Did you know it's possible to make a good baguette with only your oven, a spray bottle and 4 ingredients? No baking stone needed! With this recipe, you'll get a french baguette with flavor, crusty and easier than it seems!
Make sure to follow every single one of my tips to get the perfect french baguette!
What defines a french baguette?
According to Wikipedia, a baguette is a long, crusty and thin loaf of french bread, made from basic lean dough.
A basic lean dough is one made only with flour, water, yeast and common salt. If you stop to think about it, it's incredible how only four ingredients can make such a delicious and unique bread.
There are a few tricks and secrets to get the perfect french baguette, and I'll share every single one here, so you can get yours at home!
Practice makes it perfect
Yeah, I'm not going to lie to you: probably, your first baguette won't exceed expectations (but if they do, congratulation, you're GOOD!). But try it one more time, give it at least a couple of chances.
In your first time, maybe you won't preheat the oven enough, maybe the poolish will go wrong somehow. Been there, did all that, got frustrated, screamed at my failed baguette.
But after you finally get it right: is extremely satisfying.
How to make poolish
This recipe uses a starter called poolish. Poolish is nothing more than a pre-ferment that has a high ratio of hydration. But why waste so much time waiting for it to be done?
Let me resume it in one word: flavor. This starter will give your bread taste! So instead of a flavorless baguette, using poolish will give you a great-tasting bread you won't be able to stop eating.
You can make it the night before you're planing to bake, so you can start your baguette dough the morning after. Just don't let it ferment for less than 12 hours, or over 18 hours. First option may give you not enough flavor, second the poolish may over-ferment.
You can't rush the poolish (neither the dough)
If you do it, you'll risk getting a bland baguette. Nobody wants a bland baguette. You want to taste the zillion flavors a good starter can give to bread.
As I said, poolish is a yeast starter with a high level of hydration. This starter needs its rest, so leave it be for at least 14 hours.
Also, respect the time between foldings. Once you fold, the gluten takes time to redistribute. Don't allow this time to it, and you'll be rewarded with a tough, dense bread.
How to mix the dough
After your poolish is ready, you can finally start working on the baguette dough.
Get a large bowl, add flour, yeast, salt, water and all the poolish. Mix only until everything is well incorporated and no dry spots are visible. I usually use my hands to do so.
This is a wet dough. If you never worked with one, it might be a bit tricky, and you may think you won't be able to transform that in a baguette. Watch my french baguette video if you're having trouble with your dough.
Use both all-purpose and bread flour
I did some research through the web and some bread books, and the only thing everyone agrees about the flour was that the best one to use is the French one. Well, I don't have it here and (probably) neither do you.
On my first 2 tries, I baked my baguettes with bread flour, and the result was a very good, but a bit too hard for me, baguette. Then I baked using only all-purpose, and in the end I had not much of a crust.
Only when using both bread and all-purpose did I get a french baguette crunchy on the outside and with the right amount of chewiness on the inside.
I'm sticking with both flours on my future baguettes. If you can, you should too.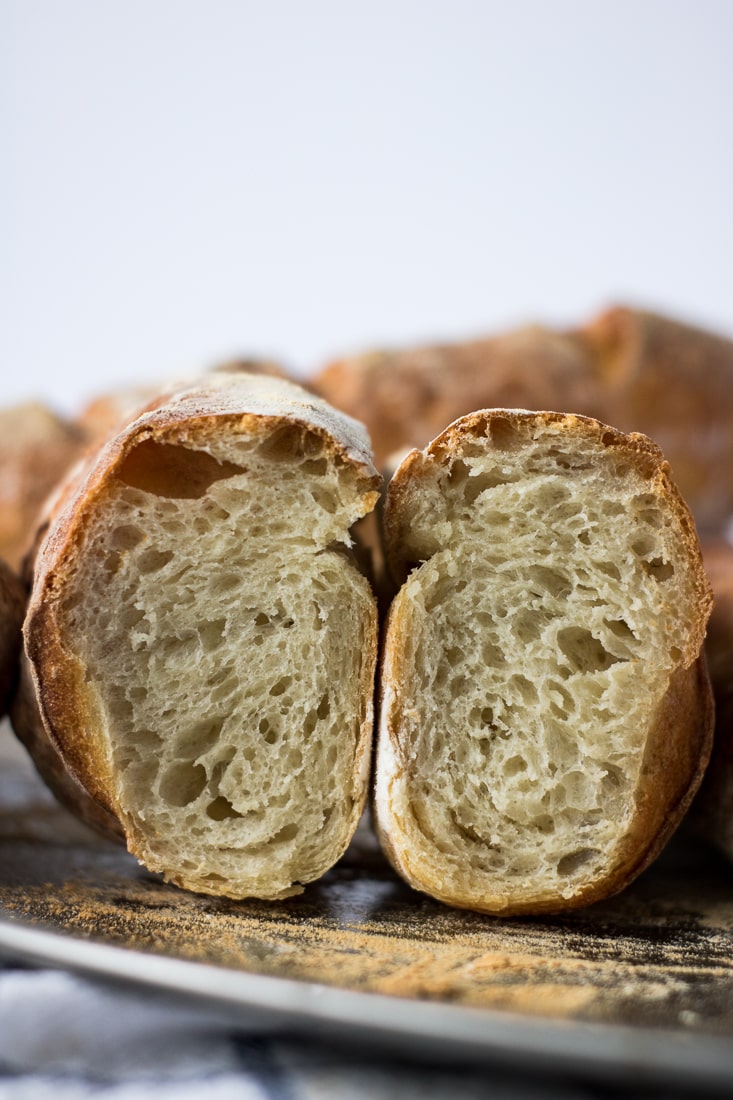 How to fold the dough
This dough is high hydrated, which means it's a no-knead bread. To form the gluten structure that kneading produces, french baguettes are fermented for a longer period of time, with several folds throughout the process.
There's no need to knead! You just have to fold it and let it rest, fold it and let it rest.
To stretch and fold your baguette dough, start by pulling up on the side of the dough, folding it back down on itself. Repeat it 4 to 8 times, equally through the sides of the dough, until it is tight enough you can't fold anymore.
A secret: you don't really need to stretch and fold your dough in a surface. Fold it over itself inside the mixing bowl.
My dough is too sticky!
This dough is sticky, and it took me a while to accept that. It's annoying to work with in the beginning. It's kind of annoying to shape. It's ok after you get it right for the first time and get over it.
If you find your dough is too sticky, wet your hands and flour the surface you'll be working on. You can also flour your hands instead of wetting them. Try both and see what works best for you.
How to shape the dough
Now comes the tricky part.
Half an hour to 40 minutes after the last stretch and fold, place the dough into a floured surface and portion it into 3 or 4 equal pieces. If your oven is not that big, you may want to portion into 4 pieces, so they'll fit.
Cover the pieces and let them rest for 20 minutes.
Only after this time, using your hands, roll each piece into cylinders, gently stretching them to the desired length.
If they're sticking too much, flour more the surface. But they should not be THAT hard to work with.
After shaping, place baguettes into a floured sheet pan and cover, letting them rise for 40 minutes more.
Preheating your oven and creating steam
Your oven needs to be hot. VERY HOT. Preheat it AT LEAST for 30 minutes at its maximum.
Also, you need to create steam to form the crust we all love: steam is what makes this bread crunchy!
To create steam, first you need to make your oven burning hot. While preheating it, leave a baking sheet on the bottom rack (your bread will bake in the middle rack). As soon as your baguette touches the oven, add water to the baking sheet and close the oven's door.
Now, be careful: steam BURNS. The first time you open the oven door again, do it with your face/body parts as far away as possible. Be safe!
Scoring your french baguettes
After your dough is shaped and just before it goes into the oven, make cuts on the top. Scoring helps with the rising of the dough, and with it, we can (try to) control to which side your bread will grow.
For baguettes, depending on their size, three to five cuts are enough. It's best to do with a sharp razor, but if you don't have one, you can use a sharp knife or even a sharp scissor to make the cuts.
On this recipe's video, I score my baguettes with a scissor.
Final tips
Never use a glass bakeware for this recipe! For both the baguettes and water, use a metal baking sheet. Glass may explode when making a recipe with too much steam or too high temperatures.
You may need to add more flour on humid days, or depending of your flour brand. Watch the recipe video to have an idea of how the dough should look like. If yours is more sticky, add 1/4 cup more of bread flour.
A chlorine-free water always produces a better result. Chlorine may affect the final taste of bread. If you live in a city where tap water has a high amount of chlorine, opt for bottled water or filtered water. You can also leave your water sitting overnight so the chlorine can evaporate.
Storing and freezing
Although this bread is best when freshly baked, they're still great after a few days.
They will lose its crunchy crust after the first day, but you can easily fix that by putting you french baguette back into your oven over low temperature. Turn it on and leave the baguette there for 5 to 10 minutes, and you'll get a baguette as fresh as new!
Store your french baguette at room temperature for 2 to 3 days, covered. I keep mine in a bread keeper or any airtight container they'll fit.
You can also freeze your french baguette! Bake it, let it cool completely and only then place it in a freezer safe bag and store it in your freezer. It's good for 3 months.
What to eat with french baguette
Endless possibilities! Baguettes are great for sandwiches, or with practically any dip.
I love having mine with butter and nothing else! Hubby likes it with cheese and onion chutney.
Got any stale baguette? Use it to make crostini! Homemade crostini is delicious and great to have. And homemade is much, much cheaper than its store-bought version.
After all that information, take a good look at what you will get: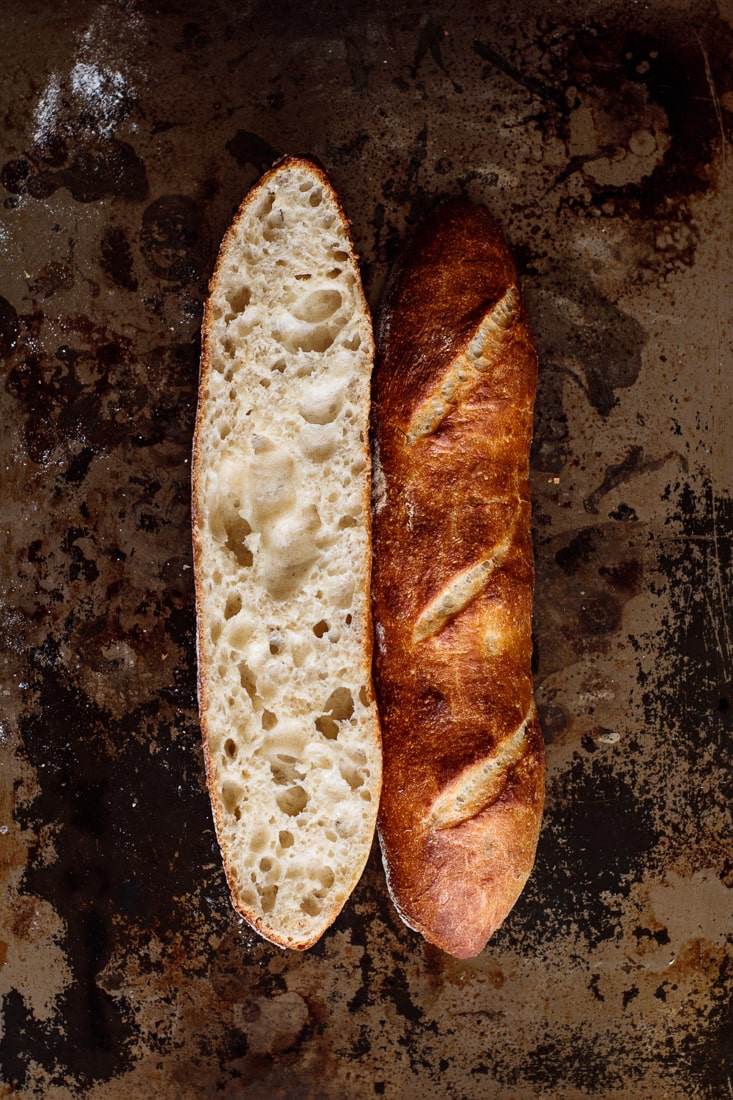 Gorgeous, right? This could be your french baguette tomorrow if you start this recipe right now!
Wanna learn more about bread baking? Take a look on my bread secrets and bake a successful loaf every time!
More bread recipes
Beer bread
Lazy bread
No-knead pumpkin brioche
Perfect sandwich rolls (pão francês)
Whole wheat breakfast rolls
FOLLOW ME on INSTAGRAM, PINTEREST, FACEBOOK, and YOUTUBE for more great recipe tips and ideas!
Yield: 3 to 4 baguettes
Homemade French Baguette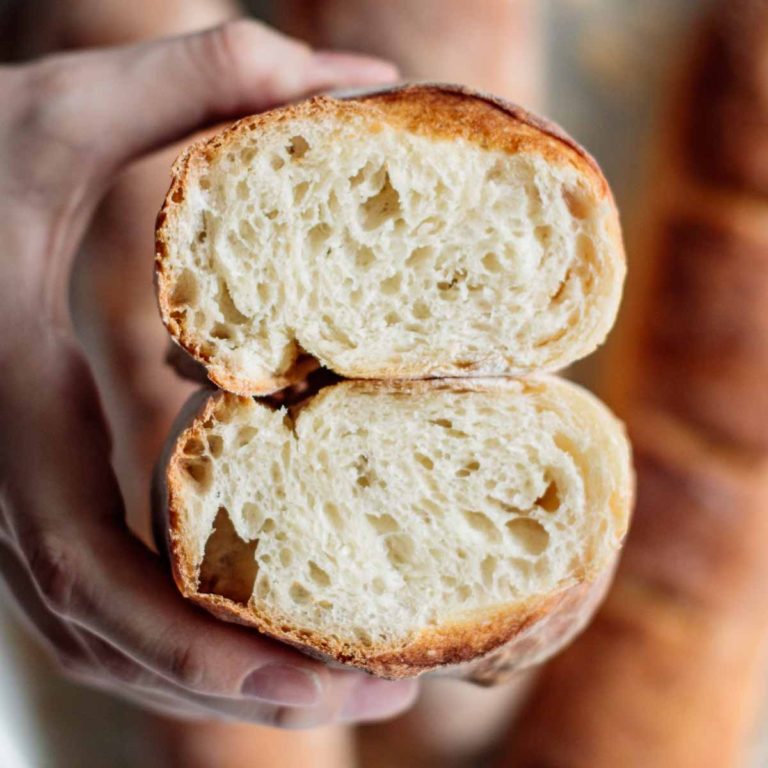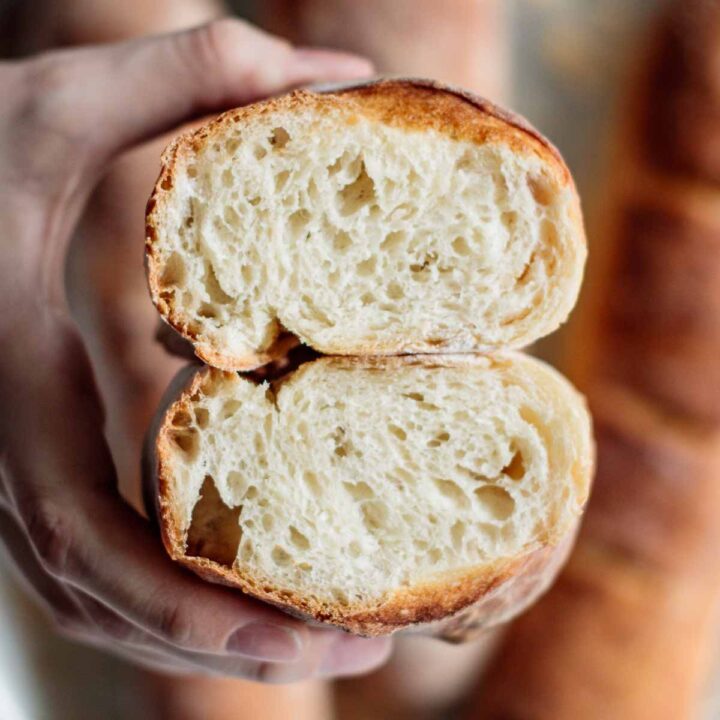 This baguette is very close to the one you can get at your fav bakery: with a deep-gold crusty exterior, it has just the right amount of flavour and a fluffy, chewy interior.
Total Time
19 hours
25 minutes
Ingredients
Poolish (starter)
1 cup all-purpose flour
2/3 cup room temperature water
pinch of instant yeast
Final Dough
1 cup all-purpose flour
1 2/3 cups bread flour
1 1/2 tsp instant yeast
1 1/2 tsp salt
1 1/4 cups water
Poolish
Instructions
Poolish
In a large bowl, add the flour, water, and a pinch of yeast. Mix with a spoon until everything is well combined.
Cover with a kitchen towel and let it rest for 16 hours.
Baguette
In a large bowl, add both all-purpose and bread flour, yeast, salt, water, poolish and stir until everything is well combined.
Cover with a kitchen towel and let it rest for 40 minutes.
Using your hands, fold the dough over itself by lifting and folding its edges toward the middle. Cover and let rise for another 40 minutes.
After 40 minutes, repeat folding, then cover dough and leave it to rest for another 40 minutes.
After 40 minutes, place the dough into a lightly floured surface and divide into 3 or 4 equal pieces (my oven is really tiny, so I had to divide in 4 for all baguettes to fit). You can use your hands, twisting the dough, or you can use a cutter.
Cover the pieces and let them rest for 20 minutes.
Using your hands, roll the pieces of dough into cylinders, gently stretching them to the desired length.
After shaping, place baguettes into a floured sheet pan and cover, letting them rise for about 40 minutes.
Preheat your oven to 500F or its maximum, with a baking sheet on the bottom rack.
Just before baking, score each baguette on top with diagonal cuts, 3 to 5 in each baguette.
Spray the baguettes with water and transfer them to the middle rack of the preheated oven. Add one cup of water to the baking pan on the bottom and close the door quickly.
Lower the temperature to 450F and bake the baguettes for 15 minutes. Open the oven quickly and spray them with water once more. Close the door and bake for another 5 to 10 minutes, or until deep golden on top.
Remove from oven and (try to) let them cool before serving.
Nutrition Information:
Yield:
4
Serving Size:
1
Amount Per Serving:
Calories:

439
Total Fat:

2g
Saturated Fat:

0g
Trans Fat:

0g
Unsaturated Fat:

1g
Cholesterol:

0mg
Sodium:

880mg
Carbohydrates:

90g
Fiber:

3g
Sugar:

0g
Protein:

14g