Caramelized Onion Chutney makes boring grilled cheese pop, is the perfect addition to your cheese board, and can be a great gift for your foodie friend.
This is a recipe that's always good to have in your fridge!
Jump to: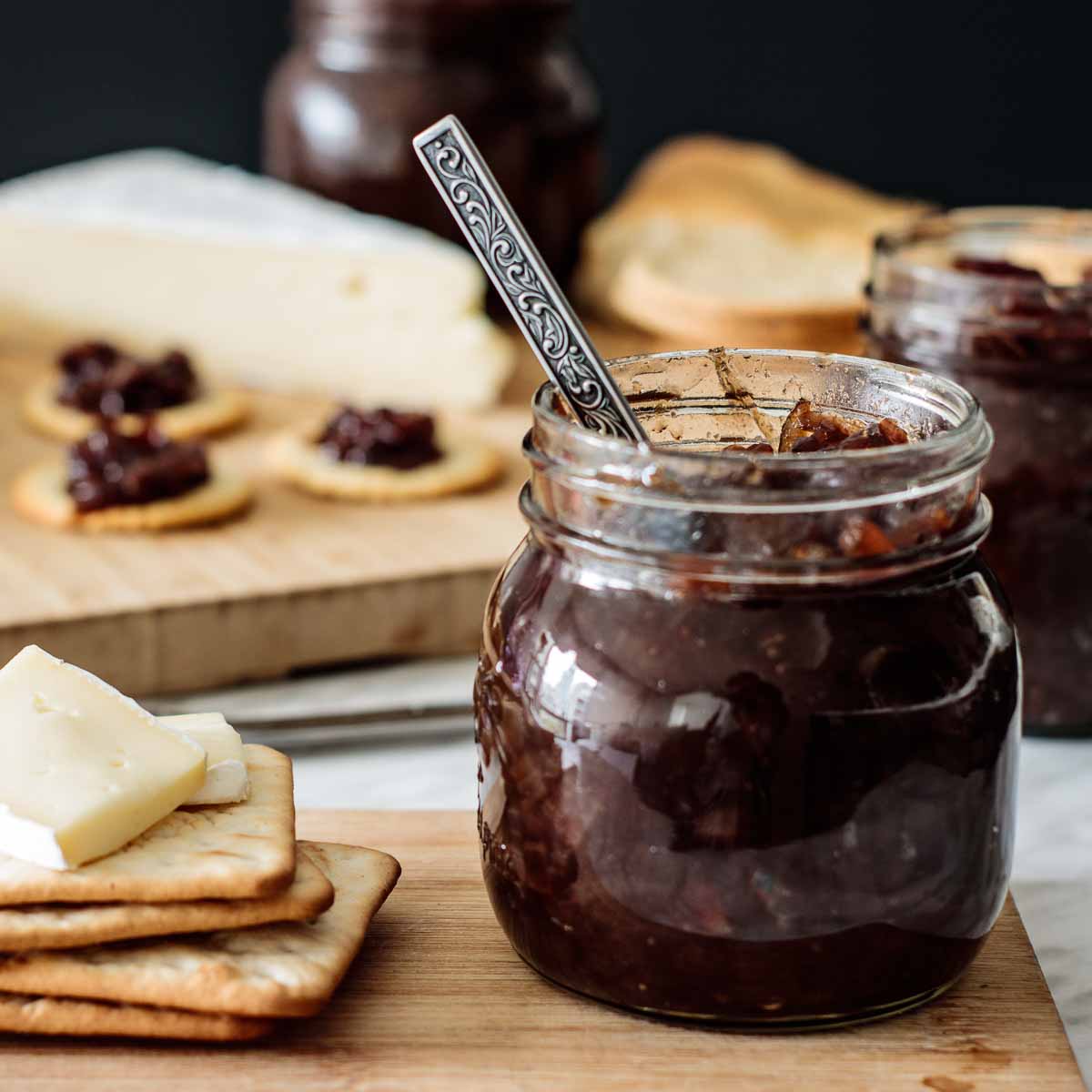 🧅Why this recipe is for you:
You can make it as a gift to your loved ones;
You can impress your friends by adding it to a cheese/charcuterie board;
It's the perfect addition to a grilled cheese;
This chutney keeps for a long time in your fridge, even longer if you know how to water-bath;
It has less sugar than most onion chutneys: this recipe has only ⅔ cup of brown sugar.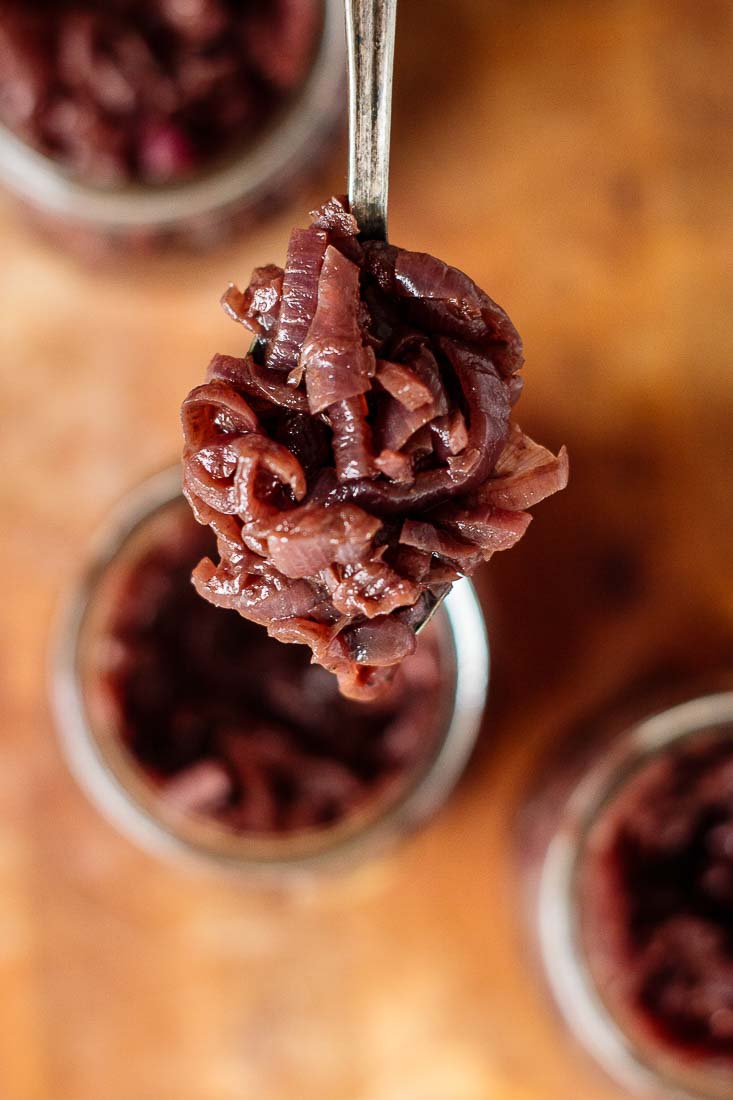 🤷🏻‍♀️Chutney: what is it?
We can say a chutney is a kind of savory jam. There are some differences between jam and chutney, though:
In chutneys, vinegar and sugar are used together for preservation, while in jams sometimes only sugar is added for that purpose;
Jams are usually made with fruit, while chutneys can be made with both, or only vegetables (like this recipe);
Chutneys are always flavored with lots of spices and even chili peppers, different from jams, where the taste of the fruit alone is most predominant.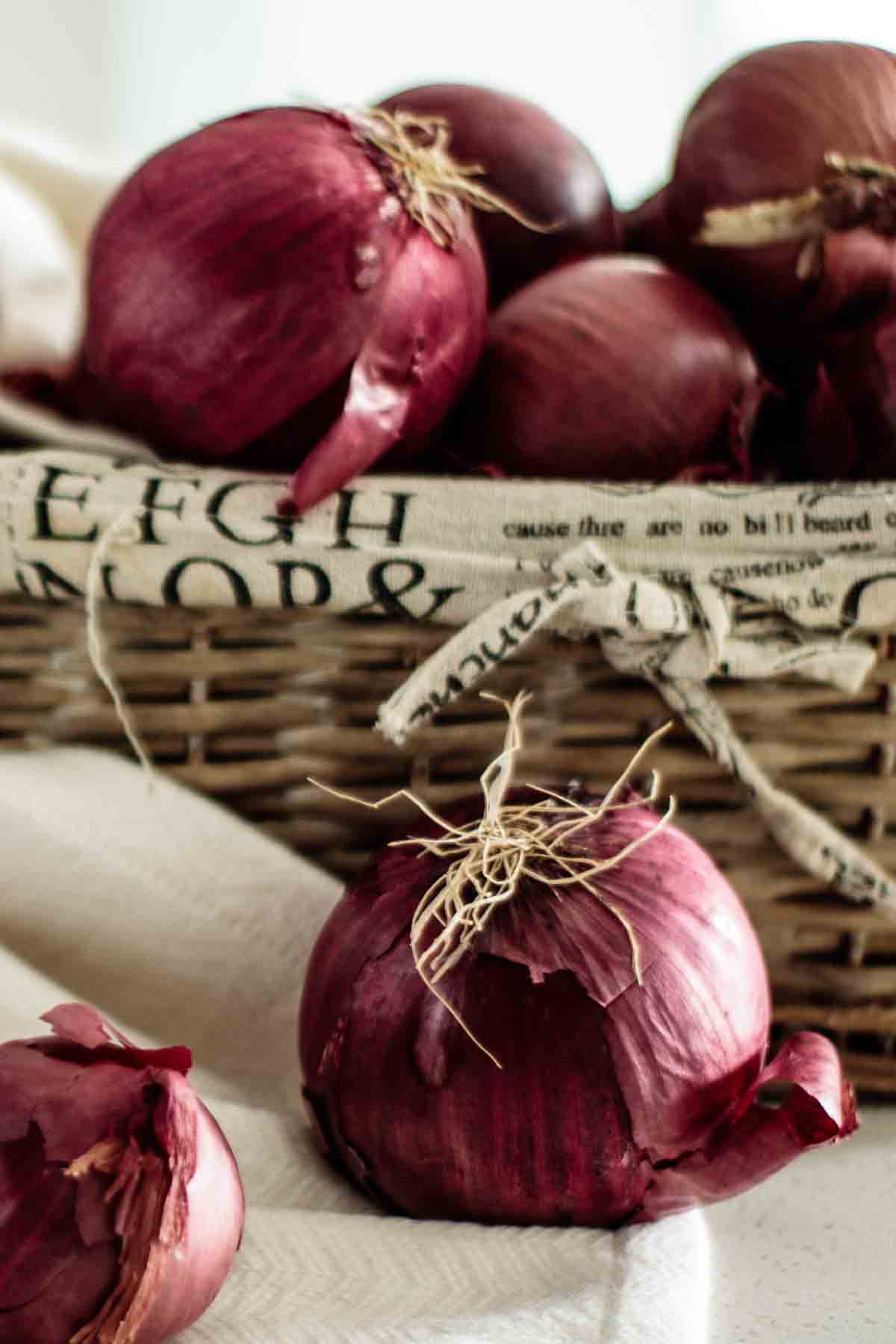 This onion chutney is a vegan, gluten-free, savory condiment made of red onions, brown sugar, vinegar and spices. It's thick, has a dark caramel color and a sticky jam-like consistency. It carries the complexity of brown sugar combined with the right amount of tartness.
📝How to make it
It's really easy, I swear! The most time-consuming part is to peel and slice the onions.
After peeling, you can just place everything in a heavy-bottom pan and let time do its magic, if you're feeling too lazy to wait for the onions to caramelize.
If you don't have a pan with a thicker bottom or a dutch oven, it's best to stir from time to time to check if the bottom is not burning. Do it every 10 minutes.
Once it's ready, place the onion chutney in jars and let it cool before storing in the fridge.
If you prefer, you can opt to can this recipe and store outside your fridge while the jar remains closed.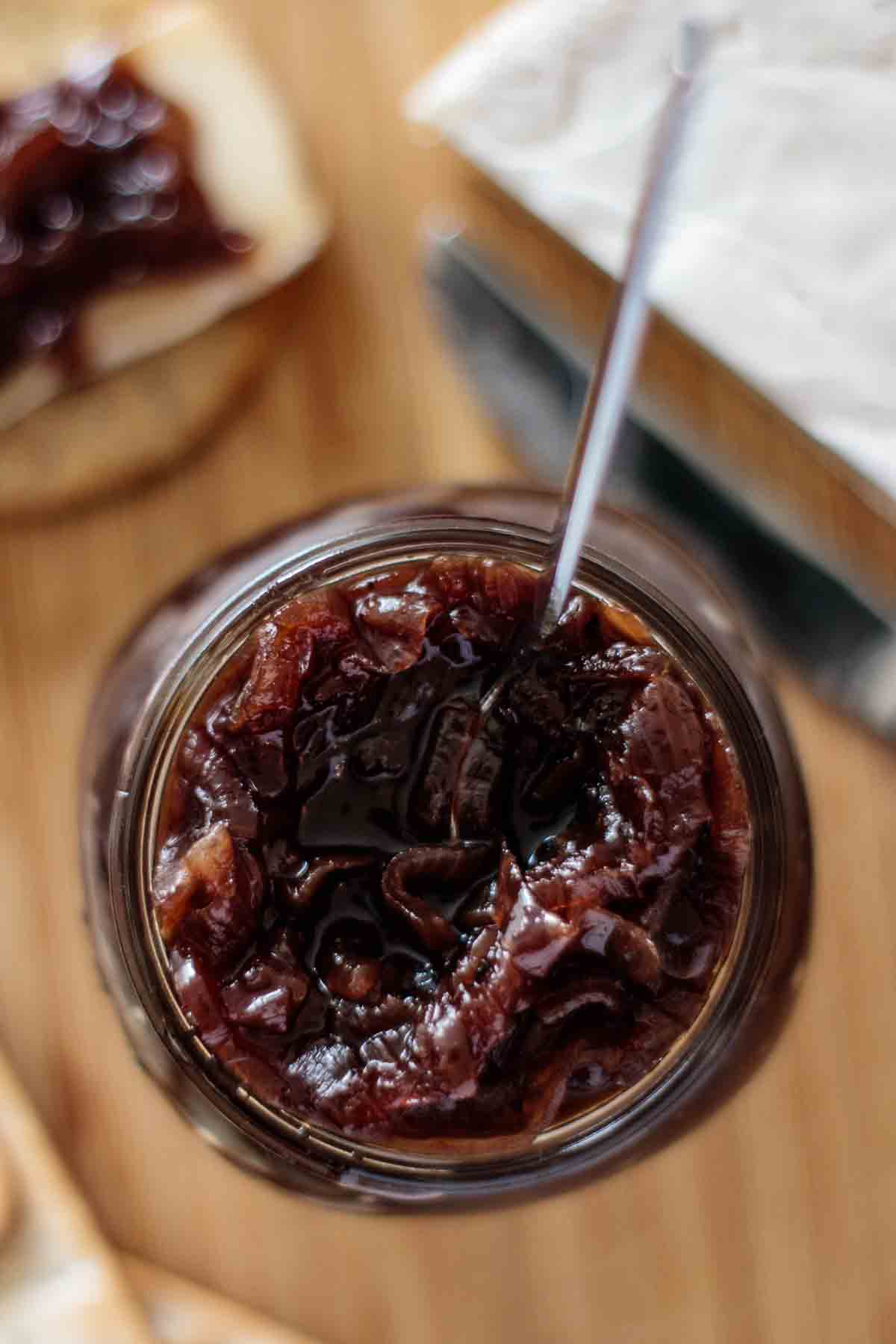 🍴What to eat with it
You can have it hot or cold, and it goes well with grilled cheese, soups, even pizza!
Try it with my homemade baguette bread or a pumpkin brioche and add some brie – you won't regret it!
For me, this is the perfect chutney to have with cheese.
This onion chutney is also fantastic for burgers, both meat and plant-base. Try combining it with goat cheese and salted mushrooms for a fantastic hamburger.
I find this recipe essential for anyone who loves to add a hint of sweetness to a savory dish.
The combination of wine with balsamic vinegar gives this chutney the exact amount of tartness: for an onion lover, it'll be hard to stop eating.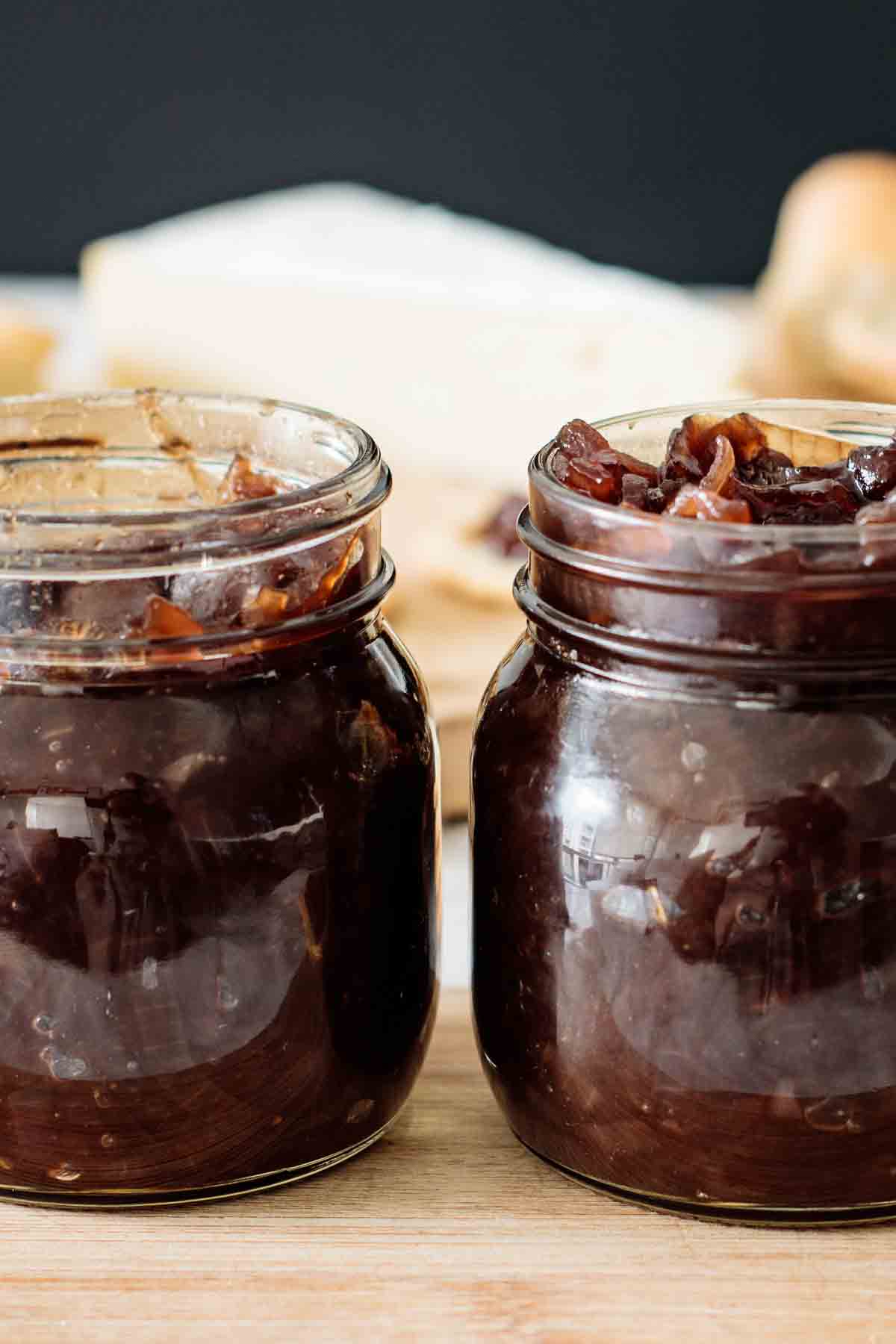 ❓FAQ
Is onion chutney vegan?
Yes, this recipe is vegan.
Do I have to use wine?
You can substitute wine for vinegar if you like. Replace the wine with ⅔ cup of red wine vinegar and ⅓ cup of water. It will have a more sour taste.
Is caramelized onion chutney the same as onion marmalade?
A marmalade is a bittersweet preserve made with the peel of acidic fruits. Sometimes, an onion chutney is labeled as onion marmalade, but is, in fact, a chutney.
🫙Storing
You can have it as soon as it finishes cooking, but hear me out and wait for it to cool. If possible, store this chutney in two jars and leave one resting for a whole week.
After some time, the flavors are more well developed, and the taste gets even better.
Red onion chutney will keep in the fridge for up to 6 months.
You can water-bath if you want/know how to. I've never done that, so mine stays in the fridge.
🧅More savory spread and dips
Easy Caponata (No Tomatoes)
Vegan Guacamole
Yield: 2 medium jars
Caramelized Onion Chutney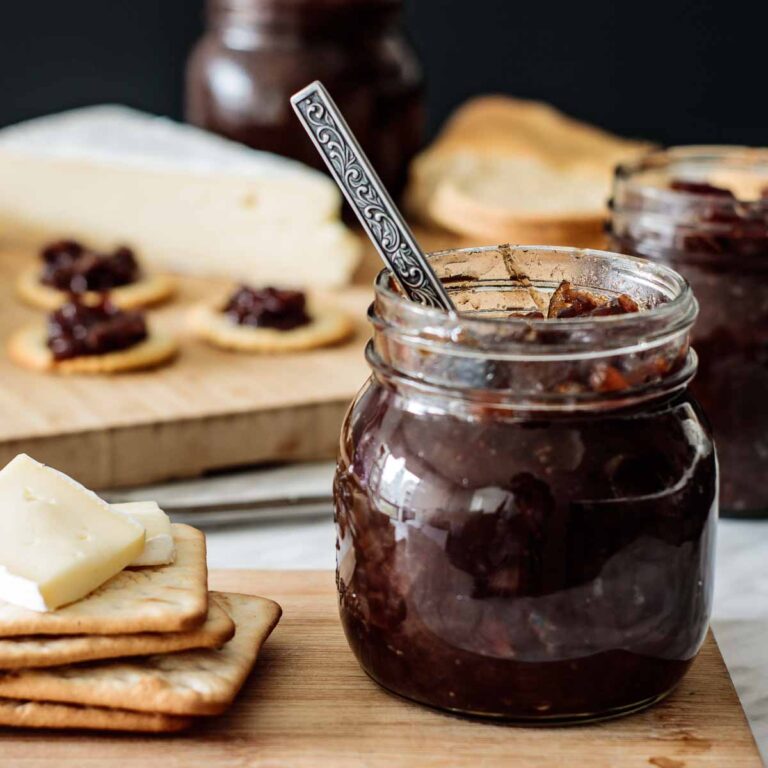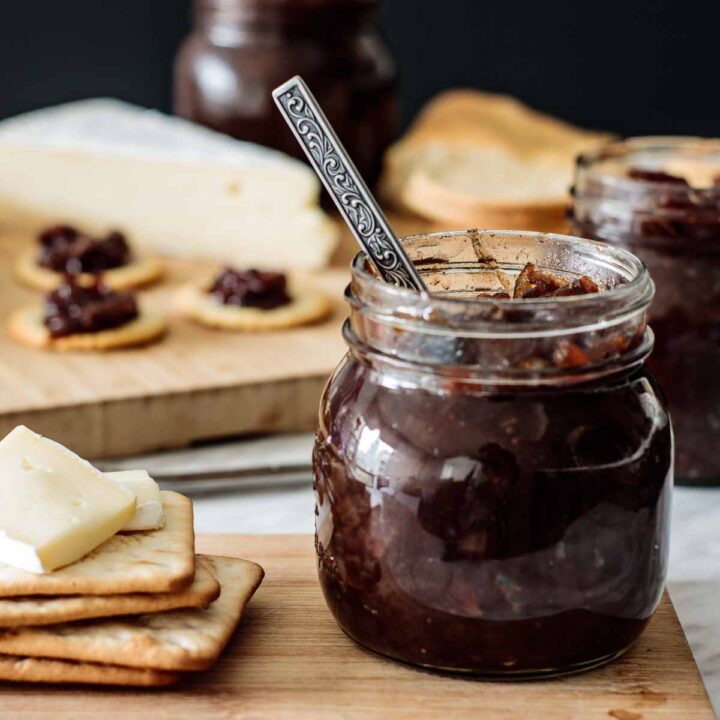 This caramelized onion chutney has a dark caramel color and a sticky jam-like consistency. You can have it hot or cold, and it goes well with grilled cheese, burgers, and even pizza!
Cook Time
1 hour
20 minutes
Total Time
1 hour
30 minutes
Ingredients
about 8 medium red onions
3 tablespoon olive oil
4 bay leaves
1 tablespoon ground black pepper
1 teaspoon salt
⅔ cup brown sugar, packed
⅓ cup balsamic vinegar
1 cup red wine
1 tablespoon mustard seeds (or ½ tablespoon mustard powder)
Instructions
Peel and cut the onions into thin half-moon slices.
In a large heavy-bottom pan, heat the olive oil and add the onions, bay leaves, black pepper and salt.
Cook over low heat for about 20 minutes, stirring occasionally to prevent it from burning. After this time, the onions should be soft, translucent, and reduced in size by about half.
Add the remaining ingredients: brown sugar, balsamic vinegar, wine, and mustard seeds (or powder). Cook for 1 hour, or until most of the liquid has reduced. Stir occasionally to check if it isn't sticking to the bottom of the pan. The chutney should be thick and have a dark caramel color.
Place into sterilized jars. Keep it well closed in the fridge.
Notes
You can skip steps 2 and 3 if you're in a hurry: just add all ingredients and let everything cook in low heat for 1 hour and 20 minutes. Although the time will be the same, you won't need to worry about stirring.
You can substitute red onions for yellow onions.
Use ½ tablespoon of ground black pepper for a less peppery outcome.
Nutrition Information
Yield
2 jars
Serving Size
1
Amount Per Serving
Calories

740
Total Fat

22g
Saturated Fat

3g
Trans Fat

0g
Unsaturated Fat

18g
Cholesterol

0mg
Sodium

1207mg
Carbohydrates

112g
Fiber

7g
Sugar

84g
Protein

7g
Nutrition information is an estimate only and will vary depending on the substitutions made and/or brands used.