Homemade guacamole is super easy to make: just mix everything together and in 5 minutes you'll have a tasty and healthy dip! Stay with me and let me teach you how to make an amazing guacamole!
Why you should do this recipe:
You're looking for an easy recipe that's both healthy and yummy;
It's a great way to enjoy game night free of any guilt;
You don't want to have lots of bowls and plates and spoons to clean after;
You want a recipe where you can substitute or omit some ingredients and still end up with a great tasting guacamole.
Anyone can make this guacamole
I promise, even if you're a beginner, this one is totally foolproof! There's no way you can make a mistake here: is cutting, squeezing, mixing and chilling!
For this recipe, you'll need avocados, lime, cilantro, red onion, red bell pepper, salt and jalapeños. If you're on the mood/like it/want more ingredients, add tomato and ciliantro to your list.
How do I find the perfect avocado?
Ok, let's talk about the avocado you're looking for: one with dark skin, that yelds to firm but gentle pressure. Avoid the mushy ones - if it gives in too easily, it's overriped! If you have to choose between a mushy and a hard one, go for the last.
To be sure the avocado you found is the one, look under its stem. Does it look green? If so, yey, you've found it! If it looks brown, it's probably overripe, and you'll find brown spots inside the fruit. If the stem doesn't come off, the avocado is still not ripe.
In case you got the last option, you can make an avocado ripe faster using the paper bag trick: put it (or them) in a paper bag with an apple, close the bag and wait about a day. Sometimes it also ripes faster if you put under all the fruits in your fruit bowl.
If your avocado is already ripe - or close to - and you won't use it today, store it in your refrigerator. Most of the time, they go from ripe to meh in less than a day if stored on a counter.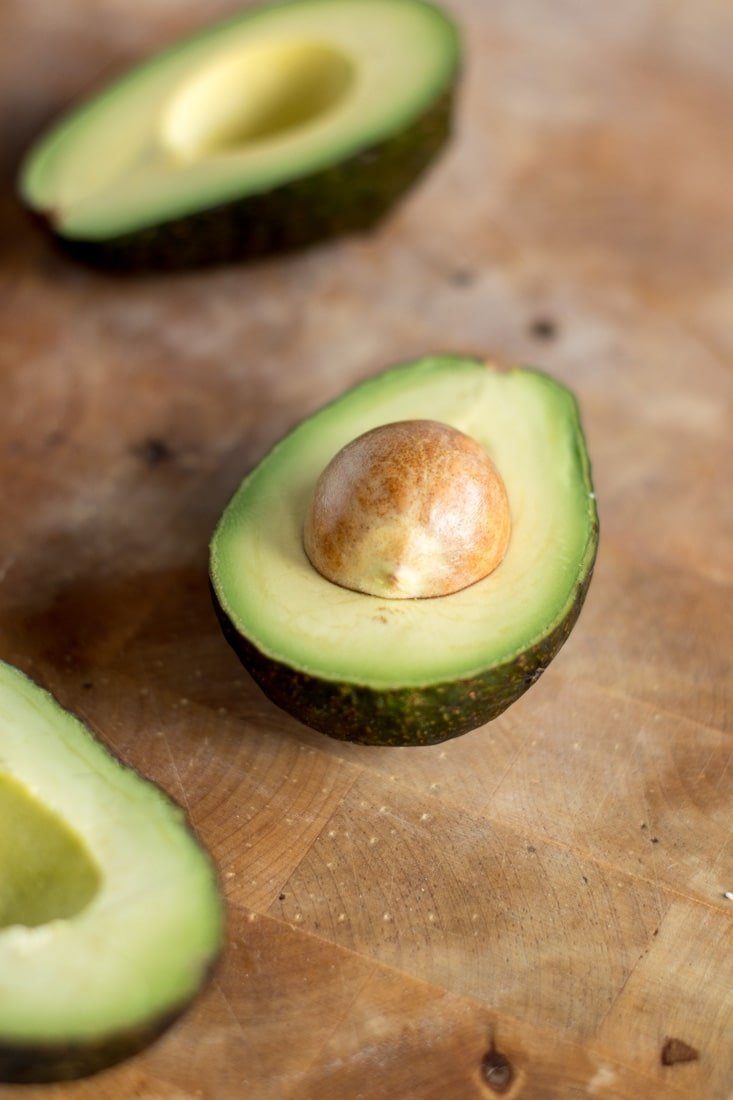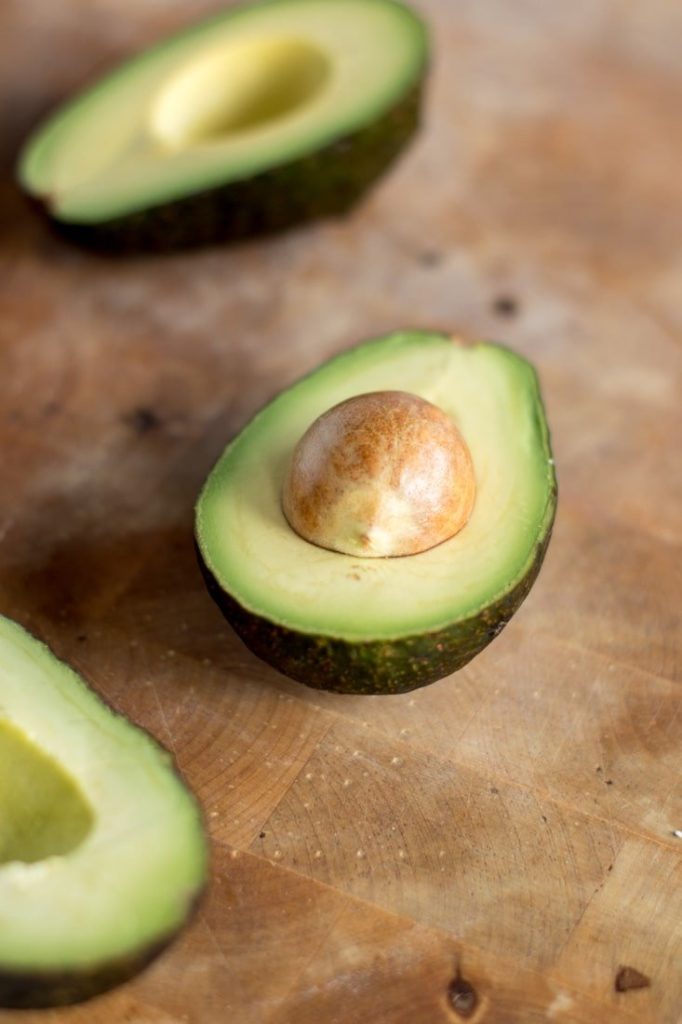 Is there a secret for making a perfect guacamole?
Besides the perfect avocado? Yeah, I can think of a bunch of secrets for this recipe. Ha, you thought I would say no, right?
Well, they are more tips than secrets, and they're what work for my taste. I'm saying that because maybe you're a garlic fan, and my first tip is to cut the garlic out of this recipe. Yeah, I've found some recipes out there that asked for this ingredient. I have absolutely nothing against garlic, but it kind of overpowers all the other ingredients and makes you guacamole a garlicmole. Terrible pun, but hopefully you got my point. Skip the garlic.
Texture is also important for this recipe, and for that, I would recommend not skipping the red onion, and not over-mashing your avocados - stop mashing while it's still a bit chunky. Oh, and add the lime juice just before you start mashing your avocados, so you mash and mix the two ingredients at the same time.
Last but not least important, don't forget the salt!
Which tomato should I use? Do I have to make it with red onion?
I like to go with roma tomatoes (italian/plum tomatoes) for this recipe. Quick note: they need to be raw. Please don't use a canned one or you'll end up with a watery guacamole. Also, if you choose to use it, don't forget to take the seeds off.
About the onion, you can use either the red or yellow version. I think you can use pretty much any type of onion if the red one is a no for you. Just don't forget to add some, as this ingredient makes a difference.
Can I skip the cilantro?
I'm not a fan of cilantro myself, but I find it edible in this one recipe. Maybe I've got used to it, maybe it really makes a difference in guacamole for me, but I almost never skip this ingredient.
But I've already done this recipe without the cilantro, and it's still very good. So if you can't stand it, it's fine to leave the cilantro out.
What about the jalapeno?
Same as above: it's different without it, but still good. I have friends who can't eat anything spicy, so I've prepared guacamole without it a few times.
Oh, you can use jalapenos, or chili peppers if you prefer. Remember to cut the peppers with gloves, as they tend to burn if you stay too long in contact with them with bare hands. Either way, wash your hands afterwards.
One last thing: if you want your guacamole less spicy, discard the jalapeno/chili pepper seeds. You can also substitute for dried cayenne flakes.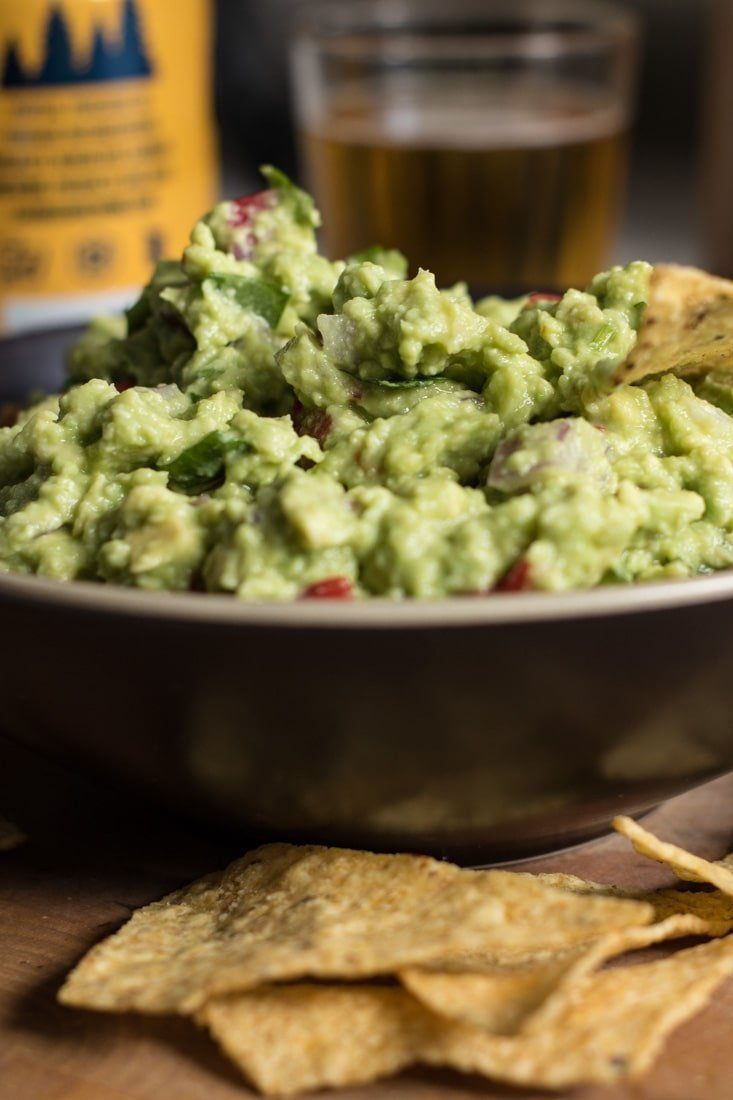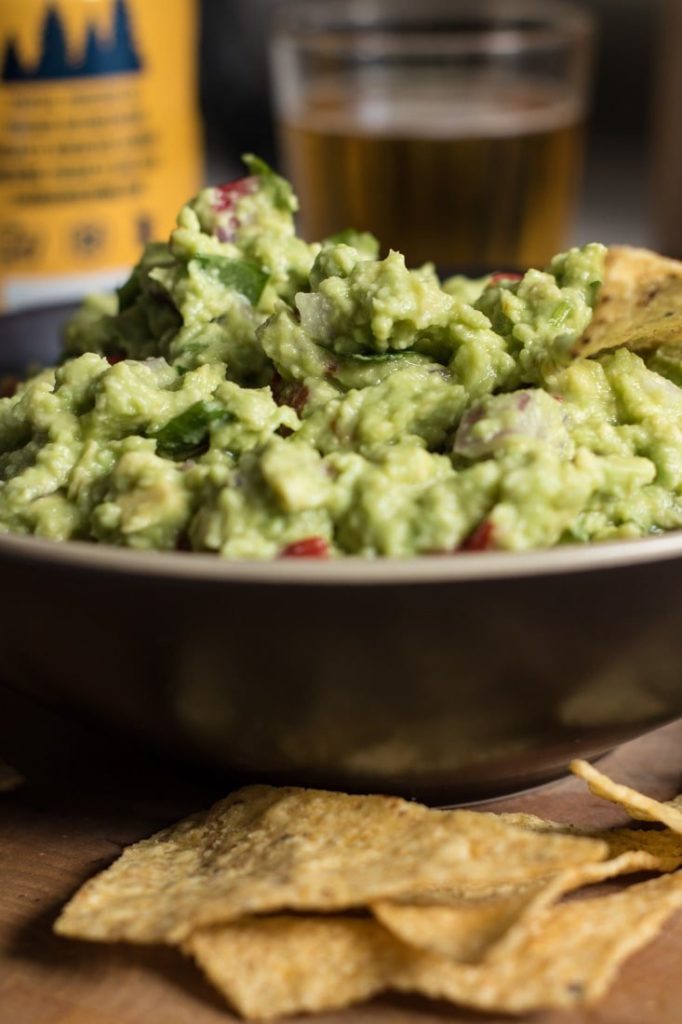 What to eat with my guacamole
I love having it with tortilla chips, they're my favourite choice for eating this dip! There are lots of different tortillas in the market nowadays: lemon-flavoured, multigrain, spicy ones. Try buying different versions of it to enjoy your guacamole even more!
If you want to go one hundred percent healthy, this recipe is also great served with carrot or celery sticks.
Guacamole can also top your enchiladas, tacos, nachos. Feeling daring? Try having your guacamole along grilled chicken or salmon.
I've had it with my toast, it's so practical and good for a quick snack in the afternoon! Try it with my quick bread, my foccacia (it's vegan!) or even with my pumpkin brioche - it's delicious!
How to store the leftovers
If you have leftover, you'll need to store it properly to avoid your guacamole turning brown. My recipe asks for 12 tablespoons of lemon juice, and that's already helps a lot to slow down the oxidation process.
That said, you can totally prepare it even one day ahead and your guacamole won't turn brown, provided that you also store it properly. Keep the guacamole in your fridge after preparation, and cover with plastic wrap, pressing down the plastic to cover all the top and squeeze out any air pockets.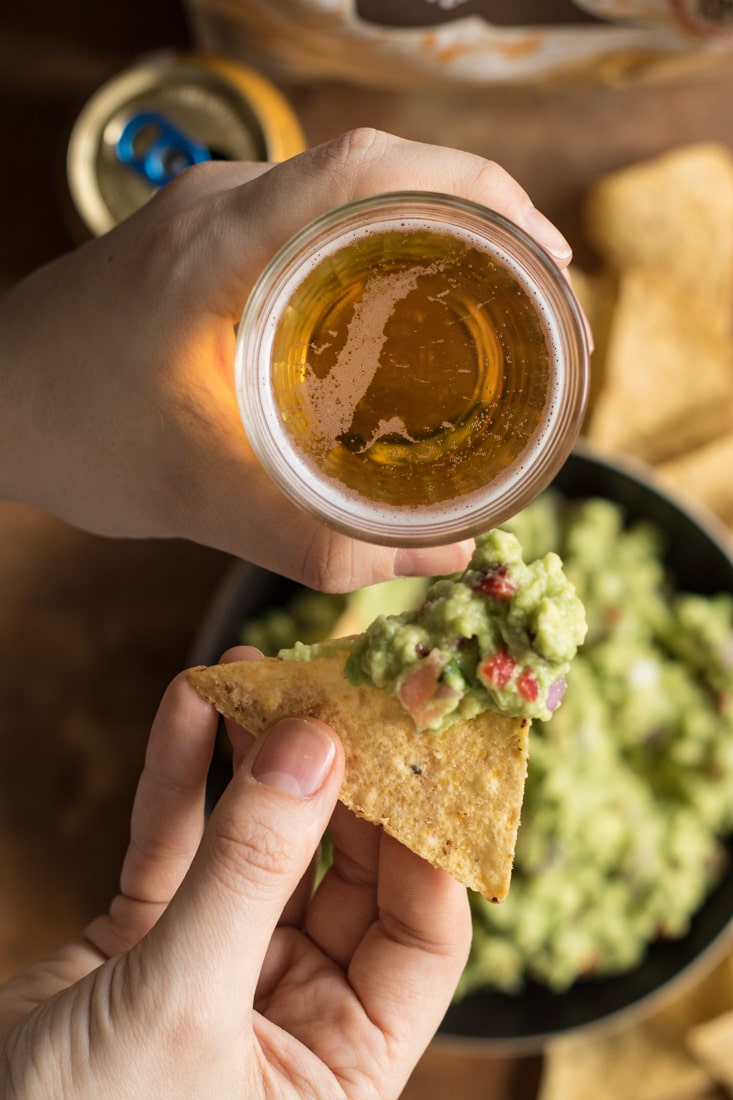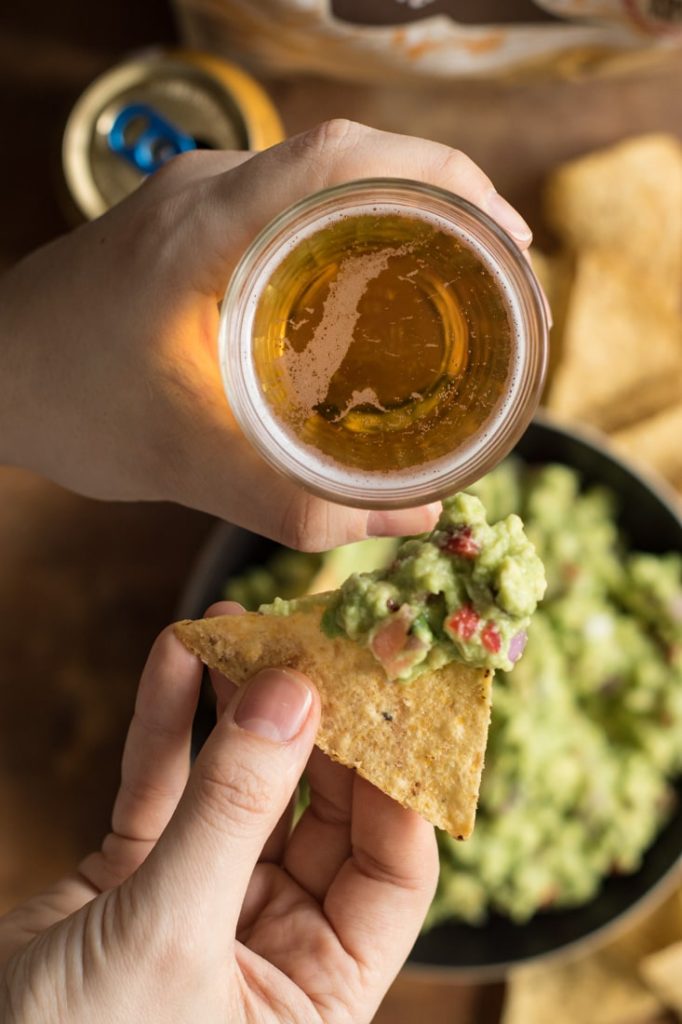 You can also put a sliced onion on top of your guacamole if you're not a fan of plastic wrap. But let me tell you: I've tried this hack, and the plastic wrap works better - your guacamole will be way more green than with an onion the next day. If you store it with half an onion, put it in an airtight container.
If your guacamole turns brown, even if the colour is not the most appetizing one, it is still good to eat. Scrape off and discard the brown parts if you wish, but know that it's ok to just stir them into the rest of the guacamole.
📖 Recipe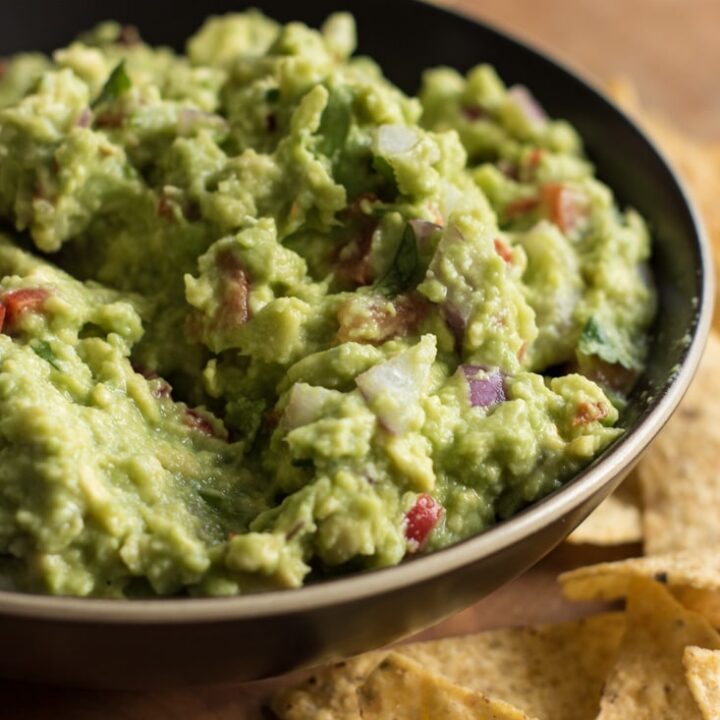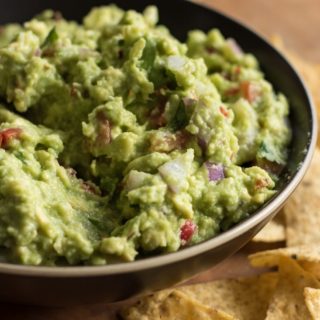 Easy Guacamole
Homemade guacamole is super easy to make: just mix everything together and in 5 minutes you'll have a tasty and healthy dip!
Ingredients
4

avocados

ripe

12

tablespoons

lime juice

about 2 limes

½

medium red onion

cubed

1

roma tomato

cubed, seeds discarded

½

medium red bell pepper

cubed, seeds discarded

1

jalapeño

cubed

3

tablespoon

chopped cilantro

or more if desired

½

teaspoon

salt
Instructions
Cut the avocados in halves. Discard the seeds.

With a spoon, scoop the flesh off the avocados and place inside a medium bowl. Discard any brown areas/spots if desired.

Add the lime juice to the avocado.

Using a large fork or potato mash, mash up the avocado with the lime juice, until there are only small chunks of avocado remaining.

Add the onion, tomato, red bell pepper, jalapeno (or chili pepper, or flaked cayenne pepper), cilantro and salt. Stir to combine.

Taste and add more salt or lime juice if needed.

Serve right away or chill for half an hour before serving to let flavour blend more.
Nutrition
Serving:
1
g
Calories:
173
kcal
Carbohydrates:
12
g
Protein:
2
g
Fat:
15
g
Saturated Fat:
2
g
Polyunsaturated Fat:
12
g
Sodium:
141
mg
Fiber:
7
g
Sugar:
2
g