Focaccia is just the kind of bread you might be needing: fast to prepare, easy to bake and extremely tasty, even more the next day. With zero animal ingredients, bake this to please everyone on Christmas night.
5 reasons to make this focaccia:
It's vegan;
It tastes even better the next day, so you can make it ahead;
You can use a flavoured olive oil to make it taste even better;
You don't need a mixer to make the dough;
It's a great addition to an appetizer board!
Let's start with the red onions
I love red onions! They're my favourite, and I use them a lot in my kitchen. Great type of onion to caramelize: red onions are high in sugar, which makes everything super easy. Red onions are also full of quercetin, an antioxidant that may be linked to preventing cancer - comfy food can be healthy, guys!
I caramelize the onions with olive oil and some black pepper - but you can totally skip this last ingredient if you want to.
Walnuts taste just like Christmas to me
They really do! I'm loving adding them in my recipes this December as much as I'm loving my almost daily eggnog cup.
The walnuts in this recipe are pretty basic: you can add them whole, you can crush them as I did. If you have them whole and want them in tiny pieces, you can use a knife to cut them, or you can pulse once or twice in the food processor.
Tell me more about the focaccia
Best part of the recipe: the dough.
I know there are lots of focaccia recipes out there, and yes, the taste is really more well developed if you let the dough rest for more than just an hour. But sometimes you just don't have the time, I know that. For busy days, I improved a family recipe I've been making for years. The result: focaccia bread ready for the oven after just 1 hour.
This dough is not as firm as my pumpkin brioche, but it's ok cause there's no need to knead at all here: you just have to mix it really well with a spoon, or your mixer. Mix it for 2 to 3 minutes and let it rest for 45. Super easy, even if it's the first time you're baking bread.
After that time, roll it into a baking sheet and let it rise for more 15 minutes. Just before baking, use your fingers to poke the dough all over: this creates pockets for the olive oil and prevents your focaccia from rising too high.
Although the topping of this focaccia is very grown up, sometimes you need a quick snack for your kids, or you're serving this for some picky friends. So one quick tip: you can make this with no topping at all! Prepare the dough and skip the onion and walnut steps. Just don't forget to add a bit of salt and olive oil on top before baking.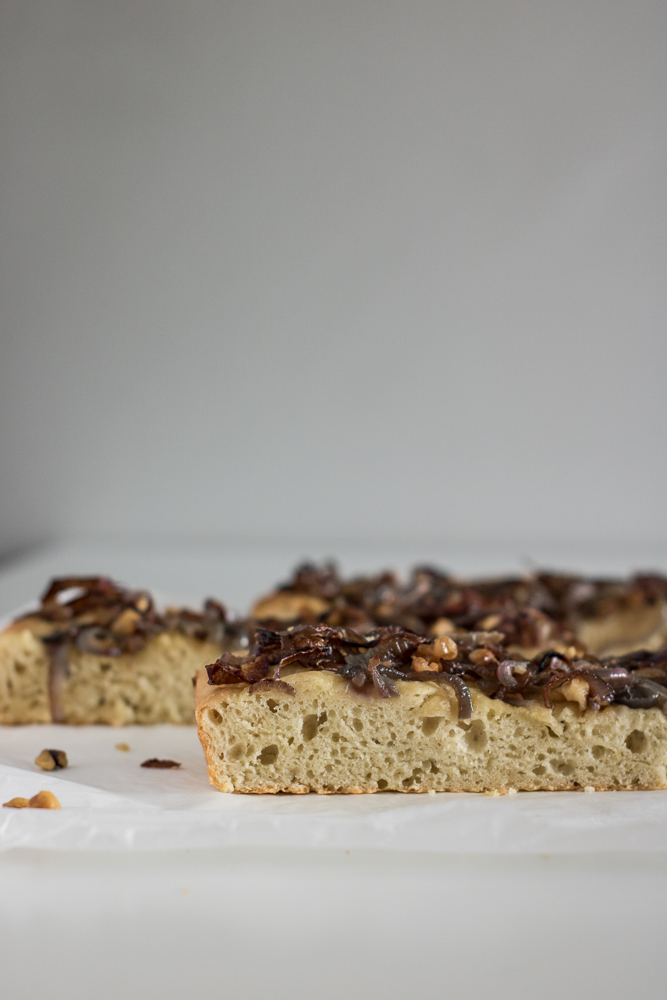 Can I make the dough ahead?
You totally can! Make the dough and let it rise for one hour, then cover well and store in the fridge for a day or two. Before baking, get the dough to room temperature by removing it from the fridge and letting it rest near the oven.
What do I serve with focaccia?
I find this bread great to serve while it's still warm, and it goes really well with this onion chutney - have you tried this already? You should! If you want to keep it vegan, you can try it with jams, chutneys, vegan dips. There are some great vegan cheese out there, and you can even bake it as a pizza for kids: instead of onion and walnuts, top it with grated cheese, sliced tomatoes, salt, olive oil and a pinch of oregano.
I love dipping my focaccia into a creamy soup, and I think this one would be perfect with a pumpkin and ginger soup. If you bake it without the walnuts and caramelized onions, this black bean soup tastes even better with focaccia!
How long is it good for?
My focaccia tends to last less than two days, but the few times it survived Husband, it was tasty and moist for 3 days. Remember to store it covered and away from the sun. You can also freeze this recipe (I freeze it for 1 month max), and if you want to reheat it, it's always best to do it in an oven: 400F for 5 minutes will do it.
Yield: 8
Walnut and Red Onion Focacia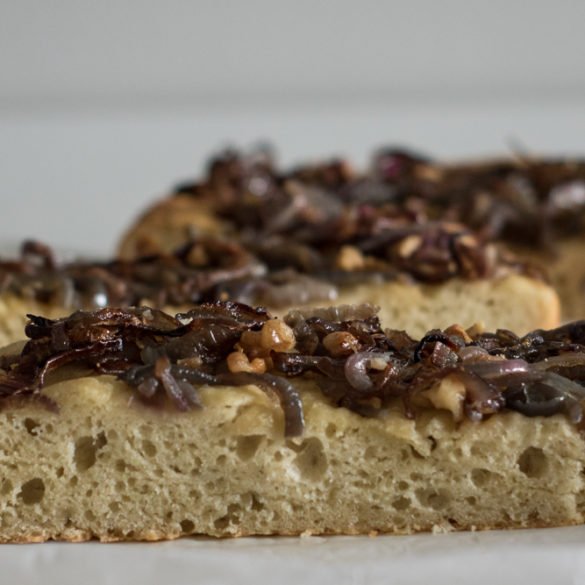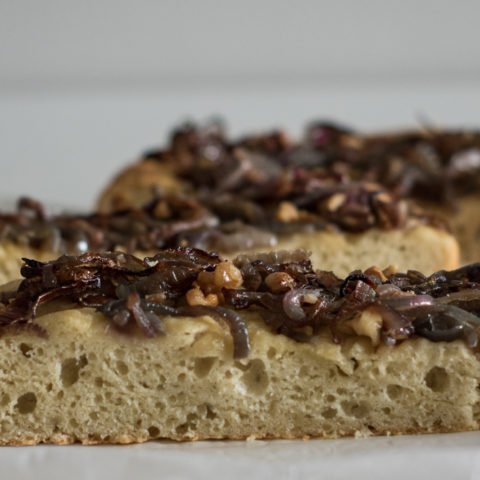 Focaccia is just the kind of bread you might be needing: fast to prepare, easy to bake and extremely tasty, even more the next day.
Total Time
1 hour
20 minutes
Ingredients
2 ¾ cup all-purpose flour
1 ¼ cup warm water
⅓ cup extra-virgin olive oil, plus 3 tablespoon to caramelize the onions and more for greasing
½ tablespoon instant dry yeast
1 tablespoon brown sugar
½ red onion, sliced
⅓ cup walnuts, chopped
1 teaspoon salt, plus more to taste
ground black pepper to taste
Instructions
In a large bowl, combine the flour, yeast, brown sugar and salt. Whisk to combine.
Add the warm water and ⅓ cup of olive oil, and stir until the dough comes together. Cover it with a towel (see notes) and let it rest for 45 minutes, or until it doubles its size.
In a medium skillet, combine 3 tablespoons of olive oil with the sliced red onions and black pepper. Place over low heat and let it cook for 15 minutes, stirring occasionally from 5 to 5.
Grease a rectangular sheet pan with olive oil.
Transfer the dough to a floured surface, and open it into a rectangular shape, approximately the size of your sheet pan. Flour your hands if the dough is too sticky and use a rolling pin if needed. Transfer to the pan and let it rise for another 15 minutes.
Pre-heat your oven to 450F for 15 minutes.
Using your fingers, press the dough all over, creating small pockets. Pour olive oil all over the dough, then add the walnuts and the caramelized red onions.
Bake for 20 to 25 minutes over 400F until focaccia is golden brown. When ready, remove from the pan and let it cool on a wire rack.

Notes
To help your dough rise faster, here's a quick tip: damp a towel, microwave it for about 40 seconds, and then put it over the bowl to cover your dough. Yeast develops better in warm environments.
Nutrition Information
Yield
8
Serving Size
1
Amount Per Serving
Calories

284
Total Fat

13g
Saturated Fat

2g
Trans Fat

0g
Unsaturated Fat

10g
Cholesterol

0mg
Sodium

295mg
Carbohydrates

37g
Fiber

2g
Sugar

2g
Protein

6g