How to use your sourdough starter is part of Sourdough Starter 101 course.
How do I know my starter is ready to be used for baking?
A ready-to-use sourdough will have visible bubbles on its surface and sides of the jar and a pleasant sour aroma. It cant have an alcohol or nail polish smell, as this is a sign your sourdough is underfed.
There are 2 ways to know if your starter is ready for baking.
If it doubles in volume within 4 to 10 hours of feeding, it's ready to use. Feed your culture, mark where it is on the jar with a rubber band or any other method you prefer and wait to see if it doubles in size.
If you're not sure about the rise, there's another way to check if your sourdough starter is ready to be used for baking: the float test.
Fill a cup with cold water and add a teaspoon of starter to it. If your starter floats, it's ready to use. Note that this test is only valid for 100% hydration starters (the starter made in this course is 100% hydration).
Note that the best time to use your starter it when it reach its peak, before it starts to fall. The more you bake with your starter, the more you know when yours is ready, but that happens usually between 4 to 8 hours after feeding a healthy starter.
How should I prepare my starter to use in a sourdough recipe?
If your sourdough starter is active and is at room temperature, it will probably only need one feeding before it's ready to use.
Feed your culture and wait for it to double in size.
One thing you have to remember: make sure to leave a bit of your starter! I always leave at least ½ cup of my culture.
So, if I have ½ cup of starter and my recipe calls for 1 cup, I feed my culture ½ cup of flour and ½ cup of water. Doing so, I would have 1 cup of sourdough starter for my bread and ½ cup of remaining starter.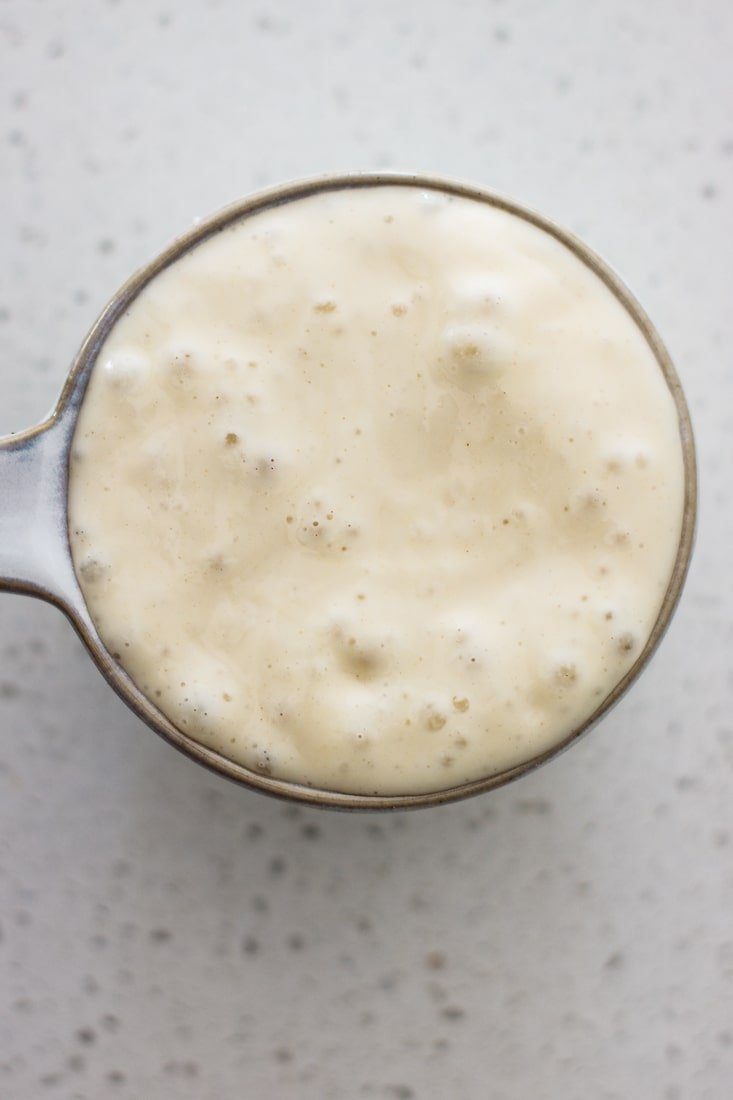 How should I prepare my starter to use in a sourdough recipe if it's on the fridge?
If you don't bake as often and opt to let your culture in the fridge to feed it less, it may need more than one feeding for it to be ready. Remember, only keep your starter in the fridge after its first month.
I do it with mine, as I bake once a week at most. When I need to use my culture, I take it out of the fridge, feed it twice 12 hours apart and leave it in a warm spot to accelerate the activity. So, if you want to start a recipe with sourdough on Saturday, you should feed it Friday morning and evening.
But as I said, each culture is different. My starter is so active sometimes it doubles in size already on the first feeding. But yours may take 2 or even 3 feeds to be ready if you keep it in the fridge. That especially if your starter is new.
Replacing Commercial Yeast
Can a sourdough starter replace commercial yeast?
Yes, it can! You can use your sourdough culture to give more flavor to your bread/recipe, as well as to completely replace the commercial yeast.
How to replace commercial yeast with sourdough starter?
If you want/need to replace the commercial yeast in a recipe, there's a simple formula you can use. For each 1 envelope of active dry yeast (7 grams - ¼ oz) use 1 cup of starter.
Just be aware that's not the only modification you need to make. Using a starter will also change the amount of water and flour in the recipe, so you need to adjust those too. For each cup of starter used, reduce water by ½ cup, and flour by ¾ cup.
Also remember that resting time is longer: for the dough to double in size, takes more than the habitual 1 and a half to 2 hours.
Next: Temperature and Smell
Or go back to Sourdough Starter 101
FOLLOW ME on INSTAGRAM, PINTEREST, FACEBOOK, and YOUTUBE for more sourdough recipes that work!