How to feed your sourdough starter is part of Sourdough Starter 101 course.
Now, I know you know how to mix water and flour, but let me give you some tips about how to feed your sourdough starter that can make a difference.
First, always feed your starter after discarding half of it. Yeah, starting on day 2, half of your sourdough culture needs to go daily, or your starter will take over your kitchen.
I would not use the discard for recipes on the first week. If you've passed the first week (congrats!) and are looking for discard recipes, I have really good ones here.
Also, if you have a scale, now it would be really useful. A scale can make feeding and discarding super easy. How?
When it's time to feed your starter, put your container on your scale and tare it (scale should read 0). Then remove around 100g of your starter with a spoon.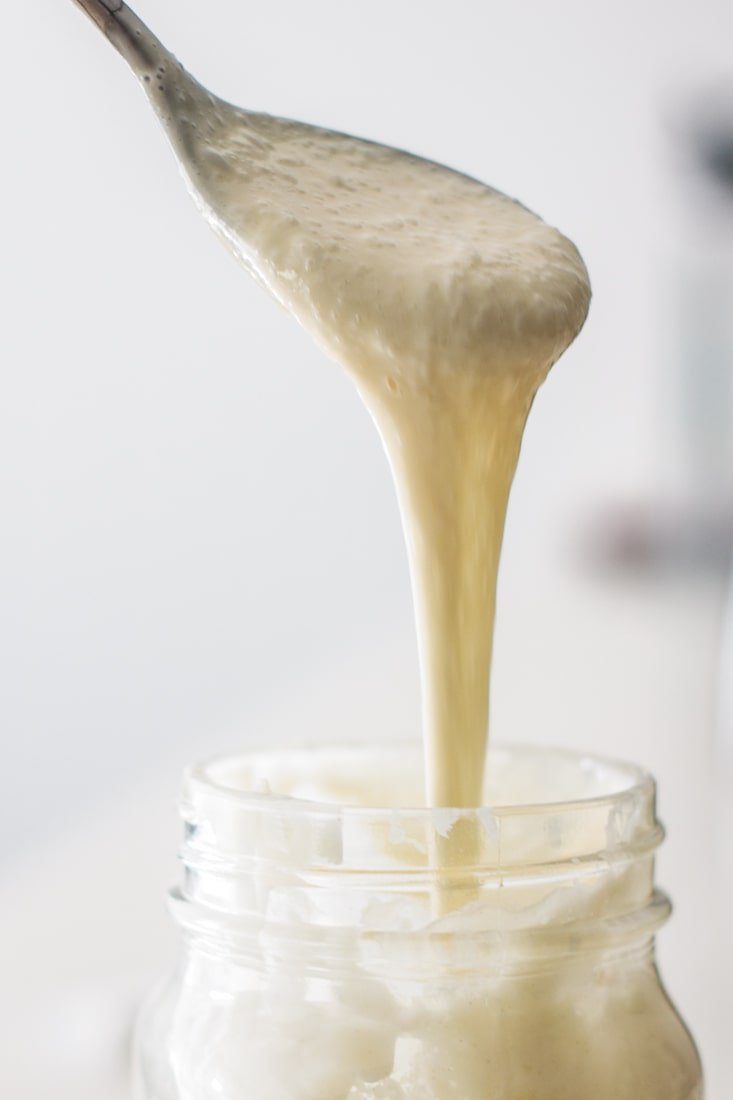 Don't worry, you can totally do it without a scale: just pour the starter into a clean bowl and discard half of it. Or trust your eye and remove half of it while it is still in the jar with the help of a clean spoon.
Already tested all the ways above, and all of them worked fine for me.
One more thing: stir really well when feeding. I stir mine for a good whole minute, and after I started doing that, my starter became even more bubbly.
Quick FAQ
Do I need to feed my starter every day?
I would feed it every day if keeping it at room temperature. I keep mine in the fridge, and only feed it one day prior to starting a sourdough bread recipe.
When your starter is still on its first 2 weeks, feed it every day and do not keep it inside your fridge.
Should I use a scale for feeding?
A scale can make you feed your starter in a very accurate way, so you can get a 100% hydration starter, or a 160% hydration.
Feeding it using cups is not accurate, but more convenient.
Both methods can be used successfully to get an active sourdough culture.
Why rye flour or whole wheat flour are recommended for starting a culture? Why has my culture stabilized faster with this flour?
Because whole grain flour is more likely to have a higher amount of wild yeast than all-purpose flour. Remember, wild yeast is what gives your sourdough starter life.
Although they're recommended, you can start a sourdough culture without it. Have in mind that a starter made with only all-purpose flour may take longer to show activity than one made with rye or whole wheat flour.
What should happen after I feed my starter?
If your starter is super active, it will start bubbling as soon as you feed it. I see bubbles as soon as I stir my starter.
Expect to see bubbles appearing after some minutes, and the rise and fall of your culture as it grows in volume because of the fermentation.
This varies with the temperature and how much active is your starter: it can take less than 8 hours in warmer places, as it can take half to a whole day if your starter is in a cold spot.
Next: How to make a sourdough starter (day 1 to day 7)
Or go back to Sourdough Starter 101
FOLLOW ME on INSTAGRAM, PINTEREST, FACEBOOK, and YOUTUBE for more sourdough recipes that work!