What do you need to make a Sourdough Starter is part of Sourdough Starter 101 course.
If you don't get yours from friends, a bakery, or buy it on the internet, you have to make a sourdough starter from scratch.
Keeping it simple, if you're starting from scratch you'll need flour, water, something to mix it with, and a jar. Let's talk a bit about everything you'll need to make a Sourdough Starter.
Types of Flour
You can get an active starter with any unbleached flour. Some flours can make the process quicker, and some take a longer time.
Rye Flour - Using it is the fastest way to get a starter. This flour has extra nutrients that can give a big push to the initial process.
Whole Wheat Flour - This flour can be used alone to get practically the same results you would get using rye flour. Like rye, whole wheat has more nutrients that can help a lot in the beginning.
Bread Flour - Also good for starting a sourdough culture, but I would use it combined with rye or whole wheat flour in the first week.
All-Purpose Flour - It works, but be aware it may or may not take a bit longer than using rye and whole wheat flour. Choose unbleached flour over its chemically bleached version, as it's easier to start your culture with the first.
DO NOT try to start your sourdough culture with:
Self-Raising Flour; and
Bleached Flour.
Self-Raising Flour has baking powder on it, and you should not add baking powder to your sourdough culture.
Why not use bleached flour? Because of the bleaching process, bleached flour doesn't have the same amount of yeast and nutrients as unbleached. It has some, but very little compared to other unbleached flours.
Even though people can get a starter with bleached flour, I don't recommend it: the process is slow, and your starter can go bad before it gets a chance to be active if you live in an extra hot city.
About the Water
Tap water is totally fine, but it need to be free of chemicals.
Before using tap water, check if yours is chemical/chlorine free, as this changes from city to city and water high in chlorine can stop fermentation.
How do you know if your water has a high amount of chlorine? Easiest way: if you can easily smell the chlorine, it's too high.
At least on the first 2 weeks of your starter, if you're using tap water with a high chlorine concentration, leave it on an uncovered jar overnight for the chlorine to evaporate.
You can also boil it for 5 minutes before using. Just remember, the water needs to be room temperature for you to use it, or you will kill your starter.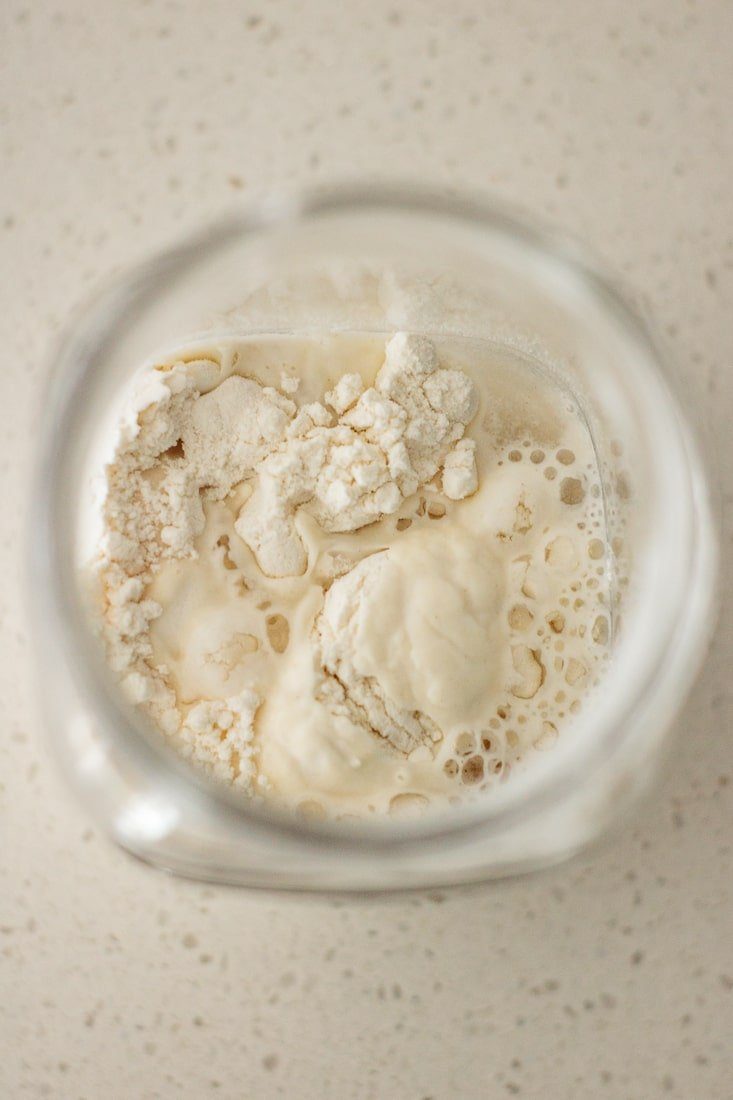 Spoon or Spatula
No fuss here. You just need to make sure whatever you're using to mix your starter is clean. Especially in the first couple of days of your sourdough starter.
If you find it's too hard to get rid of flour clusters when feeding your starter, try to mix everything with a fork.
Storing your Starter
I use a glass jar and you should, too. With a glass jar, it's easier for you to see the evolution of your culture through the glass. A glass jar with a removable lid is ideal.
What you have to make sure of is that your jar is clean. Pour boiling water on it and leave it for about 10 minutes. Throw away the hot water before starting.
Optional but Useful: Scale and Rubber Band
Is having a scale wonderful? Yes? Helpful? Extremely, and everyone who wants to bake precisely and develop recipes should own one.
But you can skip the scale and measure the ingredients in cups, as long as you do it correctly.
About the rubber band, using one around your jar is the easy way to check if your culture has good activity and is rising enough.
Put it around the jar leveling it with your starter after a feeding and observe how much higher than the rubber band your culture gets before the next feed. Simple, easy and precise.
Next: How to feed my sourdough starter
Or go back to Sourdough Starter 101
FOLLOW ME on INSTAGRAM, PINTEREST, FACEBOOK, and YOUTUBE for more sourdough recipes that work!