They're easy, quick and super handy to have for busy mornings! These keto friendly breakfast egg muffins are a must-bake for all the egg and cheese lovers. Bake ahead on Sunday and keep them on your fridge to have a fulfilling breakfast option on days when you just don't have time.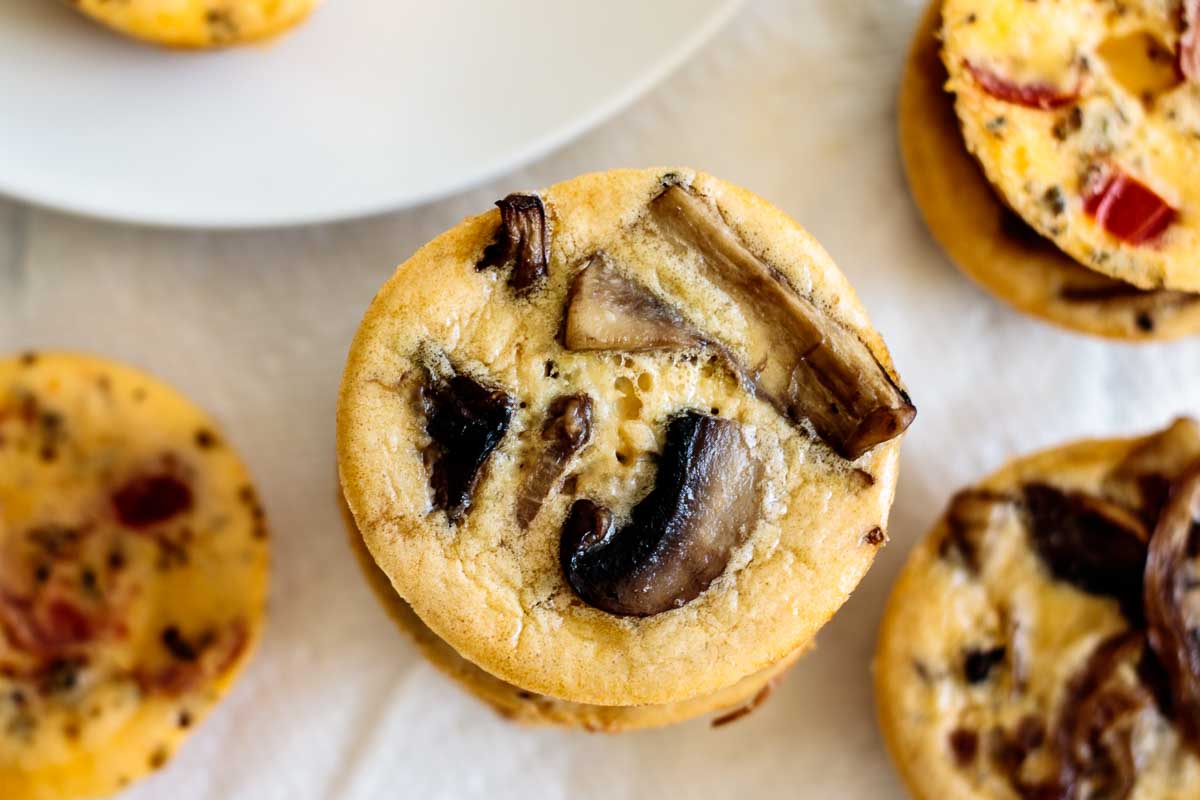 What are egg muffins?
Egg muffins are mini frittata cups with cheese and a topping of your choice.
My breakfast egg muffins are made with a combination of cottage, cream cheese and cheddar cheese, that when blended and baked give the eggs the most amazing texture!
I'm also giving you two topping options (cherry tomatoes and cheese, and mushrooms with caramelized onions), plus a handful of ideas at the end!
Believe me, it's hard to stop eating.
This is a make ahead breakfast
Don't have time for a healthy breakfast? No problem! This is a make ahead recipe, so you can always have it in your fridge for busy mornings!
You have to try this recipe if you're looking for:
Something quick to make;
A recipe that lasts for a whole week in your fridge;
Low-carb and keto friendly;
Best part: they're as good as fresh when reheated! And on extra hot summer days I skip the reheat part and have them cold. These egg muffin cups are my life-savers (like this tuna pie)!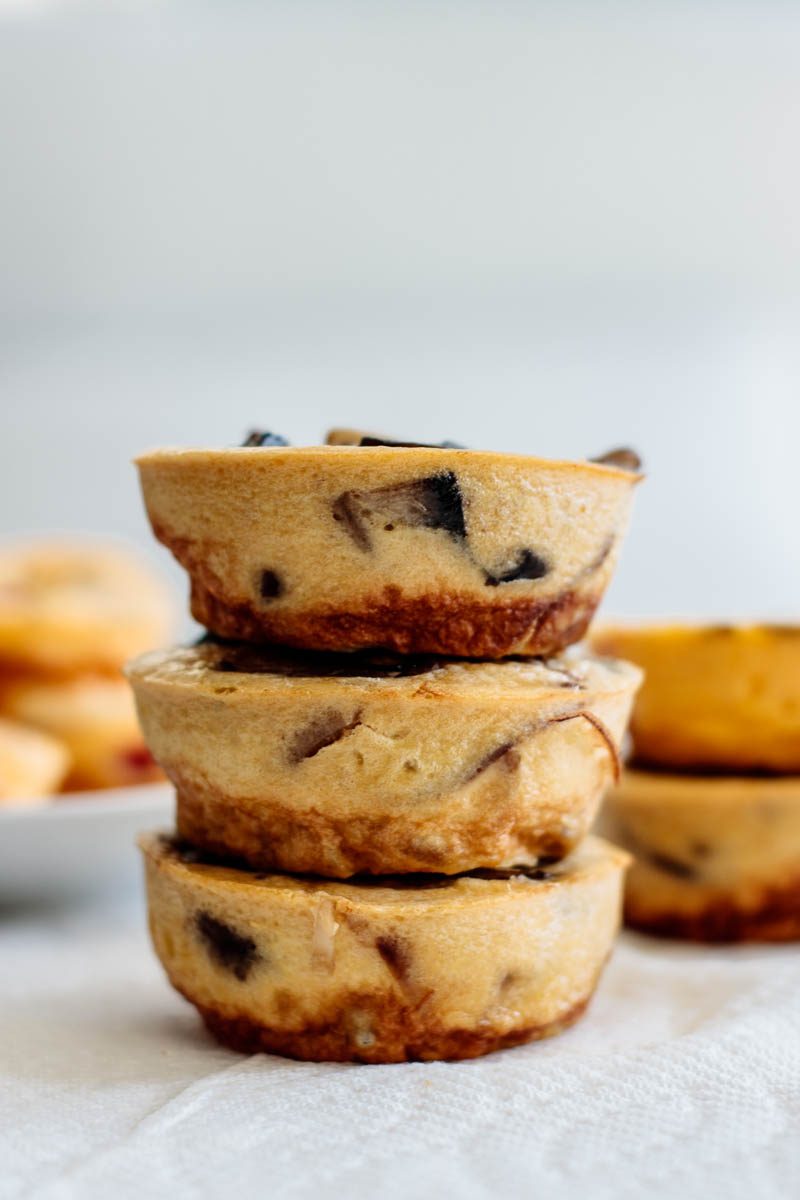 How to make them
For this recipe to work properly, it's best to have a blender or a food processor.
Start by preheating your oven. You'll bake your egg muffin cups at middle shelf.
Blend cheddar, cottage, cream cheese, eggs and salt. You need to blend the ingredients until the batter looks homogeneous.
Prepare your topping. Or toppings, if using more than one. In the recipe, I give you 2 options. Just make sure you keep the egg mix and topping ratio of 2:1.
Pour the topping into the egg mixture. Now, stir to combine. Do not blend them!
Pour the mixture into a greased muffin pan. Try not to overfill.
Bake for 25 minutes. Or until the tops and edges start to turn golden and a toothpick inserted in the middle comes out without batter.
Tips to get the best egg muffins
Don't forget to grease well your muffin pans, so your egg muffins will come out easily without sticking to your muffin pan. A non-stick muffin pan is a bonus;
Don't use a paper liner;
You can save time buying pre-grated cheddar cheese;
If you have a big family, double the recipe and get 24 egg muffins;
You can customize your egg muffins and create your own topping! Just remember to keep the egg mix and topping ratio of 2:1 (3:1 if you want a creamier egg muffin);
Don't bake those with only egg whites or you'll get a spongy texture instead of a creamy one. In fact, I don't recommend omitting any egg yolk from the recipe: use whole eggs;
You can substitute the cheddar cheese on the egg mix for mozzarella, Gouda, Gruyere or any yellow cheese you like;
If you're feeding a large crowd, you can easily double the recipe to get 24 egg cups.
Why do my breakfast egg muffins deflate? How can I keep egg muffins from collapsing?
Bad news of this recipe: you can't. These egg muffins expand when baking and shrink back as they cool, because that's how eggs behave. And this is a recipe made mostly with eggs, and eggs have not enough structure to hold a fluffy shape after cooling.
I once tried whipping the egg whites just to see the result - as I am really pleased the way those breakfast muffins are - but didn't get a very nice outcome. So even though I call it breakfast egg muffin, expect a very creamy delicious cheese egg cup.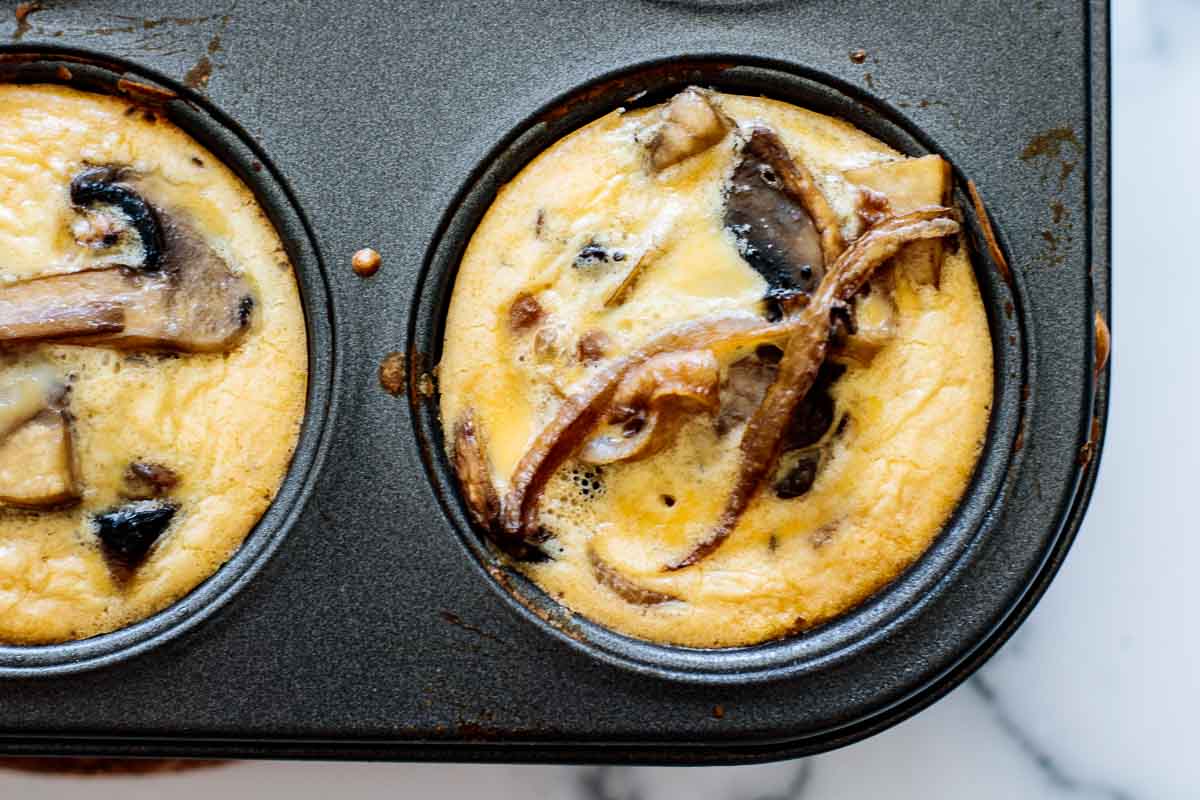 Storing and Freezing
My eggs muffins are made to be cooked ahead, so you can grab them on the go. They will last for a week, if kept inside your fridge, stored in an airtight container. Don't forget to wait until they cool completely before storing.
Reheat on your microwave for 20 to 25 seconds each. Careful to not overheat, or they might become a bit tough.
Won't eat them all in one week? No problem! You can also freeze your breakfast egg muffins, using a freeze safe container or bag. For reheating, start with 30 seconds, and add 20 seconds more, as needed.
Egg muffins variations
I love how customizable this recipe is! Just remember: add 1 part of topping/filling to 2 or 3 parts of egg mix.
In this recipe, I'm giving you a step-by-step of 2 of my favorite variations:
Breakfast Pizza. You'll need oregano, cherry tomatoes and more cheese for this one! Just cube the cheese and slice the tomatoes for this one.
Caramelized Mushrooms and onions. This one is a bit more time consuming, but totally worth the effort! You'll need to caramelize your onions for about 15 minutes, and your mushrooms for about 5 minutes.
Other egg muffin cups variations that I love are:
Ham and cheese;
Cooked sausage;
Crumbled cooked bacon;
Asparagus and mushrooms;
Black olives and cheddar;
Canned tuna and onion;
Jalapeno and cheddar;
This onion chutney;
Spinach and Parmesan;
Tomato, Parmesan and basil;
Cheddar and broccoli.
More Quick Breakfasts
Cold Brew Coffee
Keto Coconut Flour Waffles
Fluffy Pancakes
Orange Turmeric Smoothie
Mango Smoothie (3 different options)
FOLLOW ME on INSTAGRAM, PINTEREST, FACEBOOK, and YOUTUBE for more great recipe tips and ideas!
Yield: 12 cups
Egg Muffin Cups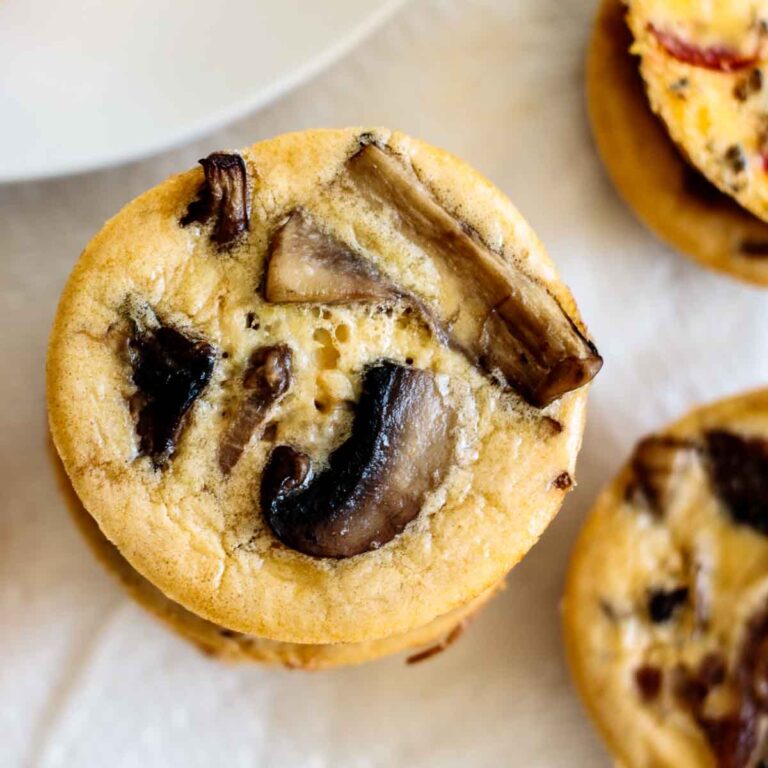 Easy, quick and super handy to have for busy mornings, these keto friendly breakfast egg muffins are a must-bake for all the egg and cheese lovers. Bake on Sunday and keep them on your fridge for a fulfilling breakfast option for days when you just don't have time.
Ingredients
Breakfast Egg Muffins
7 large eggs
⅔ cup shredded cheddar cheese (or any other yellow cheese)
⅓ cup cottage
2 ½ tablespoon cream cheese
½ teaspoon salt
Mushroom and Onion Filling
1 cup half-moon sliced onion (about 1 medium onion)
2 cup sliced mushrooms
2 tablespoon salted butter
pinch of salt
pinch of black peeper
Breakfast Pizza Filling
½ cup cubed mozzarella cheese
1 cup cherry tomatoes, sliced
pinch of oregano
pinch of salt
Instructions
Preheat your oven to 325°F.
Grease a small muffin pan using butter, or spray it with cooking oil.
In your blender's cup, add eggs, grated cheese, cottage, cream cheese and salt and blend for 1 minute, until all ingredients are well mixed.
For the mushroom and onion filling: using half tablespoon of butter, cook mushrooms in high heat on a skillet for 2 to 3 minutes. Reserve.
To caramelize the onions, heat the remaining butter on a heavy-bottom skillet or pan, cooking the onions on middle-low heat, until they're soft and brown. It usually takes me 10 to 15 minutes. Stir from time to time, especially if using a thin-bottom pan to prevent burning.
For the breakfast pizza filling: mix cheese, sliced cherry tomatoes and oregano in a small bowl, stirring to combine the ingredients.
Mix the chosen filling with the egg mixture, stirring to combine.
Pour the mixture into the muffin pan, filling each one ⅔ full.
Bake for 25 minutes on 325° F, or until the tops and edges start to turn golden and a toothpick inserted in the middle comes out without batter.
Wait 5 minutes before removing your breakfast egg muffins from the muffin pan.
Notes
Store them into your fridge, inside an airtight container. Wait for them to cool before storing.
Nutrition Information
Yield
12
Serving Size
1
Amount Per Serving
Calories

119
Total Fat

9g
Saturated Fat

5g
Trans Fat

0g
Unsaturated Fat

4g
Cholesterol

126mg
Sodium

256mg
Carbohydrates

3g
Fiber

1g
Sugar

1g
Protein

7g