Creamy, smooth and with a delicious touch of brown sugar, this iced milk tea will improve your mornings. Simple to make and totally addicting, you'll never drink iced tea in any different way!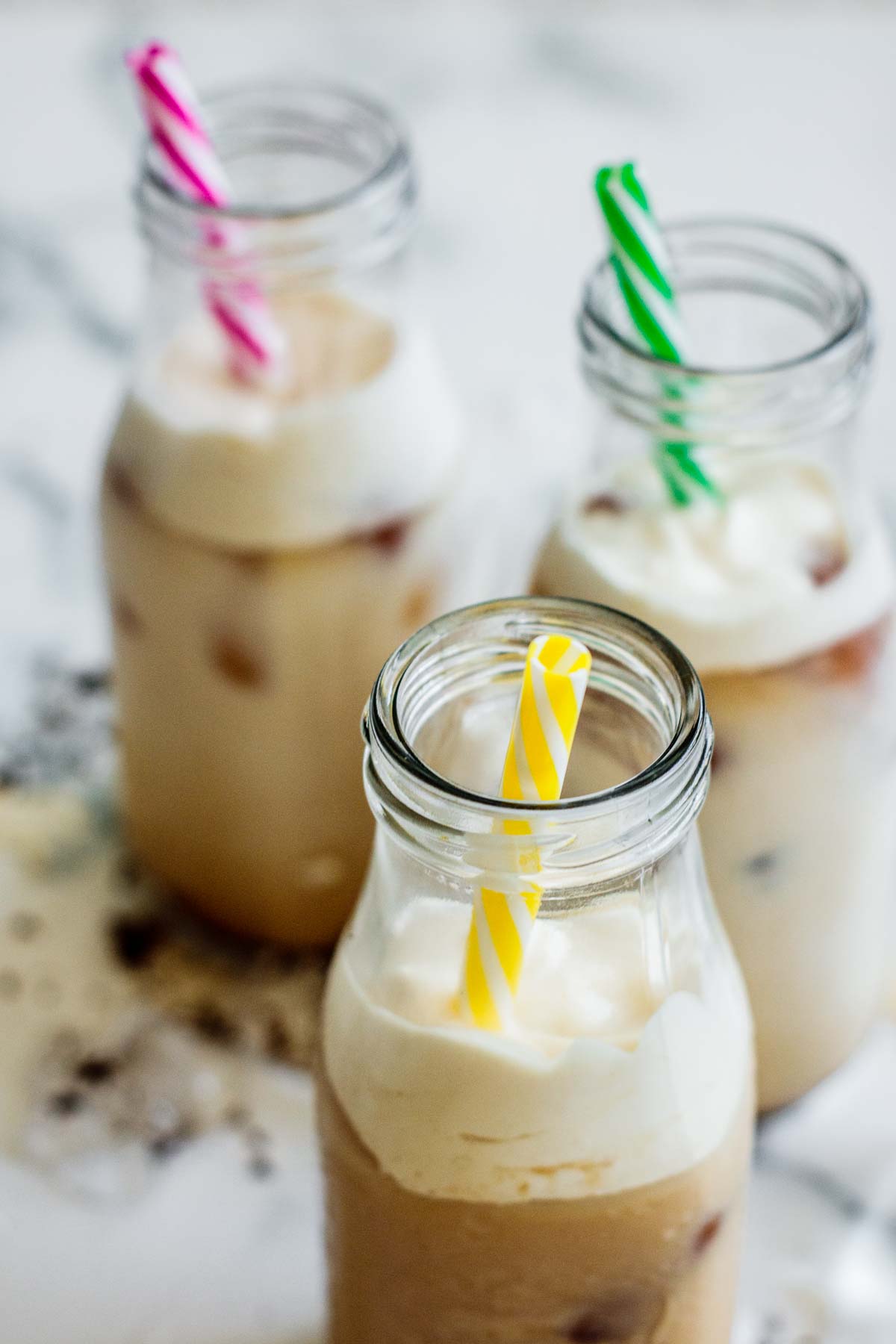 I like simple things. Easy recipes that I can make in less than 10 minutes and be totally satisfied. Those are the best, don't you think? They rarely get as popular as a 18 hours long pumpkin brioche, but who cares? I like being real, and I enjoy writing about what makes a crappy day better.
My milk tea can transform even the worst rainy Monday into a beautiful warm (Satur)day. It's so ridiculously easy to put together your kids can help you do it! You only need milk, brown sugar and strong black tea. A bit of heavy cream is totally optional and you can save it for when having an extra awful day.
Tapioca Pearls
My milk tea is made without tapioca pearls, so if you're looking for a bobba milk tea, check this delicious strawberry milk tea recipe.
If you're looking for a recipe without the tapioca pearls, keep reading.
What Tea Should I Use?
I always use black tea for this recipe, although you can try this with oolong and green tea. I love having my milk with green tea, hot or cold, but for this specific recipe my choice is always black tea.
If you still don't know, black tea is quite healthy: it has a lot of antioxidants, and some studies even said it can reduce stress and give you an energy boost!
Just remember: black tea has caffeine on it, so my milk tea can make you stay awake till longer than you need to if you drink it at night.
For my iced milk tea, I always use Assam black tea, or a blend that has mostly Assam on it, as it makes a stronger taste black tea.
Brown Sugar and Milk Substitutions
Brown Sugar. I use brown sugar for this recipe. This is one of the ingredients responsible for the final taste. You can substitute it for a low-calorie sweetener, but you'll lose on the taste.
Milk. You can make a dairy-free version of this recipe by using cashew milk, almond milk, or any vegan milk but coconut. Coconut milk competes too much with the taste of black tea.
How To Make It
This is such an easy recipe I can't really think of many things that can go wrong: you just need a strong black tea, brown sugar, milk and heavy cream if desired. Ice to make it extra chilled.
Brew black tea. Boil the water. Pour the boiling water over the tea or tea bags, and steep for 5 minutes. Let it cool for about 10 minutes.
Add brown sugar. Remove the tea bags/tea leaves and stir in the brown sugar. You can use dark brown sugar or light brown sugar.
Add milk and heavy cream. If using dairy, prefer using whole milk for this recipe. It's smoother and makes the black tea even more delicious, as it hides its bitter notes along with the brown sugar. If using plant milk, almond and cashew milk are great matches for this recipe. Skip the heavy cream if making a vegan/dairy-free version.
Whip remaining heavy cream. It's the perfect topping for your milk tea. Stop whipping it before you get peaks: you don't want it to sit on top of your tea, you want it to blend with your delicious black tea milk.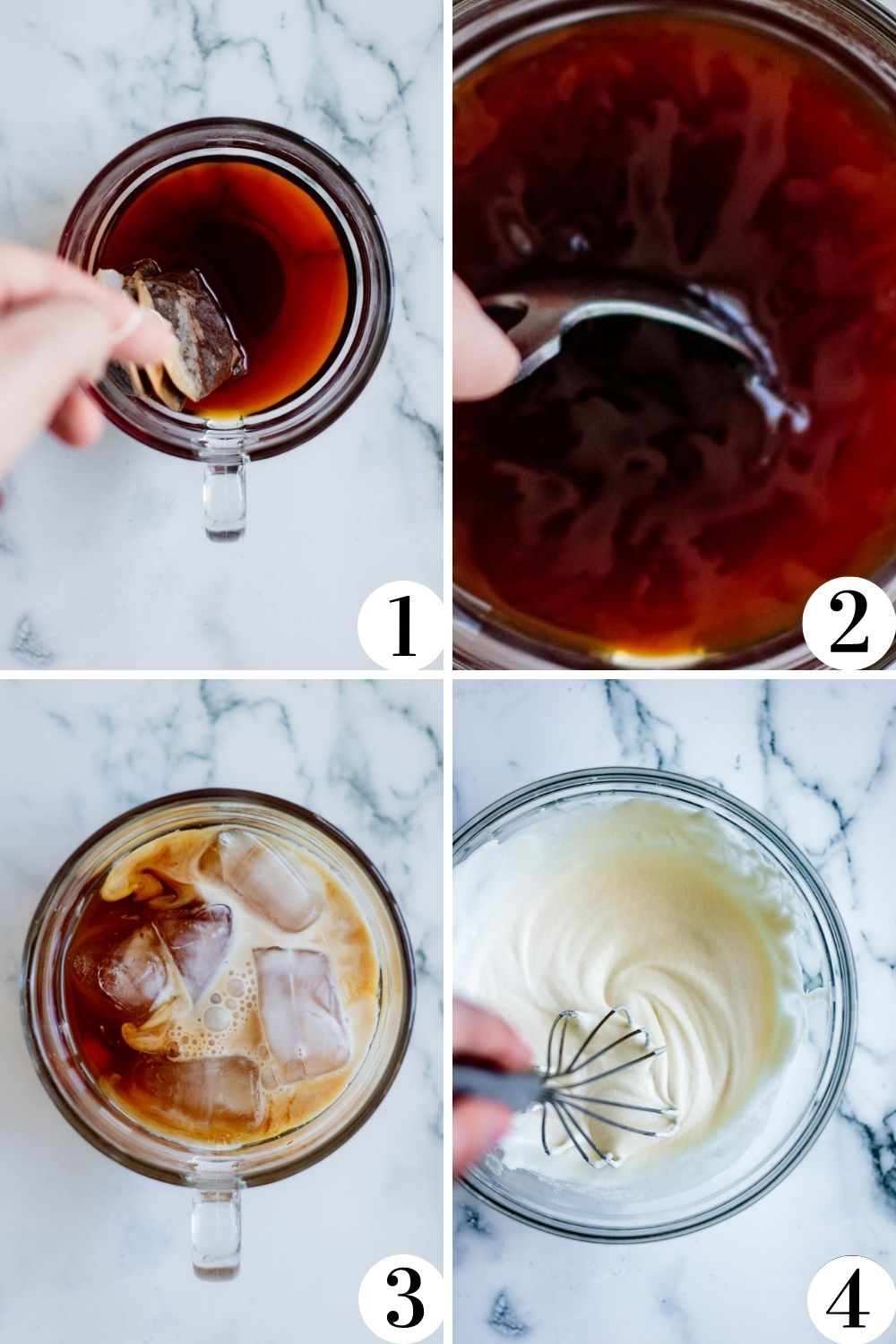 Tips For Making The Best Drink
Make sure to brew a strong black tea for the best taste;
If making a non-dairy version, omit the heavy cream and use almond milk;
There are some low-carb options for substituting the brown sugar. Swerve has a brown sugar version of its zero calorie sweetener that is very close to the real thing.
To make a less watery drink, use tea ice cubes!
Can I Make This Recipe Ahead?
Yes, you can! Jus remember to store in a jar or any container with a lit on and inside your fridge!
If making ahead, add the whipped cream (if you're using it) just before you drink your milk tea.
Is There Caffeine In Milk Tea?
Yes, there's caffeine in black tea, unless you buy a decaf one.
Can I Make It Without Heavy Cream/Whipping Cream?
You can, and will still taste great. I like to add heavy cream to make it even smoother, and I find the frothed heavy cream makes a great addition for this drink.
But you can have a great milk tea with milk only: just remember to use whole milk for a smoother result.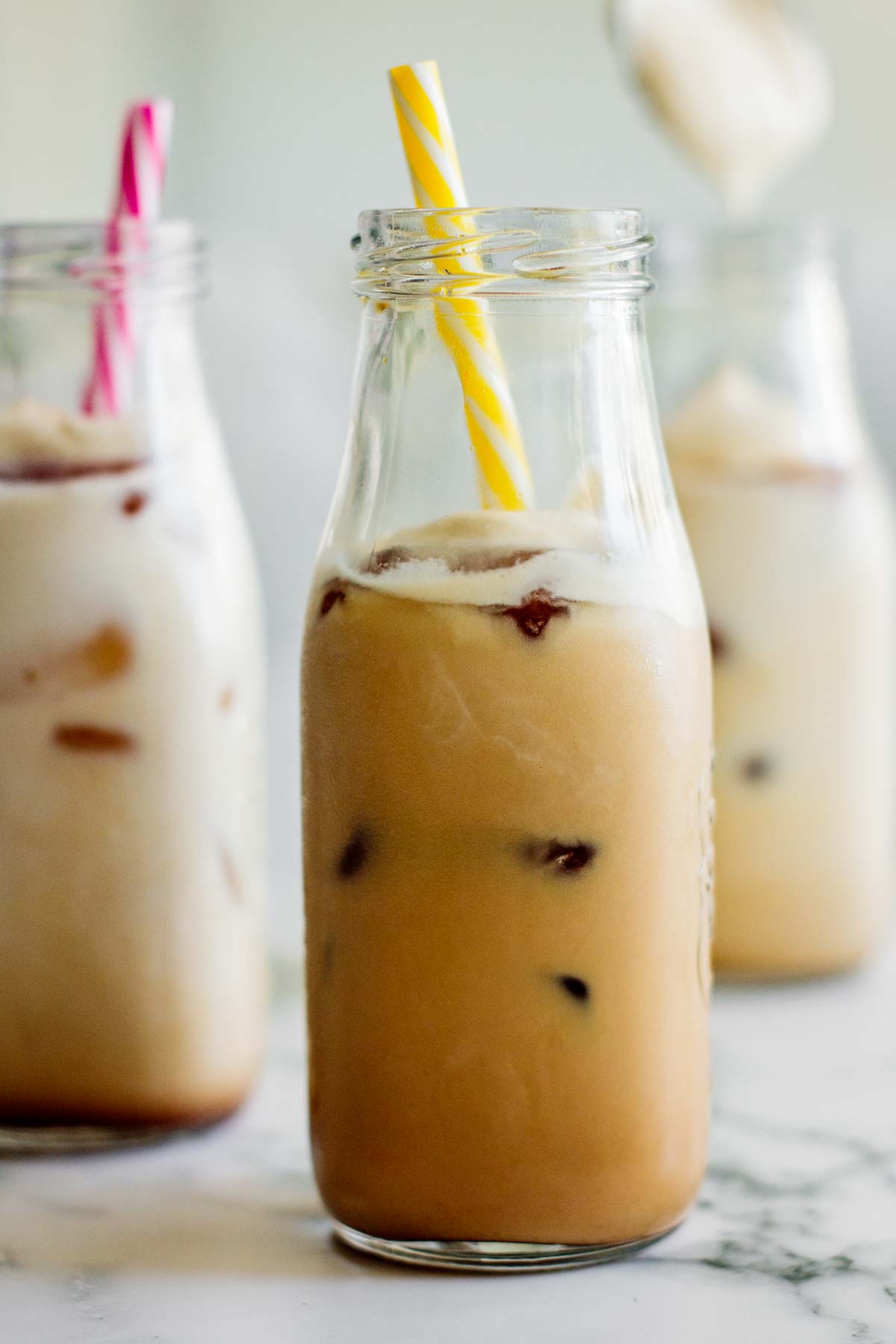 Storing
Store your leftovers inside the fridge, in a jar/glass with a lid. Milk tea keeps for up to 3 days if stored correctly.
Although you can make it ahead, I recommend doing it as soon as you pretend to drink it.
More Tea Recipes
Starbucks Green Tea Frappuccino
Black Iced Tea Recipes
Caffeine-Free Iced Tea Recipes
📖 Recipe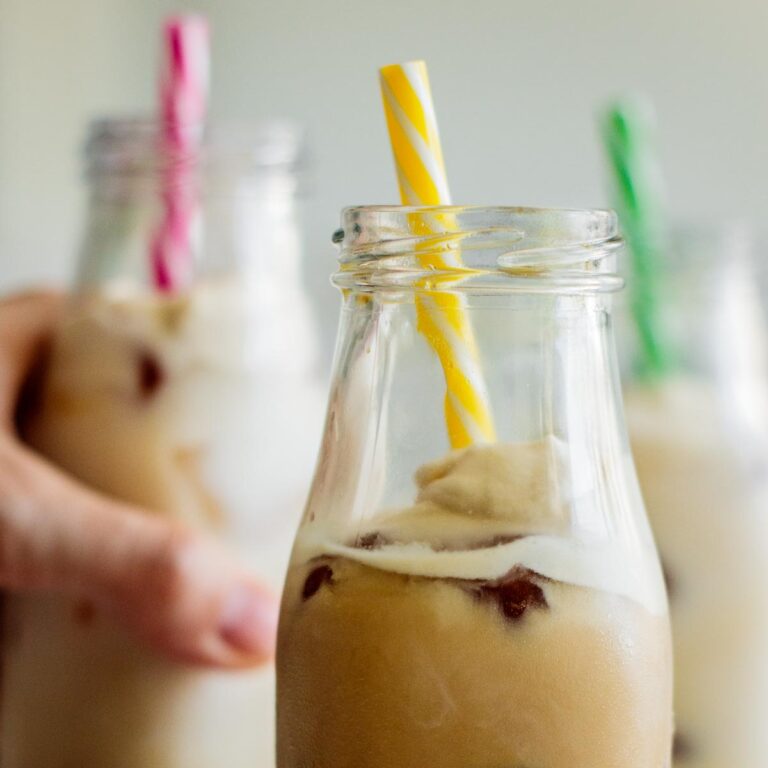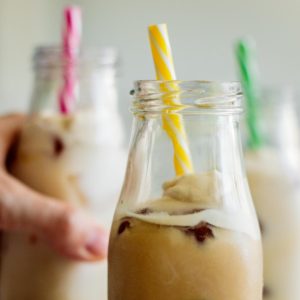 Brown Sugar Milk Tea
Creamy and smooth, this brown sugar milk tea will improve your mornings. Simple to make and totally addicting, you'll never drink iced tea in any different way!
Ingredients
⅔

cup

water

3

black tea bags

1 tablespoon loose black tea

1 ⅓

cups

whole milk

cold

¼

cup

heavy cream

plus 2 tablespoon (36ml)

2

tablespoon

packed brown sugar
Instructions
Using a stove or electric kettle, boil the water.

In a cup, place the black tea bags and pour the hot water over it. Let steep for 5 minutes. Don't rush it, or you'll end up with a weak black tea, and that's not good for milk tea.

Gently press all the liquid out of the tea bags and remove them from the cup. Stir the brown sugar until dissolved and wait for the mixture to cool to room temperature. If using black tea leaves, remove the leaves.

In a small bowl, pour ¼ cup of heavy cream plus 1 teaspoon of the black tea and whip it until frothed. Whip only until frothed, or the whipped cream won't mix with your drink properly.

In a jar, pour the milk and the remaining 2 tablespoons of heavy cream. Add the already sweetened and cooled black tea and mix until well combined.

Fill half a glass with ice. Pour enough milk tea to fill the glass, top with frothed cream and enjoy.

Notes
If you want your milk tea extra strong, use black tea ice. Brew a cup of strong black tea and pour it on an ice tray.
If you're in a hurry, place you black tea into the fridge (cover the cup or use a recipient with a lid) for it to cool down faster. You can use it warm, but your drink might be less strong as it will cool down more rapidly the ice.
You can substitute dairy milk for a plant-based milk, and heavy cream for an equivalent vegan version.
This is not a very sweet milk tea. If you like your milk tea extra sweet, add 1 to 2 tbsps more of brown sugar.
Nutrition
Serving:
1
large cup
Calories:
489
kcal
Carbohydrates:
40
g
Protein:
12
g
Fat:
32
g
Saturated Fat:
20
g
Polyunsaturated Fat:
1
g
Monounsaturated Fat:
8
g
Cholesterol:
106
mg
Sodium:
154
mg
Potassium:
576
mg
Sugar:
41
g
Vitamin A:
1402
IU
Vitamin C:
0.4
mg
Calcium:
464
mg
Iron:
0.2
mg