There are some underestimated little things in the world, that are so simple and at the same time so delicious. Chicken and Rice Soup is definitely on that list. This hearty soup, full of vegetables, chicken, rice and oregano, is a complete meal, and gets especially tasty on winter days.
Why this may be the soup for you:
It's super easy to make,
You can use rice and chicken leftovers to save some time,
This is a warm bowl of comfort if you're going through a cold, especially if it's winter season,
It will last in your fridge for the whole week!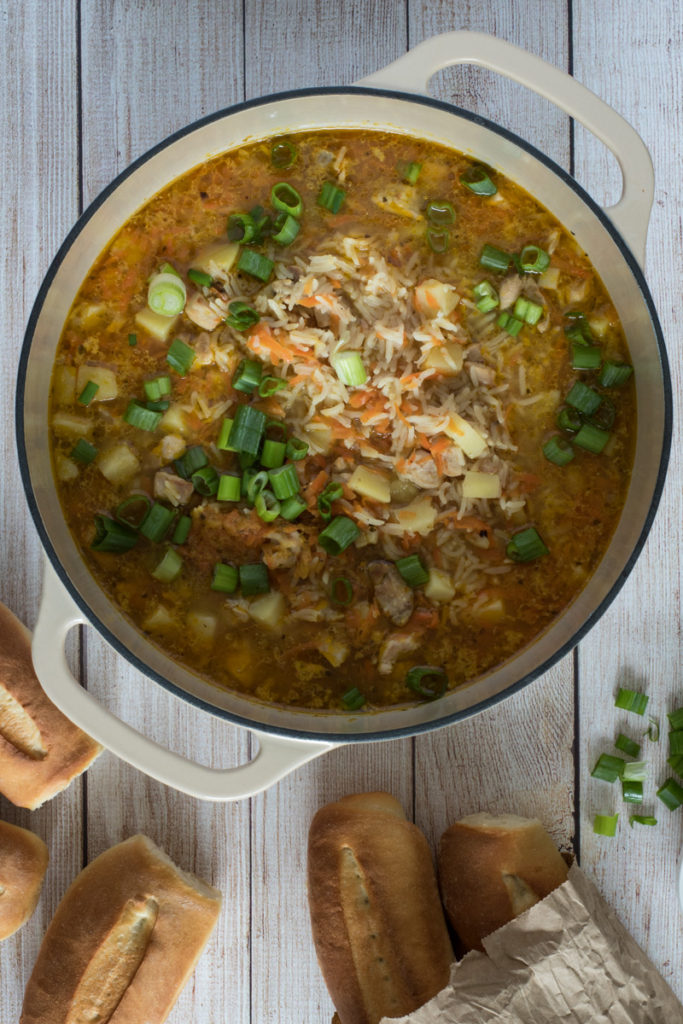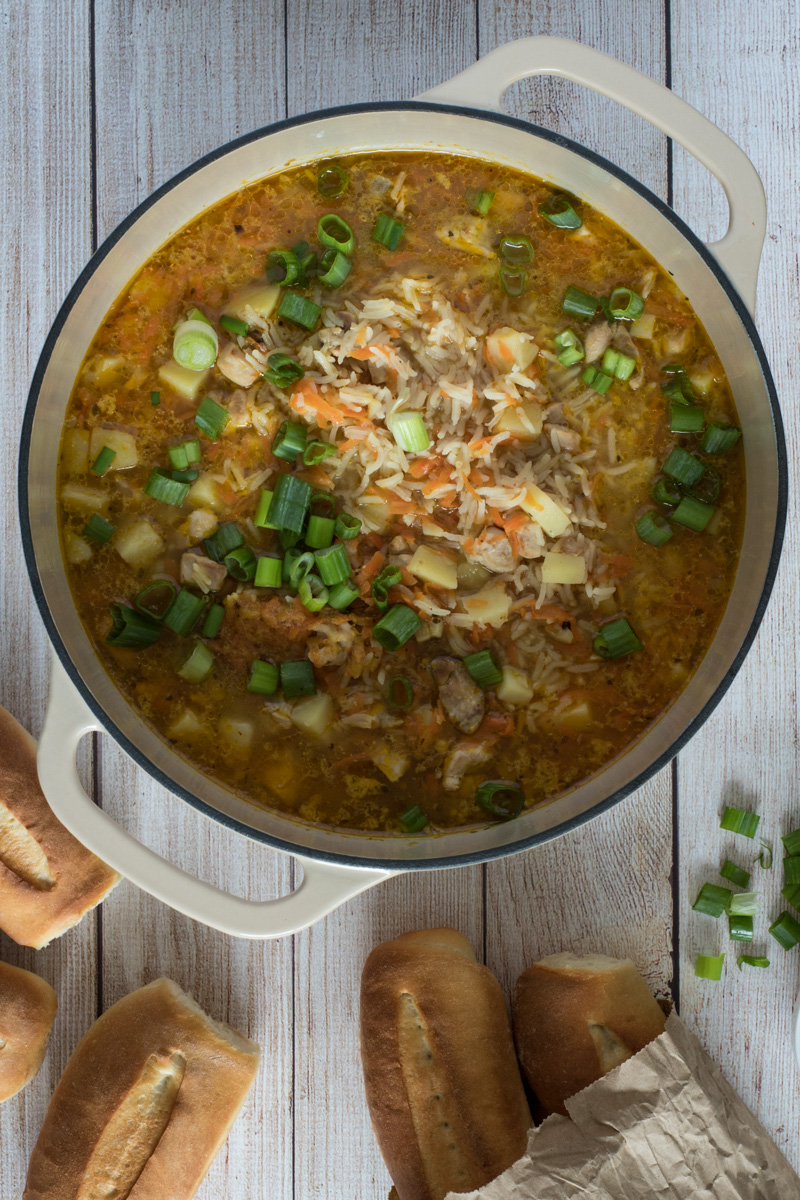 Chicken rice soup is very easy to put together
The chicken and rice soup I'm about to show you is super simple to make. You can make it from scratch, with fresh chicken and rice, or you can use your leftovers - like I did on my last sick Sunday.
It will help you get through a cold faster
When you're sick, soup is exceptionally good, and this one is definitely my favourite for those times. The combination of all the ingredients is super tasty, which helps a lot when you're felling sick and things aren't as yummy as normal. The rice and the potatoes make you feel satisfied, and there's carrot with its C vitamin and some anti-inflammatory proprieties.
If you're feeling as sick as I was, eat it hot - yeah, hot. You'll breathe again through your nose after having a hot chicken rice soup. You can get rid of a cold even faster if you drink some of my ginger detox mocktail along with this soup.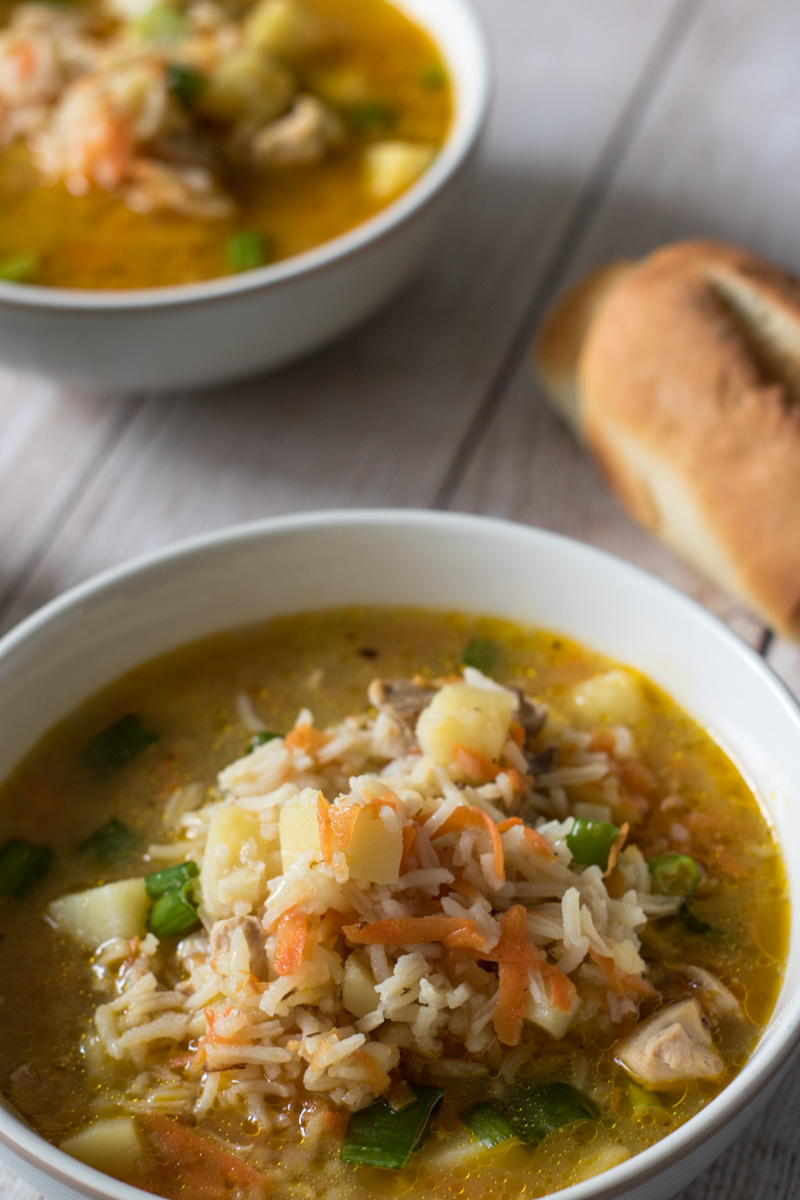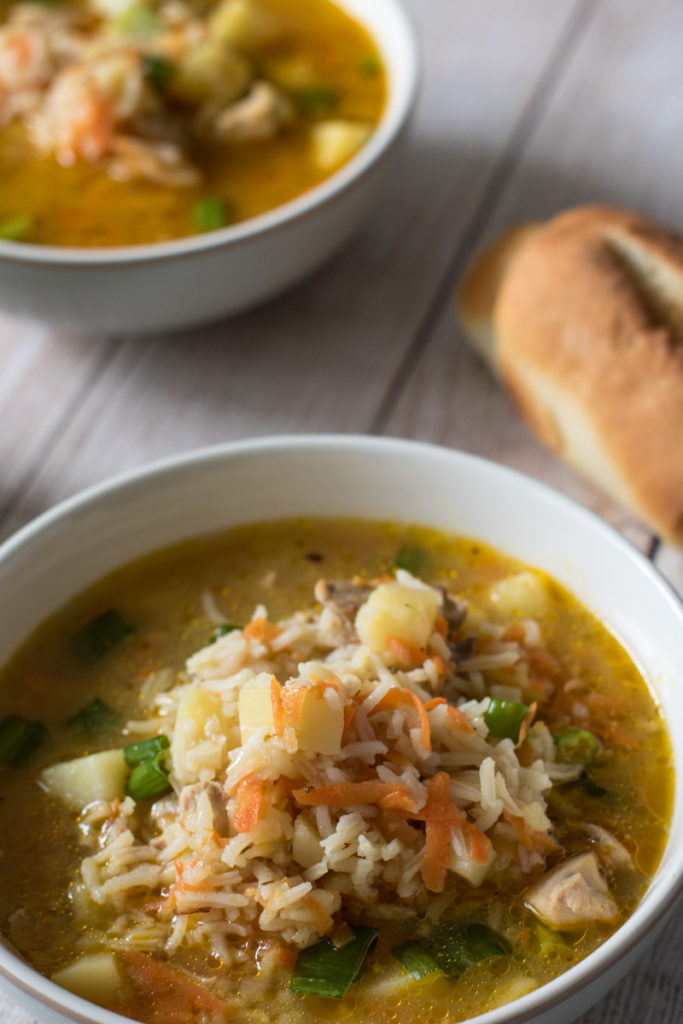 One little secret to transform the flavours of this soup
It's a quick one, I swear, and you can skip it if in a hurry. But caramelising just a little bit your onions and browning your chicken can make this soup go from so good to I can't stop eating it!
The best side to have with this recipe is bread - for me, any kind of bread will do! Spread some butter on it and eat along with a bowl of chicken rice soup, a cozy blanket and your favourite TV Show.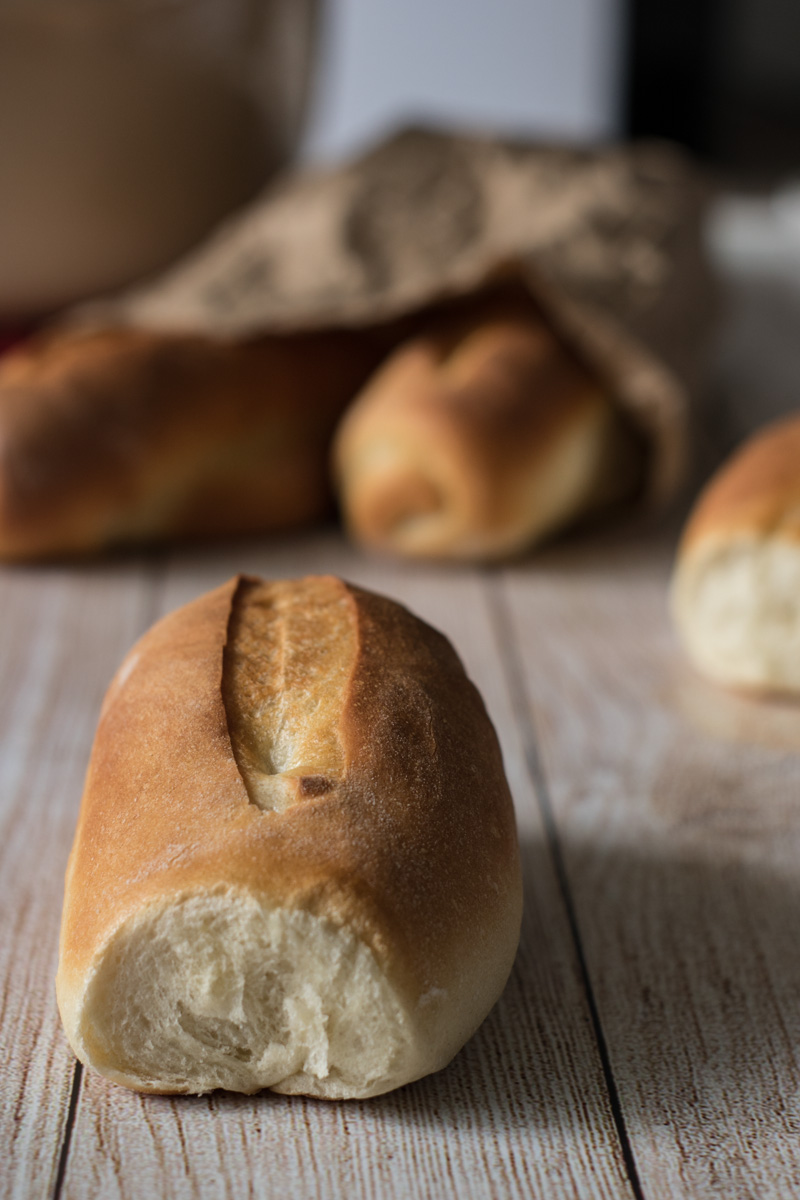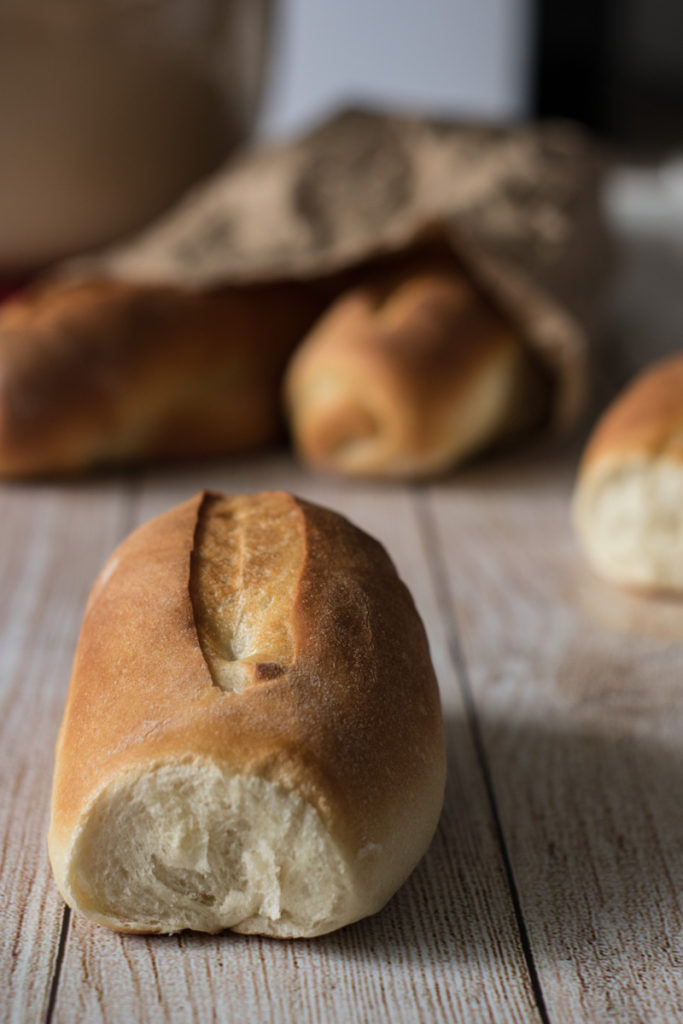 About my Chicken and Rice Soup
Can I make this with leftovers?
Yes, you can. But just to be sure here, it's better to use simple plain rice, and roasted chicken/fried chicken (but no breaded chicken).
Can I substitute the chicken for turkey/leftover turckey?
Totally! It's as good as with chicken.
How can I make my broth more flavourful?
In my chicken noodle soup, I use oregano, green onions and black pepper to make it more tasty. Plus, if you make it with chicken tights, it will be even yummier because of the extra fat.
Does it freeze well?
Yes, it freezes well for up to 2 months. Don't forget to let it cool before freezing!
How long does it keep?
3 to 4 days in your fridge.
What kind of rice is best to use?
I find long grain white rice to be the best, but I have tried with basmati rice as well and it was great. Husband prefers with brown rice, and sometimes I grant his wish. When using brown rice, it takes a little longer to cook, around 7 to 10 minutes more for me. Never tried with any other type.
📖 Recipe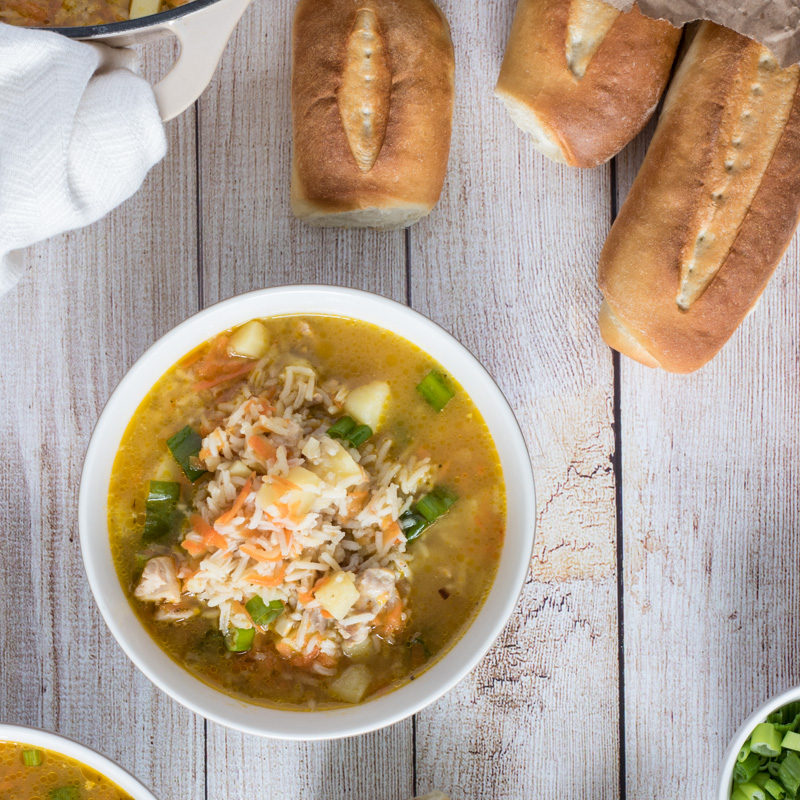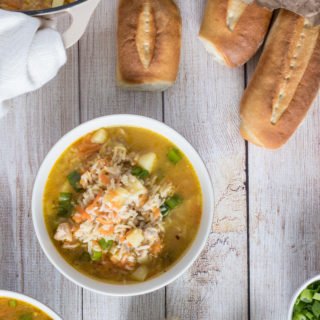 Chicken and Rice Soup
Chicken and Rice Soup is so simple but so delicious! This hearty soup, full of vegetables, chicken, rice and oregano, is a complete meal, and gets especially tasty on winter and sick days.
Ingredients
2

tablespoon

butter

1

medium onion

cut into half-moon slices

3

garlic cloves

minced

2

chicken breasts

cubed

2

medium carrots

grated

2

medium potatoes

cut into small cubes

5

cups

chicken broth

1

teaspoon

dry oregano

1

cup

long grain rice

3

green onions

sliced crosswise

Salt and black pepper to taste
Instructions
Gather the ingredients. See notes if you're cooking with leftovers.

In a large soup pot, melt the butter over medium heat. Add the onion and let it cook for 5 minutes.

Add the garlic and chicken breasts and cook for another 5 minutes, or until brown. 

Add carrots, potatoes, oregano, salt, grounded black pepper and chicken broth. Bring to a boil over medium-high heat.

Reduce the heat to low, add the rice and  cook for 30 minutes, or until potatoes and rice are tender.

Add the green onions just before serving.
Notes
If you're using leftover rice, add after the potatoes are tender and cook for 2 more minutes. If using leftover chicken, cut it into cubes and add one minute after the garlic. Cook for another minute, then add the remaining ingredients.
Nutrition
Serving:
1
g
Calories:
219
kcal
Carbohydrates:
25
g
Protein:
17
g
Fat:
6
g
Saturated Fat:
3
g
Polyunsaturated Fat:
2
g
Cholesterol:
48
mg
Sodium:
944
mg
Fiber:
2
g
Sugar:
3
g