Two things I fell in love with this fall: canned pumpkin puree, and the way it makes my creamy pumpkin soup way more delicious!
Yesterday morning I woke up having icicles for feet - which is strange, considering how hot my apartment is. I think the Canadian cold has finally arrived. I can foresee a few soup recipes coming, yes I can. Now we are past mid-November and the city is full of pumpkins - on sale pumpkins. Finding a huge cabotia for 3 dollars makes me smile - I'm that simple. As simple as this recipe.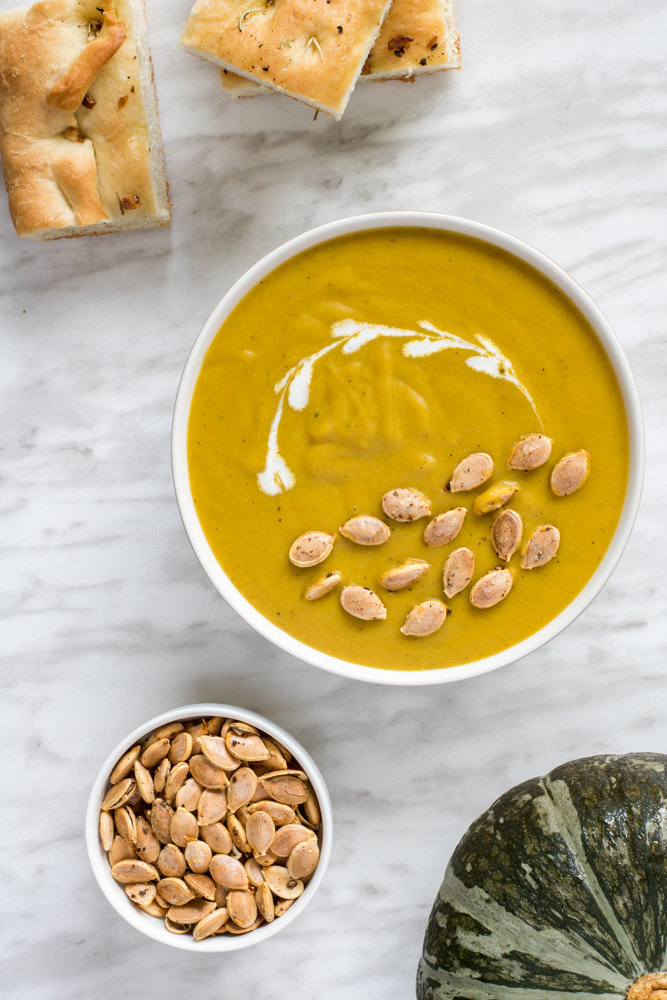 From dull to delicious
Ginger will make the pumpkin flavour pop out, and it has a bonus of warming you up even more on the cold days of this coming winter. Did you know you can peel ginger with a spoon? If you don't, I highlighted it on my instagram for you! It's super easy and way more practical than with a peeler.
Leeks are also a must in my pumpkin soup, as this ingredient adds a great final taste. In fact, I use so much of it on this soup that I leave out any kind of broth: I use only water.
Sometimes I roast the pumpkin seeds. You can, too: clean the seeds, mix with olive oil, black pepper and salt, and roast them on medium heat for about ten minutes or until crisp and browned around the edges.
Carrots, even the smallest amount, can make this creamy soup even yummier. And a bit of heavy cream makes everything magical, because fat. If you want to keep it vegan, substitute the heavy cream for unsweetened coconut cream.
Last but not least, add the canned pumpkin puree. Just one quick thing: when buying it, check if there's only pumpkin on it. Last time I mistakenly bought one full of sugar and, sadly, had to use it for a pumpkin pie.
If you love creamy soups as much as I do, this can easily become your next favourite!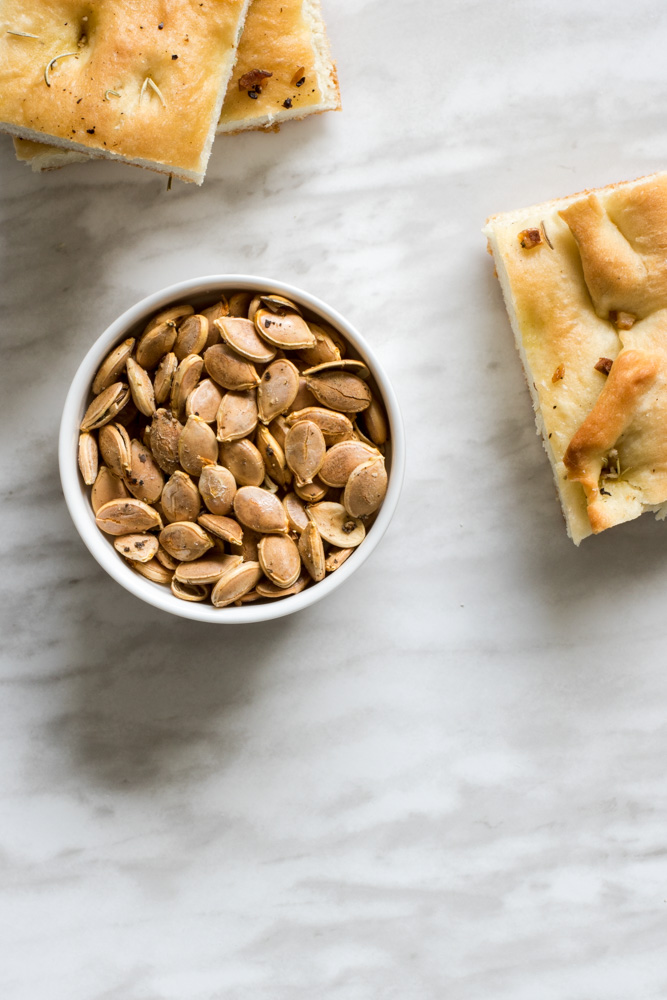 About my Creamy Pumpkin Soup
Can I freeze it?
Yes, even if you add heavy cream. It freezes well for up to 2 months.
Can I do it without heavy cream?
Yes! As I said before, heavy cream is optional, you can totally make it as a vegan recipe using coconut cream.
How long does it keep?
In the fridge, 2 to 3 days.
Can I add broth to my soup?
If you want to, substitute the water for the same amount of vegetable broth.
Do I have to peel the cabotia?
I don't, because I (am lazy) think it adds a good taste to the soup. But if you don't like it, feel free to remove the skin.
What to serve with it?
It goes great with chicken and turkey. But I usually eat along with a grilled cheese or a slice of tuna pie.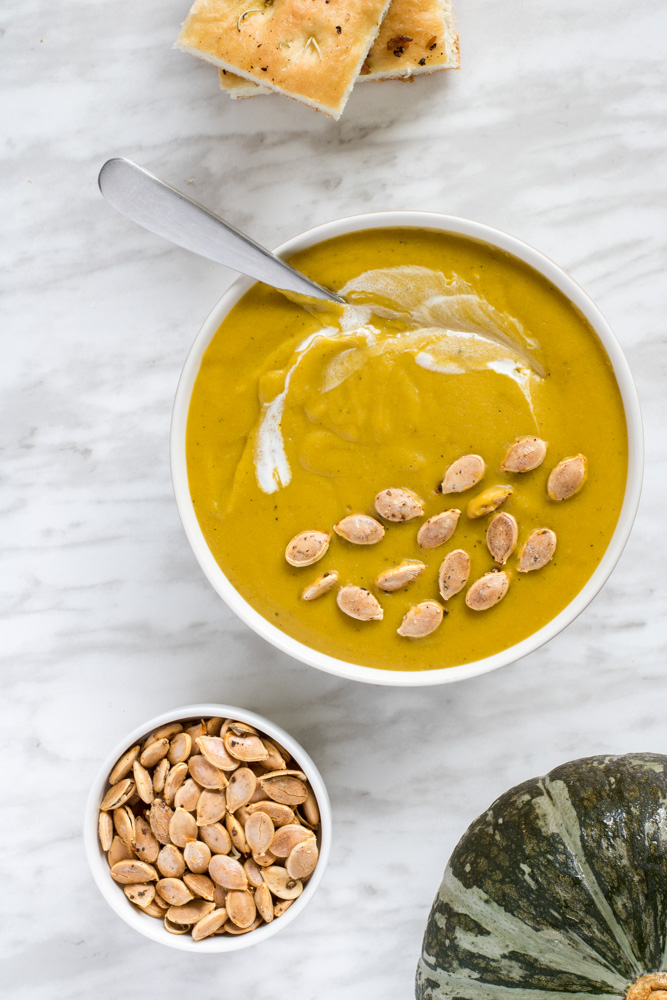 📖 Recipe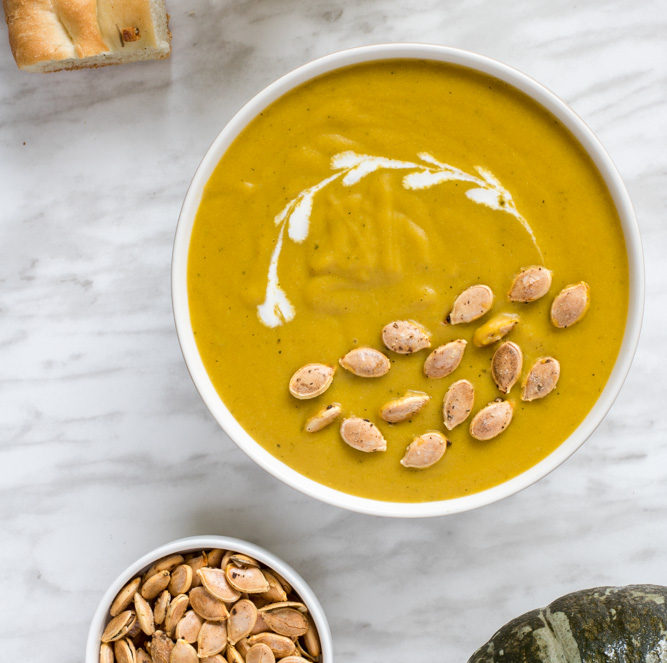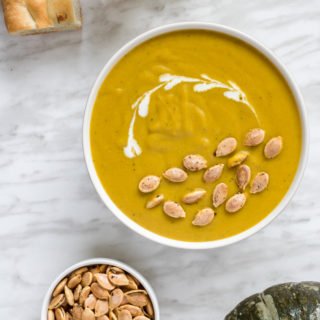 Creamy Pumpkin Soup
Two things I fell in love with this fall: canned pumpkin puree, and the way it makes my creamy pumpkin soup way more delicious.
Ingredients
1

medium

leek

1

medium

onion

4

tablespoon

chopped ginger root

3

tablespoon

olive oil

½

medium

cabotia pumpkin

1

medium

carrot

5

cups

water

½

cup

pumpkin puree

½

tablespoon

salt

½

tablespoon

black pepper

½

cup

heavy cream
Instructions
Rinse the leek, remove the dark green leaf end and slice into rings, discarding the root end.

Peel the onion, discard the root end and cut it in half, then into half-moon slices.

With a spoon, peel the ginger. Chop it into small cubes.

In a large, heavy-bottomed pot, heat the olive oil over medium heat. Add onion, leek and ginger, and stir to combine. Cook for about 5 minutes.

Carefully cut the pumpkin into halves. If desired, peel the skin off.

Peel the carrot and cut into medium-sized pieces.

Place pumpkin, pumpkin puree and carrot into the pot, and add the water. It should cover most of the vegetables, if not all. Bring to a boil, then reduce the heat to medium-low and let simmer until pumpkin and carrot are tender. It all should take about 20 minutes.

Blend it until smooth (see note about blending).

Pour back into the pot and add salt, pepper, and heavy cream. Heat until hot, but don't let it boil - after adding the cream, it may split if boiled. 
Notes
About blending: when I don't peel the cabotia pumpkins, I always use a blender instead of an immersion blender so the skin can blend well into the cream. In that case, I let my soup cool slightly before blending it, so it won't damage the blender's cup as it won't explode on my face (and yes, it can happen when blending something hot with the lid on!)
Make it vegan: add coconut cream instead of heavy cream.
Nutrition
Calories:
237
kcal
Carbohydrates:
11
g
Protein:
2
g
Fat:
21
g
Saturated Fat:
8
g
Polyunsaturated Fat:
2
g
Monounsaturated Fat:
10
g
Cholesterol:
34
mg
Sodium:
913
mg
Potassium:
231
mg
Fiber:
2
g
Sugar:
5
g
Vitamin A:
8127
IU
Vitamin C:
7
mg
Calcium:
65
mg
Iron:
1
mg