A bowl of my Bacon Black Bean soup can make your winter nights twice as comfy. It's a garlic black bean cream with loads of Canadian bacon, topped with fried smoked sausage and a bit of lime zest to bring out all those flavours. This is a hearty, smoked soup that has a high chance of becoming your next favourite.
Why this soup is for you:
It makes you completely satisfied;
It's a black bean soup with no cilantro on it;
Using canned beans, this soup takes less than half an hour to put together;
It freezes well, so you can always have a comfy soup minutes away!
How to cook black beans
Canned black beans are way more practical to use for this soup. But they may not be available to everyone: sometimes I only find their dried version. When I don't find any canned, I need to spend a little more time preparing the beans.
Now, you can do it by soaking them overnight, or you can skip this part if you don't have a whole day to spare. If you choose to soak the beans, do it one day ahead. The night before, place the black beans in a large bowl and add enough water to cover them all. The beans will absorb a lot of water, so make sure they're all covered before going to sleep! Cover the beans with water, cover the bowl with a tea towel, and goodnight.
The next day, rinse the beans, discard the water, and place the black beans into a large soup pan. Add enough water to cover all your beans before turning the heat on. Cook them on medium heat for about an hour - or until they are tender. If they get too dry, add more water, otherwise they'll burn on the bottom and we don't want that.
If you decide to not soak the black beans, you'll just have to cook them longer. Place them into a large soup pan and cover them with water. Cook on medium heat until tender. It can take one hour and a half, it can take 2 hours. For both methods, don't forget to stir the beans a few times while they're cooking, so both bottom and top beans cook evenly. And don't forget: always add more water if they're too dry before tender.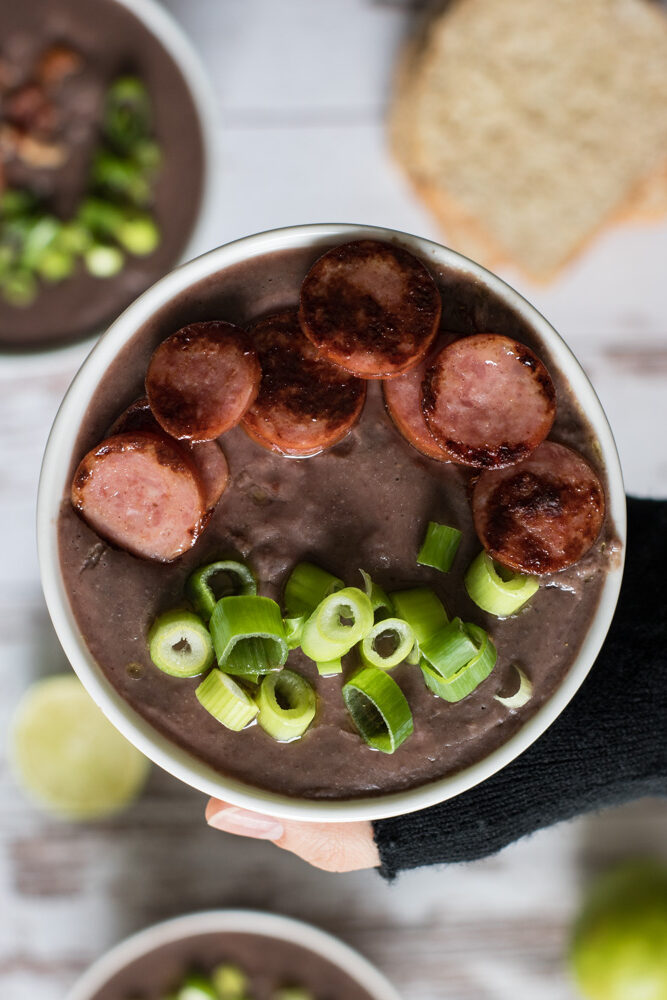 My black beans are ready, now what?
This soup only appears tough to put together, but after you gather all the ingredients, easy peasy!
Let me just check, you've got a blender, or an immersion blender? I prefer to use an immersion blender for this soup, it's easier and, in case your blender's cup isn't glass, you don't have to wait for the soup to cool to blend. Just for you to know, it's ok to do the soup without one and mash the beans with a potato masher - note that in this case, there will be chunks of onion and garlic in the soup.
First thing you gonna do is fry all the bacon. Fry until crispy, then remove the cubes and use the bacon oil to cook the chopped onions, and then the garlic. Add the beans, season, and simmer on medium heat for about 10 minutes.
Before we use the blender, just remember to remove the bay leaves. One time I forgot them and didn't really enjoy the tiny pieces of it on my cream.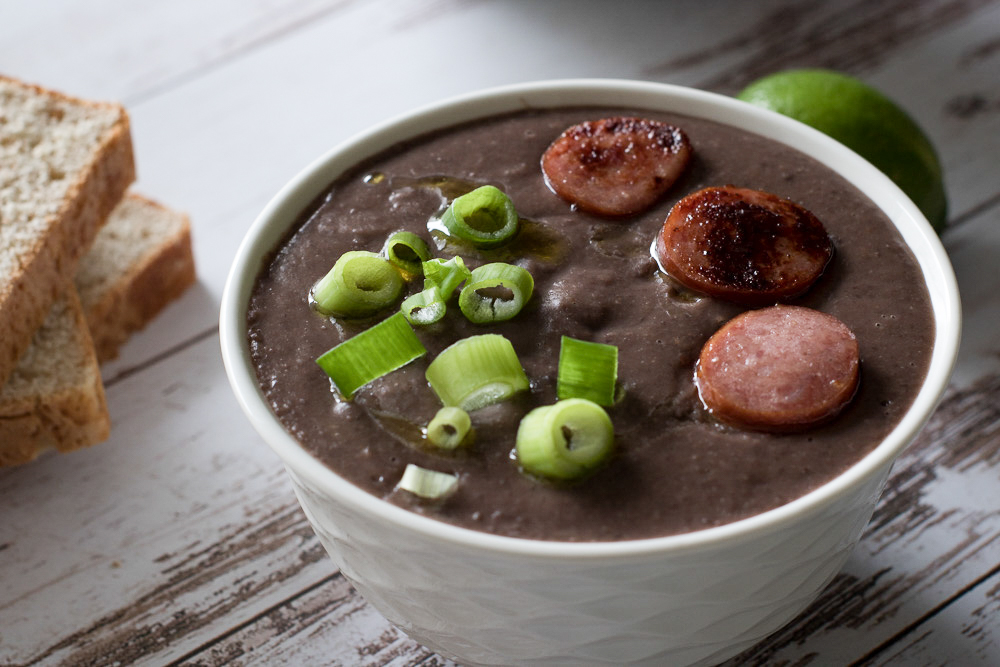 I always remove the pan from heat before using my immersion blender, and I think you should follow my lead here. It's safer also to let your soup cool down a little before blending it. If you're going to blend it hot, you must be extra careful: no fun burning yourself, and that can happen. Oh, I know that.
While you give a few minutes for your soon-to-be-cream to cool a bit, cube and fry the smoked sausage. I usually use olive oil to do it, and always add some lime juice at the end - it makes all the difference, trust me.
After blending, return the soup to medium heat and add the fried smoked sausage. Test for salt. If the soup is too thick, add more water. If's too thin, let it cook a little longer.
Leave the bacon to top your soup, so it stays crisp for longer. Garnish with green onions just before serving. Enjoy.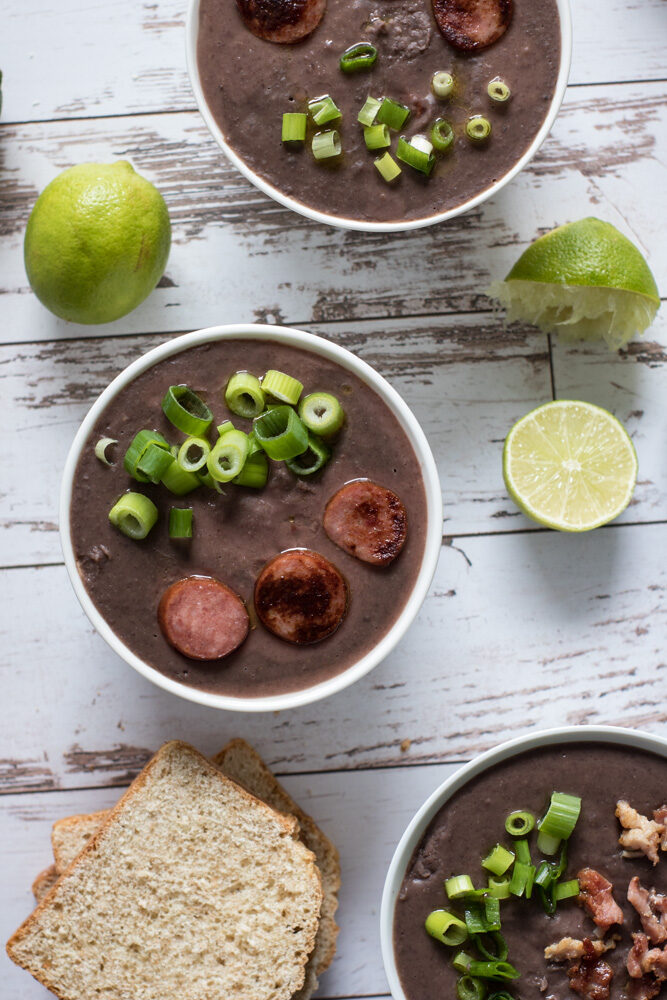 What to eat with my Bacon Black Bean Soup
This soup is practically a complete meal: we have beans, we have (a good amount of) meat, we even have some green onions!
I rarely have any sides with this soup, especially when I have this for dinner. But if you feel that something's missing, you can always have it with a slice of bread - even better if it's garlic bread! You can also try adding a spoon of sour cream to your bowl or even more lime juice. Any sour-flavoured thing goes delicious with this food.
If you, like me, enjoy spicy food, you can always add more cayenne pepper. You should definitely add a bit of Tabasco if you have some: with its vinegar taste, it's the perfect hot sauce for this soup!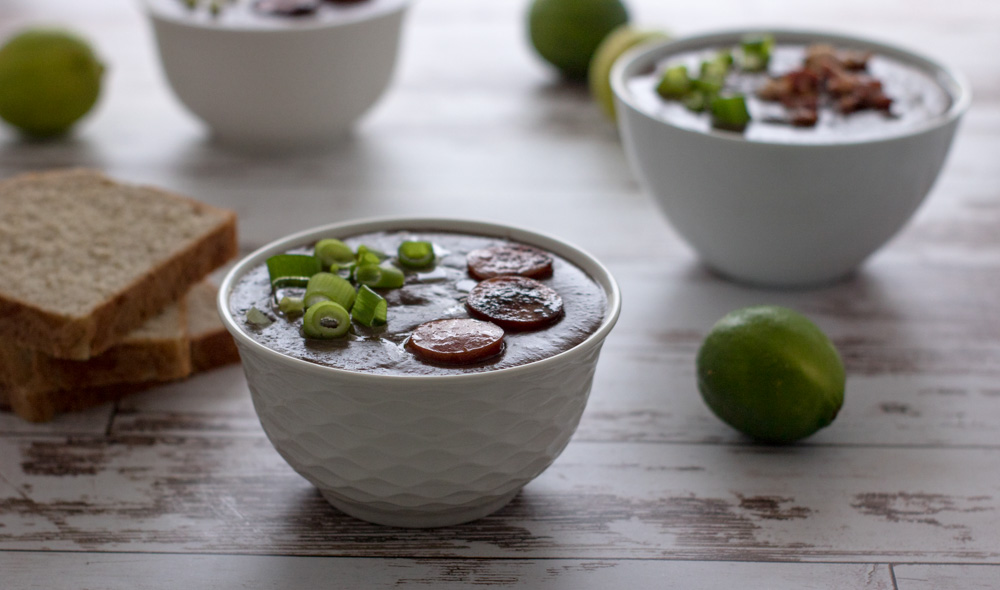 About my Bacon Black Bean soup
Can I freeze it?
This soup freezes well for up to 2 months. You can freeze it with or without the bacon, but remember once you freeze your bacon, it won't be crispy again when it unfreezes.
My soup is too thick! What can I do?
If you find your soup is too thick, add more water. You can add some beef broth if you prefer, but I go with only water here. If you add broth, especially if it's not homemade, watch out for the salt: it can become too salty with industrialized broth.
📖 Recipe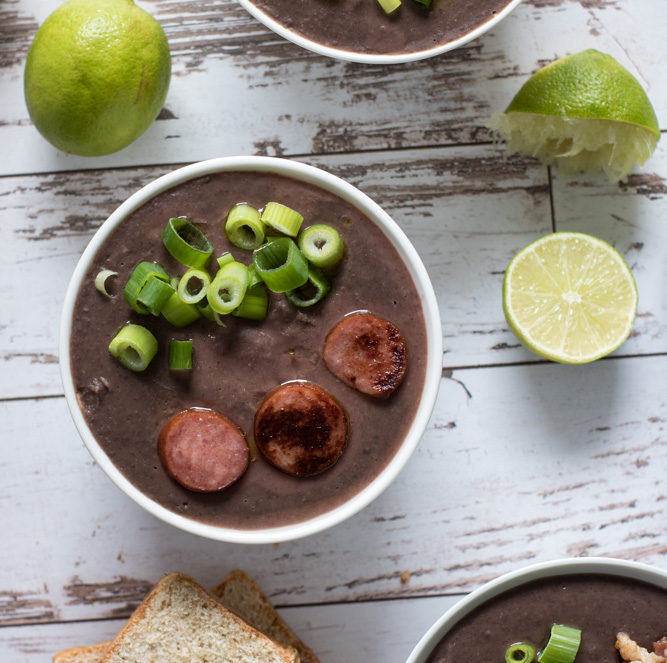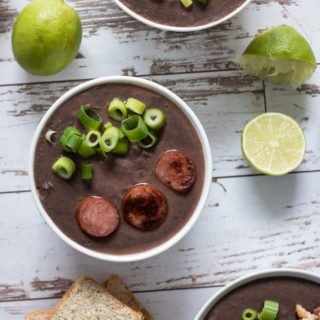 Bacon Black Bean Soup
A bowl of my Bacon Black Bean soup can make your winter nights twice as comfy. This hearty, smoked soup can easily become your next favourite!
Ingredients
3

canned black beans

2 cups of dried black beans, if you're making it from scratch

10

slices

of bacon

cut into small square pieces

1

red onion

chopped

3

bay leaves

5

garlic cloves

minced

1

cup

water

1

teaspoon

cayene pepper

10

oz

smoked sausage

cut into cubes

2

tablespoon

olive oil

Juice from 1 lime

1

teaspoon

salt

black pepper

to taste

Sliced green onions

to garnish
Instructions
Over medium heat, into a medium frying pan, cook the bacon until crispy. Remove the pieces of bacon from the pan and reserve. Keep the fat.

Into a large soup pan, using the bacon fat, cook the onions over medium-heat for over 4 minutes. Add the bay leaves and garlic, and cook for 1 minute.

Add the black beans, water and cayenne pepper. Bring to a simmer for over 10 minutes, stirring occasionally. Add salt and black pepper.

Remove the pan from the heat and discard the bay leaves.

Blend the mixture until homogeneous. If it's too thick, add more water.

Into a frying pan, over medium heat, add the olive oil, sausage and lime juice. Cook the smoked sausage until browned, around 5 minutes.

Return the soup to medium heat. Add the cooked smoked sausage and bring the soup to a simmer for over 5 minutes. Adjust with salt and pepper.

Serve it garnished with sliced green onions and crispy bacon.
Nutrition
Serving:
1
g
Calories:
484
kcal
Carbohydrates:
40
g
Protein:
26
g
Fat:
25
g
Saturated Fat:
7
g
Polyunsaturated Fat:
15
g
Cholesterol:
48
mg
Fiber:
15
g
Sugar:
2
g