This blood orange lemonade is tangy and refreshing, and gives you a cozy feeling after the first sip, thanks to a secret ingredient.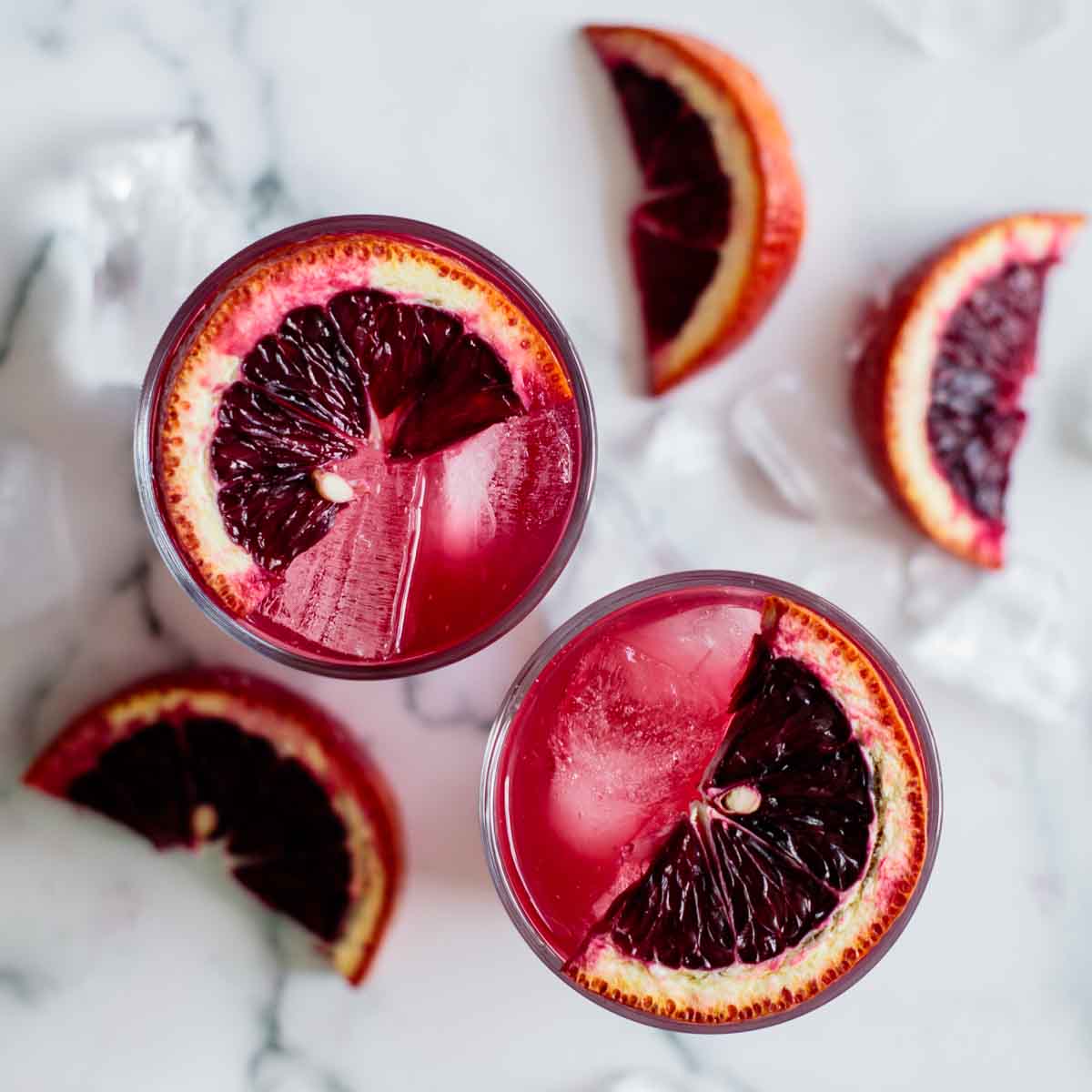 When the winter is almost over, and the spring is at our door, there's nothing better than to enjoy all the blood oranges we can. Don't waste another minute and give your body a boost of Vitamin C with the best Blood Orange Lemonade ever!
Looking for easy cold drinks? You should take a look at these amazing Iced Tea Recipes!
Jump to:
When is blood orange season
Blood orange season varies depending on location. Typically, their season is from December through April - yeah, super short season.
In Vancouver you can start to find them late December, and they are usually in the groceries stores until March. As they are harder to find than common oranges, they tend to cost a bit more.
Benefits
All oranges are high in Vitamin C, antioxidants and folic acid.
Blood oranges, specifically, contain anthocyanin in their red pigment. There are a few studies that suggest Anthocyanin can help prevent cancer and have anti-inflammatory properties.
What is blood orange lemonade
Blood Orange Lemonade is a drink made of blood oranges, lemons, water and a sweetener. It's lemonade, but made with the addition of blood oranges. In fact, it tastes like a better version of pink lemonade. I like to say it's my winter-spring lemonade.
In this recipe, I add a bit of honey to make it sweeter, but you can substitute it for a vegan option if you want to. The thing that makes this lemonade so good is not the honey: it's the cinnamon water.
Cinnamon water is water boiled with cinnamon sticks. You can easily substitute the sticks for ground cinnamon if you're in a hurry.
I prefer the cinnamon-flavored water as sometimes cinnamon powder can be tricky to mix in a cold drink without a blender. Also, boiling the water with the cinnamon sticks make the flavor stand out more.
How to juice citrus fruit
Sometimes it can be hard to get all the juice out of these fruits, right? Use my tips if you're having problems with your lemons and oranges (and, like me, you don't own a juicer):
Microwave each one for 10 seconds. I swear, it makes juicing them so much easier!
Roll it on your countertop. If you don't want to microwave it, you can roll it a couple of times, pressing downward with the palm of your hand.
How to make it
Making blood orange lemonade is so easy you'll want to make it every day!
Boil the water with the cinnamon sticks. Boil it, and wait for it to cool down. 10 to 15 minutes should be enough.
Squeeze your lemons and blood oranges. Now, be careful with the blood oranges! After juicing them, my kitchen counter looked like an episode of Dexter, so try to avoid wearing white while making this lemonade.
Mix blood orange, lemon juice and water. Mix it and add the sweetener of your choice.
Let it cool or serve it immediately with ice. I usually store mine in the fridge for about an hour – I like to have my lemonade super cold! But you can just add some ice when serving, and that will do the trick.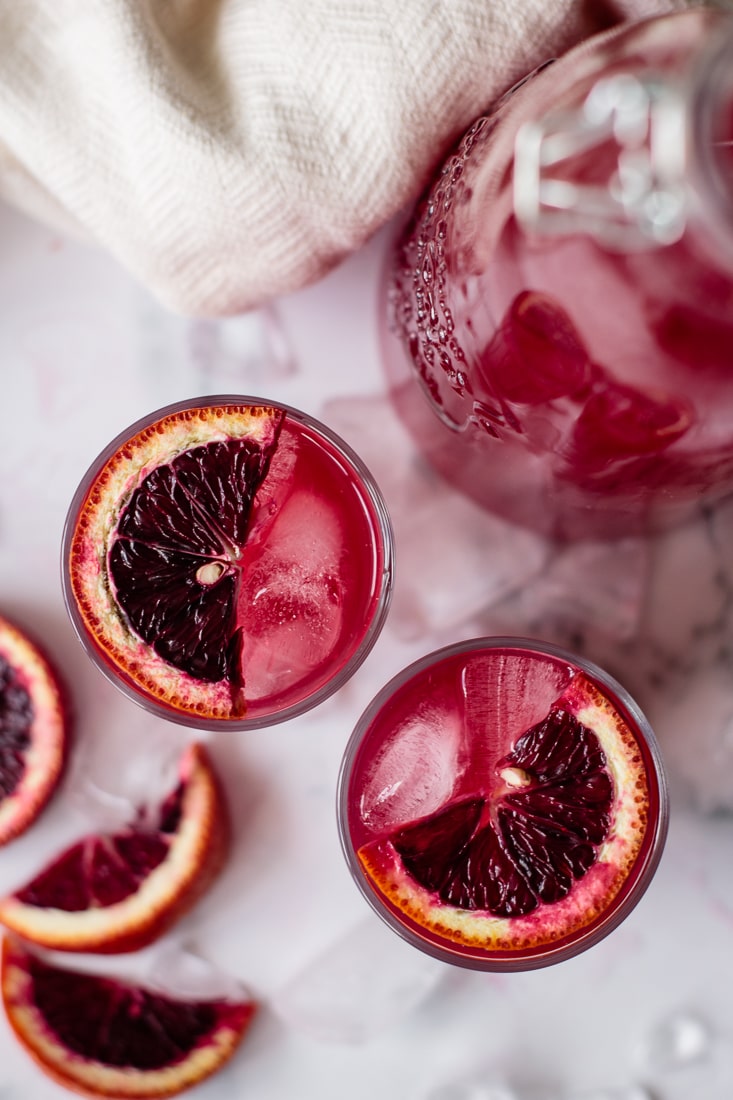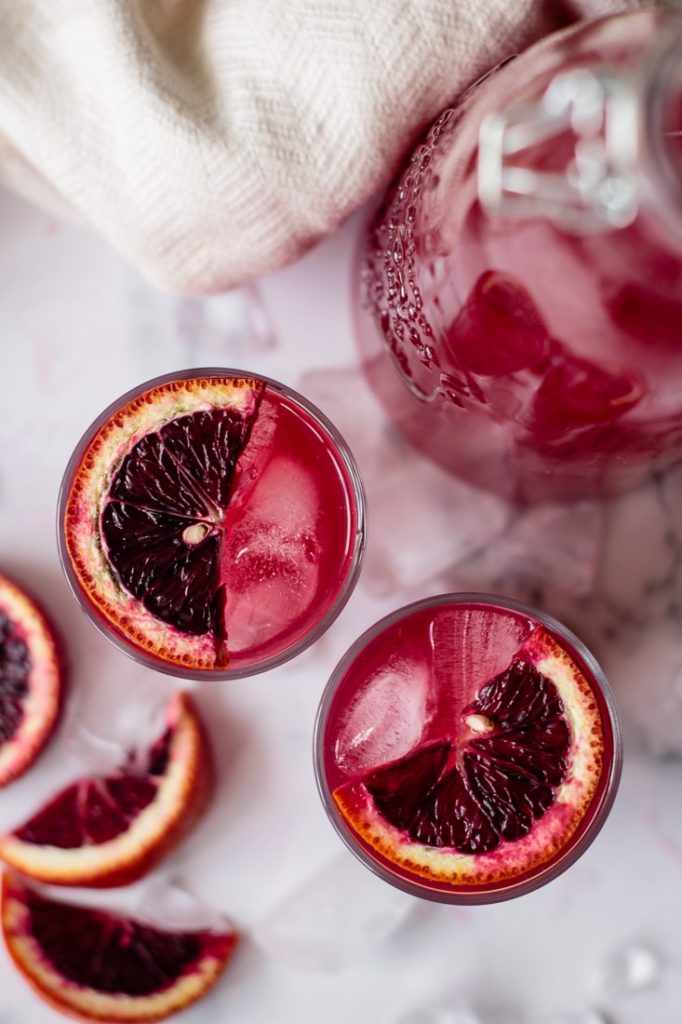 Can I use another ingredient instead of honey?
Sure! You can substitute honey for brown sugar or maple syrup to have a similar taste to the original recipe. But it's still great with agave syrup, stevia or any other sweetener.
Tips for this recipe
You can substitute cinnamon for vanilla extract. It won't have the same taste, BUT I happen to know a bunch of people that hate cinnamon with a passion. Vanilla will enhance the blood orange flavor.
Substitute half the water for sparkling water. It's great for those days you're feeling fancy. You can also use sparkling water only. If so, mix ground cinnamon on the blood orange juice before adding water.
Just remember: if you're using sparkling water, serve it straight away – or leave the sparkling water to be added minutes before serving. Your lemonade will go flat after a few hours.
More refreshing lemonades
📖 Recipe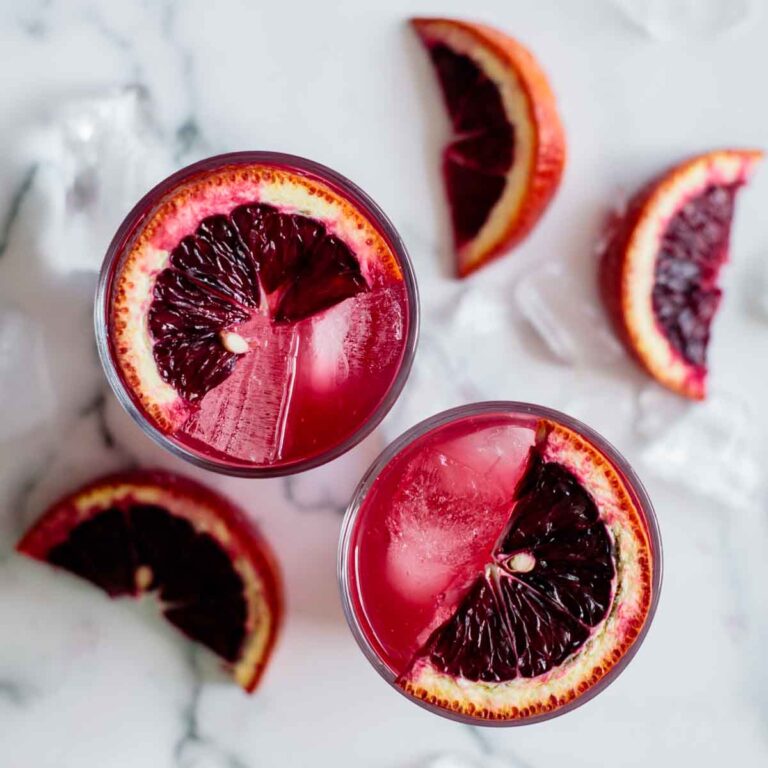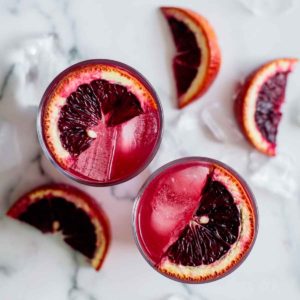 Blood Orange Lemonade
When the winter is almost ending, and the spring is at our door, there's nothing better than to enjoy all the blood oranges we can! This blood orange lemonade is tangy and refreshing, and gives you a cozy feeling after the first sip, thanks to my secret ingredient.
Ingredients
1

cup

blood orange juice

about 5 blood oranges

½

cup

lemon juice

about 3 lemons

4

cups

water

1

cinnamon stick

6

tablespoon

honey

Ice to serve
Instructions
Boil the water with the cinnamon stick. Let it cool for 10 minutes.

Juice the blood oranges until you have 1 cup of juice. Don't forget to remove the seeds.

Juice the lemons until you have ½ cup of juice. Again, remember to remove all seeds.

In a jar, mix both juices, add the honey and the cinnamon water, and stir until the honey dissolves and everything is well combined.

Keep the lemonade refrigerated for 1 hour. Serve with ice cubes.

Notes
Make it keto/vegan: substitute honey for stevia or monkey fruit sweetener.
If using sparkling water: add the sparkling water just before serving.
Nutrition
Serving:
1
g
Calories:
77
kcal
Carbohydrates:
20
g
Sodium:
27
mg
Fiber:
1
g
Sugar:
19
g