This Iced Ginger Tea is a refreshing and healthy way to start your day.
Made with the addition of honey and lemon juice, this iced tea will give a boost to your immunity system and become your favorite way to wake up on a warm summer day!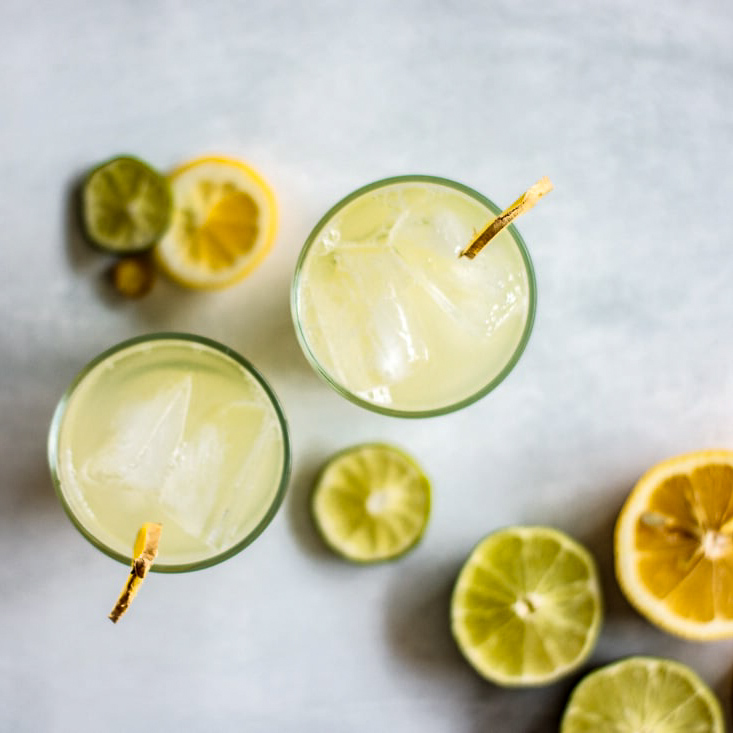 This is a strong ginger drink: even with all the ice, it makes you warm up inside. But the spicy feeling is followed by a sweet and sour taste that leaves you yearning for more.
The combination of strong ginger tea with lemon juice and honey makes it so good it's addictive! Really: I can't stop drinking until the jar is over.
This iced tea is amazing for waking up in the morning for those who don't drink caffeine. It's also fantastic when you're sick - especially if you're with a nasty cough.
And if you're alcohol-free but are wishing for a mocktail that tastes like a delicious alcoholic drink, you definitely need to try this recipe!
This Iced Tea is Super Healthy
Let's talk about the ingredients of this recipe.
Our grandmas and great grandmas all know about the ginger honey tea benefits. They probably used it many times for colds and bad coughs. I confess I always have this combination when feeling a little under the weather!
Ginger is great for when you're feeling any king of nausea;
It has anti-inflammatory effects;
Can help you with your cramps;
Can easy the pain if you have a sore throat;
It's great for heartburn.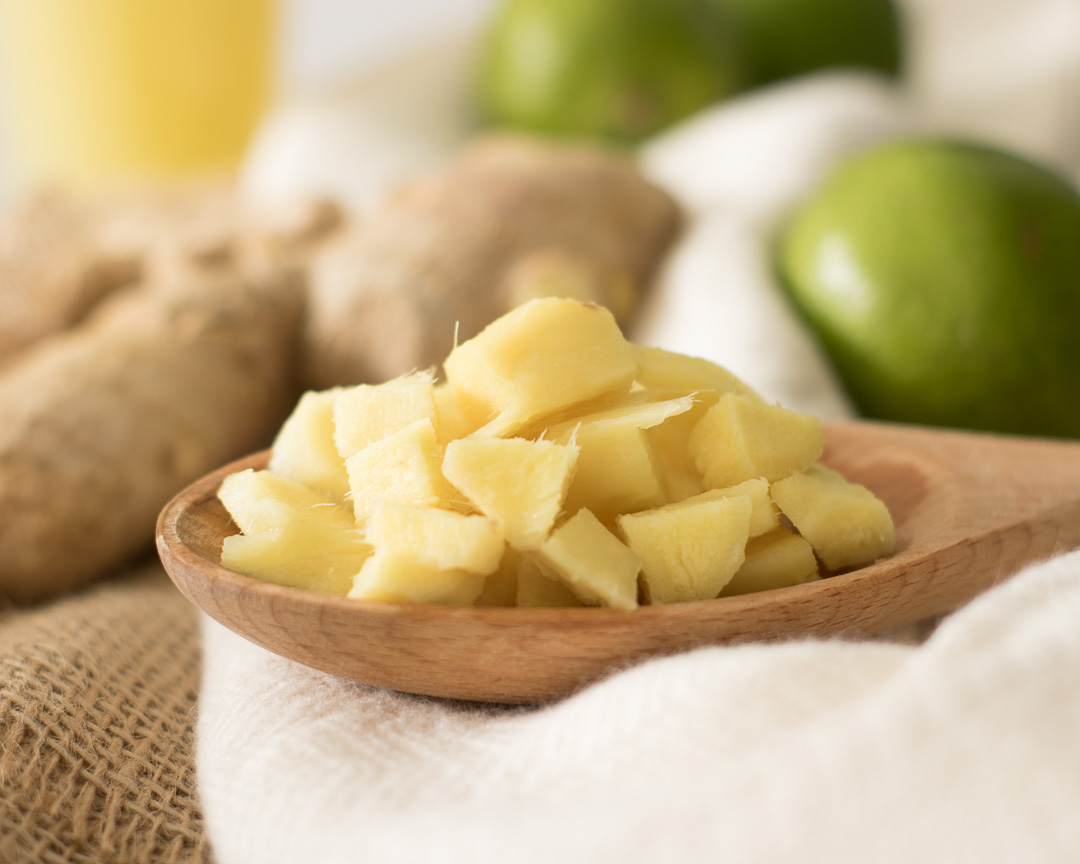 But what about honey and lemons?
Lemons are full of vitamin C! Yeah, I know, vitamin C won't prevent you from catching a cold, but it'll surely help you get through it.
And honey is full of antioxidants, has more nutrients than refined sugar, and a thing called dextromethorphan - that's a cough suppressor. That's why honey combined with ginger can give you a big help with coughs.
How to make it
Making this recipe couldn't be easier! Let me break it step by step for you:
Start by peeling the ginger. Don't know how to peel it? Use the side of a spoon for it! It works like magic! Using a peeler can make you lose a lot of the root while peeling, so I always choose a spoon for this.
Boil water and ginger for 5 minutes. I found out the longer I boil, the stronger the ginger flavor will be.
Let the ginger tea cool for 10 to 20 minutes.
Blend all ingredients together. Now, if you want your recipe more mild on ginger, you need to strain your ginger tea before this part. If you're yearning for a strong ginger punch, blend the tea with the root still on, and strain only after.
Strain your Iced Ginger Tea, pour it in a tall glass full of ice and enjoy!
Why not use sugar?
Honey has more nutrients than refined white sugar, so I always choose to use it for this recipe.
If you're looking for a vegan option, you can try maple syrup (final taste will be different - but also great!). And if you need a less caloric version, use the sweetener of your choice.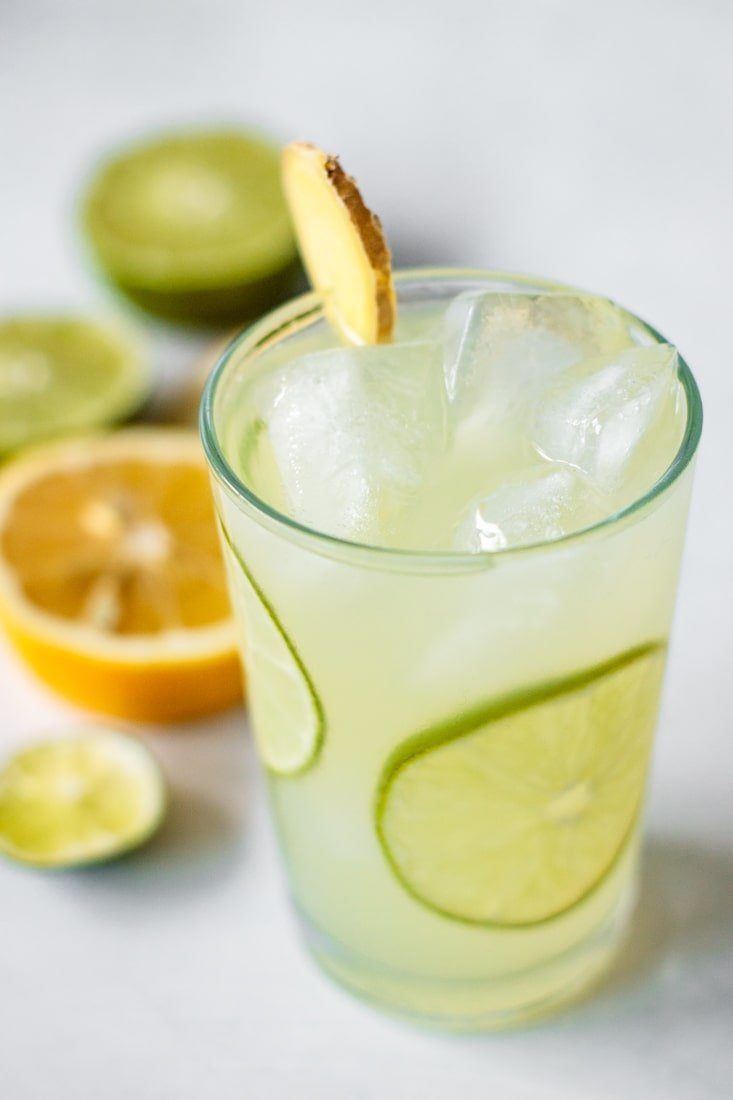 Storing your Iced Tea
This ginger iced tea keeps up to four days in the fridge. After that time, the lime can give this drink a bit of a bitter aftertaste.
Always store it in your fridge.
Quick Tips
You can use ginger tea bags for this recipe. Use from 8 to 10 to get a similar strong flavor;
If you prefer, you can substitute lime for lemon;
For a vegan option, substitute honey for maple syrup or any sweetener;
You can drink it hot if you prefer. Having this ginger tea warm is great for a cold winter night!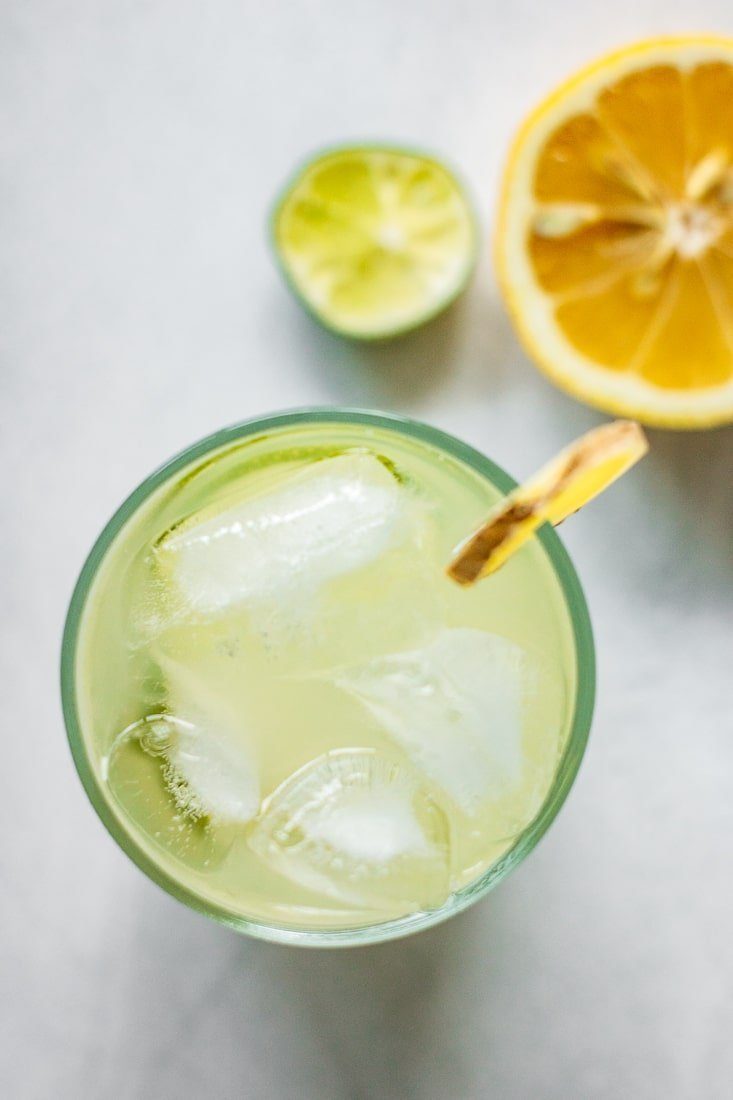 Delicious, healthy and easy to make: this is the perfect recipe for your breakfast!
More Healthy Drinks
Mango Smoothies
Turmeric Smoothie
Kiwi Green Smoothie
Strawberry Juice (Blender Recipe)
Blood Orange Lemonade
📖 Recipe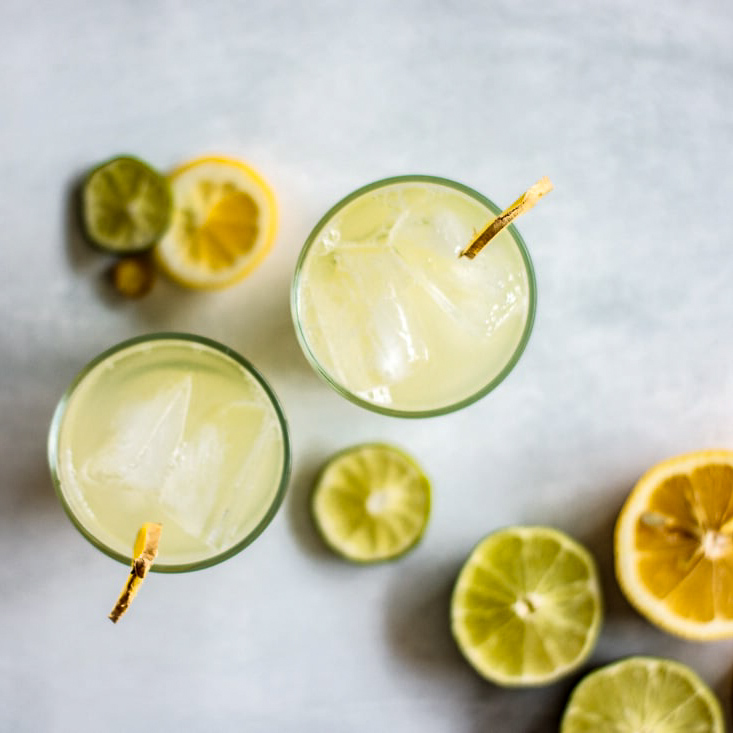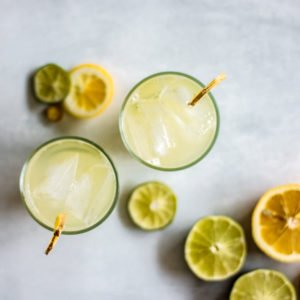 Iced Ginger Tea with Honey
This Ginger Iced Tea is a super strong ginger tea. Made with the addition of honey and lime or lemon juice, this healthy iced tea will give a boost to your immunity and become your favorite way to wake up on a warm summer day.
Ingredients
1

cup

fresh sliced ginger root

peeled

5 ½

cups

water

1

cup

lime or lemon juice

1

cup

honey
Instructions
Peel and slice the ginger root.

Heat the water in a saucepan. When starting to boil, add the ginger and let it boil for 5 minutes. Remove from heat and let it cool to room temperature.

In a blender cup, add the honey, lime or lemon juice and the ginger tea with the root still on. Close the lid and blend it for 2 minutes.

Strain the iced tea, discarding the pulp. Pour it into iced-filled glasses, or store it in your fridge until cold.

It keeps up to four days if stored in your fridge, covered with a lid.
Notes
You can use either lime or lemon for this recipe: limes give a stronger taste, lemons a more mild sweet taste.
Make it vegan: use maple syrup or light molasses instead of honey.
Nutrition
Serving:
1
g
Calories:
258
kcal
Carbohydrates:
70
g
Protein:
0.3
g
Sodium:
20
mg
Potassium:
44
mg
Fiber:
0.2
g
Sugar:
70
g
Vitamin C:
0.4
mg
Calcium:
15
mg
Iron:
0.4
mg