Stop buying and start making cold brew coffee concentrate at home! Get my tips and ground to water ratios, and never make a bitter or or watery cold brew again.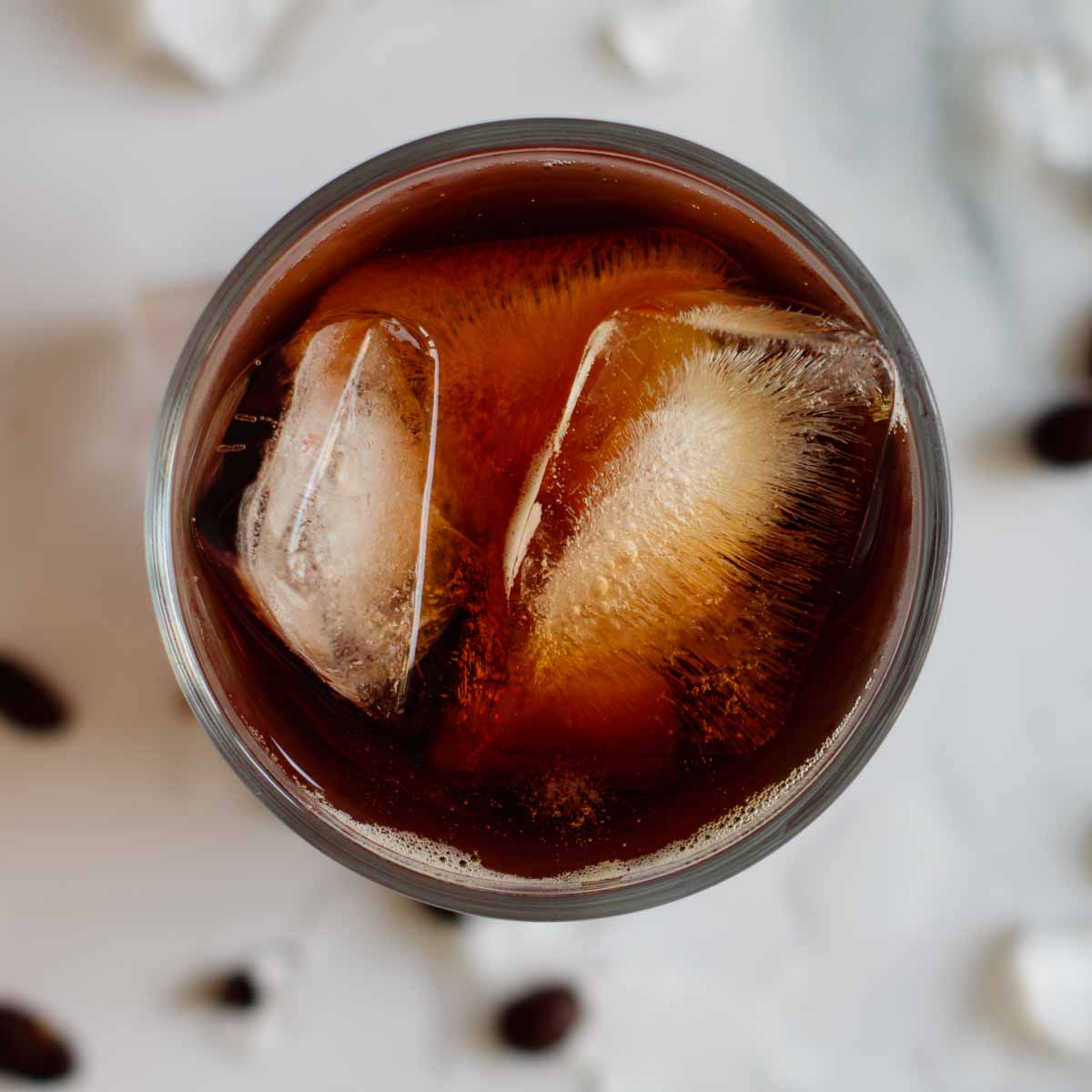 Jump to:
Why you should make cold brew
Cold brew is great for hot summer mornings;
It will save you a lot of money brewing it at home instead of buying it;
You can brew it on Sunday and have it ready during all week;
It's the best coffee for busy mornings;
This method brews a coffee that's gentler on the stomach;
Cold brew coffee has a smoother and less bitter taste than coffee brew using hot water.
This concentrate is not difficult to make, and if you follow my tips, you can get a cold brew as good as the one you'd buy at your favorite cafe.
Cold brew versus iced coffee
Iced coffee is coffee brewed with hot water but cold - usually chilled with ice.
For those who don't know, cold brew is a method that uses cold or room temperature water to brew coffee. It takes longer than using hot water: while iced coffee is ready within minutes, cold brew will take 12 to 20 hours to be ready, so you need to make this in advance.
Also, iced coffee tastes like your regular coffee but chilled and more diluted because of the ice used to make it cold. Cold brew has a different, smoother taste, and is both less acidic and bitter.
Is it stronger than regular coffee?
The feeling that you have that cold brew has more caffeine than regular coffee comes from the fact that you're drinking a concentrate version.
Cold brew generally uses a higher coffee to water ratio than other methods. So if you drink a cup of cold brew concentrate without dissolving it, you will be drinking more caffeine than you would if having a cup of coffee.
If you dilute your cold brew, you may get even less caffeine than a regular cup of coffee.
Steps for making it
This is an easy recipe after you get the right ratios and time. You don't have to be a ninja in the kitchen for getting a good cold brew done.
Grind your coffee. Coarse or medium-coarse ground coffee works best for this recipe.
Steep coffee in cold water Use a water chlorine-free for the best taste.
Store it in your fridge. I usually left mine brewing from 14 to 16 hours.
Strain your cold brew. You can do it using a coffee filter, or you can do it with the help of a french press. More on that below.
And enjoy! Easy, right? Now let's get some tips for you to get a cold brew better than the ones you buy.
How to strain your cold brew
I strain my cold brew 2 ways:
Using a coffee filter;
Brewing directly in a french press.
If I'm using a coffee filter to strain, I place it into a coffee dripper or small sieve. Then, I put it over a liquid measuring cup, and pour the concentrate through it. Simple, right?
In case you notice your coffee filter is starting to tear or the cold brew started to strain too slowly, replace the coffee filter.
If I'm using the french press, I mix water and coffee directly on it, cover and place in the fridge, only pressing it when the time is done. Just know that using a french press can give you a more cloudy cold brew coffee.
You can also use a cheesecloth or nut milk bag to do it, if you're having problems straining your cold brew with a coffee filter.
Ground to water ratio
What I love about cold brew is that I can adjust the ratio for my taste.
For a cold brew concentrate, 4:1 is perfect! That's 4 parts of water to 1 part of ground coffee. A cold brew concentrate is great for pouring over ice (like the one you get at Starbucks!) or milk.
If you rather have it without any milk or ice, I would recommend making it with a higher water ratio. For having it pure, I would normally use 7 parts of water to 1 of coffee.
To dilute after ready, I usually use 1 part of concentrate to 1 part water or milk. If I want a stronger version, I fill a cup with ice and pour cold brew over it without adding any water.
How long you should brew it
Although Starbucks claims they brew their cold brew for over 20 hours, I would not recommend more than 18 hours if you're doing it at home.
I get the best outcome when brewing between 14 to 16 hours. More than 20 hours never worked for me, and sometimes over 18 hours lead my cold brew to an unpleasant whiskey taste.
If it's your first time doing it, I would recommend between 14 and 16 hours.
If you're brewing on your counter instead than in your fridge, I would not go over 12 hours. Longer might give your cold brew some unpleasant off-tastes.
Recipes were you can use cold brew
Tips for achieving the best result
Grind matters!
It's best to use coarse or medium-coarse ground coffee when making cold brew to get the best outcome. Avoid medium-fine, fine or extra-fine: it will make your batch taste bitter, as your coffee will over-extract.
Coarse has visible chunks of coffee beans (similar to sea salt), and medium-coarse is still chunky but less (like rough sand).
If possible, grind the beans yourself.
Grinding the beans only when using it can give you a better tasting coffee, as fresh coffee begins to lose its aroma as soon as you grind it.
There are lots of grinder options nowadays, from super expensive to very cheap ones. If you're a perfectionist, you should consider investing in a good grinder.
Burr grinders are usually the best (and more expensive) and will get all the beans crushed at the same size. Blade grinders are more inconsistent (and usually cheaper), and can grind your coffee unevenly.
Choose the right coffee.
I find cold brew more pleasant to drink when I choose a light or medium roast. They also taste more refreshing, having a fruity and floral flavor.
Dark roasts are good if you want a cold brew with a stronger and slightly bitter taste.
Brew it in the fridge for a better outcome.
Place ground coffee and water in whatever you're using to make your cold brew, close it and put it in your fridge.
You can brew cold brew at room temperature, but I find the taste better when brewing in the fridge.
Be aware if you brew it on room temperature, as the brewing time is significantly shorter when outside the fridge.
Use water you would drink.
If you live in a place you can't drink tap water, don't use it for brewing cold brew without filtering it before. This applies especially for water with high amounts of chlorine.
Keep it stored tight.
When keeping it in your fridge, you need to make sure the jar is shut tight, or your cold brew might get some off flavors from other foods stored close to it. Nobody wants to drink a coffee that tastes like onions, right?
Questions you've asked
Can cold brew go bad?
Cold brew coffee is usually good for 7 to 10 days if kept in your fridge.
Can cold brew be left out of the fridge?
It can, but it will spoil faster (3 to 4 days off the fridge before flavor changes).
My cold brew tastes bitter!
You may have left more hours than you should before straining it, or used coffee ground too fine. If you brew it with a dark roast, it may taste slightly bitter than with medium or light roast.
My cold brew is sour!
That can happen if you left your coffee brewing for too little time. Sourness can be a sign your cold brew is under-extracted.
My cold brew tastes like whiskey!
You probably let it brewing more hours than you should before straining the coffee beans. Brewing for over 20 hours may lead to over-extraction, giving your cold brew an unpleasant whiskey off flavor.
My cold brew is cloudy!
It can get cloudy if you have used fine ground coffee and strained it by only using a french press.
Can I make it with instant coffee?
It won't work. You can make iced coffee with instant coffee, but you can't make cold brew with it.
Can I drink it hot?
Yes, you can! Just heat it until the desired temperature, microwaving a cup for 1 minute is usually enough for me.
Is it worth the wait?
Definitely.
📖 Recipe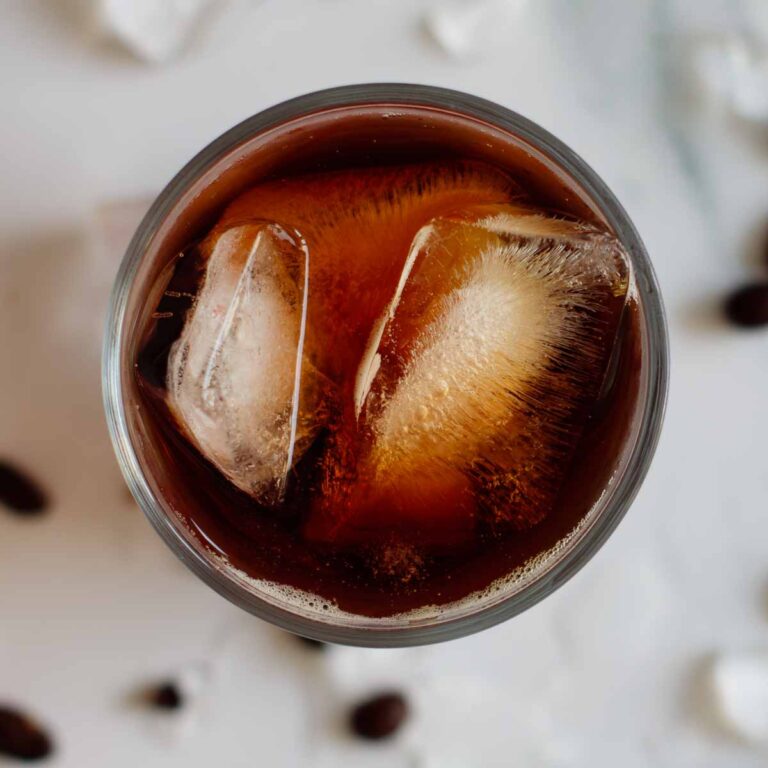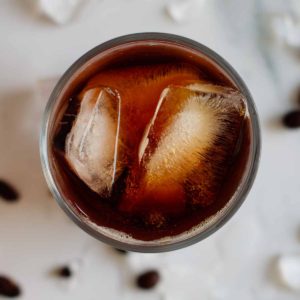 Cold Brew Coffee Concentrate
Cold brew is not difficult to make, and by following some tips, you can get a cold brew coffee as good as the one you'd buy at your favorite cafe.
Ingredients
4

cups

water

1

cup

coarse or medium-coarse ground coffee
Instructions
Grind your coffee beans. Fresh ground coffee makes a better tasting cold brew.

Make sure the water you're using doesn't have a high amount of chlorine if using tap water.

In a mason jar or any glass container with a lid, combine water and coffee. Stir, or close the lid and shake, to combine.

Place it in your fridge for 12 to 18 hours. I wouldn't recommend brewing for over 20 hours, as it may lead to over-extraction.

When ready to strain, use a coffee dripper with a coffee filter on it, or place a coffee filter over a fine-mesh sieve. Place the dripper/sieve over another recipient/jar and pour the cold brew through it.

Store it in your fridge in a glass jar or any glass container that can be shut tight, so your cold brew won't get an off taste.

To serve, fill a glass with ice, then fill it with water until half (use less water or no water at all for a stronger coffee). Fill the rest of the glass with the cold brew concentrate. Stir to combine.

Notes
I always get great results with 14 hours. More than 20 hours never worked for me, and sometimes over 18 hours lead my cold brew to an unpleasant whiskey taste. If it's your first time doing it, I would recommend between 14 and 16 hours.
When serving, you can substitute water for your favorite milk or creamer, and even add some sugar or sweetener of choice to get a sweet cold brew.
If you want to brew it at room temperature, the brewing time is cut by half. Brew it for about 7 to 8 hours if choosing to do it at room temperature.
Nutrition
Serving:
1
serving
Calories:
0.2
kcal
Protein:
0.03
g
Fat:
0.01
g
Monounsaturated Fat:
0.004
g
Sodium:
5
mg
Potassium:
12
mg
Calcium:
3
mg
Iron:
0.002
mg