Made with pineapple and coconut water, this smoothie is ideal for the mornings after a night of heavy drinking. Keep hydrated and cure any hangover with this delicious and healthy smoothie.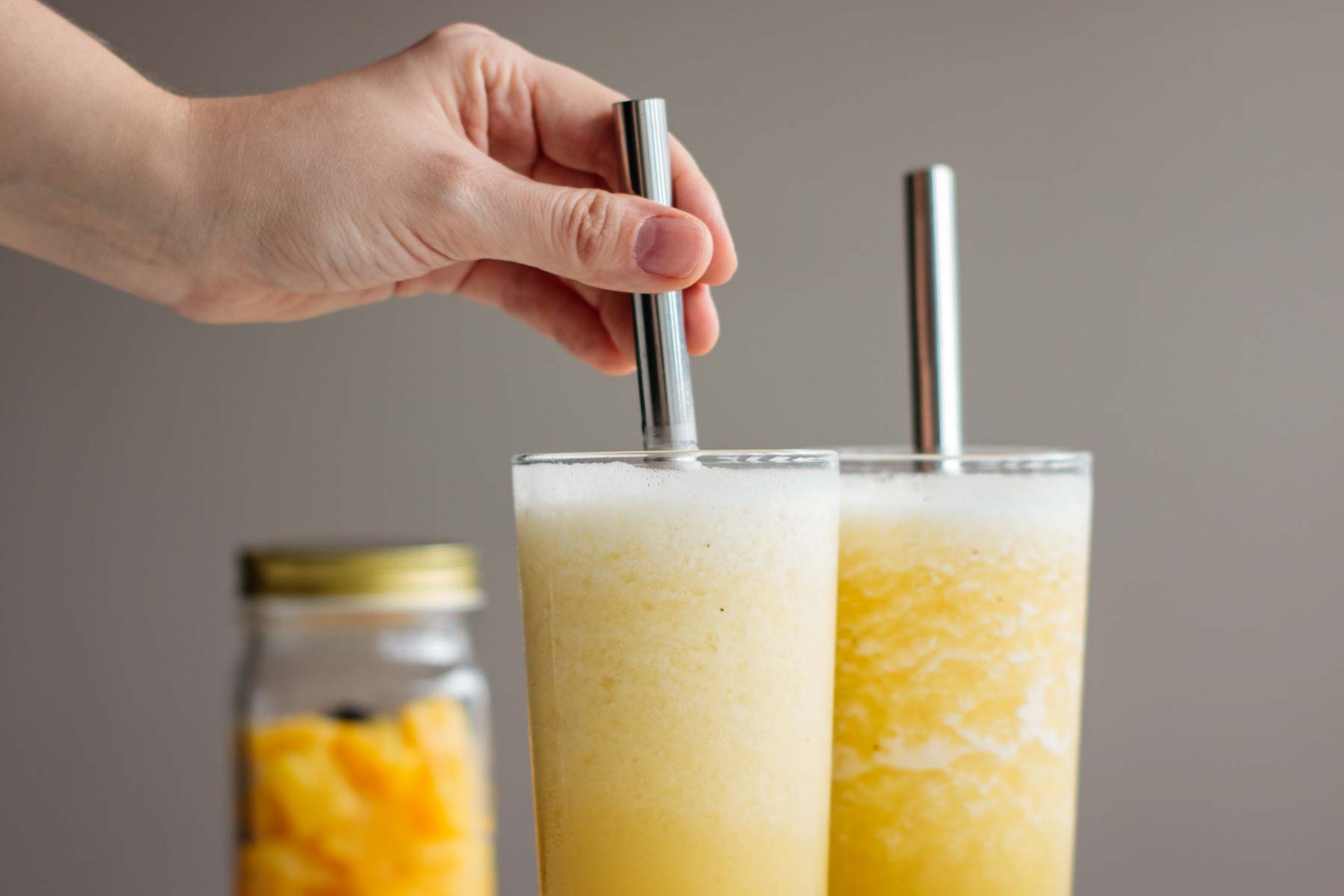 I know, I know: it's not good drinking to the point of needing a cure the next day - but we've all been there, right? The worst thing ever is to wake up with a dry mouth, a terrible skin and a massive headache.
When this happens, there's no better solution than to eat healthy and keep hydrated to get through the day. If you're having one of these days, start curing your hangover with this lifesaver smoothie.
What causes a hangover?
Dehydration, poor sleep, nutrient loss and inflammation are some factors that can cause a hangover. To cure it, you need to rehydrate and replenish the nutrients you lost from drinking alcohol.
There's no automatic cure for a hangover, but drinking a good amount of water and eating the right foods will help you get rid of its symptoms through the day. Ingredients that are high in antioxidants and rich in vitamins and minerals are ideal for helping with it.

What should I drink after a hangover?
Water is the first thing you should drink after a heavy night of drinking. But there are a few more options for you to sip during the next day:

- Coconut water (full of electrolytes and great for hydration);
- Ginger tea (helps lots with nausea);
- Kefir (probiotics are great for keeping a healthy gut after drinking too much);
- Apple, pineapple and orange juice (vitamin C helps your body to detox faster).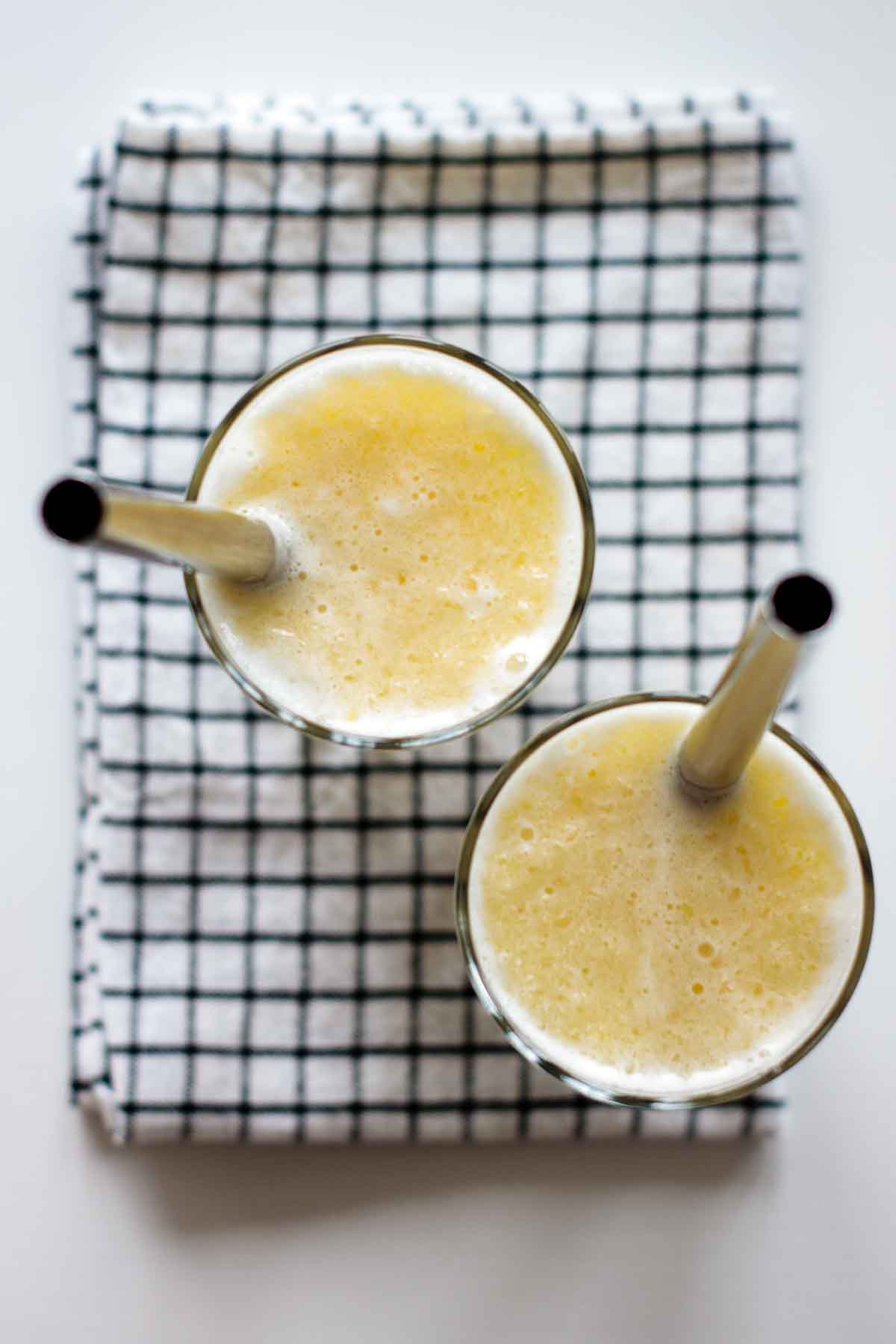 Smoothie Ingredients
Each ingredient in this smoothie plays a part in a hangover recovery:
Pineapple. This fruit is full of vitamin C, which can help your liver to detox faster from all the drinking. You can use both fresh or canned pineapple. The sweeter it is, the sweeter your smoothie will taste.
Don't like pineapples? You can substitute it for oranges and still have a delicious smoothie with lots of vitamin C.
Banana. This ingredient is full of potassium and good carbs for you to heal. It will help with rehydration and will give you the energy you need to restart. Use it frozen or fresh, and use ripe bananas for a sweeter taste.
Coconut Water. This ingredient is rich in electrolytes. If you don't like its taste, don't worry! The predominant flavors on this smoothie come from banana and pineapple. Prefer one with no sugar added.
Ginger. Helps with hangover symptoms, specially nausea and vomiting. You can use it fresh or powdered ginger.
How to make it
This is a super simple recipe, perfect for the days when you can barely function. In 3 easy steps, your hangover cure is ready!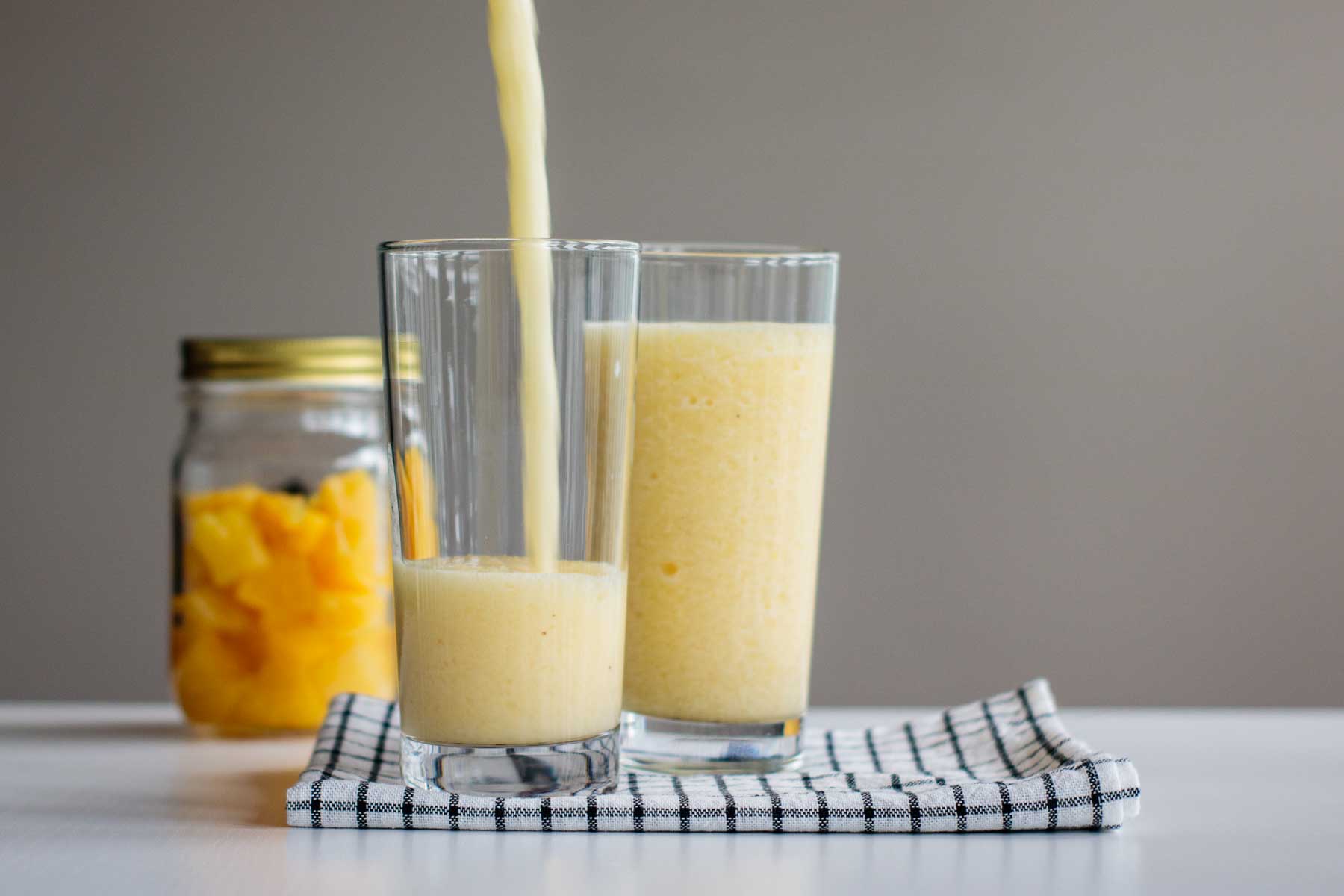 Hangover Tips
As was already said, you can't cure your body from a hangover in minutes, but you can help it to get rid of the worst symptoms will these tips:
Eat a healthy breakfast. Even though food doesn't sound very appetizing when we're hangover, don't skip meals. I know, all you want to do if lose yourself in a bag of Munchies, but give preference to eating healthier after a night of heavy drinking.
Hydrate. You lose a lot of fluid when drinking alcohol, and dehydration is what causes the headache and dry mouth. To ease this, make sure to drink plenty of water the next day.
Avoid caffeine. It's hard, I know, but try not drinking coffee on the next day. A week cup of coffee is ok, if you absolutely can't live without it, but an entire pot is a no-no. Drinking coffee will only dehydrate you more, worsening the headache. If you absolutely must drink it, remember to drink a glass of water for each cup of coffee.
Get some sleep. Your body needs the rest. If you've tried everything and still feel awful, try sleeping. You may wake up feeling a lot better.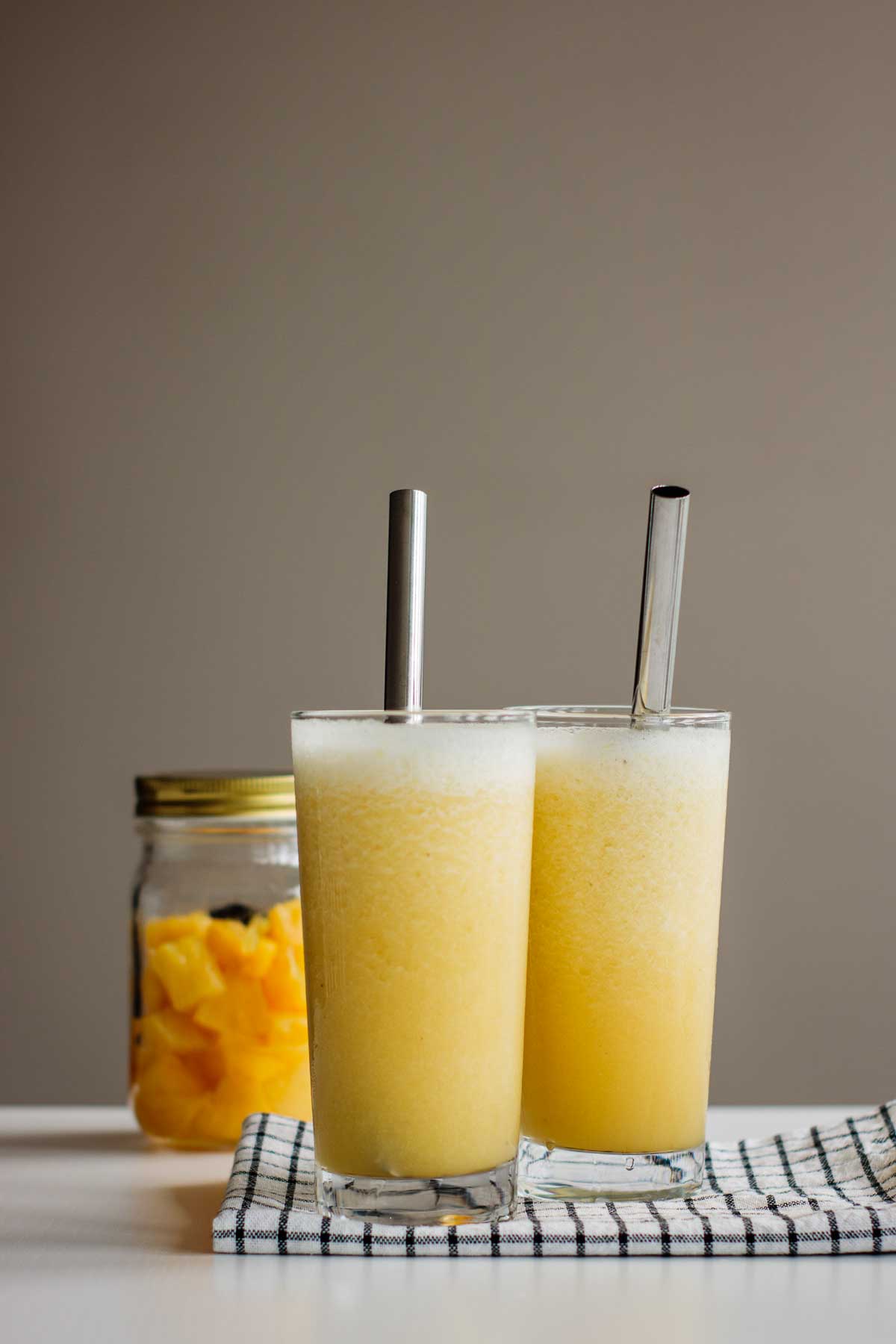 More healthy smoothies
Mango Smoothie + Mango Bowl
Turmeric Smoothie
Goodnight Smoothie
📖 Recipe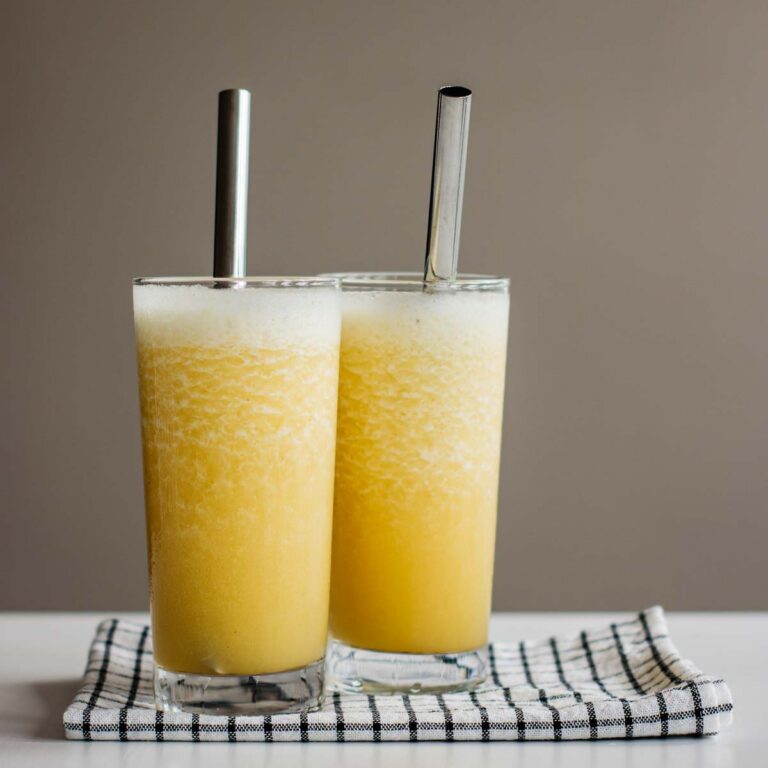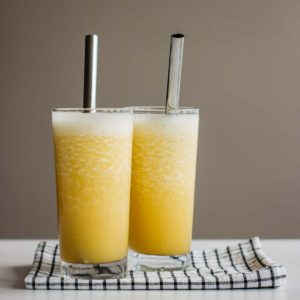 Hangover Smoothie (Healthy Hangover Cure)
Made with pineapple and coconut water, this smoothie is ideal for the mornings after a night of heavy drinking. Keep hydrated and cure any hangover with this delicious and healthy smoothie.
Ingredients
1

cup

coconut water

½

cup

pineapple chunks

fresh or frozen

1

banana

fresh or frozen

½

teaspoon

ginger powder

1 teaspoon grated ginger, if using fresh

1

cup

ice

optional
Instructions
Combine all the ingredients in a blender's cup.

Blend until the mixture is smooth, 30 seconds to 1 minute.

Serve in a tall glass right away.

Notes
Use fresh fruits for a thinner smoothie. Freeze them for at least 1 hour for a thicker smoothie.
Use ice for a thicker smoothie.
You can substitute pineapples for the same amount of orange.
If your smoothie is lacking sweetness, add 1 tablespoon of honey (this is not a vegan ingredients) or maple syrup. You can also add sugar (brown or white).
Nutrition
Serving:
1
g
Calories:
113
kcal
Carbohydrates:
28
g
Protein:
2
g
Sodium:
128
mg
Fiber:
3
g
Sugar:
19
g