My bedtime smoothie recipe was born in a cold, restless night of February, and it's on my cup every night I think I might have problems falling asleep. For me, this is the best snack to have before I hit the pillow! Light and sweet, this green smoothie will give you the most perfect dreams.
With everything that's happening right now, a good night of sleep is a priority to keep me sane. A well-rested night is also essential to start a productive day, and this combination of ingredients is making me fall asleep like a baby.
Why these ingredients work
For some time, I thought having a smoothie before going to bed would be as bad as a heavy snack - smoothies are made for breakfast, aren't they? Then I started doing some research and found what seems to be the perfect combo for a good night of sleep.
First, have you heard about a hormone called melatonin? If not, this is the hormone responsible for regulating your body's natural internal clock (it's what tells you when it's time to wake up and to sleep). Although lighting has a major influence on this hormone's production, certain foods can also increase natural melatonin production. Smooth, right?
Let me tell you about the ingredients that go in this smoothie:
Kiwi: who would have thought kiwi can help you fall asleep better? I wouldn't! But kiwi may be the most melatonin-increasing fruit ever. This little green fruit is high in serotonin, a hormone that helps you sleep and maintain it during the night. This hormone also appears to interact with melatonin, and some studies have shown that higher levels of serotonin increase melatonin levels.
Banana: this fruit is full of good carbs, and having a reasonable amount of them before bed can keep you satiated and help you fall asleep faster. Because of the amounts of potassium and magnesium, it also relaxes your muscles. Oh, and bananas are responsible for giving this smoothie the right amount of sweet.
Chamomile: ok, everybody says this flower has calming effects. But has it really? The answer is yes: some studies show that drinking one cup of chamomile tea every night can help you fall asleep better. The calming effects may be attributed to all the apigenin (an antioxidant that helps with anxiety) found in the flower.
Almond Milk: the final ingredient, almonds, contains a lot of magnesium, which helps relax your muscles and improve sleep quality. There are even studies suggesting it may help keep cortisol levels low, and a low lever of cortisol - also known as the stress hormone - may help you sleep all night long.
Tips for having a good night of sleep
But I don't rely only on this goodnight smoothie for a good night of sleep.
Sometimes falling asleep is a struggle for me. There are nights when I go to bed, and sleep simply doesn't come! I'm usually tired but for some reason I can't fall asleep, and after some minutes my brain refuses to shut up.
So since the beginning of the year, I started a list of things that could help me fall asleep faster. I followed it (almost) every day since the beginning of March, and I have to say: it worked like magic!
Here are all the things (besides my bedtime smoothie) that are helping me sleep better:
No more caffeine after 4 PM;
Avoiding heavy meals 2 hours before going to bed;
Exercising daily, but not just before bedtime (I do it as soon as I have my first coffee);
Sticking with a bedtime - at least during the week (mine is 10 PM!);
Leaving my phone charging away from my reach;
Stop checking my phone 1 hour before laying down;
Drinking a cup of chamomile tea (if I'm not having my smoothie);
Meditating for 10 minutes before going to bed.
I truly hope these tips help you sleep better the same way they're helping me.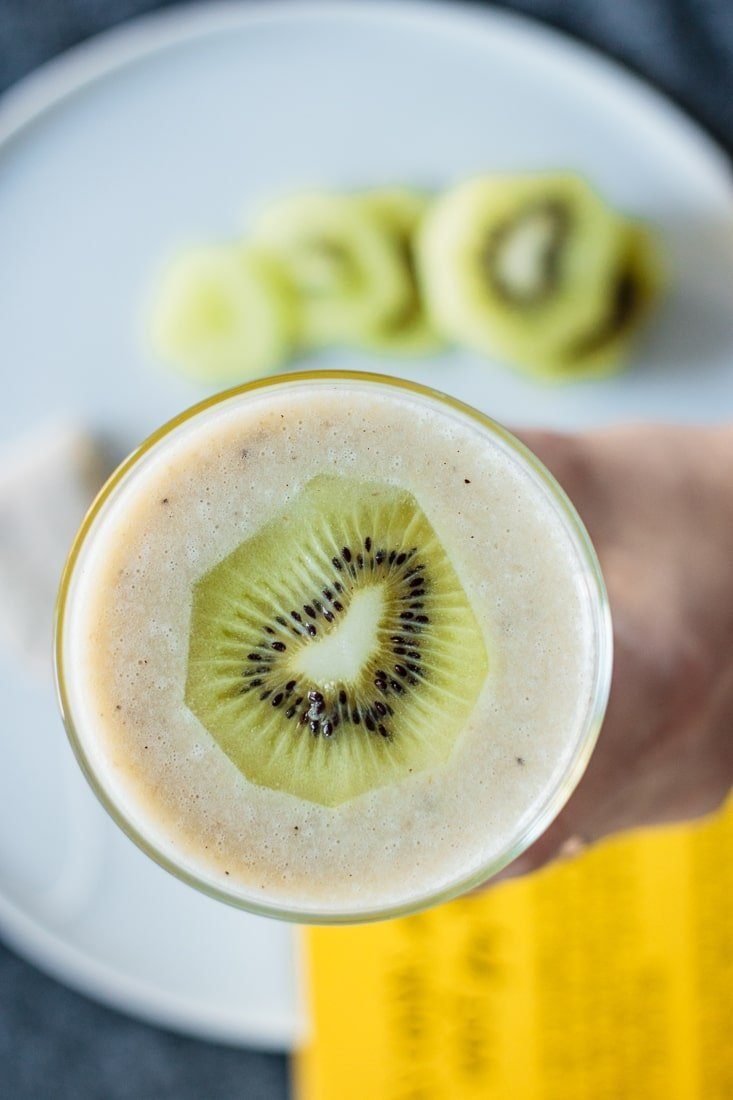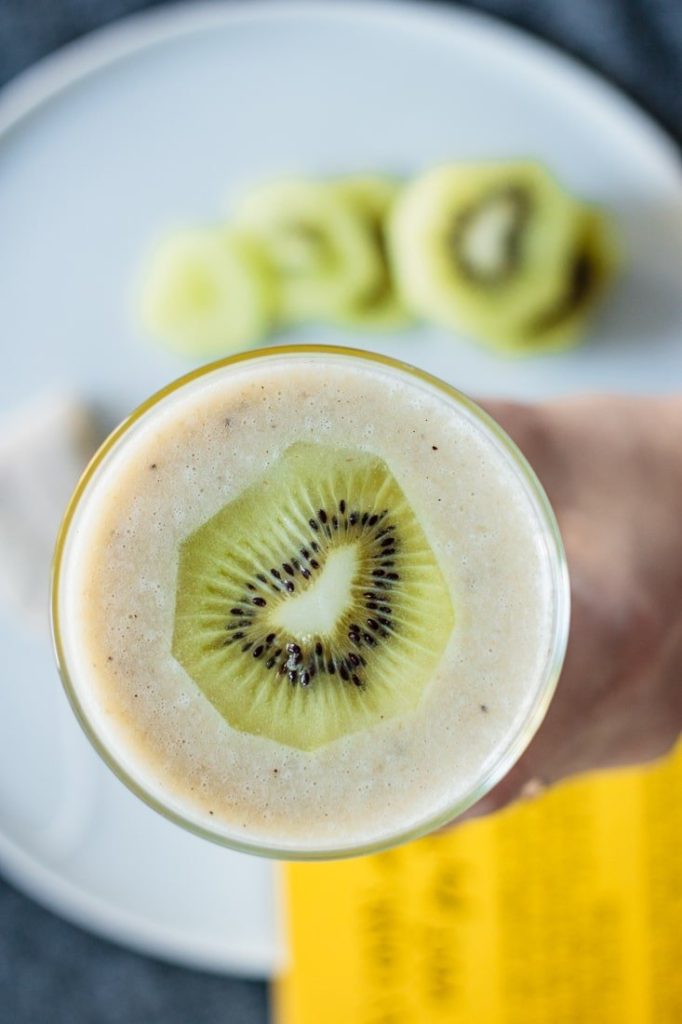 Quick Tips for my Bedtime Smoothie
Peel and freeze the banana and kiwi for a thicker smoothie;
Choose a super ripe banana if you want a sweeter result without adding any sugar/sweetener;
Also, you can substitute the regular kiwi for its golden version for a sweeter, less tangy version of this smoothie;
If your kiwi is not ripe enough, place it in a bag with the banana, close it and leave it for one day;
Make a strong chamomile tea, or the flavor won't stand out.
Now, got everything you need for this recipe? Nighty night.
Oh, do you want ideas for tomorrow's breakfast? Stay healthy with my turmeric smoothie - it's a huge immunity boosting drink! My spring granola can also make your days more colorful, and my pumpkin brioche may be the perfect bread for your morning toast.
📖 Recipe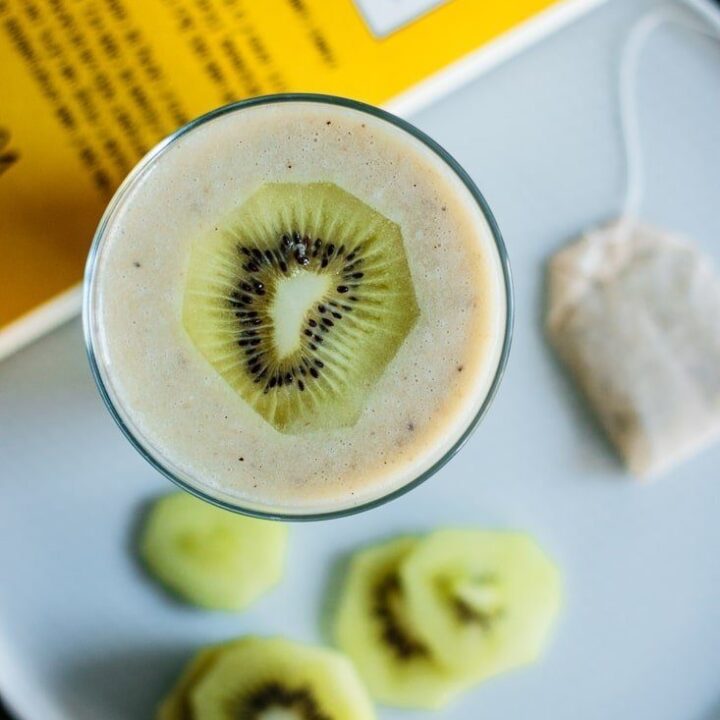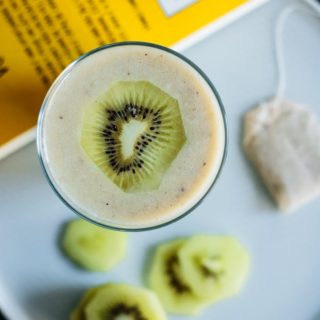 Bedtime Green Smoothie
My bedtime smoothie recipe was born in a cold, restless night of February, and it's on my cup every night I think I might have problems falling asleep.
Ingredients
1

kiwi

peeled and frozen

1

banana

peeled and frozen

100

ml

chamomile tea

cold

½

cup

almond milk

cold

1

tablespoon

maple syrup

optional

1

tablespoon

almond butter

optional
Instructions
Heat 100ml of water until it boils. Add 1 tea bag of chamomile and let it cool.

Add kiwi, banana, chamomile tea, almond milk and almond butter, if using the last, to a blender and pulse for 1 minute, or until well combined.

Taste for sweetness. Add maple syrup if needed.

Serve immediately. 

Notes
Freeze banana and kiwi for better results.
This is not a thick smoothie, if you prefer a thicker consistency, you can use chamomile ice cubes: freeze the amount of chamomile tea instead of using it liquid.
Nutrition
Serving:
1
g
Calories:
163
kcal
Carbohydrates:
29
g
Protein:
3
g
Fat:
5
g
Polyunsaturated Fat:
4
g
Sodium:
6
mg
Fiber:
4
g
Sugar:
19
g