My almond coconut cookie bars are tender and have an amazing buttery taste. The sliced almonds give an amazing crunchy feeling and all the coconut flakes make this easy-to-bake-recipe even more addictive! You won't regret trying my Coconut Shortbread Cookies along your first morning coffee.
Why you need to try these coconut cookie bars:
You're looking for an easy shortbread recipe;
You love coconut as much as you love butter;
Want homemade cookies but don't have a cookie cutter;
You want to bake a delicate gift for your Valentine;
Coconut + Almonds = perfect combination!
Shortbread is known as a melting-in-your-mouth kind of cookie. It's a perfect cookie. If only they weren't so hard to get right the first time!
But fear no more! There are a few tips that can make this recipe easier to get done, even if it's your first time baking those cookies!
For shortbread, use powdered sugar
I tried it with the granulated version, and then I did it again with powdered sugar. For me, the results were so much better! The texture was way smoother, and the cookie bar, no chewy at all.
Stick with unsweetened coconut flakes
If you buy them with sugar, you risk ending up with a cookie too sweet for your taste - and a chewier bar. But if you have no other choice, just use it, maintaining the amount of sugar the recipe asks for.
Freeze the dough for one hour before baking
You need to do this, period. There are a lot of recipes that skip this part, but I baked a lot of shortbread cookies in my life, and it was always tastier when I let the dough rest for a while - it also helps a lot with spreading.
But why do I have to freeze, you ask? Well, freezing the dough will firm up the cookie bars, solidifying the butter. That will help to concentrate all the flavours in this recipe. Also, freezing it gives time for the flour (and in this recipe also the shredded coconut) to absorb some of the dough moisture, resulting in a drier cookie bar - and that's important here. In resume, you'll have a better tasting shortbread if you freeze it for an hour before baking.
So, how do I make these coconut shortbread cookies?
It's simple, I swear!
Even easier if you have a mixer, as you will start by creaming the butter (room temperature) and sugar for about 5 minutes or until smooth. How do you know if it's creamed? The mixture is creamed when it has almost doubled in size and it has lightened to a yellowish color (more to white than to buttery yellow).
If you don't have a mixer, worry not! You can totally cream butter by using a spoon or fork. Start with butter also at room temperature (leave it out of your fridge for about 1 hour). Slice it in cubes and add to a large bowl. Beat with sugar until mixture is soft and fluffy.
For both methods, use a rubber spatula to scrape the mixture off the sides of the bowl as needed.
Add the remaining ingredients (flour for last!), spread the dough with your hands into a 13x9'' sheet pan, and freeze it for one hour to set. Let me reinforce this once more: don't skip this part! Go put this dough into your freeze!
The hard part: your oven
I think that's what can make your cookies go wrong. Each oven behaves differently, and it's really helpful to have an oven thermometer or to know your oven really well. I just moved and I'm still (in need to buy a thermometer) getting to know my new oven, so I can say: sometimes a recipe can go wrong because of it.
But I have a few hacks to prevent chaos (regarding this recipe): poke the dough all over with a fork, freeze it, bake it in the right temperature, and be patient! These cookies need to dry properly to become all you've ever dreamed of.
Why are my shortbread cookies chewy?
In my experience, four things can make this cookie more chewy: it didn't dry enough, you baked it with granulated sugar, you've add more sugar than the recipe asked for, you overworked the dough.
Talking about drying, that's why it's important to be familiar with your oven. Sometimes your oven temperature might not be calibrated right, so it may be hotter than the 325F you've set. A higher temperature will make the coconut cookie bars golden before its right time, and you'll end up with a more chewy cookie (it's still good to eat, though, as I already did it and it was over in a day). It's also important here to poke the dough before baking it (even before freezing it), as it helps your cookie bar to release moisture while it bakes.
About sugar: use powdered or caster sugar, ok? Every time I bake these cookies, I get better results if using one of those two - powdered sugar gives me the best outcome, always. And stick to the right amount of sugar.
If you overwork your dough, it may develop too much gluten. And in this recipe, too much gluten equals a more chewy and tough cookie. Just knead your dough until the flour is incorporated and everything sticks together.
How do I know when my shortbread cookies are ready?
The edges will be golden brown, and the top, a light golden. In this recipe, the cookies will start to smell way before they're done, so resist the urge to take them out of the oven before its time, or you might end up with a soggy cookie.
These coconut cookie bars will take around 30 to 35 minutes to properly bake, so remember: low temperature here is the key to an unburnt recipe.
How do I store my coconut cookie bars and what do I eat along with them?
Air-tight container, always. They will last (one day if you're lucky or have a lot of self-control) over two weeks if kept that way.
Eat it while drinking a good cup of freshly brewed coffee or tea. Handle one to your kid along with a cup of milk or hot cocoa. If you still need something more, drip the bar into melted dark chocolate, or serve it along with those chocolate chip cookies.
And bake these shortbread cookie bars. They will truly satisfy any coconut almond butter lover.
📖 Recipe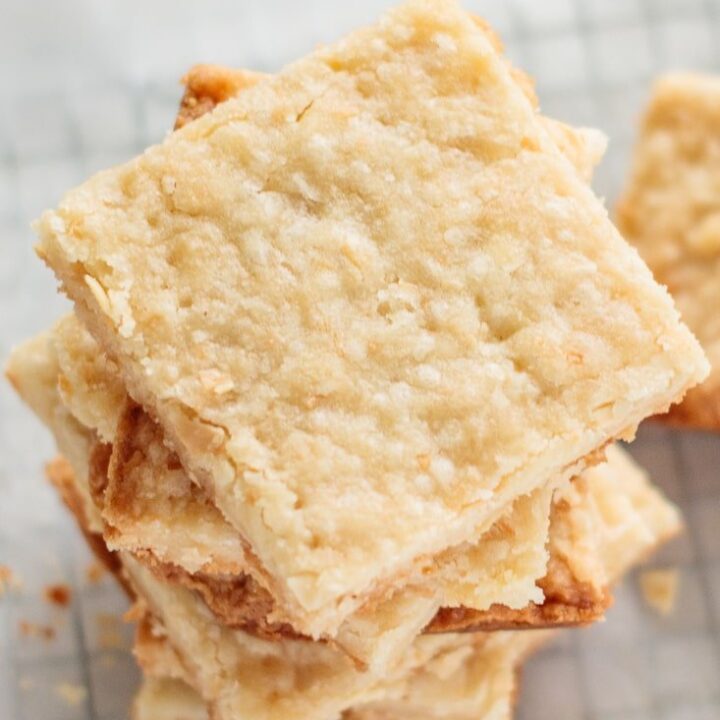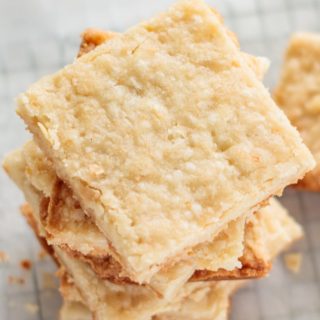 Almond Coconut Cookie Bars
My almond coconut cookie bars are tender and have an amazing buttery taste. The sliced almonds give an amazing crunchy feeling and all the coconut flakes make this easy-to-bake-recipe even more addictive!
Ingredients
12

tablespoon

butter

room temperature (1 ½ sticks)

¾

cup

powdered sugar

1 ½

cups

all-purpose flour

½

teaspoon

salt

½

cup

shredded coconut

½

cup

almonds

sliced or crushed
Instructions
Line a rectangular baking pan with parchment paper or grease it with butter/cooking spray. 

In a large bowl, cream the butter and sugar until light and fluffy.

Add coconut and almonds and beat until combined.

Add flour and salt. Beat until the mixture comes together in a dough.

With your fingers, pat the dough evenly into the 13x9 inches baking pan. Poke it all over with a fork.

Freeze the dough for one hour.

Preheat your oven to 325F.

Bake for 30 to 35 minutes, or until the edges are golden brown and the center is light golden brown.

Allow to cool for 30 minutes or until they're only warm to the touch.

Using foil as handles, lift the shortbread out of the pan. Cut into squares.

Store after it's completely cooled.
Nutrition
Serving:
1
g
Calories:
238
kcal
Carbohydrates:
22
g
Protein:
3
g
Fat:
16
g
Saturated Fat:
8
g
Polyunsaturated Fat:
6
g
Cholesterol:
31
mg
Sodium:
227
mg
Fiber:
1
g
Sugar:
9
g