This Tuna Pie is tasty, juicy, and always saves me on my busy days. And with a batter super easy to make: throw everything into your blender and voilà!
Have you heard about blender pies? They're one of those things not exactly outstanding, but at the same time sooo good to find in the depths of your freezer. We Brazilians have a lot of blender pie recipes. Everyone has a different version of one, sometimes with chicken, sometimes with tuna, sometimes with no meat at all. Does this kind of pie exist outside Latin America? I'm still to find out.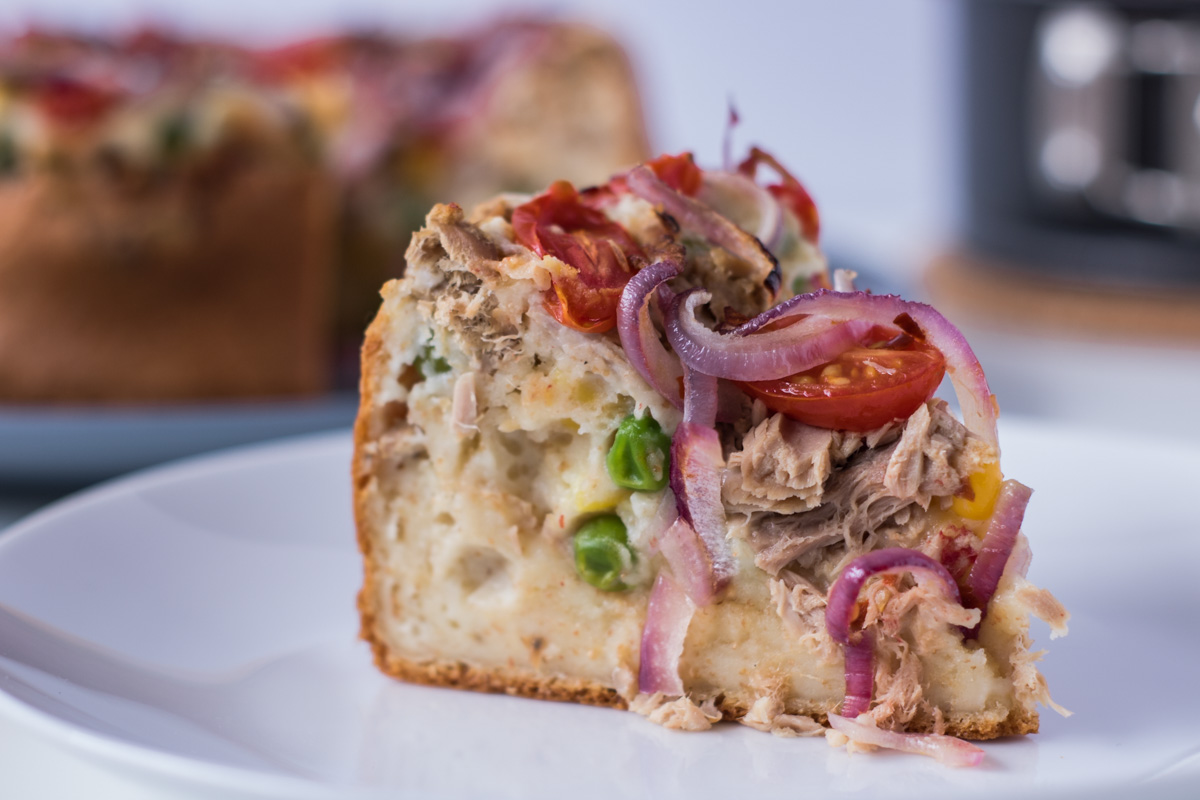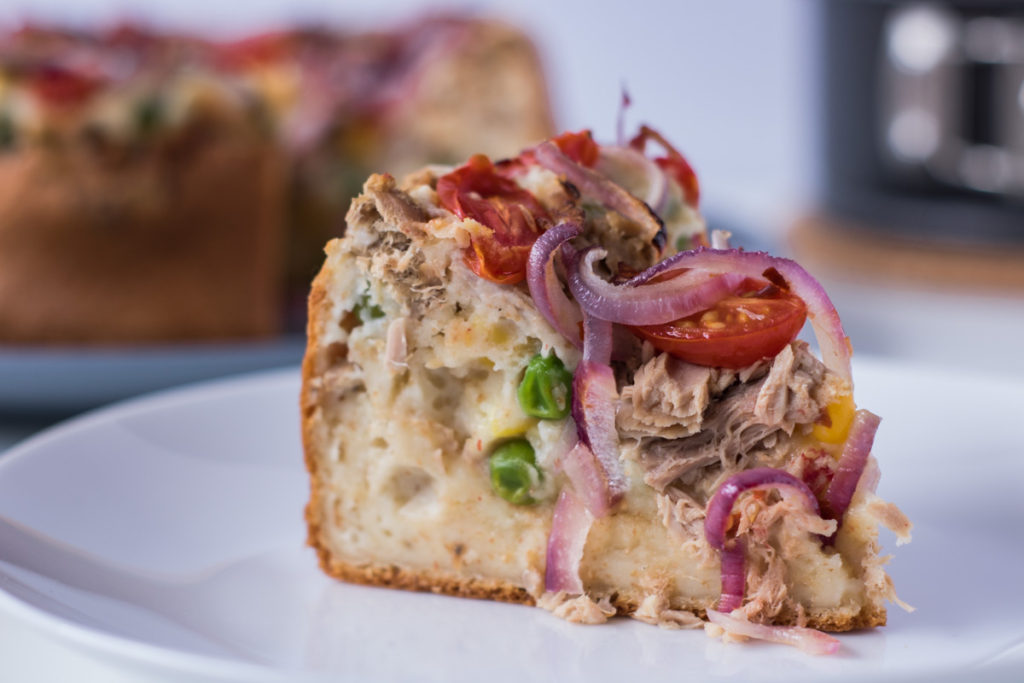 It's different from what you usually call pie
Really, there's not even a crust on this one. There's a bit more than half a cup of oil in the batter. And there's also parmesan, the tasty umami cheese that helps to escalate this recipe.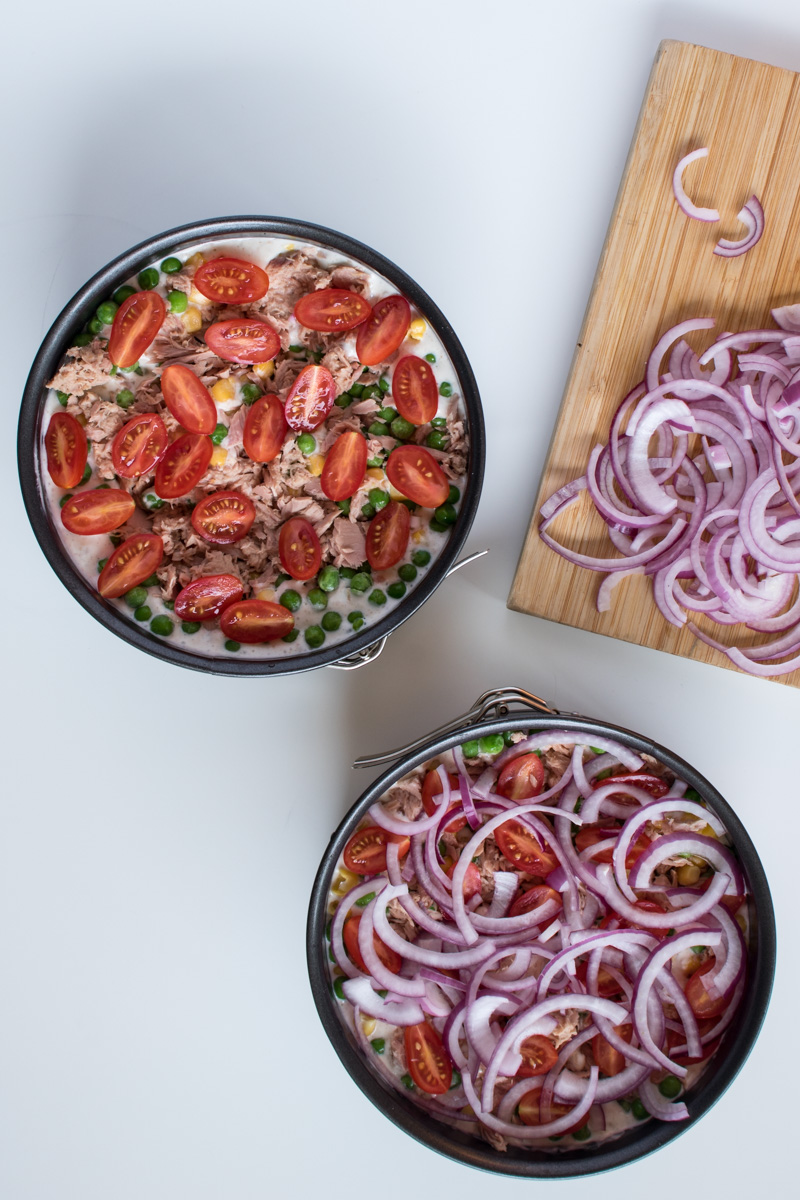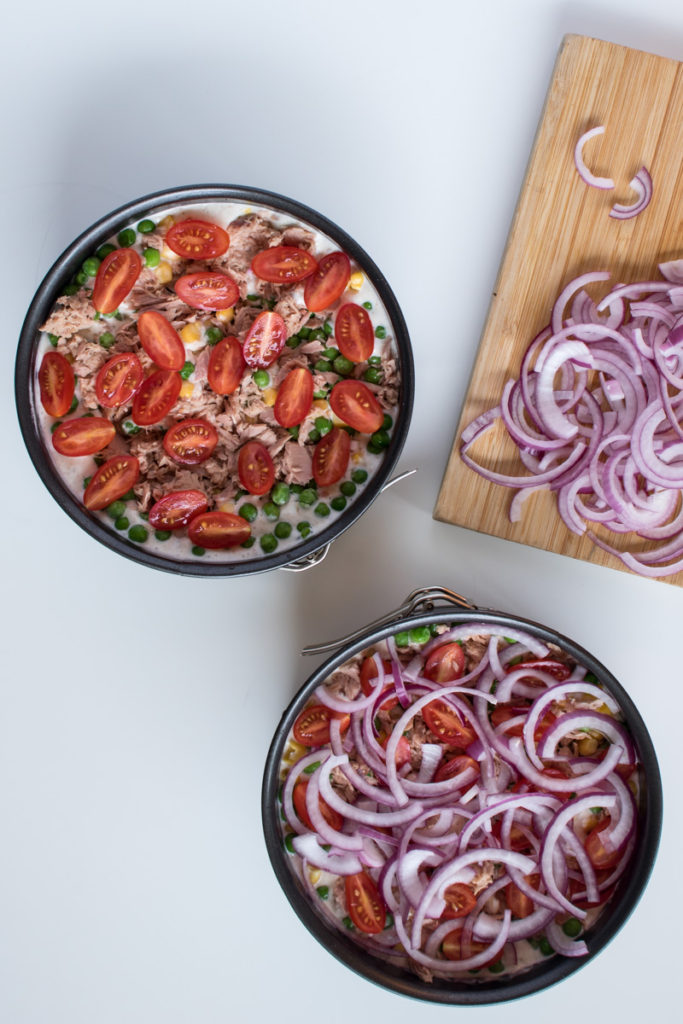 About the filling
Once you've achieved the batter of your dreams, you can pretty much play with different fillings (and if you do, tell me about it!).
Sometimes I can be too attached to a recipe: in this one, I hardly change the ingredients. It's always sweet corn, tuna, onions. But this combination is so good! It's tasty, and as you can see, so beautiful to the eyes.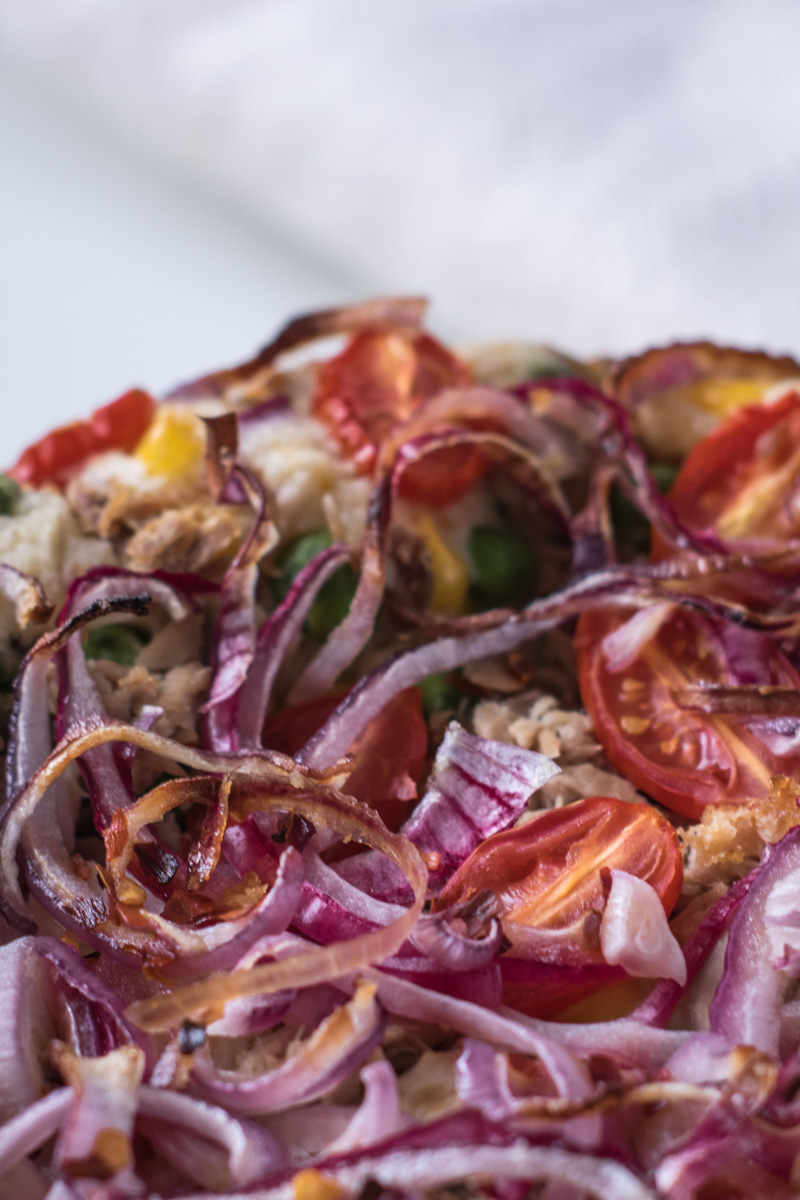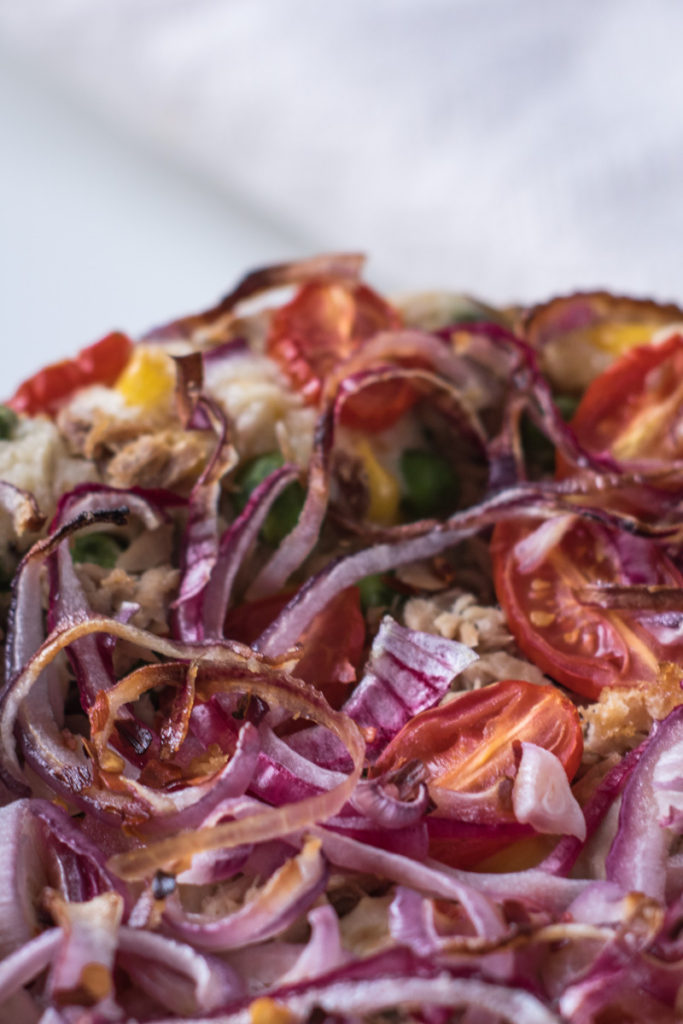 Two tips for this Tuna Pie
First, you can add half of the batter, then the filling, and then cover it with the remaining batter – but I strongly recommend you not to. When you add the filling on top, the onions and the tomatoes will taste much, much better.
Second, don't fill the pan with over one inch and a half of batter: the baking time will be longer and the onions and tomatoes on top can get too dry. This recipe fills a regular rectangular sheet pan, or two small round pans.
It freezes well for up to two months, and will last in your fridge for 5 to 6 days.
I want to try every recipe out there. Help me keep doing it by supporting and following me on Pinterest, Instagram and Facebook. It takes only a few seconds and I'll be so happy to see you're really enjoying my recipes!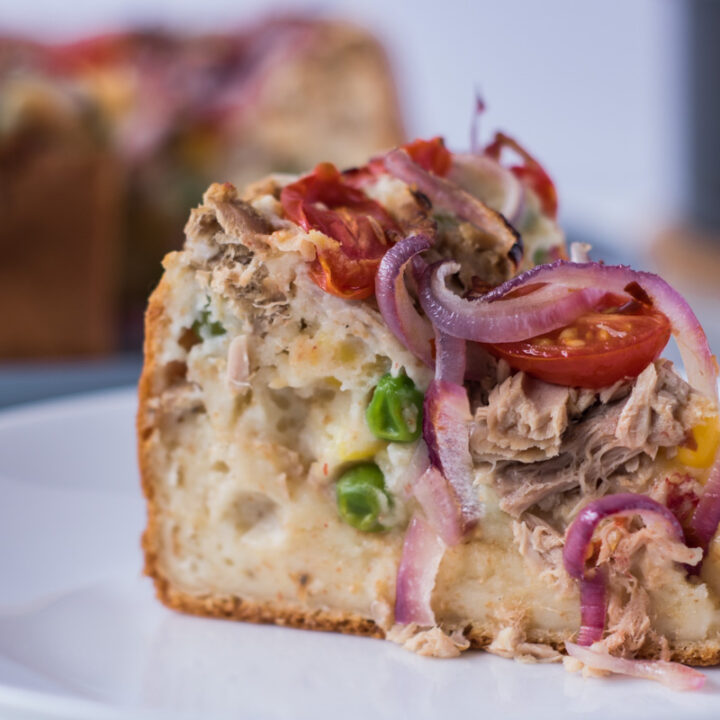 This Tuna Pie is tasty, juicy, and always saves me on my busy days. And with a batter super easy to make: throw everything into your blender and voilà!
Ingredients
Batter:
3 eggs
2/3 cup canola oil
1 1/2 cup milk
1/2 cup grated parmesan cheese
1 tbsp baking powder
2 cups all purpose flour
1/4 tsp salt
1 tsp dry oregano
1/4 tsp black pepper
Filling:
2 cans of solid tuna, drained and flaked (about 1 cup)
1 cup cherry tomatoes, cut in halves
1 medium red onion, cut into half-moon slices
1/2 cup frozen or fresh green peas
1 cup frozen or fresh sweet corn
2 tbsp apple vinegar
Instructions
Pre-heat the oven to 350F/180C.
Cut the tomatoes in halves, and the onions in half-moon slices.
Drain the canned tuna. In a medium bowl, mix it with the green peas, sweet corn, apple vinegar and a pinch of salt.
In a blender jar, add the eggs, canola oil, milk, grated parmesan cheese, baking powder, all purpose flour, salt, oregano and black pepper. Blend it for about 1 minute, or until there are no lumps left in the batter.
Place the batter on an oil-greased baking sheet.
Add the tuna mixture, then sliced tomatoes, and leave the half-moon onions for the top.
Bake for 35 minutes or until a tothpick inserted in the centre comes out clean.

Nutrition Information:
Yield:
8
Serving Size:
1
Amount Per Serving:
Calories:

411
Total Fat:

23g
Saturated Fat:

4g
Trans Fat:

0g
Unsaturated Fat:

19g
Cholesterol:

84mg
Sodium:

427mg
Carbohydrates:

37g
Fiber:

3g
Sugar:

3g
Protein:

14g